From scoring the cheapest bottomless mimosas to dining with the sassiest drag queens.
We've got the latest info about what's open and safety guidelines in Washington, DC. As you continue social distancing, we've gathered up some live virtual events and other fun things to do that are going on this weekend. As always, you can also check out tons of on-demand virtual museum tours, neighborhood tours, TV and movies streaming ideas with a DC bent, DC-inspired music playlists, Washington, DC Zoom meeting backgrounds and much more.
Looking for things to do Monday through Thursday? Don't miss things to do this week.
Friday​
​• • •

'Suffrage Outside'
In honor of the 19th Amendment to the U.S. Constitution, which granted women the right to vote in the U.S., The President Woodrow Wilson House is hosting a free outdoor exhibition. Timed entry will be utilized to ensure social distancing. Suffrage Outside will use towering images to tell the story of the final chapters in the women's suffrage struggle, a mode of visual storytelling to showcase how progress was made outside of the home and outside of the mainstream.
Timed entry from 10 a.m. – 3:30 p.m. |  Reserve
The President Woodrow Wilson House, 2340 S Street NW, Washington, DC 20008​
​• • •

Eno Azur at Four Seasons Hotel Washington, DC
Four Seasons Hotel Washington, DC and ENO Wine Bar are delighted to offer this one-of-a-kind pop-up experience from executive chef Sébastien Giannini, a native of the French Riviera. You can enjoy outdoor dining, delicious cocktails, chilled rosé and a glamorous menu inspired by the Côte d'Azur. Reservations are required. Make sure to read up on the hotel's safety protocols before you plan your excursion.
Wednesday – Friday, 5-10 p.m. | Saturday & Sunday, 3-10 p.m.
Four Seasons Hotel Washington, DC, 2800 Pennsylvania Avenue NW, Washington, DC 20007​
• • •

Park Up DC
Now would be an ideal time to enjoy a drive-in movie, right? Events DC and Broccoli City have teamed up to bring you this pop-up event at RFK Campus Lot 5 on weekends through Oct. 31. Enjoy a 45-foot HD LED digital screen and pre-paid delivery food from local food trucks. The event will follow all social distancing guidelines, including the necessity of facial coverings – make sure to visit the event's FAQ page for full clarity on the policies. Peruse the movie lineup and purchase your tickets online – each evening features multiple showings. Note that double features are encouraged and you will not be required to leave your designated 15 ft. x 20 ft. parking space in between screenings.
More Info |  Tickets
Screenings begin at 7 p.m.
RFK Campus Lot 5
• • •
Saturday

Colonial Market & Fair
You don't need Doc Brown's DeLorean to go back in time in the DC area this Saturday and Sunday. George Washington's Mount Vernon hosts this annual colonial-style market and fair featuring everything you could possibly dream of at such an event. This includes 18th century music, a balloon launch, fire-eating, puppet and magic shows and chocolate-making. Artisans decked out in era-appropriate attire will also be on-hand demonstrating craft skills of the time and selling wares such as glassware, jewelry, pottery, furniture and leather goods. Please make sure to review Mount Vernon's safety protocols before planning your visit.
9 a.m. – 5 p.m. | Tickets
George Washington's Mount Vernon, 3200 Mount Vernon Memorial Highway, Mount Vernon, VA 22121
​• • •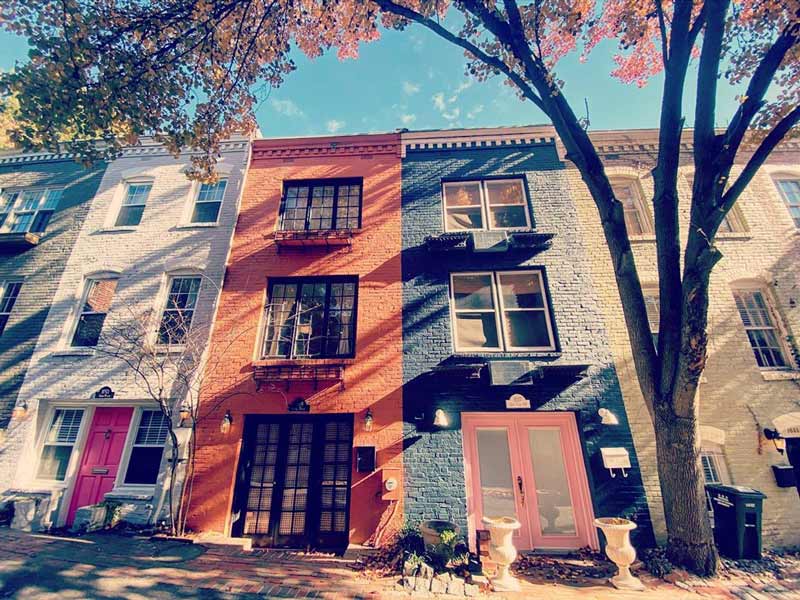 Virtual Walkingtown DC
A DC fall tradition is going fully virtual from this Saturday through Sept. 20. Cultural Tourism DC's annual trek through the city's neighborhoods will now be an online journey filled with stories, history, videos, photographs and even illustrations. Through the webinar features on Zoom, tour guides will provide maps to offer a sense of place and Cultural Tourism DC will ensure that tour groups are small enough so that attendees can ask questions at "stops" along the way. Prepare to engage with DC in an exciting new manner this fall.
​• • •

Yoga from the Garden
WithLoveDC hosts online yoga for free, courtesy of the U.S. Botanic Garden, where yogis can usually take advantage of a weekly class at the conservatory or outdoor gardens. Enjoy the one hour meditation, but make sure you register ASAP, as this opportunity is only available to the first 100 participants.
Register |  10:30-11:30 a.m.
• • •

Mayor Muriel Bowser Presents: Art All Night - 2020 Virtual Edition
Usually confined to one evening, this virtual edition of Art All Night is ongoing until Sept. 26. The virtual activation features online events for several hours on Friday and Saturday night, as well as themed livestreams during the week. Expect a wide range of artists to participate in numerous forms of expression, including the culinary arts and fashion and design.
• • •

Fort Dupont Summer Concert Series – Virtual Experience
Recreate the experience of the Fort Dupont Summer Concert Series in your living room for the final time this year. Plan a watch party with loved ones (following safety guidelines, of course) and take in an array of live streamed performances across multiple genres. The last concert of the season starts at 7:30 p.m. on the dedicated web page. This week's concert, promoted as a tribute to DC, will feature Backyard Band, Black Alley Band and DJ Lance Reynolds.
7:30 p.m. |  More Info
​• • •
Sunday

Visit Hirshhorn's Sculpture Garden
The Hirshhorn has reopened its incomparable Sculpture Garden, a gorgeous outdoor hub for breathtaking and thought-provoking art. Make sure to read up on the new health and safety measures in place before planning your trip and note that capacity is limited. Once you arrive, you'll want to gaze at two monumental new sculptures: We Come in Peace by Huma Bhabha and DOUBLE CANDLE by Sterling Ruby.
10 a.m. – 4:30 p.m. | Free admission
Hirshhorn Museum and Sculpture Garden, Independence Avenue and 7th Street NW, Washington, DC 20560
​• • •

Victura Park at The REACH
The John F. Kennedy Center for the Performing Arts' grand expansion, The REACH, hosts this outdoor pop-up wine garden and cafe from Thursday through Sunday. The Hilton Brothers and Chef Erik Bruner-Yang have collaborated on this winery-inspired setting, which will offer charcuterie boards and light snacks, as well as beer, wine, adult seltzers and other beverages. Check out the full menu. Note that guests are required to maintain social distance and wear a mask when not sitting down. No more than 10 guests are allowed inside the Pavilion for ordering and payment. You can read more about the safety protocols before attending this free event.
Thursday: 3-10 p.m. |  Friday: 3-10 p.m. | Saturday: 12-10 p.m. | Sunday: 12-8 p.m. 
The REACH at The John F. Kennedy Center for the Performing Arts, 2700 F Street NW, Washington, DC 20566
• • •​
#DCtogether Photo of the Week
Make sure to share your DC photos with us using #DCtogether, and we may feature yours next month!