50+ Things to Do This July in Washington, DC
Discover a packed calendar of can't-miss summer events and festivals in July, including Independence Day fireworks and festivities, new museum exhibits and so much more.
We've picked out the best events, festivals, museum exhibits, theater performances, concerts and more happening this month in Washington, DC. Check out the best things to do in the nation's capital and plan your visit today.
Jazz in the Garden – Through Aug. 23
Kick back and groove to the music with sangria in hand at Jazz in the Garden on Fridays throughout the summer, held in the National Gallery of Art's Sculpture Garden through Aug. 24. An eclectic mix of DC area jazz musicians lend a soundtrack to one of the city's most idyllic scenes set around the sculpture garden's central fountain. This is a free seasonal tradition that you do not want to miss. Check out the lineup and the food and drink offerings.
5-8:30 p.m. | Free admission
National Gallery of Art, 6th and Constitution Avenue NW, Washington, DC 20565
​• • •
Smorgasburg DC – Through October
Billed as the world's largest outdoor food market, Smorgasburg DC sets up shop in the Tingey Plaza at Navy Yard on Saturdays through at least October. Expect to see more than 30 food vendors from a range of backgrounds, including Nobu Yamakazi (the chef of Sushi Taro, recipient of a Michelin star) and his new eatery, Skew'd, as well as Himitsu co-owner Kevin Tien, who will offer hot chicken at the Hot Lola's booth. There will also be periodic pop-ups throughout the market's run and a beer garden for relaxing.
11 a.m. – 6 p.m. | Free admission
Tingey Plaza, Tingey Street SE, Washington, DC 20003
​• • •
Independence Day – July 4
The District celebrates the Fourth of July with a bang. Along with viewing the dynamic fireworks show on the National Mall, visitors can celebrate America's birthday in dozens of venues and in a multitude of ways. Check out our piece, which details where revelers can experience the fun and spirit of Independence Day in the most American of settings.
​• • •
National Independence Day Parade – July 4
Line up along Constitution Avenue to observe DC's annual National Independence Day Parade. Expect to see fife and drum corps, military servicemen and women, elaborate floats and VIPs galore. The parade begins at 11:45 a.m. and is held between 7th and 17th streets. This epic display of pageantry comes only once per year, so check it out without paying a cent.
11:45 a.m. – 2 p.m. | Free admission
Constitution Avenue NW from 7th to 17th Streets NW, Washington, DC
​• • •
July 4th Celebration at the National Archives – July 4
Original copies of the Declaration of Independence, the U.S. Constitution and the Bill of Rights are all on display at the National Archives. See these essential and historic documents and meet the Founding Fathers who helped establish the birth of a nation with programming featuring costumed actors in Revolutionary-era attire.
8 a.m. – 4 p.m. | Free admission
National Archives, 700 Pennsylvania Avenue NW, Washington, DC 20408
​• • •
'A Capitol Fourth' – July 4
Find a spot on the West Lawn of the U.S. Capitol for A Capitol Fourth, which begins at 8 p.m. This year's concert features a star-studded lineup including the legendary Carole King alongside the Broadway cast of Beautiful starring Vanessa Carlton, as well as a 50th anniversary tribute to Sesame Street and a performance of Tchaikovsky's 1812 Overture by the National Symphony Orchestra. The grand finale features jaw-dropping fireworks over the National Mall.
8 p.m. | Free admission
West Lawn of the U.S. Capitol, East Capitol Street SE & First Street SE, Washington, DC 20004
​• • •
Smithsonian Sleepovers – July 5, 13, 19, 26
Three Smithsonian museums will provide kids with an unforgettable adventure this July. The National Air and Space Museum's Steven F. Udvar-Hazy Center, the National Museum of American History and the National Museum of Natural History host Smithsonian Sleepovers. Spots will be in high demand, as kids can explore the entire world of flight at the Udvar-Hazy Center, solve a mystery at the Museum of American History and experience the new Fossil Hall at the Museum of Natural History. Ages 8-12 are permitted, and there must be at least one adult present for every three children in any group that registers. No siblings younger than 8 are allowed, and no adults are allowed without children.
Sign up | Save $20 on Your Order
​• • •
DC Art Book Fair – July 7
As part of the National Museum of Women in the Arts' Free Community Day in July, the museum will offer this kid-friendly event in its Great Hall. More than 40 artists will be on-hand to sell zines, books, prints and comics, a celebration of independently published, paper-based works. Participants were chosen by a panel of judges for this event organized by the DC Art Book Collective.
12-5 p.m. | Free admission
National Museum of Women in the Arts, 1250 New York Avenue NW, Washington, DC 20005
​• • •
Capital Fringe Festival – July 9-28
During the edgy Capital Fringe Festival, you can catch out-there performances from local creatives, including improv dramas, live music performances, film screenings and much more. Events take place throughout the Southwest Waterfront, including at the illustrious Arena Stage and inside local churches. Get your tickets and check out the full schedule on the festival's website.
Citywide
​• • •
Lotus and Water Lily Festival – July 13-14
The Lotus and Water Lily Festival is an annual free, family-oriented celebration that honors the blooming of lotus and water lilies at the gorgeous Kenilworth Park & Aquatic Gardens. To go along with the picturesque plants, you and yours can also participate in gardening workshops, take in multicultural performances and live music and enjoy hands-on activities like face painting and lotus tea tasting.
Free | 10 a.m. – 4 p.m.
Kenilworth Park & Aquatic Gardens, 1900 Anacostia Avenue SE, Washington, DC 20020
​• • •
Washington Kastles Tennis – July 15, 16, 17, 20, 22, 25, 27
The Washington Kastles begin another summer season this month in a brand new venue on top of Union Market. Yep, you read that right – you'll be able to watch this elite World TeamTennis atop one of DC's hippest destinations. The team regularly rolls out a roster of stars each year and 2019 is no different. You'll see the legendary Venus Williams, local sensation Frances Tiafoe and Nick Kyrgios. Tickets will go quickly at the new venue, so purchase yours now!
Tickets
Kastles Stadium at Union Market, 1309 5th Street NE, Washington, DC 20002
​• • •
Brew at the Zoo – July 18
Sampling beers from more than 70 craft breweries while also contributing to animal conservation sounds too good to be true, but that's not the case in DC. The Friends of the National Zoo (FONZ) hosts Brew at the Zoo, held at the Smithsonian's National Zoo each year. Besides the suds, attendees can enjoy live music, lawn games, animal encounters and tasty eats from participating food trucks. Guests must be 21 or over to attend.
6-9 p.m. | Tickets
Smithsonian National Zoo, 3001 Connecticut Avenue NW, Washington, DC 20008
​• • •
Apollo 50 Festival on the National Mall – July 18-20
While the National Air and Space Museum is highlighting the 50th anniversary of the Apollo 11 landing all year long, this summertime celebration on the National Mall is the capstone event. The three-day extravaganza promises an abundance of space-related fun, including hands-on exhibits and activities from NASA, Boeing and The LEGO Group (among others), live costumed performances from Ready Jet Go! and a range of exciting speakers. The celebration also incorporates "Apollo 50: Go for the Moon", a 17-minute show that will use full-motion projection mapping art and archival footage displayed on the face of the Washington Monument to recreate the launch of Apollo 11 and tell the tale of the first moon landing, with screenings at 9:30 p.m., 10:30 p.m. and 11:30 p.m. on July 19 and 20. A 363-foot Saturn V rocket will be projected onto the Monument from July 16-18 from 9:30-11:30 p.m. each night in anticipation of the show. Also note that beginning Tuesday, July 16, the Air and Space Museum will display Neil Armstrong's Apollo 11 spacesuit for the first time in 13 years.
​• • •
Levels Unlocked Pop-Up Bar – July 18 – Sept. 29
Events DC and Drink Company are here to provide you with the esports pop-up bar you never knew you needed. Open each day of the week, Levels Unlocked will feature esports decor and programming throughout its run (this Thursday through Sept. 29), as well as a beverage menu that nods to a range of video game favorites, including Overwatch, NBA 2K and the Pokémon and Super Smash Bros. franchises.
Sunday-Thursday, 5 p.m. – 12:30 a.m. | Friday-Saturday, 5 p.m. – 1:30 a.m.
1839 7th Street NW, Washington, DC 20001
​• • •
Grand African Run – July 21
As part of African Week celebrations in the District, the DC Mayor's Office has partnered with the African Union and the nonprofit Nova Connections to host the inaugural Grand African Run. The event features a main 5K race and a 1K run for children ages 11 and younger. The course will run along the Anacostia River, with the race starting and finishing at the Yard Park. Top African athletes will attend as guests and participants.
7:30 a.m. – 12 p.m. | Register
The Yards Park, 355 Water Street SE, Washington, DC 20003
​• • •
OTAKON – July 26-28
Held at the Walter E. Washington Convention Center from July 26-28, Otakon just might be the dedicated event space's liveliest function (emphasis on FUN) all year long. The family-friendly convention is run by and dedicated to fans of Asian media, entertainment and pop culture, including anime, manga, music, movies and video games. The festivities range from cosplay contests, skits and live music to panel discussions with comic book (super)heroes, for-sale artworks and more.
Tickets
Walter E. Washington Convention Center, 801 Mount Vernon Place NW, Washington, DC 20001
​• • •
Citi Open – July 27 – Aug. 4
Rock Creek Park Tennis Center plays host to this DC summer sporting tradition. International tennis stars will battle in front of thousands of fans during the week-long tournament. As always, the lineup features talent from all over the world, including Gael Monfils, Kei Nishikori and Stefanos Tsitsipas in the men's field and Sloane Stephens and Bianca Andreescu in the women's field. Make sure to check the tournament's website for event, ticket and lineup updates. DISCOUNTED TICKETS: Save 20% off tickets for sessions 5 (begins at 1 p.m. on July 31), 6 (begins at 1 p.m. on Aug. 1), 7 (begins at 2 p.m. on Aug. 2) and 8 (begins at 7 p.m. on Aug. 2). with code DESTINATIONDC.
Tickets
Rock Creek Park Tennis Center, 4850 Colorado Avenue NW, Washington, DC 20011
​• • •
Outdoor Films
Numerous DC neighborhoods host film screenings that are perfect for spending a night under the summer sky, including Capitol Riverfront, Adams Morgan and NoMa. Venues get in on the fun, too, including Dumbarton House and Union Market. If you want to venture into Maryland or Virginia, there are plenty of options there as well.
• • •
David H. Koch Hall of Fossils – 'Deep Time' – Ongoing
The National Museum of Natural History new 31,000-square-foot fossil hall is an epic exhibit that connects our planet's very distant past to the present and future. Visitors are transported to ancient ecosystems, navigate through the evolution of life across billions of years and encounter roughly 700 fossil specimens along the way, including a jaw-dropping, lifelike T-rex and a woolly mammoth. Read our piece for more fascinating details before you go.
10 a.m. – 5:30 p.m. | Free admission
National Museum of Natural History, 10th Street & Constitution Avenue NW, Washington, DC 20560
​• • •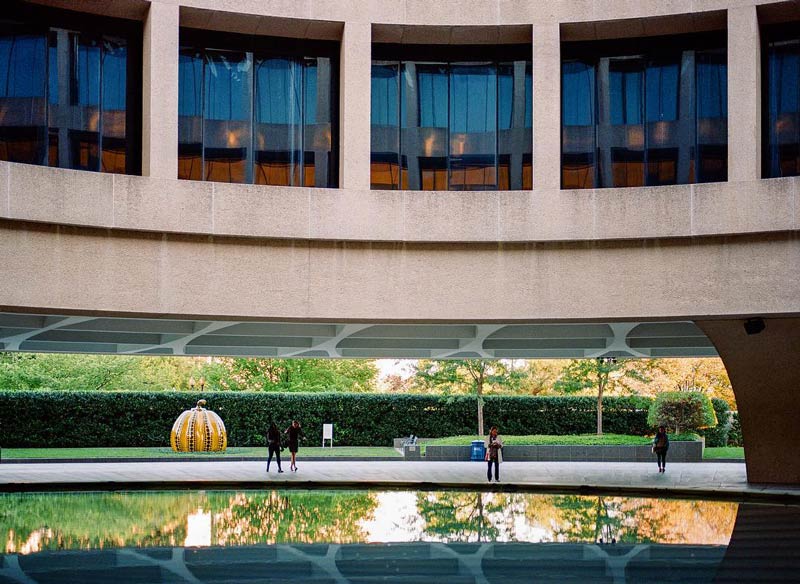 'The Evidence Room' – Through Sept. 8
This installation at the Hirshhorn uses architectural forensic evidence to provide a stunning visual testament to the horrors of the Holocaust. With information gathered from correspondence, photographs, blueprints and eyewitness accounts, The Evidence Room features three architectural reconstructions and 65 plaster casts that explore the role that architecture played in history's greatest atrocity. The Hirshhorn's presentation marks this installation's premiere in the U.S.
10 a.m. – 5:30 p.m. | Free admission
Hirshhorn Museum and Sculpture Garden, Independence Avenue and 7th Street SW, Washington, DC 20560
​• • •
'The Warmth of Other Suns: Stories of Global Displacement' – Through Sept. 22
Based on the exhibition The Restless Earth, which was shown at the Triennale in Milan in 2017, this exhibition at The Phillips Collection presents historical and contemporary pieces by approximately 100 global artists whose work poses urgent questions about the global refugee crisis. Through videos, paintings, images and installations, visitors will encounter migration and refugee experiences from throughout history and all over the world.
Hours & Admission
The Phillips Collection, 1600 21st Street NW, Washington, DC 20009
​• • •
'Ginny Ruffner: Reforestation of the Imagination' – Through Jan. 5, 2020
Ginny Ruffner has mastered sculpture and glass, and has now spread her artistic wings into Augmented Reality. Ruffner weaves the technology into her glass sculptures to create an interactive experience for observers. In this exhibit at the Renwick Gallery, visitors can download an app that superimposes digital images of growing appendages and mythical flowers onto Ruffner's barren sculptures of tree stumps, creating two realities to explore in the process.
10 a.m. – 5:30 p.m. | Free admission
Renwick Gallery, Pennsylvania Avenue at 17th Street NW, Washington, DC 20006
​• • •
Michael Sherrill Retrospective – Through Jan. 5, 2020
The Renwick Gallery provides a retrospective on the fascinating career of artist Michael Sherrill in this exhibit that features more than 75 objects from his oeuvre. Spanning nearly 40 years of work, the display showcases Sherrill's evolution from teapots and clay vessels to his stunning, nature-inspired sculptures that utilize clay, glass and metal.
10 a.m. – 5:30 p.m. | Free admission
Renwick Gallery, Pennsylvania Avenue at 17th Street NW, Washington, DC 20006
​• • •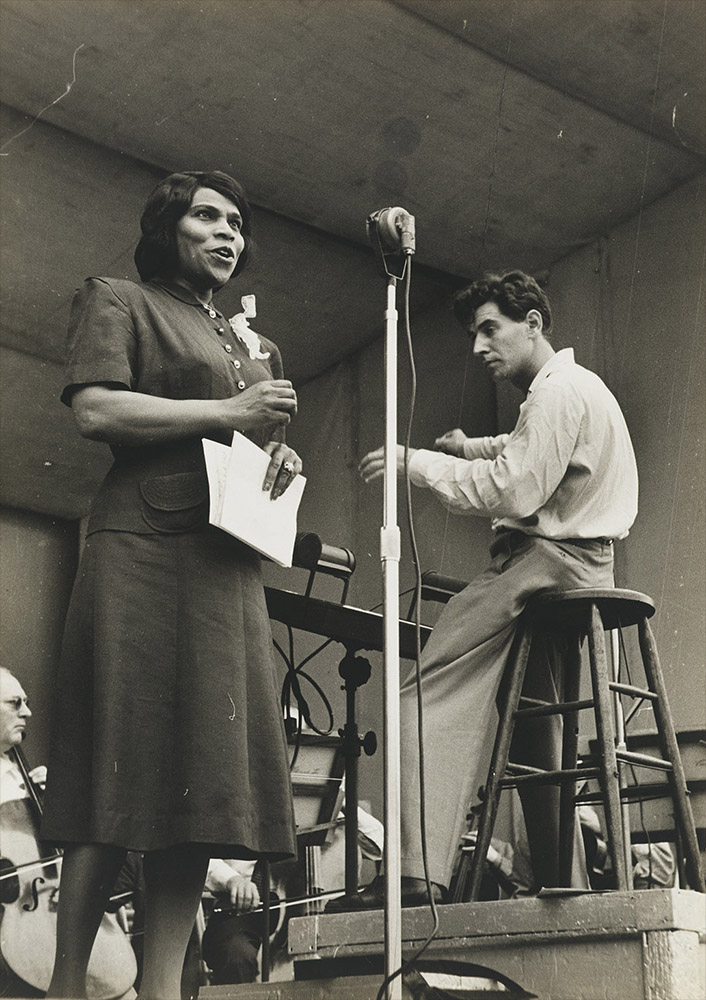 'One Life: Marian Anderson' – Through May 17, 2020
A singer, diplomat and muse, not to mention a strong fighter against segregationist policies, Marian Anderson was an iconic figure of mid-20th century American. Her historic performance at the Lincoln Memorial in 1939 was a monumental moment, but this National Portrait Gallery exhibit dives much deeper, displaying paintings, photos, personal effects and archival materials that highlight Anderson's stirring and influential career.
11:30 a.m. – 7 p.m. | Free admission
National Portrait Gallery, 8th and F Streets NW, Washington, DC 20001
​• • •
'LAWN' – July 4 – Sept. 2
The National Building Museum's Summer Block Party installation is always a highlight of the season, and this year's edition will be no different. Lawn recreates summertime experiences in the museum's Great Hall, offering a green expanse and interactive hammocks with built-in speakers that play summertime stories, a scaffolding tower that provides amazing views of the museum and communal areas for lounging. Programming will include movie nights, yoga and even meditation.
Monday – Saturday, 10 a.m. – 5 p.m. | Sunday, 11 a.m. – 5 p.m. | Tickets
National Building Museum, 401 F Street NW, Washington, DC 20001
​• • •
'The Tapestry of Light: A 21st-Century Apocalypse' – July 6 – Jan. 1, 2020
The Museum of the Bible presents the first full-visual interpretation of John's Apocalypse in tapestry form in more than 500 years – and the first one by a woman. Dr. Irene Barberis conducted detailed research and used nanotechnology to create the marvelous tapestry, which embodies themes of revelation, light and theology. The exhibit will showcase Barberis' creative process over the 20 years she spent on the apocalyptic art, as well as how art can be used to convey complex ideas.
10 a.m. – 5 p.m. | Tickets
Museum of the Bible, 400 4th Street SW, Washington, DC 20024
​• • •
'By the Light of the Silvery Moon: A Century of Lunar Photographs from the 1850s to Apollo 11' – July 14 – Jan. 5, 2020
The National Gallery of Art celebrates the 50th anniversary of the Apollo 11 moon landing with this exhibition of rarely seen lunar images that beautifully blend science and art. Across roughly 50 works, you'll see photographs from unmanned missions leading up to Apollo 11, stenographs taken on the moon by Neil Armstrong and Buzz Aldrin and lunar shots that date back to the 19th and early 20th centuries.
Hours | Free admission
National Gallery of Art, 4th Street & Constitution Avenue NW, Washington, DC 20565
• • •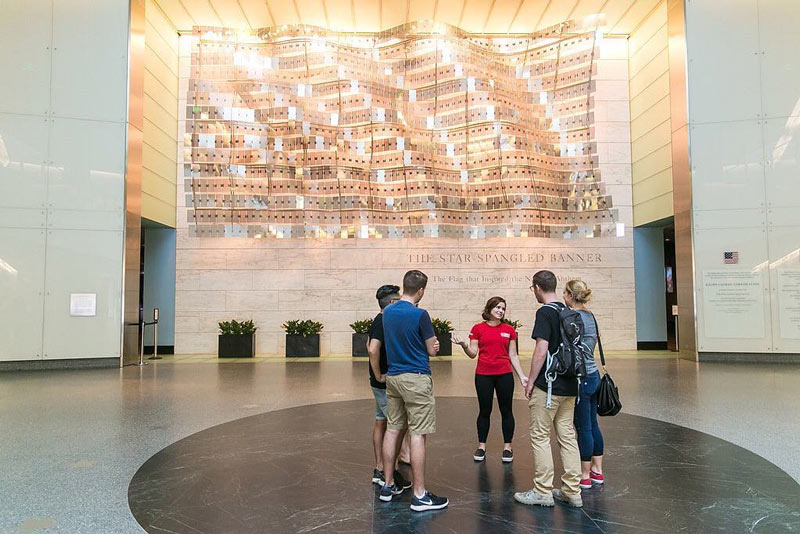 'Everyday Luxury: Silk Quilts from the National Collection' – Opens July 30
The National Museum of American History gives visitors a rare opportunity with this exhibit that opens at the end of the month. Everyday Luxury will display a selection of the museum's collection of 19th century silk quilts, which were made to be seen and not slept on. In observing these textiles, visitors will also gain insights into American industry, fads, art and marketing.
10 a.m. – 5:30 p.m. | Free admission
National Museum of American History, 1300 Constitution Avenue NW, Washington, DC 20560
• • •
Scena Theatre Presents: 'The Resistible Rise of Arturo Ui' – Through July 14
In an allegory for the rise of Adolf Hitler in 1930s Germany, this production from Scena Theatre tells the tale of Arturo Ui, a small-time hood from Brooklyn who comes to dominate the Cauliflower racket in 1930s Chicago. Ui is ruthless towards competitors and only looks to enrich himself, displaying a tyrannical approach that is echoed in businesses and governments around the world today. Atlas Performing Arts Center will serve as the venue for this spellbinding play.
Tickets
Atlas Performing Arts Center, 1333 H Street NE, Washington, DC 20002
​• • •
Mosaic Theater Company Presents: 'Twisted Melodies' – Through July 21
This one-man show written and performed by Kelvin Rolston, Jr. imagines the final day in the life of Donny Hathaway, one of soul music's greatest singers and composers who tragically passed away in 1979. Rolston masterfully depicts Hathaway's inner struggle between mental illness and the muses that guide him. Mosaic Theater Company hosts this powerful production at the Atlas Performing Arts Center.
Tickets
Atlas Performing Arts Center, 1333 H Street NE, Washington, DC 20002
​• • •
'Bright Colors and Bold Patterns' – July 9-28
Studio Theatre's Studio X hosts this one-man show about the worst wedding guest ever. Gerry arrives to Palm Springs the night before Josh and Brennan's big day, half-drunk and frustrated that he can't wear any bright colors or bold patterns to the ceremony. Gerry spends the night poolside complaining, but brings up some fascinating questions about contemporary gay life along the way. Comedy and tragedy are wondrously mixed in this new production.
Tickets
Studio Theatre, 1501 14th Street NW, Washington, DC 20005
​• • •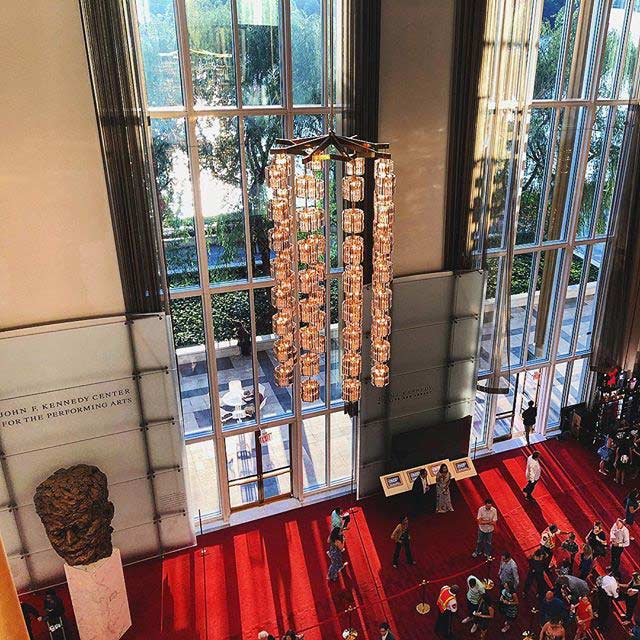 'The Band's Visit' – July 9 – Aug. 4
Winner of 10 Tony Awards, including Best Musical, The Band's Visit is one of the highlights of the Kennedy Center's summer slate. Based on an acclaimed film released in 2008, the band alluded to in the title arrives in a desert town, lost but dazzled by the scenery. Their beautiful music transforms the city in unexpected ways and their experiences alter their own deeply held perceptions.
Tickets
The John F. Kennedy Center for the Performing Arts, 2700 F Street NW, Washington, DC 20566
​• • •
'Bring It! Live' – July 10
The popular Lifetime series, Bring It!, takes its act to the prestigious Warner Theatre on July 10. Coach Dianna Williams and her Dancing Dolls will perform new dance routines onstage and stage a fan vs. Dancing Doll battle showcase. Audience participation will also be highly encouraged.
7:30 p.m. | Tickets
Warner Theatre, 513 13th Street NW, Washington, DC 20004
​• • •
Free For All: 'Hamlet' – July 10-21
Shakespeare Theatre Company's annual Free For All offers two weeks of free performances of a Shakespearean classic. This year, the legendary Hamlet will be staged. Set in a modern surveillance state version of Denmark, Hamlet arrives home to find his father dead, his mother remarried and his uncle on the throne. Once his father's ghost appears seeking vengeance, the wheels are set in motion for a tragedy. Free For All tickets can be obtained via an online lottery. Tickets are also distributed at Sidney Harman Hall starting two hours before each performance (200 total).
Tickets
Sidney Harman Hall, 610 F Street NW, Washington, DC 20004
​• • •
UrbanArias: 'The Juliet Letters' – July 11-14
Staged in a cabaret setting, UrbanArias will perform this series of dramatic ballads by Elvis Costello at Signature Theatre. The legendary rock songwriter composed these musical love notes to Shakespeare's Juliet, creating a piece that is part rock opera, part song cycle. Numerous characters of different ages and backgrounds present overlapping short stories of love, death and betrayal, all connecting to Juliet's tragic story.
Tickets
Signature Theatre, 4200 Campbell Avenue, Arlington, VA 22206
​• • •
'Ann' – July 11 – Aug. 11
Jayne Atkinson portrays the incomparable Ann Richards in this new production at Arena Stage. Penned by Emmy Award-winning actress and writer Holland Taylor, Ann is a hilarious and captivating tribute to the celebrated Texas Governor. Richards' activism, feminism and complexity will be on full display in the no-holds-barred comedy.
Tickets
Arena Stage, 1101 6th Street SW, Washington, DC 20024
​• • •
'Freestyle Love Supreme' – July 16-21
The Kennedy Center welcomes this improvisational performance that comes from the mind of a trio that includes Lin-Manuel Miranda. MCs, musicians and beatboxers will take the stage and venture into the audience to freestyle an entire evening of entertainment. Attendees will even be asked to provide suggestions, creating an interactive experience that won't soon be forgotten. Prepare for a wild ride.
Tickets
The John F. Kennedy Center for the Performing Arts, 2700 F Street NW, Washington, DC 20566
​• • •
'Earthrise' – July 18 – Aug. 4
In honor of the 50th anniversary of the moon landing, Earthrise will use projections, songs and NASA footage to create a breathtaking chronicle of Apollo 11's monumental moment in 1969. The story concerns children of NASA employees: an engineer's daughter, an astronaut's son and a mathematician's daughter. The audience will witness these three kids marveling at the very first lunar landing, the culmination of a historic mission.
Tickets
The John F. Kennedy Center for the Performing Arts, 2700 F Street NW, Washington, DC 20566
​• • •
'Disney's Aladdin' – July 18 – Sept. 7
The hit Broadway musical, adapted from the classic Disney film, touches down at the Kennedy Center for an extended run in late summer. One lamp and three wishes will launch an outstanding production filled with beloved songs, gut-busting comedy, gorgeous set design and magical carpet rides. Bring the entire family to this majestic show that will draw quite a bit of fanfare in the nation's capital (this is code for: get your tickets ASAP).
Tickets
The John F. Kennedy Center for the Performing Arts, 2700 F Street NW, Washington, DC 20566
• • •
• • •
Hugh Jackman – July 1
One of Hollywood's biggest stars is coming to the Capital One Arena stage for one night only. Hugh Jackman has played superheroes and starred in musicals, building a diverse career that has turned into a bankable movie star. Now, Jackman is touring the world, performing cherished songs from The Greatest Showman and Broadway and Hollywood musical numbers along with a live orchestra.
7 p.m. | Tickets
Capital One Arena, 601 F Street NW, Washington, DC 20004
​• • •
Angie Stone – July 7
R&B songstress Angie Stone comes to City Winery's stage in Ivy City for two shows on July 7. While Stone emerged as a solo artist in the late 1990s, her music career stretches well beyond that, even back to the early stages of hip-hop in the late 1970s, when she had multiple hits as a member of the trip The Sequence. Stone's new album, Full Circle, dropped in June, featuring songs that show her mastery of R&B, hip-hop and the blues.
6:30 p.m. – Tickets | 9:45 p.m. – Tickets
City Winery, 1350 Okie Street NE, Washington, DC 20002
​• • •
Jeff Lynne's ELO – July 11
Jeff Lynne's ELO is commonly known as Electric Light Orchestra, one of rock music's most beloved and boundary-pushing groups. Beginning in the early 1970s, ELO released a string of successful albums and singles that blended Beatles-like melodies with prog, classical, doo wop and even opera elements. Lynne's crew of talented musicians can still rock a stage, as they will at Capital One Arena. British singer-songwriter Dhani Harrison will serve as the opening act.
8 p.m. | Tickets
Capital One Arena, 601 F Street NW, Washington, DC 20004
​• • •
Backstreet Boys – July 12
One of the most popular boy bands of all-time now features grown men – but that doesn't mean they can't rock a packed stadium on a Friday night. Backstreet Boys will roll into Capital One Arena on their DNA Tour, ready to sing and dance their way through a catalogue filled with hits, including "I Want It That Way," "Everybody" and "Larger Than Life". Whether you're just getting into their irresistible pop or you've been jamming to their CDs since 1997, you won't want to miss this performance.
8 p.m. | Tickets
Capital One Arena, 601 F Street NW, Washington, DC 20004
​• • •
Yeasayer – July 12
Brooklynites Chris Keating, Ira Wolf Tuton and Anand Wilder have been releasing experimental indie pop since 2007, when All Hour Cymbals received a fair amount of buzz on music blogs. By the time Odd Blood and singles "Ambling Alp" and "O.N.E." hit airwaves in 2010, the group had built a loyal following and achieved critical darling status. This year's Erotic Reruns, which focuses heavily on of-the-moment issues, is another shot of the trio's psychedelic take on pop. They'll perform at 9:30 Club on July 12, where they recorded a live album in 2013.
8 p.m. | Tickets
9:30 Club, 815 V Street NW, Washington, DC 20001
​• • •
Operators – July 13
Singer/songwriter Dan Boeckner spearheads Operators, an electronic project that uses synths and drum machines to create Earth-shattering, science fiction-esque pop. Boeckner rose to prominence a singer/songwriter/guitarist for Wolf Parade, and previously made blistering electro-pop as a part of the duo Handsome Furs. Now, Boeckner is touring, with a band in tow, in support of this year's Radiant Dawn, Operators' second LP and their most ambitious. U Street Music Hall plays host.
7 p.m. | Tickets
U Street Music Hall, 1115 U Street NW, Washington, DC 20009
​• • •
Nas with the National Symphony Orchestra – July 14
Illmatic, one of the greatest hip-hop albums of all-time, was released on April 19, 1994. Its creator, Nas, has been a superstar ever since, experiencing a healthy amount of critical praise and crossover success. To celebrate the 25th anniversary of his landmark debut album, the rapper will perform Illmatic in its entirety, with the National Symphony Orchestra as support at Wolf Trap's beautiful Filene Center. The unique combination of styles should make for one fascinating evening of music.
8 p.m. | Tickets
Wolf Trap Filene Center, 1551 Trap Road, Vienna, VA 22812
​• • •
Bill Callahan – July 15
Initially performing as Smog before shifting to his birth name, Bill Callahan has been composing some of the deepest and darkest songs in independent music since the early 1990s. After a five-year hiatus from releasing music, Callahan dropped the double album Shepherd in a Sheepskin Vest this June, which is already drawing rave reviews and figures to end up on many year-end best-of lists. Callahan was born in Silver Spring, Md. and his following is strong; this July 15 date is the second of consecutive nights at the Miracle Theatre, as the first sold out quickly.
7:30 p.m. | Tickets
Miracle Theatre, 535 8th Street SE, Washington, DC 20003
​• • •
Jennifer Lopez – July 17
J. Lo is conquering North America this summer. The multi-talented entertainer can still amaze an audience night-after-night, roughly 20 years into an immensely successful music career. The evening will offer a constant stream of Lopez's new and classic anthems mixed with jaw-dropping choreography, set design and wardrobes.
8 p.m. | Tickets
Capital One Arena, 601 F Street NW, Washington, DC 20004
​• • •
Sheryl Crow – July 18
Sheryl Crow's songs have been blaring from stereos since the early 1990s, her unmistakable voice and unique take on country-rock always evident. From "All I Wanna Do" to "Soak Up the Sun" to "If It Makes You Happy" to "The First Cut Is the Deepest," her songs have seeped into the American consciousness, cutting across generations of fans. Crow will perform at the Filene Center at Wolf Trap this July, equipped with new music from Threads, which will be released on August 30.
8 p.m. | Tickets
Wolf Trap Filene Center, 1551 Trap Road, Vienna, VA 22812
​• • •
Sebadoh – July 23
Led by singer/songwriter Lou Barlow (who was a key part of Dinosaur, Jr., one of alternative rock's truly transformative bands), Sebadoh is responsible for some of the most heart-wrenching songs in indie since launching in the late 1980s. Act Surprised, their first album in six years, has drawn stellar reviews, and the band is embarking on a worldwide tour in support. What began as a lo-fi, extremely personal project has blossomed into a full-fledged rock tour-de-force in the span of 30 years. The group will conquer the Black Cat on July 23.
7:30 p.m. | Tickets
The Black Cat, 1811 14th Street NW, Washington, DC 20009
​• • •
John Mayer – July 23
John Mayer has become synonymous with guitar wizardry, and he'll bring his immense talent and long list of hits to the Capital One Arena for a Tuesday night show. This is Mayer's first solo tour since 2017, so fans should be clamoring for a DC stop from the acclaimed singer/songwriter. Expect the classics from Mayer, as well as plenty of displays of his amazing skills on guitar.
7:30 p.m. | Tickets
Capital One Arena, 601 F Street NW, Washington, DC 20004
​• • •
Elvis Costello & The Imposters and Blondie – July 26
Two titans of new wave are going to play The Anthem on the same night. Seriously. Elvis Costello will bring along The Imposters for a set of Costello's signature brand of pop tunes, which run the gamut from punk to ballads to chamber pop to jazz (he may not get to all of that, but you'll have to go to find out). Singer Debbie Harry and Blondie are also on the slate, their timeless brand of disco-punk sure to get feet and butts moving in the crowd.
7:30 p.m. | Tickets
The Anthem, 901 Wharf Street SW, Washington, DC 20024
​• • •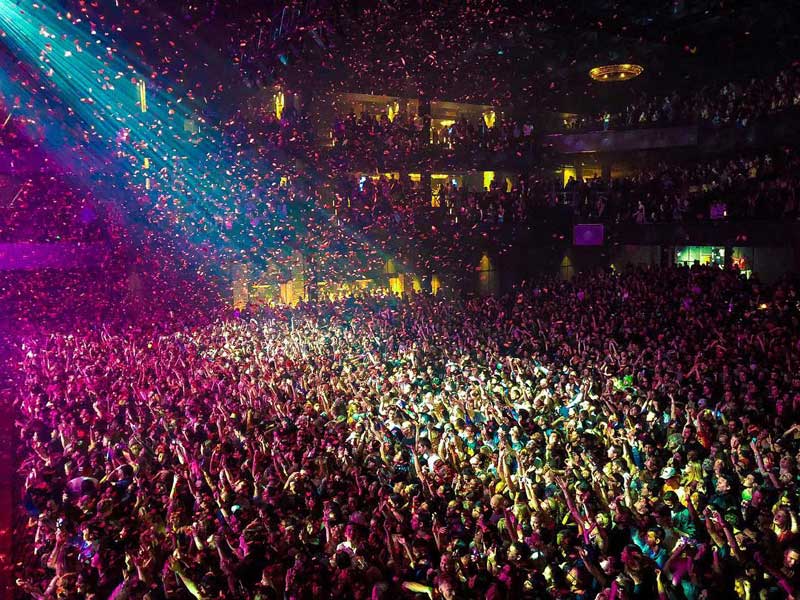 Ben Folds & Violent Femmes – July 30
The Anthem rocks another twin bill with this pairing of power pop powerhouses. Violent Femmes burst into the collective consciousness in the early 1980s with their ripping brand of acoustic folk, which sounds soft but is far, far from it. Ben Folds has touched an array of genres in a decades-long career, but his most noteworthy role is behind a piano, singing infectious pop tunes at the top of his lungs. Both the group and Folds should be in top form for this late July show.
8 p.m. | Tickets
The Anthem, 901 Wharf Street SW, Washington, DC 20024
​• • •
#MyDCcool Photo of the Month
Make sure to share your DC photos with us using #MyDCcool, and we may feature yours next month!