You are here
Why You Should Experience 'Pulse' at the Hirshhorn Museum & Sculpture Garden
Why You Should Experience 'Pulse' at the Hirshhorn Museum & Sculpture Garden
One of Washington, DC's most highly anticipated exhibits delivers interactive wonder at this free Smithsonian museum.
Rafael Lozano-Hemmer is a Mexican artist that sees the intersection of technology and art as a pathway to human connection. Lozano-Hemmer was once a chemist, so the biometric nature of his fascinating Pulse exhibit at the Smithsonian's Hirshhorn Museum and Sculpture Garden is no surprise. The immersive display offers three installations that require visitor participation to be fully activated, making this a museum-going experience that you do not want to miss. Here are six reasons why you should check out Pulse, which is open from Nov. 1 – April 28, 2019.
1
The exhibition marks the first major solo exhibition for Lozano-Hemmer in the U.S.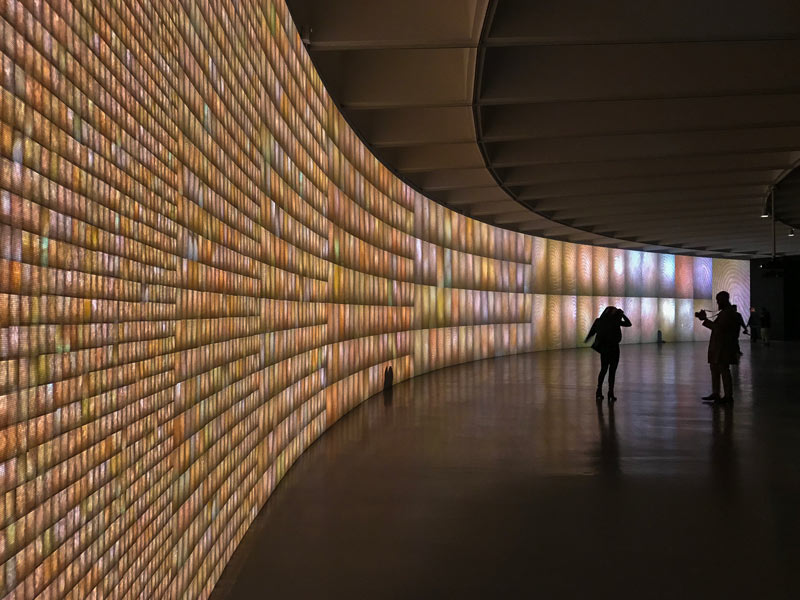 The revolutionary artist was the first to represent Mexico at the Venice Biennale in 2007 and his work is in collections at the Museum of Modern Art and the Guggenheim Museum in New York City. However, Pulse is the first time that Lozano-Hemmer's mind-bending work has been showcased with such grandeur in a major museum. Through the exhibit, Rafael translates an obsession with light – its ability to disorient you, to act as a tool of interrogation, to set you free. The artist's parents owned a nightclub, which triggered Lozano-Hemmer's fascination.
2
'Pulse Index' is essentially a live landscape painting of fingerprints.
The first of Pulse's three installations is Pulse Index. You are greeted on your left by a wall-length arrangement of fingerprints, which creates a sort of topography of fingerprint ridges on the large screen. At the far end of the room lies a sensor where you insert your index finger. The panel directly in front of you then displays an image of your fingerprint, as well as a graphed and numbered reading of your heart rate. Your fingerprint ignites a chain reaction that bumps the previous print further along the sequence, creating an interactive panorama. Eventually, the entire landscape of Pulse Index will be made up of the fingerprints of Hirshhorn visitors.
3
You can send ripples through water and the wall in 'Pulse Tank.'
The theme of collaboration and connection continues in Pulse Tank. Water is fixed in a two-and-a-half-inch pool, which is accompanied by two sensors (one for both of your hands, one for just your index finger) that activate ripples in the water once touched. The rippling water is projected onto a large screen on the wall across from the small tank, providing a striking visual that is coupled with the sound of your heart beating. Lozano-Hemmer asks that multiple people use the sensors at the same time, which creates a cacophony of patterns. Pulse Tank is inspired by ripple tanks, which are used by scientists to see how linear waves flow in water.
4
Witness a stunning combination of light and sound in 'Pulse Room.'
Pulse Room is the capstone to the exhibit. Upon entering the room, you may feel as if you've been inserted into a horror film, as incandescent light bulbs hanging from the ceiling randomly blink in an empty room, with the only sound a steady, rising rumble. The sound you're hearing is more than 200 heartbeats thumping at the same time.
Walk to far end of the room and you will see a sensor that requires you to grab, with both of your hands, onto a cylinder. The singular light bulb in front of you will respond by mirroring your heartbeat in its blinking, a beat that then spreads to all the other light bulbs in the room. The rumbling dissipates and the only sound you then hear is your own beat. Once you remove your hands from the sensor, your beat has now taken over the first light bulb in the series, which will eventually illuminate with the beat of your companion or fellow visitor, producing an incredible, room-filling arrangement that mimics a pulse.
5
This exhibit is going to be a social media sensation.
The incredible interactive capabilities of Pulse, plus its stunning visual components, means that visitors will be compelled to share their immersive experiences on social media, whether it's a video of the flashing bulbs in Pulse Room or a photo of the clashing reflected waves in Pulse Tank. Make sure to share your Facebook, Twitter or Instagram post with the hashtags #PulseDC and #MyDCcool.
6
You are encouraged to bring the entire family!
While the overarching themes of Pulse may be a lot for a child to comprehend, its responsive nature and engagement possibilities are ideal for a kid who may not be as entertained by paintings on a wall. The numerous combinations of light and sound, the mysterious machines and the wide and alluring design spaces allotted for each installation make this exhibit a must for any kind of visitor this winter.