Discover the world of Asian art on the National Mall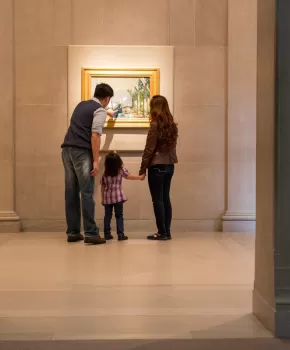 What is the National Museum of Asian Art and how do I get there?
The vibrant and colorful world of Asian art is all around at this breathtaking museum located on the National Mall and part of the Smithsonian Institution museums. The National Museum of Asian Art is located at 1050 Independence Avenue SW.
The museum opened to the public in 1987, with Dr. Arthur M. Sackler as its primary donor. His immense collection of Asian art included famous Chinese jades and ancient bronzes, necessitating a new Smithsonian museum dedicated to works from Asian nations more than 60 years after the Freer Gallery opened in 1923, whose founder was a railroad-car manufacturer named Charles Lang Freer. The museum now contains more than 26,000 objects across 6,000 years of history.
The museum is open daily from 10 a.m. – 5:30 p.m., except on December 25. Admission is always free. In terms of transportation, on-street parking is very limited, so using Metrobus or Metrorail is the best option to reach both galleries. Use the Smithsonian Metro station on the Orange, Blue and Silver lines. The 32, 34 or 36 Metrobus routes all serve the National Mall area. The DC Circulator's National Mall route will also take you near the museums – making it easy to continue your exploration afterwards. The Freer Gallery features a handicap accessible entrance on Independence Avenue at 12th Street SW.
What's inside the National Museum of Asian Art?
Expect a wide variety of Asian art from several regions and eras, including Islamic works, Chinese art, ancient Near Eastern art and pieces from South and Southeast Asia and the Himalayas. It all adds up to a comprehensive and historical look at some of the world's most fascinating cultures.
The museum also hosts events and film screenings, with some held at other museums around town. Check the calendar to see if you can catch one during your DC visit.
A final insider tip: make sure to check out the beautiful Enid A. Haupt Garden, situated just outside of the galleries. The four-acre public garden boasts gorgeous fountains, brick paths for walking, a famous Parterre and beautiful scenery.