Our end-of-the-week picks for June 24-26
We've gathered up some fun things to do in DC this weekend . You can also read what else is going on during the week and throughout the month.

Looking for a local perspective delivered directly to your inbox every two weeks? Sign up for our "DC on the Go-Go" Local Newsletter to stay in the know.
Friday
Smithsonian Folklife Festival 
The free Smithsonian Folklife Festival salutes different international cultures every year on the National Mall with craft exhibits, live music, cooking demos and an expansive marketplace full of pottery, books, textiles, toys, sculptures, clothing and more. The 2022 edition will focus on the United Arab Emirates and feature Earth Optimism programming.
One with Eternity: Yayoi Kusama in the Hirshhorn Collection
The Hirshhorn has been collecting the prolific work of Yayoi Kusama since 1996. The museum's 2017 survey of her work traveled to five North American art museums, introducing Kusama's spellbinding visions to record audiences. Now, the Hirshhorn displays five of Kusama's works from the museum's permanent collection, including two of the artist's transcendent Infinity Mirror Rooms. One with Eternity: Yayoi Kusama in the Hirshhorn Collection is a tribute to the life and practice of the visionary artist and makes for an awesome Mother's Day activity. Free timed passes are required.
Thursday - Sunday, 10 a.m. - 5:30 p.m. |  Free admission |  Safety guidelines
Hirshhorn Museum & Sculpture Garden, Independence Avenue & 7th Street NW, Washington, DC 20560
SAVOR: An American Craft Beer & Food Experience
Lovers of brews will not want to miss SAVOR, which features more than 100 craft breweries from all over the U.S. showing off two of their most acclaimed flavors at The Anthem. That adds up to more than 200 beers available for sampling, and there will be small plates that pair perfectly with each brew.
7 p.m. |  Tickets
The Anthem, 901 Wharf Street SW, Washington, DC 20024
Machine Gun Kelly
One of the world's biggest names in pop music comes to DC as part of his Mainstream Sellout Tour. Capital One Arena will host Machine Gun Kelly and a range of special guests, including Avril Lavigne, Travis Barker, WILLOW and more. Kelly's genre-bending music has raked in more than 15.5 billion streams online, with 10 million albums sold worldwide. The stadium will be rocking for this one.
7:30 p.m. |  Tickets
Capital One Arena, 601 F Street NW, Washington, DC 20004
Red Velvet
Shakespeare Theatre Company stages a riveting tale of a Black actor who finds himself playing Othello on London's grandest stage. Set in 1833, Ira Aldridge takes to London's Theatre Royal as one of the Bard's most famous characters as a bill promoting the abolition of slavery sends shockwaves through Parliament. Experience Aldridge's triumph in the face of social injustice and racism.
8 p.m. |  Tickets
Michael R. Klein Theatre, 450 7th Street NW, Washington, DC 20004
 
Saturday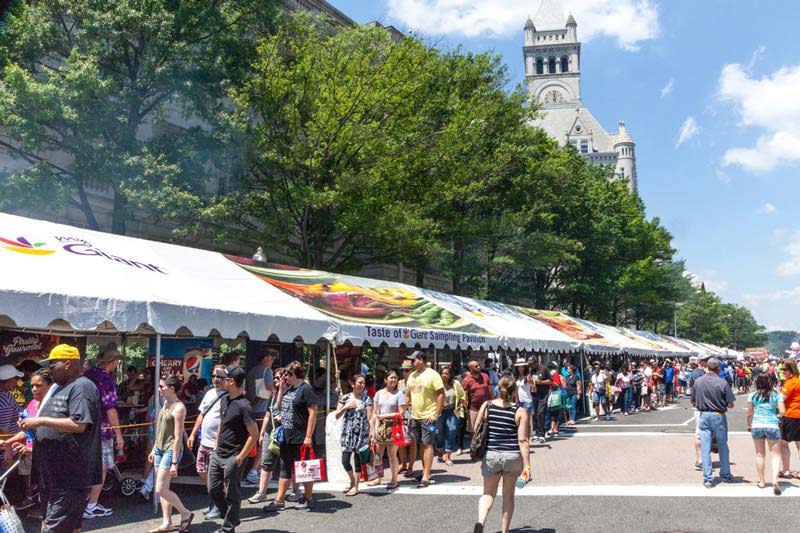 Giant National Capital Barbecue Battle
Rib roasters and sauce bosses show off their delicious wares during the Giant National Capital Barbecue Battle. Dozens of pit masters, local restaurants and live music shut down Pennsylvania Avenue between 3rd and 7th streets NW for a lively street party on Saturday and Sunday. Cooking demos and free tastings make for a delicious (and filling) experience.
Pennsylvania Avenue, Washington, DC
 
Aṣẹ: Afro Frequencies
ARTECHOUSE's newest experience will allow you to walk alongside African kings and queens as you explore timeless questions of identity, power and belonging. Inspired by aṣẹ, a Yoruba concept that relates to our power to produce change, Aṣẹ: Afro Frequencies celebrates the Black experience through the perspectives of artist Vince Fraser and poet Ursula Rucker. The exhibit makes for an ideal activity during Juneteenth weekend. Use the 'Tickets' link below for a special 10% discount!
Friday – Sunday: 10 a.m. – 10 p.m. |  Tickets
ARTECHOUSE, 1238 Maryland Avenue SW, Washington, DC 20024
To Kill a Mockingbird 
Richard Thomas stars as Atticus Finch in this captivating stage telling of Harper Lee's classic novel. Aaron Sorkin's adaptation was named a Critic's Pick by The New York Times and has one of the most successful Broadway runs in history. Tony Award winner Bartlett Sher directs.
1:30 & 7:30 p.m. |  Tickets
The John F. Kennedy Center for the Performing Arts, 2700 F Street NW, Washington, DC 20566
Drumfolk – Final Weekend
Step Afrika! and Arena Stage join forces for this electrifying production inspired by the Stono Rebellion of 1739 and the Negro Act of 1740 in South Carolina. Through its signature percussive dance, Step Afrika! tells the story of brave, enslaved Africans who refused to let the beat stop and in turn, inspired African American culture all the way up to the present day. Drumfolk marks the first of a three-part, multi-year collaboration between Step Afrika! and Arena Stage and prominently features local musical star Christylez Bacon, making it one of the can't-miss shows of the summer in DC.
2 p.m. & 8 p.m. |  Tickets
Arena Stage, 1101 6th Street SW, Washington, DC 20024
Jersey Boys – Final Weekend
Winner of multiple Tony and Grammy Awards, Jersey Boys is the action-packed tale of Frankie Valli and The Four Seasons, who rose from blue-collar backgrounds to become one of the greatest pop music groups ever. Featuring an unforgettable score and magnificent choreography, this show should be on everyone's bucket list.
2 p.m. & 8 p.m. |  Tickets
John F. Kennedy Center for the Performing Arts, 2700 F Street NW, Washington, DC 20566
Nick Kroll
Comedian, writer, actor and outstanding live performer Nick Kroll will film his first Netflix special during this show at the historic Warner Theatre. You may know Kroll from his role on FX's The League or as the co-creator of the Netflix animated series, Big Mouth. He's also behind The Oh, Hello Show, a hilarious collaboration with close friend John Mulaney. Good luck stemming off the belly laughs during this set.
7 p.m. |  Tickets
Warner Theatre, 513 13th Street NW, Washington, DC 20004
Sarah Sherman
Also known as "Sarah Squirm," Sarah Sherman is currently a featured player on Saturday Night Live and has drawn raves for her idiosyncratic live show, Helltrap Nightmare. The comedian has also opened for Eric Andre (and wrote for his TV show), staffed on the Adult Swim series Three Busy Debras and Netflix's Magic for Humans and received acclaim for her recent short, Sarah Vaccine. The Kennedy Center hosts this mega-talent for one night only (two shows).
7 p.m. & 9 p.m. |  Tickets
John F. Kennedy Center for the Performing Arts, 2700 F Street NW, Washington, DC 20566
The Hot Wing King
Set in the heat of the summer in Memphis, The Hot Wing King follows Dwayne and his fry crew, The New Wing Order, as he aims to receive the honor of the play's title. However, all of a sudden, Dwayne's boyfriend, Cordell, faces a future about to go up in flames. Additionally, his nephew needs a place to stay and one of the cooks is messing with the seasoning. This masterpiece won the 2021 Pulitzer Prize for Drama, so don't miss its run at DC's Studio Theatre.
8 p.m. |  Tickets
Studio Theatre, 1501 14th Street NW, Washington, DC 20005
Shakespeare in Love
DC's Keegan Theatre hosts the regional premiere of this adaptation of Marc Norman and Tom Stoppard's classic screenplay (which was turned into an acclaimed film that won seven Oscars). A young Will Shakespeare has writer's block with a deadline fast approaching. Then he meets Viola, a super-fan who will go to any lengths to appear in one of The Bard's plays. Mistaken identities, ruthless scheming and backstage theatrics are scattered throughout this unforgettable love story.
8 p.m. |  Tickets
Keegan Theatre, 1742 Church Street NW, Washington, DC 20036
Sunday
Ancient Yemen: Incense, Art and Trade
The National Museum of Asian Art welcomes visitors to a new exhibit that will focus on Yemen and its status as a hub for the trade of incense during the first and second century BCE. Fine alabaster statues and metalworks showcase the skills of Yemen's artists of the time, who combined local concepts with Greek and Roman inspirations into new creations.
Wednesday – Monday, 10 a.m. – 5:30 p.m. | Free Admission
National Museum of Asian Art, 1050 Independence Avenue SW, Washington, DC 20560
 
We Belong Here: Marking the 50th Anniversary of Title IX
In celebration of the 50th anniversary of the federal legislation that unintentionally helped bring equality to sports, the National Museum of American History offers a 30-foot display case featuring three athletes' stories. We Belong Here will also showcase a large mural, with digital content expanding the narrative. Major artifacts include Naomi Osaka's tennis racquet from the 2020 U.S. Open Tennis Championship, the U.S. National Soccer team jersey worn by Samantha Mewis and a T-shirt sported by trans, non-binary skateboarder Leo Baker. In total, the exhibit looks at the long trajectory of struggle for equal opportunity in sports, a struggle that continues today.
10 a.m. – 5:30 p.m. |  Free Admission
National Museum of American History, 1300 Constitution Avenue NW, Washington, DC 20560
In His Hands
Daniel, a video game wizard and aspiring Lutheran pastor, is falling for Christian. But as these men explore the potential of their new relationship, voices from Christian's past threaten to overpower the connection the two share. Mosaic Theater Company and Atlas Performing Arts Center present this fascinating queer rom-com that asks provocative questions about faith and desire, with a gentle and lyrical voice.
3 p.m. |  Tickets
Atlas Performing Arts Center, 1333 H Street NE, Washington, DC 20002
The Second City's The Revolution Will Be Improvised
Everyone's favorite comedy troupe has emerged from their "comedy bunker" and is set to return to the Kennedy Center. The Second City is back in action with this brand new show that takes on every viewpoint and common thread currently swirling around the zeitgeist. Prepare to laugh heartily as the group churns through sketches and contemplates the nature of comedy itself. Please note that the show is recommended for mature audiences.
4 p.m. & 8 p.m. |  Tickets
John F. Kennedy Center for the Performing Arts, 2700 F Street NW, Washington, DC 20566
Presente! A Latino History of the United States
Experience U.S. history from the perspectives of diverse Latinas and Latinos in a new exhibit at the National Museum of American History. Hear forgotten stories, dive deep into Latino culture and find out how Latinas and Latinos have shaped U.S. history and culture. Through a diversity of objects, images and stories, you will come to view Latinhood as an exchange between distinct communities under the Latino identity.
10 a.m. – 5:30 p.m. | Free Admission
National Museum of American History, 1300 Constitution Avenue NW, Washington, DC 20560
#MyDCcool Photo of the Week

Make sure to share your DC photos with us using #MyDCcool, and we may feature yours next month!
Do you know where you'll be dining pre- or post-event? From pop-up restaurants to Michelin-starred hot spots to laid-back food halls, our DC food guide is perfect for helping you plan a more memorable experience.