You are here
Virtual Things to Do This Week in Washington, DC
Virtual Things to Do This Week in Washington, DC
Our Monday-Thursday picks for June 1-4
As you practice social distancing, we've gathered up some live virtual events and other fun things to do that are going on this week. As always, you can also check out tons of on-demand virtual museum tours, neighborhood tours, TV and movies streaming ideas with a DC bent, DC-inspired music playlists, Washington, DC Zoom meeting backgrounds and much more.
Looking for things to do Friday through Sunday? Don't miss things to do this weekend.
Monday
#StillWe Pride2020
Capital Pride is going virtual with the powerful slogan #StillWe Pride. Things will kick off with a video featuring some VIPs and local supporters. Highlights this week include a live Facebook event with the Empress of Pride Rayceen Pendarvis on Wednesday and a virtual dance party on Friday night.
Various Times
​• • •
Giant National Capital Barbecue Battle Virtual Experience
Fire up your grill and play pitmaster with the best of the best. One of the most popular summer events held in DC, the Giant National Capital Barbecue Battle is going virtual, and that means all competition categories (see: prize money!) are open to the public. You can compete online against expert meat-smokers to win thousands of dollars in prizes. Not old enough to torch the charcoal? Hop into the Giant Kids Zone, which offers up exciting activities, contests and summer fun for the whole family. Cooking demos, recipes, barbecue tips and the battle of the bands round out the fun.
June 1-30 on Facebook Live
​• • •
The Kennedy Center's Couch Concert: National Spotlight
Before staying at home swept the world, the Kennedy Center's Millennium Stage held free daily performances at 6 p.m. for any and all to see. More recently, Millennium Stage has kicked off its virtual companion: Couch Concerts, held most Mondays, Wednesdays and Fridays. Mondays feature the National Spotlight series, partnering with another venue around the country and featuring two artists who will tell the story of their city.
4 p.m. on YouTube Live and Facebook Live
Tuesday

#STEAMwork Live Videos from National Children's Museum
Each day at 2:30 p.m., the National Children's Museum is hosting educational and fun live streams for kids and parents. Expect experiences, stories and projects geared towards kids under 12, with a different STEAM theme each day: climate action challenge (Monday), science exploration (Tuesday), storytime (Wednesday), design + build (Thursday), nature spotlight (Friday), community connection (Saturday) and sensory play (Sunday). Check the museum's Facebook page for more!
2:30 p.m.
​​• • •
Wednesday

International Spy Museum's Mind Games: Virtual Spy Trivia
One of the big content producers during the coronavirus is the International Spy Museum, who keeps an active virtual event list filled with live spy games, workshops and happy hours. On Wednesday evening, join the up to 75 participants for a spy-filled game of live online trivia complete with a prize for the winners.
Register
5:30-6:30 p.m. on GoTo Meeting
​• • •
Live from the Living Room with Patrick McAvinue
This Strathmore series runs every Wednesday night at 7:30 p.m. and features artists from an array of genres performing their songs live from their own homes. This week, catch Celtic fiddler Patrick McAvinue, who will be showing off his bluegrass chops in a high-powered, energetic performance.
7:30 p.m on Facebook Live
​• • •

The Shakespeare Hour
Shakespeare Theatre Company takes viewers on a journey into the life, times and works of William Shakespeare with The Shakespeare Hour every Wednesday at 7:30 p.m. through June 10. For this week's edition, Artistic Director Simon Godwin and Resident Dramaturg Drew Lichtenberg lead a discussion on the politics in Julius Caesar and Antony & Cleopatra with award-winning Shakespeare author James Shapiro. Shows are hosted online through Zoom. Shakespeare Theatre Company members and subscribers can access for free while non-members can pay $10 for admission.
7:30 p.m.
• • •
Thursday
Smithsonian Folklife Story Circle: Brazil in Motion from the Secular to the Spiritual
Discover Brazilian dance and explore how it is a conduit to understanding ourselves and the world in which we live. Flavia Nascimento and Dee Hale, two dancers based in Washington, DC, will discuss their creative processes and personal connections with the specific movements of the art form.
12-12:30 p.m.
​• • •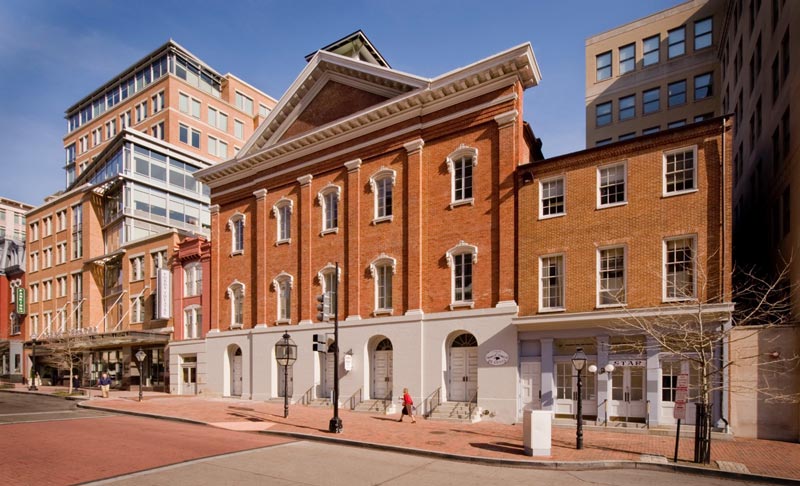 Ford's Theatre Cabinet Conversations
Director Paul R. Tetreault interviews Playwright Richard Hellesen and actor David Selby about Lincoln and creating historical drama, part of a new series from the historic theater entitled, Cabinet Conversations.
4 p.m. on Facebook Live, YouTube or Twitter
​• • •
A Toast to DC Beer!
Grab a sixer (or growler) of a local craft beer, pay $10 to support DC brewers and join the guild for a Zoom meeting powered by tasty pours. The "toast" is your chance to experience virtual tastings and tours of seven different breweries . You can also join a raffle for some swag, and level up to a Beer Me package for $25 with an assortment of 10 beers or a DC Enthusiast bundle with 20 beers and a growler cooler.
6:30-10 p.m.
Tickets
​• • •
Want to see what's going on this weekend? Check out virtual events and other ideas to pass the time.

#DCtogether Photo of the Month
Make sure to share your DC photos with us using #DCtogether, and we may feature yours next month!