Things to do the week of Dec. 6-9
We've gathered up some things to do, including in-person activities as well as virtual events going on this week in Washington, DC.

In addition, don't miss our things to do this weekend and things to do this month.

Looking for a local perspective delivered directly to your inbox every two weeks? Sign up for our "DC on the Go-Go" Local Newsletter to stay in the know.
Monday
FUTURES
Smithsonian's historic Arts and Industries Building has opened its groundbreaking new experience. On view through July 6, 2022, FUTURES is the Smithsonian's first major building-wide exploration of the future and will temporarily reopen the Smithsonian's oldest museum for the first time in nearly two decades. The part-exhibition, part-festival will celebrate the Smithsonian's 175th anniversary with more than 150 awe-inspiring objects, ideas, prototypes and installations that fuse art, technology, design and history to help visitors imagine many possible futures on the horizon. Make sure to read our guide to the exhibit before you go.
10 a.m. - 5:30 p.m. |  Free admission |  More details
Arts and Industries Building, 900 Jefferson Drive SW, Washington, DC 20560
 
Light Yards
Yards Park annually offers a festive light installation at its Sundeck. Australian-based light design sculptors Amigo & Amigo have crafted a stunning new installation with 22-foot-tall trees and colored patterns sure to dazzle you as you wander through the area this holiday season. The space is wonderful for an illuminated, night-time stroll. Light Yards is lit up each night from 6-10 p.m.
6-10 p.m. nightly |  Free admission
Yards Park, 355 Water Street SE, Washington, DC 20003
 
Enchant Christmas
The beloved light maze, billed as the biggest in the world, makes its home in DC at the gorgeous Nationals Park through Jan. 2, 2022. There are also ice skating trails, a holiday village with products from local businesses and a kids' play place. Expect plenty of Instagram-friendly settings and holiday spirit at this one-of-a-kind installation.
Tickets
Nationals Park, 1500 South Capitol Street SE, Washington, DC 20003
Tuesday
Life of a Neuron
This exhibit at ARTECHOUSE will take you through the thinking cells of the brain, diving into one of the world's greatest mysteries. Artists and scientists collaborated on this fascinating experience that will showcase how the brain shapes our experiences. Thanks to the Society for Neuroscience, ARTECHOUSE allows you to see a neuron from pre-birth to death, allowing for an immersive journey to the center of the mind. Book a discounted trip through the museum at the link for 'Tickets' below.
Monday – Thursday: 12-8 p.m. |  Friday – Sunday: 10 a.m. – 10 p.m. |  Tickets
Safety guidelines
ARTECHOUSE, 1238 Maryland Avenue SW, Washington, DC 20024
The New Woman Behind the Camera
The National Gallery of Art displays breathtaking photographs from more than 120 women photographers around the world. These "new women" embraced the art form as a mode of personal and professional expression and in the process, rewrote the rules of modern photography. See unflinching and beautiful images from these trailblazers who embodied a creative and confident spirit and whose work showed unique new perspectives from the 1920s to the 1950s. The exhibit will be on display through Jan. 30, 2022. Make sure to read up on even more reasons to check out The New Woman Behind the Camera.
Open 10 a.m. – 5 p.m. daily |  Free admission |  Safety guidelines
National Gallery of Art, 6th Street & Constitution Avenue NW, Washington, DC
Tootsie
Based on the classic 1982 film starring Dustin Hoffman, this Broadway musical edition of Tootsie comes to DC's illustrious National Theatre this December. Featuring a score by Tony Award winner David Yazbek, the play follows actor Michael Dorsey in his quest for acting stardom. Talented but difficult to work with, Dorsey lands the role of a lifetime under false pretenses. Hilarity ensues. Don't miss this critically acclaimed production during its limited run in DC.
7:30 p.m. |  Tickets
The National Theatre, 1321 Pennsylvania Avenue NW, Washington, DC 20004
 
Wednesday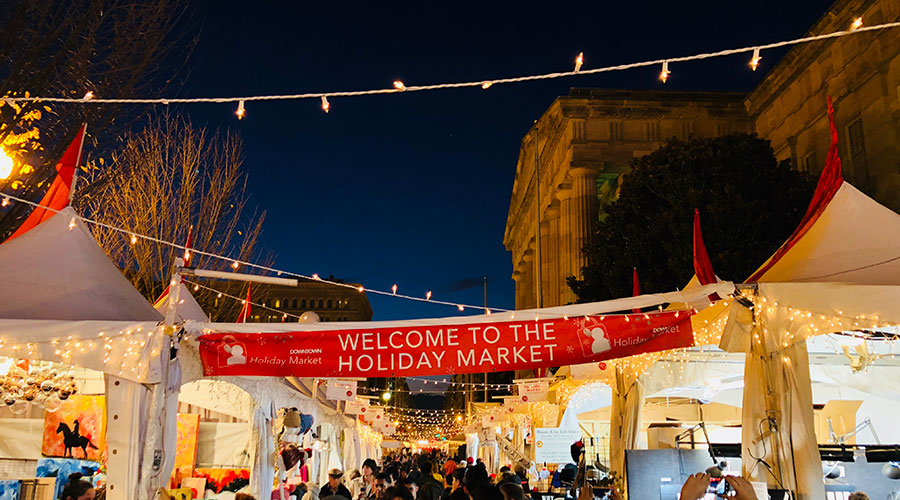 Downtown Holiday Market
Downtown Holiday Market
This free-to-frequent downtown bazaar is centrally located in front of the Smithsonian American Art Museum and National Portrait Gallery. The beloved market stretches across two blocks of F Street between 7th and 9th streets. Scope out eclectic wares from dozens of pop-up tents with seasonally flavored music performed live in the background. Locally roasted coffee and crafted-before-your-eyes mini-doughnuts inspire a cold-weather appetite, creating a holiday atmosphere you won't find anywhere else in DC. Please make sure to read the market's safety information before your visit.
12-8 p.m., daily |  Free admission | Safety guidelines
F Street between 7th and 9th Streets NW, Washington, DC
August Wilson's Seven Guitars
Legendary playwright August Wilson's fifth cycle play takes audiences to 1940s Pittsburgh, where blues singer Floyd Barton has decided to alter his lifestyle after an unexpected windfall has him thinking about second chances. Seven lives will be affected by Floyd's decision in a story injected with powerful blues rhythms.
7:30 p.m. |  Tickets
Arena Stage, 1101 6th Street SW, Washington, DC 20024
NSO at The Anthem: Ugly Sweater Holiday Concert
Turn the holiday spirit to 11 with this special performance by the National Symphony Orchestra at The Anthem. The entire orchestra will be decked out in ugly sweaters of choice as the ensemble performs stirring renditions of Christmas classics. Make sure to rock your own holiday outfit and prepare for an unforgettable night inside a state-of-the-art venue. Tickets start at just $15.
7:30 p.m. |  Tickets
The Anthem, 901 Wharf Street SW, Washington, DC 20024
Thursday
Toyin OIjih Odutola: A Countervailing Theory
The Hirshhorn features this stunning narrative work through next April. Toyin Oljih Odutola's A Countervailing Theory features 40 large-scale monochromatic drawings in low-lit galleries. The series is presented as if each drawing was unearthed at an archaeological site in Nigeria. Panel by panel, these pastels reveal a myth conceived by Odutola, reminding one of a mammoth graphic novel. The installation spans the entirety of the Museum's circular inner galleries on its second floor.
Wednesday - Sunday, 10 a.m. - 5:30 p.m. |  Free admission |  Safety guidelines
Hirshhorn Museum & Sculpture Garden, Independence Avenue & 7th Street NW, Washington, DC 20560
 

Holiday Lights at Tudor Place
Enjoy a lantern-lit tour of Tudor Place
Experience one of the city's most historic destinations with a lantern light tour during the week Tours take place on Tuesday, Thursday, Saturday and Dec. 14 and 16. Explore the Historic House by candlelight to learn about traditional holiday celebrations, and then set out into the beautifully kept gardens guided by lantern lights.
6 p.m. |  Tickets
Tudor Place, 1644 31st Street NW, Washington, DC 20007
 
Once Upon a One More Time
Inspired by the music of Britney Spears, this Broadway-bound production centers on fairytale princesses who have gathered for their fortnightly book club. When one of the ladies drops The Feminine Mystique into the discussion, these queens realize there is much more to life than fancy dresses and a kiss from your true love. Spears' classic songs, including "Toxic," "Oops! … I Did It Again" and "Stronger," provide the backdrop to this awesome adventure hosted by Shakespeare Theatre Company. Please note that proof of full vaccination is required to attend the show.
7:30 p.m. |  Tickets
Sidney Harman Hall, 610 F Street NW, Washington, DC 20004
Step Afrika!'s Magical Musical Holiday Step Show
DC's Step Afrika!, the first professional company dedicated to the tradition of stepping, puts on a holiday extravaganza at the Atlas Performing Arts Center in the H Street neighborhood from this Thursday through Dec. 19. The family-friendly show will combine clapping, stomping and stepping for a dazzling array of percussive dance. Furry friends from the animal kingdom and a dance party hosted by DJ Frosty the Snowman are also on the docket.
7:30 p.m. |  Tickets
Atlas Performing Arts Center, 1333 H Street NE, Washington, DC 20002
#MyDCcool Photo of the Week
Make sure to share your DC photos with us using #MyDCcool and we may feature yours next week!