Things to do the week of Sept. 20-23
We've gathered up some things to do, including in-person activities as well as virtual events going on this week in Washington, DC.

In addition, don't miss our Stay Local DC content, which features special deals and safe activities for a DC staycation, as well as our things to do this weekend.

Looking for a local perspective delivered directly to your inbox every two weeks? Sign up for our "DC on the Go-Go" Local Newsletter to stay in the know.
Monday
Walkingtown DC
Cultural Tourism DC showcases the incredible walkability of the nation's capital during this free public tour program that runs through this Sunday. In total, dozens of guided walking tours will be held throughout the District, allowing you to further explore the city's neighborhoods, cultural attractions, creativity and so much more. Tours come in many variations, from after-work "happy hour" soirees to long weekend tours. Historians, licensed tour guides, community leaders and business owners, among others, host these adventures that will take you to both well-known and hidden gems across DC.
Register
Experience The Capital Wheel
Soar 180 feet in the air on the area's only observation wheel, which spins right on the National Harbor's majestic waterfront. The Capital Wheel features 42 climate-controlled gondola cars that seat up to eight and circle every day and night of the year, providing stunning views of Alexandria, Va., DC's monuments and the Potomac River. Sunset rides are particularly scenic. Use code VISITDC for a 10% discount on tickets through Dec. 31.
Monday – Thursday, 4-8 p.m. |  Friday – Sunday, 12-8 p.m. |  Tickets
The Capital Wheel at National Harbor, 141 American Way, National Harbor, MD 20745
 
Tuesday
Celebrate Hispanic Heritage Month with DC Public Library
The DC Public Library is offering a variety of events and resources in honor of Hispanic Heritage Month. The theme this year is Esperanza: A Celebration of Hispanic Heritage and Hope. Reflect on past, current and future contributions to Hispanic culture with story time, film viewings, performances and readings. You can also enjoy a special edition of #StayatHomeDCTrivia on Tuesday.
 
Toni Stone
This spellbinding story from award-winning playwright Lydia R. Diamond is set to hit a home run at Arena Stage. Toni Stone is the first woman to play in the Negro Leagues and the first woman to play professionally in a men's league in the 1950s. Stone dominates the competition and makes her own rules in the male-dominated sports world. This inspiring story will showcase the courage, determination and confidence of its alluring main character.
Tickets
Arena Stage, 1101 6th Street SW, Washington, DC 20024
 
Wednesday
Virtual Wilmerding Symposium & Community Celebration
In honor of Alma Thomas' legacy, the National Gallery of Art has dedicated its 2021 John Wilmerding Symposium of American Art and Community Celebration to the artist and her contributions. Former First Lady Michelle Obama will provide a virtual introduction to two days' worth of conversations between artists, scholars and curators. Then, from Friday through Sunday, the Gallery will host an in-person, on-site community celebration with free art kits, a special horticultural display, a community gallery, Thomas-inspired, colorful gelato in the East Building Concourse and much, much more. Make sure to register in advance.
More info
National Gallery of Art, 4th Street & Constitution Avenue NW, Washington, DC 20565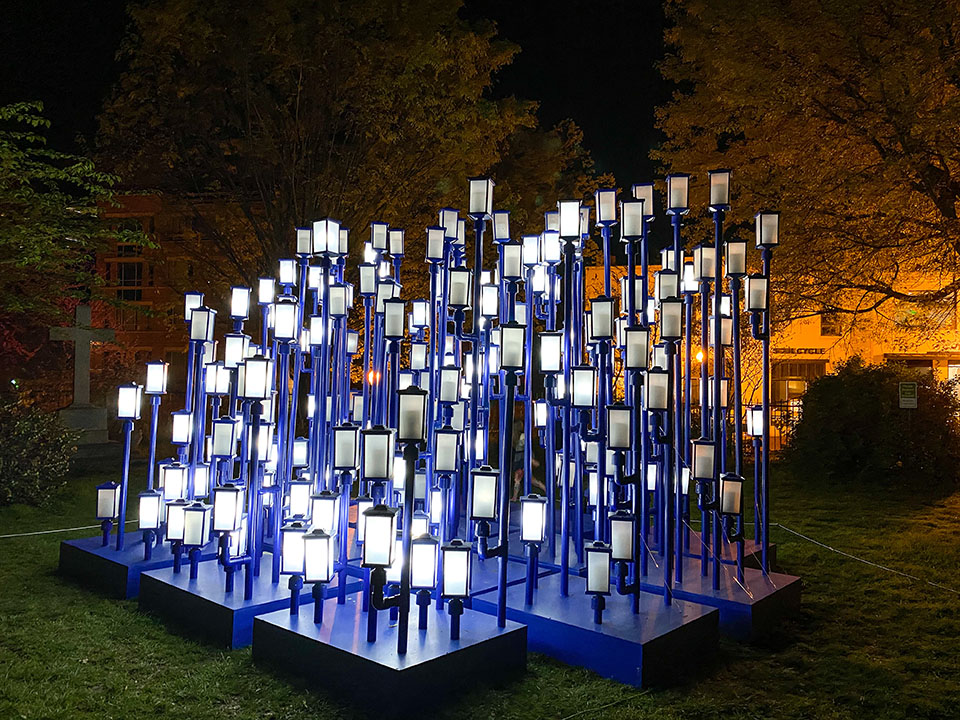 Georgetown GLOW: Summer Edition - Final Week
After the 2020 edition was postponed due to the COVID-19 crisis, Georgetown GLOW continues with a summer edition meant to dazzle you as you explore one of DC's most historic neighborhoods. The region's only free, curated, outdoor public light experience is open to all both day and night, and you can read up on the artists and installations on Georgetown GLOW's official website. The installation is open through Sept. 26.
 
Teenage Dick
Woolly Mammoth Theatre Company, Pasadena Playhouse and Huntington Theatre Company have teamed up to bring you this exciting production that was initially planned for June 2020. Teenage Dick is a darkly humorous, modern-day retelling of Shakespeare's Richard III set in high school. Richard is picked on because of his cerebral palsy and is now set to exact his revenge once he's been named senior class president. However, along the way, Richard must ask himself: is it better to be feared or loved? Please note that in order to attend a performance at Woolly Mammoth, you'll need to provide proof of vaccination or a negative COVID-19 test taken within the last 72 hours.
Tickets
Woolly Mammoth Theatre Company, 641 D Street NW, Washington, DC 20004
Thursday
Deaf Enlightenment and Arts Festival
Celebrate Deaf culture through the arts with this free three-day (Thursday-Saturday) community event at The REACH on the Kennedy Center's campus. Visionaries of the Creative Arts and National Theatre of the Deaf have partnered with DC's iconic venue to host programming featuring outdoor activities and performances by Deaf artists in music, ASL poetry/storytelling, the visual arts, dance, film and theatre. Make sure to read up on the Kennedy Center's vaccination and mask policy before you go. Registration is required.
More info
The John F. Kennedy Center for the Performing Arts, 2700 F Street NW, Washington, DC 20566
Inside the Wardrobe – Final Week
The stars have aligned in bringing this 20,000-square-foot, interactive exhibit to DC's center of fashion, Georgetown. You will journey through more than 20 experiences focused on the fun and creativity of getting dressed. Inside the Wardrobe merges an Instagram playground and a pop-up museum into a fashionista fantasyland. Design Foundry is behind this incredible addition to DC's lineup.
Thursday & Friday, 5-9 p.m. |  Saturday & Sunday, 10 a.m. – 9 p.m. |  Tickets
3270 M Street NW, Suite C100, Washington, DC 20007
 
The Amen Corner - Final Week
From the brilliant mind of the late James Baldwin comes this acclaimed play directed by Whitney White, which will reside at Shakespeare Theatre Company's Sidney Harman Hall for a short two-week engagement. The Amen Corner concerns Pastor Margaret, who runs a small storefront church in Harlem in the 1950s. Margaret cries out against the vices of her sons and congregation, but faces her own personal struggle when memories of her troubled past return. Filled with uproarious gospel songs, the acclaimed production serves as an outstanding re-entry to in-person theater enjoyment.
Tickets
Sidney Harman Hall, 610 F Street NW, Washington, DC 20004
 
#MyDCcool Photo of the Week
Make sure to share your DC photos with us using #MyDCcool and we may feature yours next week!