You are here
Things to Do This Week in Washington, DC
Things to Do This Week in Washington, DC
Our picks of the week for Oct. 26-29
As you continue to practice social distancing and the city slowly reopens, we've gathered up some things to do, including safe in-person activities as well as virtual events going on this week. As always, you can check out tons of on-demand virtual museum tours, neighborhood tours, TV and movies streaming ideas with a DC bent, DC-inspired music playlists, Washington, DC Zoom meeting backgrounds and much more.
In addition, don't miss our Stay Local DC content, which features special deals and safe activities for a DC staycation, as well as our things to do this weekend.
Monday

Halloween Hunt at the Mansion on O
Visiting the wondrous Mansion on O & O Street Museum is quite the experience, especially when you journey through the historic venue on a scavenger hunt. View the Mansion in its finest Halloween attire as you search through its many themed rooms and secret doors for seasonal and Halloween-themed prizes. You can also bring along your own shopping bag and purchase goodies from the mansion. Face coverings are required and can be supplied upon arrival and social distancing guidelines must be followed.
Tickets
The Mansion on O & O Street Museum, 2020 O Street NW, Washington, DC 20036
​• • •

Visit reopened galleries at the National Gallery of Art
This Tuesday, the National Gallery of Art will reopen the galleries east of the Rotunda on the West Building's main floor. These spaces include 18th and 19th-century French paintings and sculpture in addition to notable works from British and American artists and the temporary exhibition, True to Nature: Open-Air Painting in Europe, 1780–1870, which will close on Nov. 15. Note that on Nov. 16, additional Main Floor galleries west of the Rotunda will reopen. Timed passes are required for entry to the museum. Please make sure to follow all of the museum's safety guidelines, including wearing a mask.
11 a.m. – 4 p.m. daily | Free timed passes
National Gallery of Art, 6th Street and Constitution Avenue NW, Washington, DC 20565
​• • •

Visit the reopened United States Holocaust Memorial Museum
The United States Holocaust Memorial Museum will reopen to the public this Monday. Timed passes will be required for entry and the museum will be open from 11 a.m. to 4 p.m. every day of the week except Wednesday. Face coverings are required and the museum will enforce social distancing guidelines. Visit the museum's website for more information and to refamiliarize yourself with the facility's in-depth exhibitions.
11 a.m. – 4 p.m. daily, except Wednesdays | Free timed passes
United States Holocaust Memorial Museum, 100 Raoul Wallenberg Place SW, Washington, DC 20024
​• • •

Mother, Daughter, Sister, Spy
A small $10 donation is required to attend this annual International Spy Museum event that doubles as a fundraiser. This year's virtual event gathers former female spies for a timely discussion that will touch on their backgrounds, current affairs, the world of espionage and much, much more. Once the discussion concludes, you can ask questions on the museum's online platform.
6:30 p.m. | Register
​• • •
Tuesday

'Girlhood (It's Complicated)'
The National Museum of American History crafted this 5,000-square-foot gallery that tells the amazing and extremely complicated story of growing up female in America. The exhibit is comprised of five story sections that cover a range of experiences and how the definition of "girlhood" has changed over time in the U.S. From Helen Keller to Naomi Wadler, Girlhood showcases the strength of females through interactive stories and custom murals and illustrations by artist Krystal Quiles. Free timed-entry passes are required to enter the museum. Please make sure to follow the museum's safety guidelines, which include wearing a facial covering.
Friday – Tuesday, 11 a.m. – 4 p.m. | Free timed passes
Smithsonian National Museum of American History, 1300 Constitution Avenue NW, Washington, DC 20560
​• • •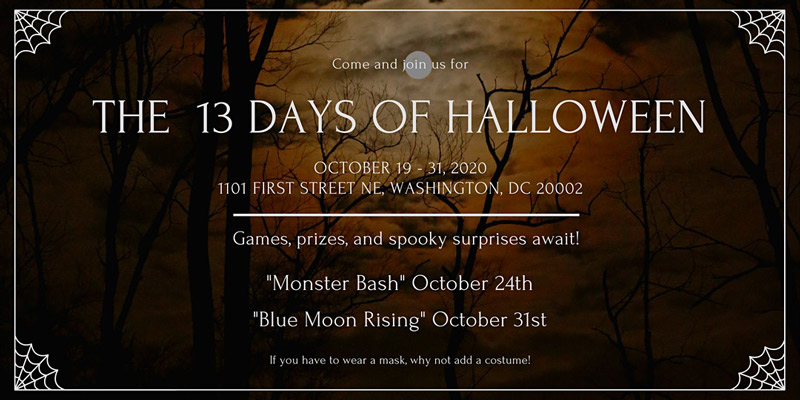 13 Days of Halloween at Wunder Garten
Now that Oktoberfest is in the rearview, DC's Wunder Garten has turned its attention to Halloween. Through the end of the month, you can enjoy Halloween-themed drink specials, festive decorations, trivia and movie nights and a socially distanced monster bash, which is scheduled for this Saturday, Oct. 24. Outdoor fire pits and heaters will be arranged to help keep you warm. Please ensure you wear a mask when not eating or drinking and maintain a safe social distance from others.
Monday – Thursday: 4-11 p.m. | Friday: 3-11 p.m. | Saturday: 12 p.m. – 12 a.m. | Register
Wunder Garten, 1101 1st Street NE, Washington, DC 20002
​• • •
Wednesday​

Visit Planet Word
Visitors will be able to immerse themselves in the power of language at this exciting and highly anticipated museum, which opens on a limited basis to support social distancing this Thursday. Please make sure to register in advance for a free, timed-entry pass. Planet Word will feature an array of galleries, including Words Matter, which will showcase how language can have an incredible impact on lives. The Spoken World will amaze visitors by highlighting the diversity of language around the globe through speakers and signers of 31 different languages. The museum will also feature one of Shared_Studios' Portals, a live, audio-visual environment that allows you to converse and interact with people all over the globe.
Visitor Guidelines | More Info
Planet Word, 925 13th Street NW, Washington, DC 20005
​• • •

Day of the Dead Paint Night
DC's HalfSmoke, located in Shaw, will host this sugar-skull painting class on its 34-seat outdoor patio in honor of the Day of the Dead. Tickets, which cost $25, must be purchased in advance in accordance with social distancing guidelines – please also wear a mask during the proceedings. This three-hour class will offer paint, step-by-step instructions and one sugar skull per person. You will also receive a complimentary Don Julio cocktail with your ticket purchase. HalfSmoke's unlimited happy hour menu will also be offered from 5-7 p.m.
6-9 p.m. | Tickets
HalfSmoke, 651 Florida Avenue NW, Washington, DC 20001
​• • •
Thursday​

Reserve a Winter Igloo at the Next Whisky Bar
Located inside the Watergate Hotel, the Next Whisky Bar represents the top of luxury, especially during the winter season. You can reserve a heated igloo on the restaurant's patio throughout the fall and winter, making for a cozy, intimate and safe environment for a night on the town. Each igloo can accommodate up to eight guests and 90-minute seatings are available from Monday through Sunday beginning at 4:30 p.m. Order up a wintry cocktail, kick back and relax with friends after what's been a crazy wear. A reminder to please wear a face covering when not eating or drinking.
Seatings begin at 4:30 p.m., Monday – Sunday | Reserve
The Next Whisky Bar, 2650 Virginia Avenue NW, Washington, DC 20037
​• • •

Sunset Cinema at The Wharf
Nothing beats watching the sunset on the water, right? Think again. Enjoy Hocus Pocus with popcorn and beer on the Transit Pier big screen during Sunset Cinema at The Wharf, in partnership with Cantina Bambina and Pacifico Beer. To participate, all guests must reserve a private cabana at Cantina Bambina in advance and must be over 21 years of age.
8 p.m. (Seating available at 7:30 p.m.) | Reserve
​• • •
Want to see what's going on this weekend? Check out virtual events and other activities to pass the time.

#DCtogether Photo of the Week
Make sure to share your DC photos with us using #DCtogether, and we may feature yours next month!