You are here
Things to Do This Week in Washington, DC
Things to Do This Week in Washington, DC
Our picks of the week for Aug. 10-13
As you we continue to practice social distancing and the city slowly reopens, we've gathered up some things to do, including safe in-person activities as well as virtual events going on this week. As always, you can check out tons of on-demand virtual museum tours, neighborhood tours, TV and movies streaming ideas with a DC bent, DC-inspired music playlists, Washington, DC Zoom meeting backgrounds and much more.
Looking for things to do Friday through Sunday? Don't miss things to do this weekend.
Monday

Hirshhorn Kids at Home
Resources abound from this program from the Hirshhorn, which is still encouraging discovery, education and creativity for kids throughout the COVID-19 crisis. You can browse through an array of plans and guidance for fun, hands-on activities, from constructing a collage flag to making rock and metal sculptures to crafting futurist flowers. Sign up for e-mail updates on the newest activities offered.
​• • •

DC Library Virtual Trivia
Sharpen your mind without losing Scrabble tiles by playing DC Public Library's #StayatHomeDCTrivia! Competitors, either individually or in teams, can partake in three challenging rounds of trivia, with one round solely dedicated to a DC Public Library goDigital item (for example, a magazine or movie). Games are held biweekly on Mondays at 6:30 p.m. via Twitter.
6:30 p.m.
Tuesday
BMA x NMWA Monthly Talk Show: Glamour
The Baltimore Museum of Art (BMA) and the National Museum of Women in the Arts (NMWA) team up for this free, monthly virtual program. This week, educators from both museums will focus on the concept of glamour: its evolution, who defines it and its impact. The talk will be hosted on both BMA and NMWA Facebook pages.
12-12:45 p.m.
​• • •

#STEAMwork Live Videos from National Children's Museum
Each weekday 3 p.m., the National Children's Museum hosts educational and fun live streams for kids and parents. Expect experiences, stories and projects geared towards kids under 12, with different STEAM themes. The schedule is early childhood focus (Monday), STEAMwork classic (Tuesday), elementary school focus (Wednesday), STEAMwork classic (Thursday) and full family engagement (Friday).
Weekdays at 3 p.m. on Facebook Live & IGTV​
​• • •
Wednesday​

Live from the Mansion
This virtual concert series brings live music and insightful conversation together in The Mansion at Strathmore. Each week will feature live performances by DC artists across a variety of genres from Strathmore's renowned Artist in Residence program. This week, host Christylez Bacon guides us as Josanne Francis and her tropical steelpan pair up with Chao Tian's Chinese dulcimer to create a global soundscape sure to liven up your Wednesday night.
7:30 p.m.​ on Facebook Live
​• • •
Thursday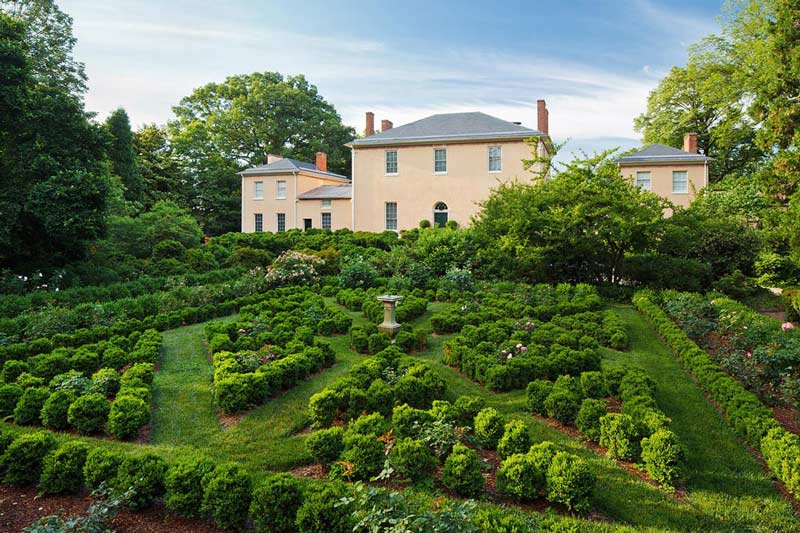 Visit Tudor Place's gardens
You can now re-visit Tudor Place's gardens and grounds for free with timed tickets that allow up to two hours of wandering. Make sure to read through Tudor Place's health and safety guidelines before booking your visit. The gorgeous grounds can serve as the perfect oasis from the stress of 2020. Note that donations are welcomed and that the grounds will be open from 12-4 p.m., Thursday-Sunday.
12-4 p.m. | Timed Tickets
Tudor Place, 1644 31st Street NW, Washington, DC 20007
​• • •

Arts Across America Video Series: Amythyst Kiah and The Local Honeys
The John F. Kennedy Center for the Performing Arts has launched a new (and free) video series, Arts Across America. The 20-week digital series will showcase more than 200 artists from every U.S. state and territory, artists that fulfill leadership roles in their communities and use their platform to advocate for social justice. On Thursday, enjoy sounds from Tennessee and Kentucky in the form of Amythyst Kiah and The Local Honeys.
4-5 p.m. | More Info
​• • •

Astrodoubt and the Quarantine Chronicles: A Conversation with artist Luca Buvoli
Luca Buvoli is responsible for the Phillips Collection's first digital Intersections project, so consider it fitting that the museum will host this virtual artist talk that will allow Buvoli to discuss his inspirations and his fascinating, of-the-moment work with Taras Matla, the associate director of the University of Maryland Art Gallery.
5:30-6:30 p.m. via Zoom | Reserve
​• • •
Want to see what's going on this weekend? Check out virtual events and other activities to pass the time.

#DCtogether Photo of the Month
Make sure to share your DC photos with us using #DCtogether, and we may feature yours next month!