50+ Things to Do This December in Washington, DC
The holiday season continues with festivals, captivating museum exhibits and wintertime celebrations
Downtown Holiday Market – Through Dec. 23
This free-to-frequent downtown bazaar is centrally located at 8th and F Streets NW, in front of the Smithsonian American Art Museum and National Portrait Gallery. Scope out eclectic wares from dozens of pop-up tents with seasonally flavored music performed live in the background. Locally roasted coffee and crafted-before-your-eyes mini-doughnuts inspire a cold-weather appetite, creating a holiday atmosphere you won't find anywhere else in DC.
12-8 p.m. daily
Centered at 8th and F Streets NW, Washington, DC 20001
•••
Miracle on Seventh Street – Through Dec. 31
It's no secret that Derek Brown knows DC's cocktail scene like the back of his hand. The famed mixologist's pop-up bar concept on 7th Street in Shaw has the halls decked for year three of the Miracle on Seventh Street with more funky holiday decorations, from an Instagram-worthy 19th century sleigh to thousands of tree ornaments and a "Chinese and a Movie"-themed room. Cool down at this cocktail winter wonderland in one of DC's hottest neighborhoods through New Year's Eve.
1839-1843 7th Street NW, Washington, DC 20002
•••
ZooLights – Through Jan. 1, 2018
Head to ZooLights at the National Zoo for a wildly vibrant display of LED Christmas lights (a half-million of them!), along with activities like Zoo Tubing and special themed nights like BrewLights (Nov. 30). The kids will love the National Zoo Choo-Choo (a train ride through the Great Cats exhibit), while the big kids enjoy spiked hot chocolate and live music.
5-9 p.m. | Free Admission
National Zoo, 3001 Connecticut Avenue NW, Washington, DC 20008
•••
Season's Greenings – Through Jan. 1, 2018
The annual holiday show at the United States Botanic Garden includes a collection of DC landmarks made entirely from plant materials, including the U.S. Capitol Building, the Washington Monument , the Lincoln Memorial and many more. On select Tuesday and Thursday evenings in December, the Conservatory will stay open until 8 p.m. to host live seasonal music.
10 a.m. – 5 p.m. | Free admission
United States Botanic Garden, 100 Maryland Avenue SW, Washington, DC 20024
•••
Holiday in the Park at Six Flags America – Through Jan. 1, 2018
Beautiful lights, seasonal food and holiday-themed attractions and characters make up this Christmas event at Six Flags America. Running during weekends and select days through Jan. 1, make the drive to enjoy the thrills of Six Flags accompanied by plenty of holiday cheer.
Tickets
Six Flags America, 13710 Central Ave, Bowie, MD 20721
•••
Christmas Events at National Harbor – Through Jan. 1, 2018
An action-packed holiday schedule is the norm at National Harbor, a shopping, dining and amusement park-like landmark located just 20 minutes south of DC. Step inside the Gaylord National Resort for ICE! (through Jan. 1), an indoor winter wonderland featuring two million pounds of hand-carved ice sculptures, ice slides, a live carving area and a unique retelling of the TV special Rudolph The Red-Nosed Reindeer. Since you're at National Harbor, you'll also want to view the Christmas tree from atop the Ferris wheel and shop for gifts at the Tanger Outlets.
National Harbor, 165 Waterfront Street, National Harbor, MD 20745
• • •
Christkindlmarkt – Dec. 1-3
Heurich House Museum's famed Castle Garden will host the Christkindlmarkt on the first weekend of December. $10 admission ($2 for kids) gets you access to the arts and crafts-laden market that will feature an array of goods from more than 40 vendors. You'll also be able to go inside the historic mansion, which will be decorated to the nines for the holiday season.
Hours & Admission
Heurich House Museum, 1307 New Hampshire Avenue NW, Washington, DC 20036
• • •
Swedish Christmas Bazaar – Dec. 2
Held at the House of Sweden, this annual DC tradition is held on the first Saturday in December from 11 a.m. – 5 p.m. The event features a Swedish marketplace with for-sale crystal glassware, artworks and food. Snack in the Swedish cafe, try to win prizes and stick around for the main event: the St. Lucia procession with traditional caroling.
11 a.m. – 5 p.m. | Free admission
House of Sweden, 2900 K Street NW, Washington, DC 20007
• • •
2017 Parade of Lighted Boats – Dec. 2
Dozens of dazzling boats will traverse the Potomac River from the waterfront in Alexandria, Va. to the The Wharf, DC's newest recreational development on the Southwest Waterfront. You can observe free of charge, and there are even holiday festivals on both sides of the river to enjoy beforehand. Alexandria's Torpedo Factory Art Center plays host to a festival complete with a building-wide kids' scavenger hunt, open art studios and (of course) Santa, while The Wharf's festivities include live music, ice skating and winter-themed drinks at the Waterfront Wine & Beer Garden. Prizes will be awarded to the most beautiful vessels, which begin their journey at 5:30 p.m., and fireworks will cap off the parade at 8 p.m.
5:30-8 p.m. | Free admission
From the Docks of Alexandria to Southwest Waterfront in DC – 600 Water Street SW, Washington, DC 20024
• • •
Smithsonian Holiday Festival – Dec. 2-3
Join Smithsonian museums in celebrating the holiday season across this two-day festival. Holiday-themed events include concerts, book signings, chocolate-making demonstrations, a gift-wrapping station, holiday treats and much more. All events will take place at the National Museum of American History.
10 a.m. – 5 p.m. | Free admission
Smithsonian National Museum of American History, 1300 Constitution Avenue NW, Washington, DC 20560
• • •
39th Annual Logan Circle Holiday House Tour – Dec. 3
Logan Circle is hip, happening and historic. Get in the holiday spirit by exploring a diverse mix of Victorian mansions and upscale modern housing that lines DC's only remaining residential circle during the 39th installment of this wintertime tradition. You'll see 10 fascinating interiors, accompanied by in-house musicians and street carolers along the way. The excursion concludes with a reception at the beautiful Studio Theatre.
1-5 p.m. | Tickets
Logan Circle NW, Washington, DC 20005
• • •
U.S. Capitol Christmas Tree Lighting – Dec. 6
Situated in front of the monumental U.S. Capitol on the West Lawn, this Christmas tree is yet another majestic staple of the holiday season in the District. This year's version is 79-foot tall conifer from the Kootenai National Forest in Montana and will go aglow on Dec. 6. The tree has been transported across the country by motor vehicle – see its Facebook and Twitter pages to check out its journey. Once lit up, you'll be able to admire the tree's beauty throughout the season.
Free admission
West Lawn of the U.S. Capitol, East Capitol Street NE & First Street SE, Washington, DC 20004
• • •
Dedication of the Trinity Dome – Dec. 8
The Basilica of the National Shrine of the Immaculate Conception will dedicate its Trinity Dome during the 12 p.m. Mass on Dec. 8. The dome is composed of more than 14 million pieces of Venetian glass that depict the Holy Trinity, the Blessed Virgin Mary as the Immaculate Conception and a procession of saints, angels, the four Evangelists and the Nicene Creed. This dedication will mark the completion of the work on the National Shrine begun in 1920.
12 p.m. | Free admission
The Basilica of the National Shrine of the Immaculate Conception, 400 Michigan Avenue NE, Washington, DC 20017
• • •
Georgetown GLOW – Dec. 8 – Jan. 7, 2018
This stroll through DC's most historic neighborhood will certainly make you light up as you pass by unique, illuminated artworks. Georgetown GLOW has proven to be such a hit that it's now a month-long celebration. A group of artists, from locally renowned to internationally celebrated, will display works in outdoor spaces throughout Georgetown. Afterwards, wander through a winter wonderland at The Washington Harbour, one of our favorite places to ice skate in the District.
6-10 p.m. nightly | Free admission
• • •
The Metropolitan Cooking & Entertaining Show – Dec. 9-10
From a Grand Tasting Pavilion featuring more than 50 local restaurants to chances to meet top celebrity chefs, the Metropolitan Cooking & Entertaining Show is like a Super Bowl for foodies. Over two days, the Walter E. Washington Convention Center will also sport tasting and entertaining workshops, a pop-up cooking school and a beer, wine and spirits garden. Finally, award-winning chefs such as Victor Albisu, José Andrés, Marjorie Meek-Bradley, Amy Brandwein and Guy Fieri will participate in fascinating cooking demos. Ready the taste buds for this culinary bonanza.
Schedule | Tickets
Walter E. Washington Convention Center, 801 Mount Vernon Place NW, Washington, DC 20001
• • •
Russian Winter Festival – Dec. 9-10
Celebrate like it's the 19th century at the Hillwood Estate's annual event, which brings holiday cheer and Russian traditions to Upper Northwest. Meet Grandfather Frost (the Russian Santa Claus) and his granddaughter, the Snow Maiden. You can also make and wear your own traditional headwear and enjoy live performances as you explore the grounds of this historic estate. Admission ranges from free for children under six to $18 for adults; become a member and admission is only $12.
10 a.m. – 5 p.m. | Tickets
Hillwood Estate, Museum and Gardens, 4155 Linnean Avenue NW, Washington, DC 20008
• • •
The National Menorah Lighting – Dec. 12
Chanukah kicks off with this lighting ceremony of the world's largest menorah on the White House Ellipse, which greets all with latkes and doughnuts and menorah kits and dreidels. Music from the United States Air Force Band will add a soundtrack to the scene. As is the custom, a new candle is illuminated on each of the eight days of Chanukah.
4 p.m. (gates at 3 p.m.) | Free, but tickets required.
White House Ellipse, 1600 Pennsylvania Avenue NW, Washington, DC 20500
•••
Christmas Illuminations at Mount Vernon – Dec. 15-16
George Washington's estate showcases its holiday grandeur during this annual event. Fireworks choreographed to holiday music begin at 9 p.m. Before that, enjoy serenading from local choirs, visit re-enactors from the First Virginia Regiment, learn 18th-century dance moves, meet with George and Martha Washington and hang out by a bonfire with hot chocolate. You can purchase tickets that include a mansion tour, as well.
5:30-9 p.m. | Tickets
George Washington's Mount Vernon, 3200 Mount Vernon Memorial Highway, Mount Vernon, VA 22121
•••
Nationals Winterfest – Dec. 16-17
In an event that always produces classic moments between players and fans, Nationals Winterfest returns to the Walter E. Washington Convention Center on Dec. 16 and 17. Many of the Nats' stars will be on-hand for fun interaction, games and autographs. Coaches and mascots will be hanging around, too, as the city celebrates its beloved, division-winning baseball team. Tickets are available for each day separately.
11:30 a.m. – 4 p.m. | Tickets
Walter E. Washington Convention Center, 801 Mount Vernon Place NW, Washington, DC 20001
•••
Water-Skiing Santa – Dec. 24
A tradition since 1986, Santa and his elves zip around the Potomac River on water-skis while a jet-skiing Grinch buzzes around the holiday gang. The festivities take place along the Old Town Alexandria Waterfront and afterwards, Santa Claus and the crew will mingle with families in attendance. New this year: a vantage point from DC's Wharf development.
1 p.m. | Free admission
Founder's Park, 351 North Union Street, Alexandria, VA 22314
•••
2017 Military Bowl Presented by Northrop Grumann – Dec. 28
Now in its 10th year, the Military Bowl presents action-packed FBS football at the Navy-Marine Corps Memorial Stadium, with profits going towards the USO and other organizations that support the Armed Forces. This year's game will pit an Atlantic Coast Conference team against a school from the American Athletic Conference in front of a crowd of thousands. The game is preceded by a festive parade and tailgate the day of, with a pub crawl going down the day before.
1:30 p.m. | Tickets
Navy-Marine Corps Memorial Stadium, 550 Taylor Avenue, Annapolis, MD 21401
•••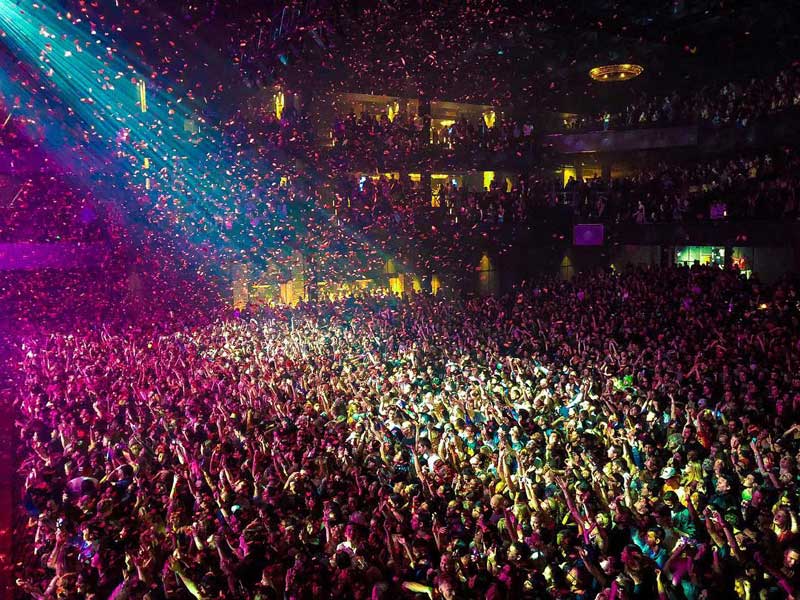 Celebrate New Year's Eve in DC – Dec. 31
New year, same great city full of the best New Year's Eve parties and events. Whether you're looking for a luxurious night on the town or a New Year's event for the whole family, the District has it all. There's a five-hour open bar and live music at the Washington Hilton, a New Year's Eve fireworks dinner cruise from Entertainment Cruises and many of your favorite restaurants bust out all the stops with custom prix-fixe menus.
But wait, there are even more great New Year's Eve events in DC to choose from. The Hyatt Regency Washington on Capitol Hill plays host to a luxe Celebrity Masquerade Ball, dance Latin-style until the early hours of the morning (seriously, this party goes until 8 a.m.) at the DCBX Ultimate Tropical NYE or enjoy a top-shelf open bar, live music and riverfront views at Tony and Joe's Seafood Place and Nick's Riverside Grill in Georgetown.
Citywide
'Painting Shakespeare' – Through Feb. 11, 2018
The Folger Shakespeare Library presents this exhibit that shows how Shakespeare has inspired artists from his time to today. Painting Shakespeare includes everything from oil sketches to grand masterpieces, with each piece a reflection of how important and influential the Bard's plays and words have been throughout the last 400 years. You will see scenes from Shakespeare's plays reimagined, portraits of the playwright and much more.
10 a.m. – 5 p.m. | Free admission
Folger Shakespeare Library, 201 East Capitol Street SE, Washington, DC 20003
• • •
'The Message: New Media Works' – Through April 22, 2018
Get acquainted with leading video artists from around the world in this spectacular audio/visual mash-up of an exhibit at the Hirshhorn. Five film and video installations that use music to great effect highlight different forms of communication in the digital age, from the concert to the music video to the web lecture. The videos will also make you contemplate traditional dialogues around race, sexuality and theology.
10 a.m. – 5:30 p.m. | Free admission
Hirshhorn Museum and Sculpture Garden, Independence Avenue and 7th Street SW, Washington, DC 20560
• • •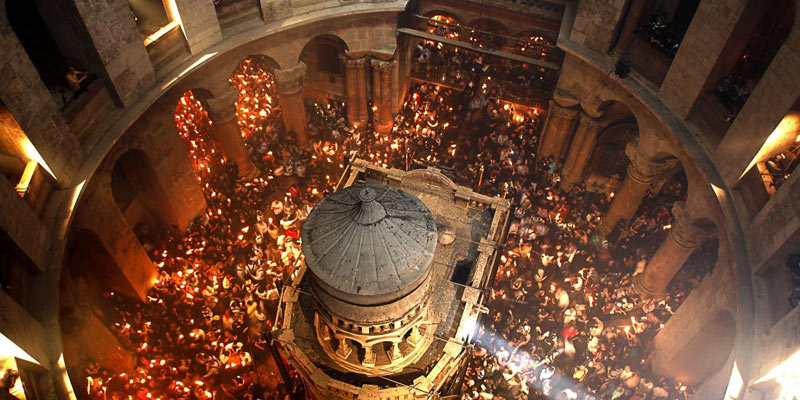 'Tomb of Christ' – Through Aug. 15, 2018
Take a three-dimensional journey into the Church of the Holy Sepulchre in this enthralling exhibit at the National Geographic Museum. This sacred location in Jerusalem is believed to be the site of where Jesus of Nazareth was crucified, as well as where he was buried and resurrected. The site recently underwent an extensive restoration, a process that is analyzed in-depth inside this exhibit. Don't miss out on immersive experience that takes you to a place few other museums can.
10 a.m. – 5 p.m. | Tickets
National Geographic Museum, 1145 17th Street NW, Washington, DC 20036
• • •
'Drawn to Purpose: American Women Illustrators and Cartoonists' – Through Oct. 20, 2018
The Library of Congress dug into its vaults to present this enlightening and in-depth exhibit on the immense contributions made by North American women to the art forms of illustration and cartooning. Drawn to Purpose stretches all the way back to the late 19th century, showing how women's roles in the private and public sphere gradually increased, allowing for incredible self-expression and creativity.
8:30 a.m. – 5 p.m. (Monday – Saturday) | Free admission
Library of Congress, Thomas Jefferson Building, 10 1st Street SE, Washington, DC 20540
• • •
'Your Community, Your Story: Celebrating Five Decades of the Anacostia Community Museum, 1967-2017' – Through Jan. 6, 2019
The Smithsonian Anacostia Community Museum is unlike any other in the District, utilizing the community around it to help shape exhibits, programs and collections. This display highlights some of the museum's greatest achievements and stories and how it has addressed contemporary urban themes and helped amplify a diverse group of voices to build a better community.
10 a.m. – 5 p.m. | Free admission
Smithsonian Anacostia Community Museum, 1901 Fort Place SE, Washington, DC 20020
• • •
'Yes, Virginia' Reading and Visit with Santa – Dec. 2
Newseum hosts a reading of the classic editorial, "Yes, Virginia, There is a Santa Claus" in its Knight TV Studio. Then, Santa Claus will appear to read "'Twas the Night Before Christmas" and pose for photos with boys and girls. There will also be caroling from the Washington National Opera throughout the museum. Kids 18 and younger will receive free admission if he/she brings a letter to put in the Macy's Believe Box.
1-2:30 p.m.
Newseum, 555 Pennsylvania Avenue NW, Washington, DC 20001
• • •
'Secrets of the Lacquer Buddha' – Dec. 9 – June 10, 2018
This exhibit will mark the first time that every known sixth-century, life-size Chinese lacquer buddha sculpture will be displayed together. Secrets will also highlight how all three of the sculptures were made, revealing fascinating details, including what tree species the lacquer came from, what type of equipment was utilized and what type of burnt bone was mixed into the sculptures.
10 a.m. – 5:30 p.m. | Free admission
Freer | Sackler Galleries, 1050 Independence Avenue SW, Washington, DC 20560
• • •

'Portraits of the World: Switzerland' – Dec. 15 – Nov. 12, 2018
With this exhibit, the National Portrait Gallery begins a series that will highlight the global context of American portraiture. You can marvel at Swiss painter Ferdinand Hodler's Femme en Extase, a portrait of the Italian dancer Giulia Leonardi. The piece embodies the theory of eurhythmics, which went on to change the concept of dance in America. Other Portrait Gallery works that showcase this theory will also be on display.
11:30 a.m. – 7 p.m. | Free admission
National Portrait Gallery, 8th and F Streets NW, Washington, DC 20001
'Holiday Follies' – Dec. 5-16
The Signature Theatre in Arlington, Va. wants you to cut loose in the holiday spirit when you attend Holiday Follies. Prepare yourself for a hot toddy from Ali's Bar, lots of hearty renditions of classic seasonal songs and plenty of good humor and holiday cheer. The three-person show is only at the theater for a limited time, so grab your tickets today!
Tickets
Signature Theatre, 4200 Campbell Avenue, Arlington, VA 22206
• • •
The Second City's 'Twist Your Dickens' – Dec. 5-31
The Second City brings its legendary comedy group to the Kennedy Center for an off-the-wall adaptation of A Christmas Carol. Improv and sketch comedy mastery will be on full display during this performance, which will feature characters from Charles Dickens' classic tale in a different (and hilarious) light. There will be plenty of audience participation, too! Recommended for ages 16 and up.
Tickets
The John F. Kennedy Center for the Performing Arts, 2700 F Street NW, Washington, DC 20566
• • •
NSO Pops: 'A Holiday Pops!' featuring Megan Hilty – Dec. 8-9
NSO Pops and the Washington Chorus (and perhaps Ol' Saint Nick himself) present a program of holiday carols and seasonal sing-alongs at the Kennedy Center that the entire family can enjoy. Hear the musical stylings of Tony Award nominee Megan Hilty (Noises Off, 9 to 5 and Wicked). No carolers can come close to this one-of-a-kind performance.
Tickets
The John F. Kennedy Center for the Performing Arts, 2700 F Street NW, Washington, DC 20566
• • •
The Washington Chorus presents 'A Candlelight Christmas' – Dec. 10-22
The Washington Chorus consists of 200 voices, which work in tandem with brass, organ and percussion to create wonderful renditions of Christmas classics. The chorus will also be accompanied by high school ensembles and the audience will be asked to join in joyous sing-alongs. The traditional candlelight processional will also take place at this annual event.
Tickets
The John F. Kennedy Center for the Performing Arts, 2700 F Street NW, Washington, DC 20566
• • •
'The Hip Hop Nutcracker' – Dec. 12-13
Yep, you read that right. This imaginative performance blends modern hip-hop choreography, an on-stage DJ and an electric violinist to re-create The Nutcracker in truly original fashion. Adults will be wowed by the contemporary take on Tchaikovsky's score while the kids revel in the hip-hop musical performances. This year, special guest emcee Kurtis Blow, best known for "The Breaks," opens the show with a rapping introduction. Digital scenery will color the background of this entertaining cultural mash-up that will be performed for two nights only at Strathmore's Music Center.
7:30 p.m. | Tickets
The Music Center at Strathmore, 5301 Tuckerman Lane, North Bethesda, MD 20852
• • •
'An American in Paris' – Dec. 12 – Jan. 7, 2018
This Tony Award-winning musical comes to DC for the first time. Set in Paris after World War II, the play follows an American soldier and a French girl, each looking to begin a new life after the conflict. Featuring unforgettable music from George and Ira Gershwin, this acclaimed Broadway production will be a highlight of the holiday theater season in the District.
Tickets
The John F. Kennedy Center for the Performing Arts, 2700 F Street NW, Washington, DC 20566
• • •
'The Little Prince' – Dec. 14-17
The Washington National Opera revives its sold-out 2014 production of Rachel Portman's family opera. Based on the classic illustrated book, The Little Prince concerns a little boy's search for companionship across the universe. Along the way, he encounters a rich businessman, a tired lamplighter, a delusional king and a pilot, making up an incredible journey that the entire family will love.
Tickets
The John F. Kennedy Center for the Performing Arts, 2700 F Street NW, Washington, DC 20566
• • •
National Symphony Orchestra: Handel's 'Messiah' – Dec. 14-17
This holiday epic, which explores the story of Jesus Christ as the Messiah, is performed at the Kennedy Center each year, but each rendition has its own special flair. 2017 is no different, as the National Symphony Orchestra takes the stage along with guest artists: Sophie Daneman, Ann McMahon Quintero, Karim Sulayman and Christian Immler, as well as the University of Maryland Concert Choir.
Tickets
The John F. Kennedy Center for the Performing Arts, 2700 F Street NW, Washington, DC 20566
• • •
'An Irish Carol' – Dec. 14-31
The Irish have something to say about that "Carol" of yours, Mr. Dickens. The Keegan Theatre stages this acclaimed play that subs pub-owning David for Scrooge. He's distanced himself from his family through his profitable bar, but a visitor from the past, along with present figures and the prospect of a sad future, could turn David around. With searing wit, fast-paced dialogue and a classic Irish sensibility, Matthew Keenan's play is perfect for holiday laughs – and intended for audiences 16 and older.
Tickets
Keegan Theatre, 1742 Church Street NW, Washington, DC 20036
• • •
Step Afrika!'s Magical Musical Holiday Step Show – Dec. 15-30
DC's Step Afrika!, the first professional company dedicated to the tradition of stepping, puts on a holiday extravaganza at the Atlas Performing Arts Center in the H Street neighborhood. The family friendly show will combine clapping, stomping and stepping for a dazzling array of percussive dance. Furry friends from the animal kingdom and a dance party hosted by DJ Frosty the Snowman are also on the docket.
Tickets
Atlas Performing Arts Center, 1333 H Street NE, Washington, DC 20002
• • •
Kwanzaa Celebration at Dance Place – Dec. 16-17
Dance Place in the Brookland neighborhood annually holds this celebratory event in honor of Kwanzaa. Each of the seven principles of the holiday are honored, as director Sylvia Soumah guides some of the area's finest dancers, including Coyaba Dance Theater and Coyaba Academy. Expect pounding rhythms, incredible moves and a communal atmosphere across both performances.
Tickets
Dance Place, 3225 8th Street NE, Washington, DC 20017
• • •
'The Joy of Christmas' – Dec. 16-17
The Washington National Cathedral is a beautiful place to celebrate Christmas, as its themed lights and decorations make for spectacular viewing that the whole family can savor. The Joy of Christmas is the Cathedral's marquee event, featuring renditions of Christmas classics and sing-alongs. This year's event features a new carol from popular British composer Paul Mealor.
Tickets
Washington National Cathedral, 3101 Wisconsin Avenue NW, Washington, DC 20016
• • •
'Les Misérables' – Dec. 20 – Jan. 7, 2018
From the page to the stage to the big screen, Les Misérables has been dazzling audiences for more than 150 years. DC's National Theatre welcomes the story's newest production this month, fresh off an acclaimed two-and-a-half year run on Broadway. With its inspiring story and thrilling songs, this legendary play is sure to satisfy, whether it's the first time you have seen it or the 32nd.
Tickets
National Theatre, 1321 Pennsylvania Avenue NW, Washington, DC 20004
• • •
'Moscow Ballet's Great Russian Nutcracker' – Dec. 21-23
The Music Center at Strathmore hosts the Moscow Ballet for what will be three nights of spellbinding performances of the classic Russian tale. The show will feature larger-than-life props, a 60-foot Christmas tree and authentic costumes and sets. And of course, the Moscow Ballet is one of the most acclaimed in the world, meaning you'll be able to witness masters of the craft just outside of DC city lines.
8 p.m. | Tickets
The Music Center at Strathmore, 5301 Tuckerman Lane, North Bethesda, MD 20852
• • •
'The Illusionists' – Dec. 27 – Jan. 7, 2018
After an outstanding run at the Kennedy Center in 2015, the world's best-selling magic show returns to the illustrious venue in late December. Audiences of all ages will have their jaws dropped when they witness the world's greatest illusionists, who will perform sophisticated magic and outrageous acts that must be seen to be believed.
Tickets
The John F. Kennedy Center for the Performing Arts, 2700 F Street NW, Washington, DC 20566
Priests – Dec. 1
Priests is the resident 'It' band for DC punk, and for good reason. Their no-holds-barred sound, led by the distinctive and passionate vocals of lead singer Katie Alice Greer, is absolutely searing on their widely acclaimed debut LP, Nothing Feels Natural. However, just wait until you witness one of the band's riveting live shows. The 9:30 Club will host the concert, with all proceeds going to Casa Ruby, the only bilingual, multicultural LGBTQ organization providing life-saving services and programs to the LGBTQ community, located right here in DC.
8 p.m. | Tickets
9:30 Club, 815 V Street NW, Washington, DC 20001
• • •
Gary Numan – Dec. 9
Gary Numan is a pioneer of electronic and industrial music who has influenced a wide range of artists, from Prince to Nine Inch Nails to Kanye West. He was one of the first musicians to make synthesizer-based songs for the masses. Although "Cars" is Numan's most widely known hit, his early albums are goldmines filled with electro-pop nuggets (especially The Pleasure Principle). Catch this master in action at 9:30 Club on a Saturday night and make sure to bring your dancing shoes.
6 p.m. | Tickets
9:30 Club, 815 V Street NW, Washington, DC 20001
• • •
Hot 99.5 Jingle Ball – Dec. 11
Hosted by DC's Hot 99.5, one of the most popular top-40 stations in the area, this star-studded concert will rock Capital One Arena into a holiday fever. Jingle Ball annually brings pop stars to the District to celebrate the season, and this year's lineup is stacked as always: Fall Out Boy, Kesha, Logic ,Halsey and more. Grab tickets now as the concert always packs the stadium.
7:30 p.m. | Tickets
Capital One Arena, 601 F Street NW, Washington, DC 20004
• • •
An Evening with ThePianoGuys– Dec. 13-16
DC's holiday season only improves with a performance from ThePianoGuys. The group has become a YouTube sensation, and now their brand of wit and outstanding arrangements will light up the stage at the National Theatre. Watch as they reinvent hit songs in their own signature way. You'll have four chances to catch this one-of-a-kind act.
Tickets
National Theatre, 1321 Pennsylvania Avenue NW, Washington, DC 20004
• • •
Angel Olsen – Dec. 15
One of rock music's most important voices is gracing DC with her presence this December. Angel Olsen is writing heartfelt, introspective songs like no one else currently working in rock music. Her most recent LP, MY WOMAN, built on the folk-rock glory of 2014's Burn Your Fire For No Witness with a fuller sound and intricately woven songcraft. Olsen sits comfortably in the lineage of Dolly Parton, Loretta Lynn, Patti Smith – female songwriters capable of rendering deep emotions with a single word, a single note. With all that said, it'd be a shame if you missed Olsen at 9:30 Club this December. The Dec. 14 show has sold out, so get tickets to this one quickly.
8 p.m. | Tickets
9:30 Club, 815 V Street NW, Washington, DC 20001
• • •
Shamir – Dec. 15
Shamir Bailey burst onto the scene in 2015, a 20-year old musical phenom from Las Vegas equipped with a lethal sense of rhythm, insightful lyrics and no shortage of personality. His debut album, Ratchet, was a dance party. This year's Revelations is a gradual departure, with slower songs that recall bare-bones, early '90s indie rock and bedroom pop. The result is an album just as striking as his first. U Street Music Hall will host this Friday night show.
7 p.m. | Tickets
U Street Music Hall, 1115 U Street NW, Washington, DC 20009
• • •
Ex Hex – Dec. 30
Rip-roaring, loud guitars are no stranger to the District of Columbia (see: Bad Brains, Minor Threat, Fugazi). Ex Hex continues that lineage in power trio form, except this time, ladies are running the show. Mary Timony (guitar, vocals), Betsy Wright (bass, vocals) and Laura Harris (drums) are responsible for 2014's highly acclaimed Rips, which combined punk and '70s radio-rock riffs to bad-ass effect over 12 tracks of pure ear candy. Now, the band returns to its DC roots to play a roaring show at Black Cat.
8 p.m. | Tickets
Black Cat, 1811 14th Street NW, Washington, DC 20009
• • •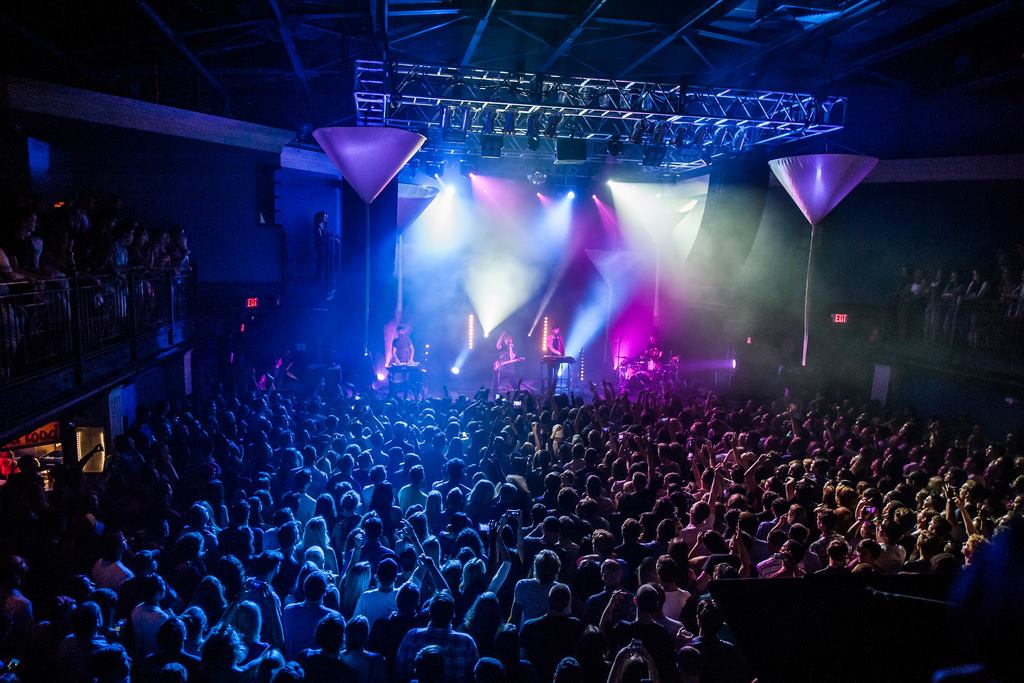 Spoon – Dec. 31
Spoon has been crafting infectious rock songs since the mid-1990s, led by lead singer/songwriter Britt Daniel. Each album is similar but not the same – Spoon has a signature sound, but they're not afraid to color outside of the lines, as evidenced by the electronic experimentation on this year's Hot Thoughts. One constant: the band simply knows how to bang out a catchy rock tune. Expect plenty of them during this New Year's Eve celebration at 9:30 Club, which will feature a complimentary champagne toast at midnight.
9 p.m. | Tickets
9:30 Club, 815 V Street NW, Washington, DC 20001
• • •
Thievery Corporation – Dec. 31
Thievery Corporation, a DJ collective consisting of Rob Garza and Eric Hilton, are one of the most significant acts to emerge from DC, with a career spanning over twenty years and a variety of styles. Expect the Corporation to go full-throttle for this New Year's Eve performance at DC's impressive new music venue, The Anthem, located at The Wharf.
9 p.m. | Tickets
The Anthem, 901 Wharf Street SW, Washington, DC 20024
• • •
#MyDCcool Photo of the Month
Make sure to share your DC photos with us using #MyDCcool, and we may feature yours next month!
For more events, festivals and things to do in Washington, DC, check out our events calendar.