50+ Things to Do This February in Washington, DC
Discover a calendar packed with can't-miss events, theater performances, outstanding concerts and fascinating museum exhibits.
We've picked out the best events, festivals, museum exhibits, theater performances, concerts and more happening this month in Washington, DC. Check out the best things to do in the nation's capital and plan your visit today.

Chinese New Year Family Day at the Smithsonian American Art Museum – Feb. 1
The Smithsonian American Art Museum honors the Lunar New Year with this free celebration held right in the center of Chinatown (make sure to check out the Friendship Archway along the way). The list of activities is long: traditional paper cutting, dough sculpting, calligraphy demonstrations, mask coloring and New Year card and paper lantern-making. There will also an acrobatic troupe from China and a scavenger hunt during this cultural extravaganza.
Free admission, Smithsonian American Art Museum, 8th and F Streets NW, Washington, DC 20004
​• • •

Washington Capitals vs. Pittsburgh Penguins – Feb. 2 & 23
The Washington Capitals, currently sitting in first place in the Eastern Conference, square off against their archrival, the Pittsburgh Penguins, twice this month. The first is on Super Bowl Sunday (12:30 p.m.) and the second is exactly three weeks later (12 p.m.). The Penguins, who recently welcomed back superstar Sidney Crosby from an extended injury absence, are hot on the tail of Alex Ovechkin, Evgeny Kuznetsov and the rest of the Caps in the standings. The two intense matchups could be a preview for a potential playoff series later in the season.
12:30 p.m. & 12 p.m. | Tickets
Capital One Arena, 601 F Street NW, Washington, DC 20004
​• • •

Washington Wizards vs. Dallas Mavericks – Feb. 7
While Bradley Beal and the Wizards are struggling in the standings, the team is as exciting as any to watch, with supporting players like Ish Smith, Davis Bertans, Jordan McRae and rookie Rui Hachimura powering an offensive machine. The Wiz will be in for a challenge when the Dallas Mavericks, playoff contenders in the Western Conference, come to town. The Mavs are led by superstar Luka Dončic, who's near the top of the scoring leaderboard and averages nearly a triple-double at the ripe old age of 21. Prepare for some fun basketball.
7 p.m. | Tickets
Capital One Arena, 601 F Street NW, Washington, DC 20004
​• • •

DC Chocolate, Wine & Whiskey Festival – Feb. 8
The name of this festival kind of says it all. You will be able to enjoy chocolate in a myriad of ways, from hand-rolled truffles to artisan chocolates to cupcakes, cookies, candies, cake pops, donuts … we could go on. On top of that, you can indulge in unlimited pours of premium wines, craft beers and ciders and savor samples of whiskies and other spirits.
12-8:30 p.m. | Tickets
Dock 5 at Union Market, 1309 5th Street NE, Suite 101L, Washington, DC 20002
​• • •

DC Defenders at Audi Field – Feb. 8 & 15
The XFL returns, this time bringing with it a team that will represent DC. The Defenders will play their home games at the beautiful Audi Field, which provides one of the best stadium experiences in the area. Head coach Pep Hamilton will look to lead the team to a postseason appearance in their inaugural season. Game 1 is a home tilt against the Seattle Dragons at 2 p.m. on Feb. 8. Additional home games will be held on Feb. 15, March 8, March 15 and March 28.
2 p.m. | Tickets
Audi Field, 100 Potomac Avenue SW, Washington, DC 20024
​• • •

Disney on Ice: Celebrate Memories – Feb. 13-17
Capital One Arena offers some first-class family entertainment this Valentine's Day weekend. Disney On Ice is bringing classic characters to Capital One Arena. Kids will love seeing Moana embark on a high-seas adventure, Woody and Buzz strut their stuff and the dreams of Disney Princesses come true.
7:30 p.m. | Tickets
Capital One Arena, 601 F Street NW, Washington, DC 20004
​• • •

Woo at the Zoo – Feb. 14
The National Zoo hosts this special Valentine's Day event that makes for a hilarious and fun-filled evening for you and your boo. Learn all about mating, dating and procreating in the animal kingdom during 7:30 p.m. or 9 p.m. presentations. In addition to the education portion, you can also sip on a cocktail, enjoy an '80s-themed dance party, participate in trivia and snack on complimentary desserts.
7-10 p.m. | Tickets
Smithsonian National Zoo, 3001 Connecticut Avenue NW, Washington, DC 20008
​• • •

Mizuno Capitol Hill Volleyball Classic – Feb. 15-17
More than 900 teams will participate in this national tournament that brings together the best junior volleyball teams in the country. From Saturday through Monday, the Walter E. Washington Convention Center will showcase qualifier-style competition in one of the most exciting indoor sports. Three-day spectator passes, which go on sale Feb. 8, cost just $38.
Tickets
Walter E. Washington Convention Center, 801 Mount Vernon Place, Washington, DC 20001
​• • •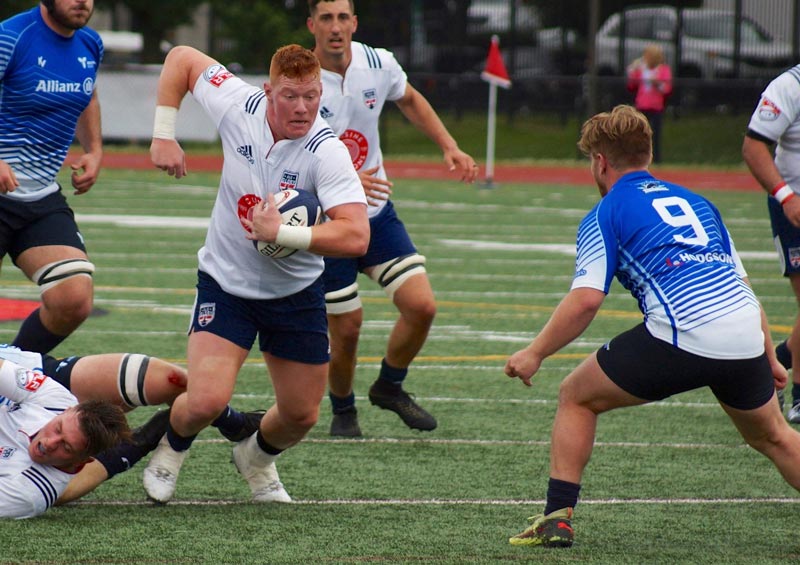 Old Glory DC Home Opener vs. Seattle Seawolves – Feb. 16
Old Glory DC Rugby was founded in 2018, but 2020 marks the first time that the team will compete in Major League Rugby. Their season begins in New Orleans on Feb. 8, with the first home game at Catholic University's Cardinal Stadium falling on Feb. 16, when the Seattle Seawolves come to town. Check out intense rugby action all the way through Old Glory's final home game on May 24.
3 p.m. | Tickets
Cardinal Stadium at Catholic University, 620 Michigan Avenue NE, Washington, DC 20064
​• • •

Washington's Birthday Celebration – Feb. 17
Honor the birth date of America's first president with a free day of festivities at the beautiful Mount Vernon. You can witness a presidential tribute and wreathlaying at Washington's tomb, take in an official observance ceremony, watch a military demonstration, listen to patriotic music, hear stories from previous Washington birthday celebrations and pose in front of a life-sized Lansdowne painting of G.W.
9 a.m. – 5 p.m. | Free admission
George Washington's Mount Vernon, 3200 Mount Vernon Highway, Mount Vernon, VA 22121
• • •

Intersections Festival – Feb. 19 – March 1
Atlas Performing Arts Center hosts the Intersections Festival annually, masterfully combining theatre, dance, poetry, music, film, writing, sculpture, photography and arts of all kinds into two weeks' worth of intellectual excitement. Witness the finest creativity that DC can offer, and do so at one of the city's most prestigious venues located in one of its most vibrant neighborhoods. Check out the full list of events and make sure to purchase a festival pass, which allows you to reserve tickets to the events of your choice.
Festival Pass
The Atlas Performing Arts Center, 1333 H Street NE, Washington, DC 20002
​• • •

DC Dive Show – Feb. 22-23
The Mid-Atlantic Winter Scuba Dive Festival calls the convention center home for two days this February. If you're into exploring the deep blue sea or are simply looking to learn to scuba, the DC Dive Show is well worth your time. Speakers will detail their adventures in the polar regions, the Bahamas and many other environs. You can also take in discussions regarding environmental issues, gaze at underwater photography, hear live music, watch exciting videos and much, much more.
Saturday: 9:30 a.m. – 5 p.m. | Sunday: 10 a.m. – 3 p.m. | Tickets
Walter E. Washington Convention Center, 801 Mount Vernon Place NW, Washington, DC 20001
​• • •

USA Men's Basketball vs. Puerto Rico – Feb. 23
For the first time, the Entertainment and Sports Arena will host the United States Men's Basketball Team. The squad, led by former NBA head coach Mike Fratello, will compete in the FIBA AmeriCup Qualifying games against Puerto Rico. Tickets start out as low as $5, with courtside seats going for just $75. Don't miss this rare opportunity to enjoy international basketball competition.
3 p.m. | Tickets
Entertainment and Sports Arena, 1100 Oak Street SE, Washington, DC 20032
​• • •

The Official DC Cocktail Festival – Feb. 29
Sampling 15 expertly crafted cocktails from DC's best mixologists sounds like an awesome way to spend a Saturday. Elevate the experience even further with delicious food, live music and a chance to mingle with fellow cocktail enthusiasts. Vendors include Crimson Diner & Whiskey Bar, Primrose, The Occidental and Morris American Bar, among others. General admission and VIP tickets are available for each of the three sessions.
12-10 p.m. | Tickets
National Union Building, 918 F Street NW, Washington, DC 20004
​• • •

'Future Sketches' by Zach Lieberman –Through March 1
Marking the first solo exhibition of Zach Lieberman's work, this new exhibit at ARTECHOUSE takes you right to the vanguard of modern computer design. Future Sketches stretches your imagination, showcasing interaction between humans and computers through jaw-dropping media art. The exhibit consists of more than a decade of Lieberman's art, illuminating how body, voice and gesture can be displayed visually.
Tickets
ARTECHOUSE, 1238 Maryland Avenue SW, Washington, DC 20024
• • •

'Delita Martin: Calling Down the Spirits' – Through April 19
Delita Martin aims to bridge the gap between the physical and spiritual in her awe-inspiring large-scale works. The connection between the past and present, symbolism and personal memory are also vital to Martin's work, which often contains a multitude of layers and techniques, including drawing, sewing, collaging and painting. Witness her mastery through seven works that showcase African American tradition, iconography and history.
Hours & Admission
National Museum of Women in the Arts, 1250 New York Avenue NW, Washington, DC 20005
• • •

'We Return Fighting: The African American Experience in World War I' – Through June 14
This temporary exhibit at the National Museum of African American History and Culture consists of 4,200 square feet, three sections, 26 themes, nine media pieces, a photo gallery and interactive elements throughout. The life experiences of African Americans during the World War I era (1913-20) are detailed, including those who enlisted in the military. Many expected to return to a changed America more accepting of them; instead, the status quo prevailed, and many African Americans set about re-shaping the country, which inevitably led to the revolutionary Civil Rights movement.
10 a.m. – 5:30 p.m. | Visit
National Museum of African American History and Culture, 1400 Constitution Avenue NW, Washington, DC 20560
• • •

'Age Old Cities: A Virtual Journey from Palmyra to Mosul' –Through Oct. 25
The Sackler Gallery showcases this breathtaking virtual exhibition that takes visitors to Palmyra and Aleppo in Syria and Mosul in Iraq. All three are among the oldest settlements in the world and have recently been ravaged by war. The exhibition features large-scale projections and digital reconstructions of monuments and ancient structures, underlining the importance of cultural heritage and the preservation of the past.
10 a.m. – 5:30 p.m. | Free Admission
Arthur M. Sackler Gallery, 1050 Independence Avenue SW, Washington, DC
• • •

'True to Nature: Open-Air Painting in Europe, 1780-1870' – Feb. 2 – May 3
Artists such as André Giroux, Jean-Baptiste-Camille Corot, Simon Denis and John Constable are featured in this fascinating exhibit that explores the practice of painting en plein air. These avant-garde creatives would take painstaking journeys to incredible sites such as the ruins of Rome, the streets of Paris and the Swiss Alps to depict breathtaking landscapes. The exhibit offers roughly 100 oil sketches made outdoors all over Europe, including several recently discovered works.
Hours | Free admission
National Gallery of Art, Constitution Avenue NW, Washington, DC 20565
• • •

'Moira Dryer: Back in Business' – Feb. 8 – April 19
The Phillips Collection will be home to the first comprehensive museum exhibit to focus on the early work of Moira Dryer. For years, the artist worked as a set designer for an
avant-garde theater company, a role that undoubtedly influenced her paintings. In the exhibit, you will witness the evolution of Dryer's work, from theater references to spatial representations to abstract paintings that verge on sculpture.
Hours & Admission
The Phillips Collection, 1600 21st Street NW, Washington, DC 20009
• • •

'Raphael and His Circle' – Feb. 16 – June 14
Raphael is a titanic figure in art's expansive history, helping to define aesthetic brilliance as we perceive it today. In honor of the 500th anniversary of his death, the National Gallery of Art presents 25 of his drawings and prints in an in-depth exhibit that will showcase his tremendous influence on artists that came after him. The work of Raphael's collaborators and followers will also be featured.
Hours | Free admission
National Gallery of Art, Constitution Avenue NW, Washington, DC 20565
• • •
'Hearts of Our People: Native Women Artists' – Feb. 21 – May 17
The Renwick Gallery will be home to the first major thematic exhibit to focus on the artistic achievements of Native women. This long overdue showcase will offer 81 pieces across a range of mediums, including photography, sculpture, textiles and beadwork. Collaboration was key in bringing together this marvelous exhibit: Native women curators, historians and artists established new scholarship and interpretations of the pieces, helping to illuminate the vital artistic contributions of Native women.
10 a.m. – 5:30 p.m. | Free admission
Renwick Gallery, 1661 Pennsylvania Avenue NW, Washington, DC 20006
• • •

'Graciela Iturbide's Mexico' – Feb. 28 – May 25
One of the most important photographers of the Latin American experience, Graciela Iturbide has been capturing stunning images of her native Mexico for five decades. This new exhibit at the National Museum of Women in the Arts will be the most comprehensive display of Iturbide's work in more than 20 years. Over 140 photographs in the artist's signature style of black-and-white gelatin silver prints are structured around nine themes, providing eye-opening insight into Iturbide's homeland. The exhibit also features Iturbide's powerful shots of Frida Kahlo's objects left at her home after her death.
Hours & Admission
National Museum of Women in the Arts, 1250 New York Avenue NW, Washington, DC 20005
• • •

'John Singer Sargent: Portraits in Charcoal' – Feb. 28 – May 31
Like Bob Dylan switching from acoustic to electric, John Singer Sargent stunned the art world when, at the peak of his success as a portraitist, he switched from oil painting to charcoal. In the decades to follow, Sargent drew some of the most influential men and women of early 20th century Anglo-American culture. The National Portrait Gallery displays the first exhibition of Sargent's portrait drawings in more than 50 years.
11:30 a.m. – 7 p.m. | Free admission
National Portrait Gallery, 8th and F Streets NW, Washington, DC 20001
• • •

'Riffs and Relations: African American Artists and the European Modernist Tradition' – Feb. 29 – May 24
The Phillips Collection examines the relationship between the work of 20th and 21st century African American artists and the European modernists of the early 20th century. The exhibit will feature pieces by Romare Bearden, Renee Cox, Norman Lewis, Henri Matisse, Pablo Picasso, Carrie Mae Weems and many others. Experience the complex influence of European modernist art on the work of black artists, a cross-cultural dialogue that makes for fascinating study.
Hours & Admission
The Phillips Collection, 1600 21st Street NW, Washington, DC 20009
• • •
Mosaic Theater Company Presents: 'Pilgrims Musa and Sheri in the New World' – Through Feb. 16
Yussef El Guindi, winner of the Steinberg New American Play Award, brings this romantic comedy that addresses cultural boundaries to the Atlas Performing Arts Center. Musa, an Egyptian immigrant, picks up a quirky waitress named Sheri after her shift. After a night together, the two proceed to enter a complex relationship that sees assumptions dashed left and right.
Tickets
Atlas Performing Arts Center, 1333 H Street NE, Washington, DC 20002
• • •

Prologue Theatre Presents: 'Recent Tragic Events' –Through Feb. 16
Prologue Theatre takes audiences to Minneapolis on Sept. 12, 2001, where ad exec Waverly is all set to head out on a blind date in the midst of coverage of the previous day's tragedy. Waverly then discovers that her twin sister, Wendy, a student in New York City, has not been heard from. While reassuring herself that nothing is wrong, Waverly embarks on a strange adventure with her date, Andrew. The two are connected in odd ways, and things only get weirder when neighbors and Joyce Carol Oates (in puppet form) show up. Is Wendy alright? What does Waverly and Andrew's connection mean? You'll have to see the show to find out.
Tickets
Atlas Performing Arts Center, 1333 H Street NE, Washington, DC 20002
• • •

'Pipeline' – Through Feb. 23
This Studio Theatre production takes an intense look at America's education system and the power of a parent's love. Nya teaches at an impoverished city school and she's also the single mother of Omari, whom she wishes to provide with every opportunity. After a conflict with one of his teachers, Omari's future at his private school is in doubt. Nya is forced to fight against a broken system that is stacked against Omari at every turn.
Tickets
Studio Theatre, 1501 14th Street NW, Washington, DC 20005
• • •

'Silent Sky' – Through Feb. 23
Before women were granted the right to vote, Henrietta Leavitt changed the study of astronomy forever. Along with fellow women "computers," Leavitt discovered 2,400 new stars while working at the Harvard Observatory. She also chronicled their brightness, allowing for other scientists to map the Milky Way and beyond. Audiences will be riveted by the inspiring and determined women chronicled in this highly anticipated production.
Tickets
Ford's Theatre, 511 10th Street NW, Washington, DC 20004
• • •

'Gun & Powder' – Through Feb. 23
This world premiere musical details the incredible story of Mary and Martha Clarke, two light-skinned African American twins forced to pass as white in order to pay off their mother's sharecropper debt. Loyalty is tested when the twins find love: one with a white man, one with a black man. Race, identity and family are central topics in this tale of two bold women who use gun and powder to become legends.
Tickets
Signature Theatre, 4200 Campbell Avenue, Arlington, VA 22206
• • •
'A Thousand Splendid Suns' – Through March 1
Based on a book by Khaled Hosseini, the writer of the bestselling Kite Runner, this Arena Stage production takes the audience to war-torn Kabul, where Miriam and Laila become united in facing brutality and oppression in their daily lives. The two then make a life-altering decision that is both unselfish and daring. You will be riveted throughout this story of survival.
Tickets
Arena Stage, 1101 6th Street SW, Washington, DC 20024
• • •

'The Merry Wives of Windsor' –Through March 1
How about some female empowerment served up Shakespeare style? The Merry Wives of Windsor tells the tale of schemer Falstaff and the resistance he meets in the form of two wealthy housewives. The duo provides comedic comeuppance to the gold-digger, flipping flimsy gender stereotypes on their head. Prepare for plenty of deception and hilarity.
Tickets
Folger Theatre, 201 East Capitol Street SE, Washington, DC 20003
• • •

Alvin Ailey American Dance Theater – Feb. 4-9
The preeminent modern dance company returns to the Kennedy Center with a program that celebrates the company's illustrious history and aims to bring audiences together in joy. The production will feature some of
Ailey's most famous compositions, as well as programming from artists around the world. Get ready to be united by the power of dance this February.
Tickets
The John F. Kennedy Center for the Performing Arts, 2700 F Street NW, Washington, DC 20566
• • •

'Boy' – Feb. 7 – March 7
The Keegan Theatre presents this thought-provoking production that concerns a 1960s family convinced by a well-intentioned doctor to raise their son as a girl after an awful accident. Roughly 20 years later, the consequences of that decision reverberate. Based on a true story, Anna Ziegler's tale documents a complicated journey of finding yourself – and love – in a new body.
Tickets
Keegan Theatre, 1742 Church Street NW, Washington, DC 20036
• • •
'Mother Road' – Feb. 7 – March 8
The terminally ill William Joad wants to pass down his family farm in Oklahoma to a descendant who moved west. When William discovers that those Joads are now Mexican-American, William and his only living heir, Martín, must face and hash out their perceptions of legacy, family and America itself. The two journey from California to Oklahoma together, facing their brutal pasts and forming a powerful bond on the Mother Road.
Tickets
Arena Stage, 1101 6th Street SW, Washington, DC 20024
• • •

'Shipwreck: A History Play About 2017' – Feb. 10 – March 8
Set in a farmhouse in upstate New York, this play takes on the 2016 election and its toll on American mythology. A group of liberals have gathered for a relaxing weekend while a son adopted from Kenya is trying to connect with his new family and country. When a dinner invitation from the 45th U.S. president arrives, history is set to be altered. Anne Washburn brings this spellbinding play to the Woolly Mammoth Theatre.
Tickets
Woolly Mammoth Theatre Company, 641 D Street NW, Washington, DC 20004
• • •

American Ballet Theatre: 'Giselle' – Feb. 11-16
American Ballet Theatre (ABT) has been a part of every Kennedy Center season since 1971. This year, the company will bring a new group of international stars to DC to perform a ballet not taken on by ABT in nearly 15 years. Giselle is the timeless story of a village maiden that features an incredible combination of movement, music and drama in its depiction of loss, love and forgiveness.
Tickets
The John F. Kennedy Center for the Performing Arts, 2700 F Street NW, Washington, DC 20566
• • •

'The King's Speech' – Feb. 11-16
This play, written by David Seidler and making its highly anticipated U.S. debut, inspired a 2010 Oscar-winning film of the same name. The King's Speech concerns King George VI's struggles with a speech impediment and his eventual close friendship with his speech therapist, Lionel Logue. As the Nazi threat looms and civil unrest rages at home, George is forced into the spotlight, making for an intense and touching story.
Tickets
The National Theatre, 1321 Pennsylvania Avenue NW, Washington, DC 20004
• • •

WORLD STAGES – 'Heroine: one female soldier's story' – Feb. 12-14
The Kennedy Center hosts the U.S. premiere of this powerful one-woman show written and performed by Mary Jane Wells. Based on a true story of a lesbian solider in the U.S. Army, Heroine concerns Sgt. Davis, the only woman in her entire company when she enlists. Davis endures a sexual assault from a fellow soldier only to be put in command of a squad alongside him later on, forced into working with him to bring their troops home safely. Recommended for ages 18 and up, this show will make you contemplate the concepts of war, healing and forgiveness like few other productions do.
Tickets
The John F. Kennedy Center for the Performing Arts, 2700 F Street NW, Washington, DC 20566
• • •

'Easy Women Smoking Loose Cigarettes' – Feb. 18 – March 29
DC-area playwright Dani Stoller penned this hilarious and subversive tale about a dysfunctional Jewish family. The matriarch, Marian, has peacefully settled into retirement with her husband, Richard. Not so fast, though – a pregnant niece, a nuisance next door and a stressed out daughter holding a secret show up. And thus, an empty nester no more, with problems to boot.
Tickets
Signature Theatre Company, 4200 Campbell Avenue, Arlington, VA 22206
• • •

The Washington Ballet Presents BALANCHINE + ASHTON – Feb. 19-23
The Washington Ballet will perform compositions by two monumental figures in dance. The company will take on George Balanchine's Slaughter on Tenth Avenue and Allegro Brilliante and Sir Frederick Ashton's Birthday Offering and Méditation for Thaïs. In the process, the troupe will showcase an array of styles, from jazzy Broadway moves to pure ballet elegance.
Tickets
The John F. Kennedy Center for the Performing Arts, 2700 F Street NW, Washington, DC 20566
• • •
'Swan Lake' – Feb. 21-23
The St. Petersburg Ballet brings superstar Irina Kolesnikova to DC to perform one of the most celebrated ballets in history. Kolesnikova is renowned for her performance as the Swan Queen, so DC audiences will be privileged to enjoy her U.S. debut. Experience Tchaikovsky's classic inside one of the most historic venues in DC, the National Theatre, and marvel at one of the greatest dancers in the world.
Tickets
The National Theatre, 1321 Pennsylvania Avenue NW, Washington, DC 20004
• • •

'Celia and Fidel' – Feb. 28 – April 12
Celia Sánchez was the most trusted advisor of one Fidel Castro, always by his side as he mulled how to improve his Cuban homeland. Celia and Fidel is set in 1980, as 10,000 Cuban citizens seek asylum at the Peruvian Embassy. Castro must decide, through an intense conversation with the revolutionary Celia, whether he wants to be mighty or merciful. Magical realism is woven into this captivating tale that ruminates on the battle between power and morality.
Tickets
Arena Stage, 1101 6th Street SW, Washington, DC 20024
• • •

Washington National Opera: 'Don Giovanni' – Feb. 29 – March 22
Time's up for Don Giovanni! Mozart's classic tragicomedy comes to the Kennedy Center thanks to the Washington National Opera. Giovanni is a manipulative and malicious womanizer, a man whose past is filled with malevolence and sexism. However, when the women of his past unite, he's set to meet the hellish fate he so richly deserves. This timeless (and wholly relevant to 2020) tale will captivate theatergoers just as it did when Mozart wrote it.
Tickets
The John F. Kennedy Center for the Performing Arts, 2700 F Street NW, Washington, DC 20566
• • •

Lane 8 – Feb. 1
Electronic music producer Lane 8 brings his electrifying stage show to 9:30 Club. Expect a lively dance party as the DJ spins the most tantalizing cuts from his most recent release, Brightest Lights, as well as his back catalog. Note that cell phones are not allowed at this show – Lane 8 wants his audience to connect and live in the moment during his concerts. Sounds great to us.
6 p.m. | Tickets
9:30 Club, 815 V Street NW, Washington, DC 20001
• • •
Cold War Kids – Feb. 6
More than 15 years into a career that has seen them grow from buzzworthy indie act to major label stars and internationally known, Cold War Kids are still keeping fans guessing with their ever-diverse sound that blends elements of blues, soul and hard rock. Their live show has always been riveting, so don't miss your chance to hear more than a decade's worth of their inventive tracks at the illustrious 9:30 Club.
7 p.m. | Tickets
9:30 Club, 815 V Street NW, Washington, DC 20001
• • •
Fitz and The Tantrums – Feb. 14
Bursting into eardrums with the 2013 smash hit, "The Walker," Fitz and the Tantrums have kept a firm grip on the attention of pop music fans ever since. In 2016, the group entered a new stratosphere with "HandClap," the lead single off of their self-titled third album. The party-starting act will take to the stage at The Anthem on Valentine's Day, making for one of the month's most exciting concerts and a great way to spend an evening with your significant other.
8 p.m. | Tickets
The Anthem, 901 Wharf Street SW, Washington, DC 20024
• • •

Steve Aoki – Feb. 21
Steve Aoki is one of electronic dance music's most famous figures, one who has transcended the genre and achieved worldwide success. Echostage, one of DC's premier venues and the ideal setting for one of Aoki's shows, will host the DJ/producer/musician on Feb. 21. Aoki has legions of fans around the world, so expect a packed house and dancing that will shake the floor.
9 p.m. | Tickets
Echostage, 2135 Queens Chapel Road NE, Washington, DC 20018
• • •

Marc Anthony – Feb. 22
The top-selling tropical salsa artist of all-time takes on Capital One Arena this February. Marc Anthony has been a smashing crossover success, conquering the pop charts while also acting and producing in films and television shows. The two-time Grammy Award winner certainly knows how to put on a live show, so buckle up for an exciting evening.
8 p.m. | Tickets
Capital One Arena, 601 F Street NW, Washington, DC 20004
• • •
Wolf Parade – Feb. 22
Led by co-frontmen Dan Boeckner and Spencer Krug, Wolf Parade is a powerhouse. After going on hiatus in 2010, the group reunited in 2016 to play the festival circuit and select shows. The Canadian band will now bring their tour to 9:30 Club in promotion of the release of their new album, Thin Mind. You'll hear inspiring anthems, dueling guitars, thundering drums, cinematic keyboards – all the elements that make rock music great – at this show.
6 p.m. | Tickets
9:30 Club, 815 V Street NW, Washington, DC 20001
• • •

Post Malone – Feb. 27
With a distinct look, an eclectic sound and an unforgettable grin, Post Malone is the current chill king of hip-hop. The multiplatinum artist has become a poster boy (no pun intended) for rap that's not afraid to stretch beyond genre constraints. Post will rip through an array of crowd favorites for what will be a packed house inside Capital One.
8 p.m. | Tickets
Capital One Arena, 601 F Street NW, Washington, DC 20004
• • •

The Lumineers – Feb. 28
One of the most acclaimed bands of the indie-folk movement, The Lumineers have become a household name ever since "Ho Hey" took over airwaves in 2013. Now three albums into what promises to be a long career, the group continues to release irresistible songs built around their spare but charming arrangements. Capital One Arena will be rockin' for this show.
7 p.m. | Tickets
Capital One Arena, 601 F Street NW, Washington, DC 20004
• • •
Drive-By Truckers – Feb. 28
Hailing from the American South, Drive-By Truckers have been the definitive Southern rock band since the late 1990s, churning out a steady stream of hard-rocking, gut-busting, soul-searching records. The live shows are loud and torrential, with songs capable of going in any direction. Their new album, The Unraveling, reaffirms the band's unmistakable voice and sound. You'll be able to catch them on the a Friday night at the legendary 9:30 Club.
8 p.m. | Tickets
9:30 Club, 815 V Street NW, Washington, DC 20001
​• • •
#MyDCcool Photo of the Month
Make sure to share your DC photos with us using #MyDCcool, and we may feature yours next month!