30+ Things to Do This August in Washington, DC
Savor summer with a month of can't-miss events, festivals and more in the nation's capital.
Citi Open – Through Aug. 6
Rock Creek Park Tennis Center plays host to this DC summer sporting tradition, now in its 48th year. International tennis stars will battle in front of thousands of fans during the week-long tournament. As always, the lineup features talent from all over the world, including Juan Martin del Potro, Gael Monfils and John Isner in the men's field and Eugenie Bouchard and Monica Puig in the women's field. Make sure to check the tournament's website for event, ticket and lineup updates. You can also take advantage of ticket discounts for certain sessions.
Tickets
Rock Creek Park Tennis Center, 4850 Colorado Avenue NW, Washington, DC 20011
•••
Truckeroo – Aug. 4
Truckeroo brings local food trucks to The Bullpen near Yards Park in the bustling Capitol Riverfront neighborhood to dole out everything from cookies and milk to Vietnamese sandwiches. About two dozen wheeled food sellers show up, and there are picnic tables and shade to keep things cool. There will also be games, cold beverages and live music to create the full-on summer experience.
4 – 11 p.m. | Free admission
The Bullpen, 1299 Half Street SE, Washington, DC 20003
• • •
Smithsonian Sleepover at the National Museum of Natural History – Aug. 4 & 18
The National Museum of Natural History hosts two Smithsonian Sleepovers this month. These ever-popular events allow kids to spend a night immersed in adventure inside a Smithsonian museum. This go-round, kids can solve puzzles and play games involving the Natural History Museum's exhibits, as well as participate in craft projects and watch and IMAX film. Ages 8-12 are permitted, and there must be at least one adult present for every three children in any group that registers. No siblings younger than 8 are allowed, and no adults are allowed without children.
7 p.m. – 9 a.m. | Register
Smithsonian National Museum of Natural History, 10th Street and Constitution Avenue NW, Washington, DC 20560
• • •
Jazz in the Garden – Aug. 4, 11, 18, 25
Kick back and groove to the music with sangria in hand at Jazz in the Garden, held in the National Gallery of Art's Sculpture Garden until Aug. 25. An eclectic mix of DC area jazz musicians lend a soundtrack to one of the city's most idyllic scenes set around the sculpture garden's central fountain. This is a free seasonal tradition that you do not want to miss. Check out the lineup and the food and drink offerings.
5 – 8:30 p.m. | Free admission
National Gallery of Art, 6th and Constitution Avenue NW, Washington, DC 20565
• • •
'Fantastic Beasts and Where to Find Them' Screening at Capitol Riverfront – Aug. 10
Families are invited to take in a flick at sundown at the gorgeous Canal Park in the Capitol Riverfront neighborhood. On Aug. 10, catch the smash hit from the Harry Potter universe, Fantastic Beasts and Where to Find Them. Guests are invited to arrive as early as 7 p.m. to set up a picnic and prepare to be dazzled. Admission is free! Looking for more free outdoor movie options in the District? Find out when and where to catch a flick outdoors this summer.
7 p.m. | Free admission
Canal Park, 200 M Street SE, Washington, DC 20003
• • •
Otakon – Aug. 11-13
Asian pop culture is the focus of this famous convention that takes fandom to a new level. Expect plenty of cosplay, video gaming, film screenings, workshops and celebrity appearances at this three-day celebration inside the Walter E. Washington Convention Center.
Register
Walter E. Washington Convention Center, 801 Mount Vernon Place NW, Washington, DC 20001
• • •
EdibleDC x Cut Seven Bootcamp + Testing – Aug. 12
EdibleDC Magazine and Cut Seven will bring elite trainers to a special outdoor bootcamp at the gorgeous Canal Park. Exercise will be followed by a tasting of local health food and drinks from the Up Top Acres rooftop farm. Other post-workout partners include sweetgreen, TaKorean, Beefsteak Veggies and KIND snacks. Combine health and fun on a Saturday morning in one of DC's most scenic settings.
9 – 11:30 a.m. | Tickets
Canal Park, 200 M Street SE, Washington, DC 20003
• • •
Metropolitan Washington Restaurant Week – Aug. 14-20
Enjoy the District's best eats with the summer edition of Restaurant Week, and make sure to read our full neighborhood breakdown. Foodies and deal hunters always swoon over the prix-fixe menus from a cast of DC's best restaurants. Head over to ramw.org/restaurantweek to book a table and keep up with participating restaurants, along with can't-miss dishes and deals.
• • •
Harbor Dome: Summer Snow Globe – Aug. 18-20, Aug. 24-27, Aug.31 – Sept. 3
National Harbor wants to inject some winter into your summer. Step inside their Summer Snow Globe for craft cocktails, live music and falling snow, starting on August 18 and running every weekend, Friday – Sunday, through Sept. 3. Each day also features live music, with a different band or DJ taking center stage every day. Forget about August temperatures and cool down at one of the area's most vibrant destinations. The Snow Globe is only for ages 21 and over.
Tickets
National Harbor, Intersection of Waterfront St. and National Plaza, Oxon Hill, MD 20745
• • •
Comcast Outdoor Film Festival – Aug. 24-26
This three-day celebration of movies takes place in Bethesda, MD from Aug. 24-26. The scenic Strathmore Campus is a fantastic place to enjoy an evening outdoors, so bring along the crew to catch either Moana, Rogue One or The Lego Batman Movie (or all three, since attending is free). Ridgewell's will be on-site with food, too! Screenings begin at dusk. The festival benefits the National Institutes of Health Children's Charities.
Gates open at 7:30 p.m. | Free admission
Strathmore, 10701 Rockville Pike, North Bethesda, MD 20852
• • •
DCBX#9 – Aug. 24-28
Ranked the number one Latin dance festival in the U.S. the last two years, DCBX#9 takes over the nation's capital for four days this August. Veterans and newbies of dancing bachata, the sexier-than-salsa dancing style from the Dominican Republic, will have plenty of chances to strut their stuff, from concerts to contests to workshops. In addition to its dance events, the festival recognizes the art form's best of the best, along with difference makers in the Hispanic community at the DCBX Excellence Awards. Meanwhile, its Global Impact Film Festival celebrates different cultures and raises awareness about important worldwide issues, while a speaker series for entrepreneurs helps fuel the next big ideas.
Tickets
Renaissance Washington, DC Downtown Hotel, 999 9th Street NW, Washington, DC 20001
• • •
Washington Nationals vs. New York Mets – Aug. 25-27
The Washington Nationals are the hottest ticket in town. The division-leading team sent five players to the All-Star Game this year, including slugger Bryce Harper and aces Max Scherzer and Stephen Strasburg. Well on their way to their fourth National League East title in six years, the Nats will take on the archrival New York Mets for a weekend series at the gorgeous Nationals Park, which will host the All-Star Game next year.
Tickets
Nationals Park, 1500 South Capitol Street SE, Washington, DC 20003
•••
17th Street Festival – Aug. 26
17th Street in Dupont Circle has so much to see and do, it needs its own day-long festival for you to take in all its wonder. Live music will be present throughout the proceedings, providing a soundtrack as you browse through roughly 100 vendors, including 50 artists displaying fine art, crafts and jewelry. There's even a kid's zone, where the little ones can enjoy a moon bounce, a ball crawl, face painting and games, as well as a pet zone featuring dogs and cats (you can even adopt one!).
12 – 6 p.m. | Tickets
17th Street NW from P Street to R Street NW (1500 and 1600 blocks), Washington, DC
•••
Capital Dragon Boat Regatta at The Wharf – Aug. 26
The action-packed dragon boat race takes place near the Southwest Waterfront's beautiful new development, The Wharf. Groups of 20 frantically paddle towards the finish line with a drummer onboard inspiring the team. Boats are decorated in a variety of colors, creating quite the visual on the water. Best of all, this fast-paced spectacle can be watched for free. Check the Regatta's website for schedule and other details as race day draws near.
•••
Maryland Renaissance Festival – Aug. 26-27
Check out this unique festival that takes place every year in Annapolis, MD (roughly 50 minutes from downtown DC). Fill the holiday weekend by checking out Renaissance-themed artisans, performances (including dances and musicians) and food. You can also dress up in your own costume, if ye so wish. The festival occurs on select dates through Oct. 22.
Tickets
1821 Crownsville Road, Annapolis, MD 21401
'Artful Innovation: Inclusive Design and Technology' – Through Aug. 30
The illustrious Kennedy Center hosts more than plays. Until the end of the month, you can check out objects that combine creativity in design and functionality through cutting-edge technology in this free special exhibit at the Center's Hall of States. View true innovation that may just alter your perception of what is truly possible – and gain a glimpse into the future.
Opens at 10 a.m. | Free admission
Hall of States, John F. Kennedy Center for the Performing Arts, 2700 F Street NW, Washington, DC 20566
• • •
HIVE Late Night – Aug. 2, 9, 16, 23, 30
As part of the popular HIVE exhibit, the National Building Museum hosts an after-hours party every Wednesday night this month. Starting at 6 p.m., you can enjoy live music, drinks and delicious barbecue from popular local outpost Hill Country Barbecue Market. You will also have exclusive access to the exhibit, which includes thousands of paper tubes locked together to create fascinating chambers.
6 – 9 p.m. | Tickets
National Building Museum, 401 F Street NW, Washington, DC 20001
• • •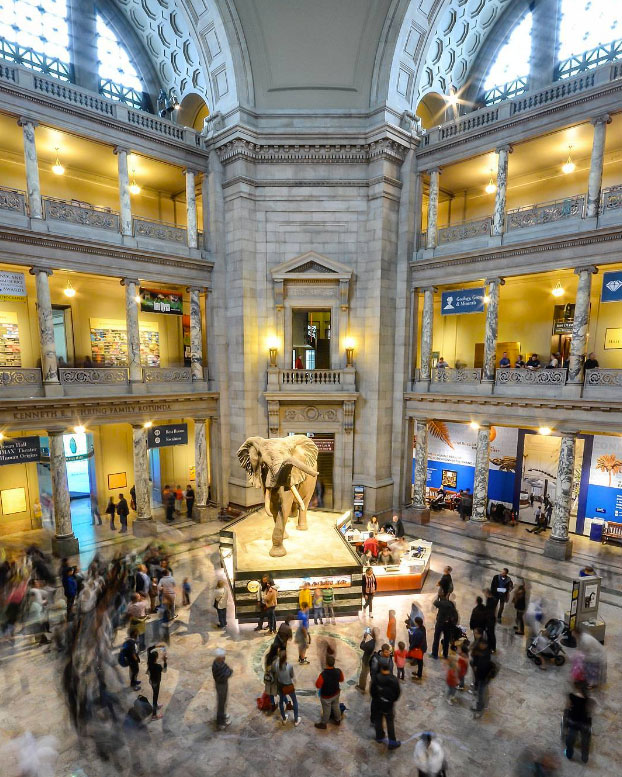 'Narwhal: Revealing an Arctic Legend' – Aug. 3, 2017 – 2019
In Inuit culture, the narwhal (a small Arctic whale with a distinct spiral tusk) is an intriguing and spiritual animal. The National Museum of Natural History will showcase the Inuit perspective on the animal, as well as the latest scientific information, to reveal the complex nature of the narwhal. The exhibit will include tusks and skulls from the animal, as well as Inuit artwork and artifacts depicting the male narwhal. Visitors can also enjoy hands-on activities and chat with experts at select times.
10 a.m. – 5:30 p.m. | Free admission
Smithsonian National Museum of Natural History, 10th Street and Constitution Avenue NW, Washington, DC 20560
• • •
SAAM Arcade – Aug. 5-6
Play video games. Inside of a state-of-the-art museum. For free. Sounds awesome to us! SAAM Arcade will feature roughly 150 titles from developers, letting you and yours sample the coolest new games. There will also be game building workshops and a Boys and Girls Club Youth eSports League Championship on the museum's third floor, for those who love competition. You can also expect live music performances on both days.
11:30 a.m. – 7 p.m. | Free admission – RSVP on Facebook
Smithsonian American Art Museum, F Street NW and 8th Street NW, Washington, DC 20004
• • •
Observe the Solar Eclipse at the National Air and Space Museum – Aug. 21
From 1:17 p.m. to 4:01 p.m. on Aug. 21, the first solar eclipse visible to the entire United States in 100 years will occur! In DC, the Moon will block up to 82% of the Sun, and you can witness this incredible spectacle from the National Air and Space Museum on the National Mall for free. The museum will feature safe solar telescopes at its Observatory, as well as free eclipse glasses and a chance to make your own pinhole eclipse viewer. The museum will also broadcast the eclipse from Liberty, Missouri on screens throughout the premises.
1 – 4 p.m. | Free admission
Smithsonian National Air and Space Museum, Independence Avenue at 6th Street SW, Washington, DC 20560
George Lopez – Aug. 5
One of the great stand-up comedy success stories, George Lopez has achieved notoriety in television (both in primetime and late-night), film and through acclaimed specials. In fact, you can experience Lopez's hilarious new routine as he films it for a new HBO special. Lopez's tales from his Mexican-American background and litany of show biz stories are sure to leave you laughing. He'll take the stage for two performances – one at 7 p.m., the next at 9:30 p.m.
7 p.m. & 9:30 p.m. | Tickets
Concert Hall, John F. Kennedy Center for the Performing Arts, 2700 F Street NW, Washington, DC 20566
• • •
'Jurassic Park' - In Concert – Aug. 5
One of cinema's all-time thrill rides, Jurassic Park, can be experienced like never before at Wolf Trap this August. Steven Spielberg's sci-fi classic concerns a wildlife park with cloned dinosaurs that goes horribly awry, with star turns from Sam Neil, Laura Dern and Jeff Goldblum. The unforgettable score composed by John Williams will be performed live by the National Symphony Orchestra as the film plays, led by conductor Emil de Cou.
8:30 p.m. | Tickets
Filene Center at Wolf Trap, 1645 Trap Road, Vienna, VA 22182
• • •
'Big Fish' – Aug. 5 – Sept. 2
The Broadway musical adaptation of Daniel Wallace's novel and Tim Burton's film comes to DC's Keegan Theatre this August. The play focuses on Edward Bloom, a salesman who lives lavishly and loves sharing his outlandish tales with anyone who will listen. When Edward's son, Will (who is about to become a father himself), looks to find the truth in his dad's stories, a heartwarming and hilarious narrative unfolds. Featuring memorable music and performances, don't miss your chance to catch this truly distinctive production.
Tickets
The Keegan Theatre, 1742 Church Street NW, Washington, DC 20036
• • •
Singleling Podcast Live from the Black Cat – Aug. 12
Do you delight in hearing your friends' most horrific dating stories? If so, tap into all the dating schadenfreude you can handle during a live taping of Singleling, a podcast featuring comedians and storytellers with awful dates for days. The New York-based show comes down to the Black Cat again (after a sold-out show last April) for more off-the-rails dating tales. Expect a mix of New York and DC performers, including founder/raconteur Vanessa Valeiro and co-host Cara Foran, from the local storytelling troupe Perfect Liars Club.
9:30 p.m. | Tickets
1811 14th Street NW, Washington, DC 20009
• • •
'A Little Night Music' – Aug. 15 – Oct. 8
The Signature Theatre, located just outside of DC, stages a Stephen Sondheim musical masterpiece that concerns a tangled web of love in 1900 Sweden. Winner of four Tony Awards, you'll be dazzled by this play that concerns a married virgin, an aging actress, an eager divinity student and a foolish count. Take in glorious renditions of songs like "A Weekend in the County" and "Send in the Clowns" as you savor an unforgettable night of theater that only a Sondheim play can give you.
Tickets
Signature Theatre, 4200 Campbell Avenue, Arlington, VA 22206
• • •
Shakespeare Theatre Company Free for All: 'Othello' – Aug. 15-27
Each year, Shakespeare Theatre Company hosts its special Free for All series, in which performances of one of The Bard's classic plays are made available to the public, free of charge. This year, Othello takes center stage, weaving a tale of betrayal and manipulation in one of Shakespeare's most intense tragedies. Free tickets can be retrieved via online lottery or in-person the day of the show – visit the website for more details.
Sidney Harman Hall, 610 F Street NW, Washington, DC 20004
Roger Waters – Aug. 4-5
Roger Waters, as primary songwriter for Pink Floyd, is responsible for some of rock music's greatest masterpieces, including Dark Side of the Moon, Wish You Were Here and The Wall. Waters' Us + Them tour (named after a classic Dark Side track) will touch down in DC for two nights in August, as Waters and his skilled band will take lovers of the Floyd and Roger's solo work on a spectacular voyage inside the Verizon Center.
8 p.m. | Tickets
Verizon Center, 601 F Street NW, Washington, DC 20004
• • •
Florida Georgia Line – Aug. 5
There's no other way to put it: Florida Georgia Line are country music superstars. Their crossover appeal is also strong, as evidenced by Nelly's presence on their tour that is currently selling out shows all over the United States. The duo will take to the stage at Jiffy Lube Live, a pristine outdoor venue just outside of the District in Bristow, VA. Prepare for songs about girls, trucks and parties, with some lighters-in-the-air ballads mixed in.
7 p.m. | Tickets
Jiffy Lube Live, 7800 Cellar Door Drive, Bristow, VA 20136
• • •
2017 Summer Spirit Festival – Aug. 5-6
Merriweather Post Pavilion hosts this two-day festival that sees some of the brightest stars in R&B and hip-hop converge on the DMV area. Saturday features Babyface, De La Soul, Common, Fantasia and many more. On Sunday, enjoy sets from Bel Biv Devoe, SWV, The Internet and En Vogue. Purchase tickets to one or both days and get ready for a weekend filled with grooves and good vibes.
2 p.m. | Tickets
Merriweather Post Pavilion, 10475 Little Patuxent Parkway, Columbia, MD 21044
• • •
J. Cole – Aug. 8
J. Cole became a fixture in hip-hop back in 2007 with the release of his debut mixtape, The Come Up. Ever since, he's been steadily climbing up the charts, peaking with the release of his most recent album, 4 Your Eyez Only, which debuted at #1 the U.S. Billboard 200. Cole also received a Grammy Award nomination for 2014's 2014 Forest Hills Drive. He'll take his talents to the Verizon Center stage for one night only this August, so grab tickets while you can.
8 p.m. | Tickets
Verizon Center, 601 F Street NW, Washington, DC 20004
• • •
Herbie Hancock – Aug. 8
Herbie Hancock may have been the wrong answer for Tommy Boy, but he's certainly the right answer for you at the Kennedy Center come Aug. 8. The legendary musician has had an astonishing career that now spans six decades, from his notable work with the Miles Davis Quintet in the 1960s to his groundbreaking Headhunters album in 1973 to his classic music video for "Rockit" in 1984. The Kennedy Center Honoree will perform at the illustrious venue as part of his current international tour.
8 p.m. | Tickets
Concert Hall, John F. Kennedy Center for the Performing Arts, 2700 F Street NW, Washington, DC 20566
• • •
Earth, Wind & Fire and CHIC featuring Nile Rodgers – Aug. 9
Earth, Wind & Fire and CHIC are synonymous with funk. Both groups achieved monumental success in the 1970s, moving feet on dance floors all over the world. The two will join together for an epic night of music at the Verizon Center on Aug. 9. CHIC will even bring along founding member Nile Rodgers, one of American pop music's all-time producers and instrumentalists. Bring your dancing shoes for this one.
8 p.m. | Tickets
Verizon Center, 601 F Street NW, Washington, DC 20004
• • •
Santana – Aug. 15
Carlos Santana's guitar has been making jaws drop for more than 40 years. The Merriweather Post Pavilion will host the virtuoso and his skilled backing band this month, an ideal outdoor setting so Santana's guitar can wail to maximum effect. Beginning with a legendary set at Woodstock in 1969, Carlos has captivated listeners with his fusion of Afro, Latin, blues and rock music, from "Black Magic Woman" to "Smooth". Expect an invigorating night filled with hits and as many grooves as you can handle.
8 p.m. | Tickets
Merriweather Post Pavilion, 10475 Little Patuxent Parkway, Columbia, MD 21044
• • •
Waxahatchee – Aug. 21
Katie Crutchfield performs as Waxahatchee, creating intimate songs that still manage to rock. 2015's Ivy Tripp was one of the year's most universally acclaimed releases, blending lovelorn ballads and deft pop melodies. She is back with Out in the Storm, which is sure to end up on several year-end best-of lists, as Crutchfield has further amplified her signature sound. Named after a creek in Alabama, Waxahatchee's songs create that bonfire feeling, and we're sure this live performance at 9:30 Club will be no different.
7 p.m. | Tickets
9:30 Club, 815 V Street NW, Washington, DC 20001
• • •
Sheer Mag – Aug. 23
Sheer Mag are one of the most exciting rock bands to emerge in years. Blending Thin Lizzy-esque licks with funky grooves and a diva front singer who can wail with the best of them, the group is fantastic on record (their first LP just dropped, and is earning raves) and even better on stage. Black Cat will hardly be able to contain the five-piece and their searing songs that get stuck in your head for days…but it will have to try.
7:30 p.m. | Tickets
Black Cat, 1811 14th Street NW, Washington, DC 20009
• • •
Washed Out – Aug. 31
Washed Out (the stage name of Ernest Greene) is a continually evolving artist. His first release, Life of Leisure (you may recognize "Feel It All Around", which opened IFC's Portlandia) drew notice for its endearing take on "chillwave," a genre that seemingly existed for one summer. No worries for Greene. Since then, he has expanded into synth pop and rock, but on his latest, he deftly combines those styles, as well as hip-hop and free jazz, to create his most comprehensive sound yet. 9:30 Club will host the talented singer/songwriter/producer as August comes to a close.
7 p.m. | Tickets
9:30 Club, 815 V Street NW, Washington, DC 20001
• • •
#MyDCcool Photo of the Month
Make sure to share your DC photos with us using #MyDCcool, and we may feature yours next month!
For more events, festivals and things to do in Washington, DC, check out our events calendar.