40+ Things to Do This June in Washington, DC
Savor summer with a month of can't-miss events, festivals and more in the nation's capital.
SAVOR: An American Craft Beer & Food Experience – June 2-3
Lovers of brews will not want to miss SAVOR, which features 86 craft breweries from all over the U.S. showing off two of their most acclaimed flavors at the National Building Museum. That adds up to 172 beers available for sampling and there will be plenty of tasty offerings that should pair up quite nicely.
7:30 – 11 p.m. | Tickets
National Building Museum, 401 F Street NW, Washington, DC 20001
•••
MCON 2017 – June 5-6
Newseum hosts this two-day conference that is all about turning interest into action. MCON invites aspiring activists and creatives to hear leaders and entrepreneurs discuss three important topics: social justice, the planet and identity. Attendees will be informed of how they can turn their desire for social change and evolution intro truly making a difference through keynote speeches and breakout sessions.
Register
Newseum, 555 Pennsylvania Avenue NW, Washington, DC 20001
• • •
Taste of Adams Morgan – June 6
Enjoy offerings from more than 20 local restaurants in the vibrant Adams Morgan neighborhood during the fifth edition of this culinary celebration. All ticket purchases benefit Mary's Center, with one ticket granting you one taste at each participating restaurant. You will be able to stroll through one of DC's most cherished corridors, sipping and sampling throughout the excursion. A taste guide will be provided as you begin your journey, informing you of what to expect at each stop.
5 – 9 p.m. | Tickets
18th Street and Columbia Road NW, Washington, DC 20009
• • •
Dine-N-Dash – June 7
This annual fundraiser for World Central Kitchen is as innovative as everything Chef José Andrés touches: grab a wristband and a map and sample five to eight dishes and four cocktails at 30 restaurants, all in one night. The culinary adventure has become a summer tradition in the District, so dive into this flavor-filled expedition and prepare to engage with DC's incredible dining scene like never before.
6 – 10 p.m. | Tickets
• • •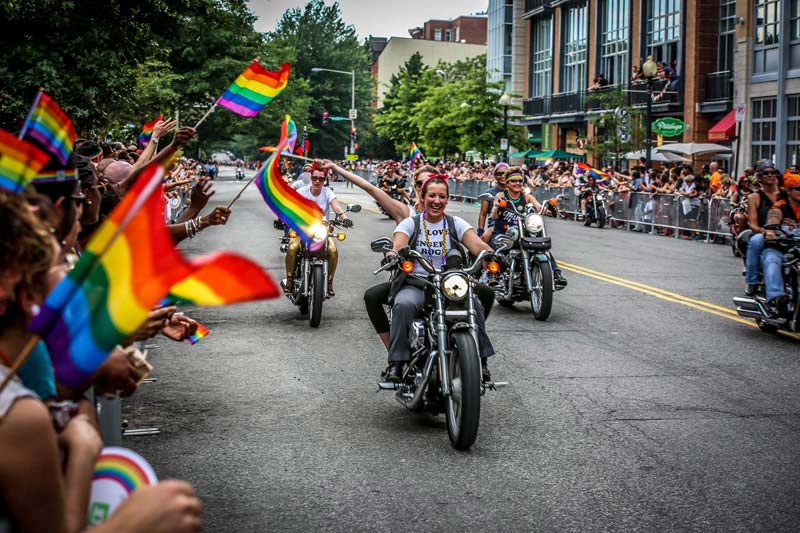 Capital Pride – June 8-11
The DC community comes together for the annual Capital Pride, a citywide celebration of LGBTQ rights and the continuing fight for them. This year's signature events include a rooftop pool party (June 8), a block party (June 10), the popular Pride Parade (June 10) and the Pride Festival and Concert (June 11). Check out our rundown of these can't-miss events and get down with diversity this June.
Citywide
• • •
Summer Escape at Mount Vernon – June 9-10
How does hanging out at George Washington's gorgeous former abode as the sun sets sound? That's what Summer Escape at Mount Vernon allows for, plus you can enjoy craft brews and local eats, kick back to bluegrass music, walk around lantern-lit grounds and sample chocolate martinis. Mount Vernon sits right on the water, so expect beautiful views and an unforgettable evening.
6 – 9 p.m. | Tickets
George Washington's Mount Vernon, 3200 Mount Vernon Memorial Highway, Mount Vernon, VA 22121
• • •
DC Jazz Festival – June 9-18
Now in its 12th year, the DC Jazz Festival brings national and local musicians to venues including Yards Park, Howard Theatre and the Kennedy Center, as well as intimate jazz clubs all over the city. Some concerts are free; most are ticketed. Lineup highlights include Pat Metheny, Gregory Porter, Robert Glasper Experiment and the Kenny Garrett Quintet.
Citywide
• • •
AFI Docs – June 14-18
The American Film Institute's international film festival presents diverse documentaries ranging in topics from national politics, education and health to music, sports and culture. Considered one of the leading documentary festivals in the country, AFI Docs is an annual summer commemoration of the power of storytelling in film. Numerous theatres in the DC area will participate. Check the festival's website for updates and scheduling.
Citywide
• • •
Truckeroo – June 16
Truckeroo brings local food trucks to The Bullpen near Yards Park in the bustling Capitol Riverfront neighborhood to dole out everything from cookies and milk to Vietnamese sandwiches. About two dozen wheeled food sellers show up, and there are picnic tables and shade to keep things cool. There will also be games, cold beverages and live music to create the full-on summer experience.
11 a.m. – 11 p.m. | Free admission
The Bullpen, 1299 Half Street SE, Washington, DC 20003
•••
Brightest Young Things & National Geographic's Excellent Adventure – Explorers Festival After Hours! – June 16
Engage your urge for exploration at this special after-hours event at National Geographic Museum, hosted in tandem with Brightest Young Things. You will have exclusive access to the museum's Earth Explorers exhibit while enjoying a DJ set from Oddisee, a raucous live set from Herr Metal and drinks, food trucks and photo booths in the museum's courtyard. The event will also feature lightning talks from Nat Geo Explorers. Sounds like a pretty awesome Friday night.
8 p.m. – 12:30 a.m. | Tickets
National Geographic Museum, 1600 M Street NW, Washington, DC 20036
•••
Awesome Con – June 16-18
Stars of screens big and small, popular comic book creators and thousands upon thousands of their fans will descend upon the Walter E. Washington Convention Center for Awesome Con, a weekend-long, comic book and sci-fi blowout of epic proportions. Prepare for an atmosphere that you won't find anywhere else in DC this summer (think cosplay, or lots and lots of costume-clad fans). Special guests include David Tennant, Stan Lee, John Barrowman, Felicia Day and many, many more.
Tickets
Walter E. Washington Convention Center, 801 Mount Vernon Place NW, Washington, DC 20001
•••
Giant National Capital Barbecue Battle – June 24-25
Rib roasters and sauce bosses show off their delicious wares during the Giant National Capital Barbecue Battle. Pit masters from all 50 states, local restaurants and live music shut down Pennsylvania Avenue between 3rd and 7th streets NW for a lively street party. Cooking demos and free tastings make for a delicious (and filling) experience.
Tickets
Pennsylvania Avenue between 3rd and 7th Streets NW, Washington, DC 20001
•••
Quicken Loans National – June 29 – July 2
Quicken Loans National is a summertime fixture for area sports fans, as 120 of the world's top golfers descend upon the nation's capital for a weekend of competition. This year, the tournament moves to TPC Potomac at Avenel Farm, a short drive from the city. Take in premier play on the green as well as gourmet food and signature cocktails in a communal atmosphere. All ticket sales benefit the Tiger Woods Foundation for low-income students, as well as men and women of the armed forces.
Tickets
TPC Potomac at Avenel Farm, 10000 Oaklyn Drive, Potomac, MD 20854
•••
Smithsonian Folklife Festival – June 29 – July 4, July 6-9
The free Smithsonian Folklife Festival salutes different international and American cultures every year on the National Mall with craft exhibits, live music, cooking demos and an expansive marketplace full of pottery, books, textiles, toys, sculptures, clothing and more. This year, the festival celebrates its 50th anniversary with a focus on the evolution of circus arts and the importance of migration.
Free admission
'Markus Lüpertz: Threads of History' – Through Sept. 10
Coinciding with The Phillips Collection's Markus Lüpertz exhibit, this display at the Hirshhorn focuses on the early works of the great German artist. More than 30 of Lüpertz's paintings will be shown, including the 40-foot long Westwall (Siegfried Line), on display for the first time in the U.S. Discover how Lüpertz incorporated Abstract Expressionism, Pop art and German postwar culture in his seminal works from the 1960s and 1970s.
10 a.m. – 5:30 p.m. | Free admission
Hirshhorn Museum and Sculpture Garden, 7th Street SW and Independence Avenue SW, Washington, DC 20024
• • •
'XYZT: Abstract Landscapes' – June 1 – Sept. 3
The debut of DC's only digital art space happens on June 1. Experience the immersive XYZT: Abstract Landscapes installation at ARTECHOUSE, situated in the Southwest Waterfront. The hands-on interactive experience allows guests to walk on floors that react to footsteps, manipulate light particles within a giant digital cube or blow into glass boxes and watch virtual letters dance around.
Hours & Admission
ARTECHOUSE, 1238 Maryland Avenue SW, Washington, DC 20024
• • •
Dupont Kalorama Museum Walk Weekend – June 3-4
Take the first weekend in June to enjoy free admission at five awesome DC museums. The Dupont Kalorama Museum Walk weekend, held for the 34th time this year, includes Anderson House, Dumbarton House, the National Museum of American Jewish Military History, The Phillips Collection and the Woodrow Wilson House. You will have access to new exhibits, fascinating stories and live music at all of the museums, an incredible free opportunity that comes only once a year.
11 a.m. – 4 p.m. | Free admission
Various locations
• • •
'Nicolas Party: Sunrise, Sunset' – June 7 – Oct. 1
The Hirshhorn's entire third level inner-circle gallery will feature this incredible installation from New York-based Swiss artist Nicolas Party. Visitors will be immersed in a panoramic piece that will highlight the power of sunrises and sunsets through eye-popping color and captivating landscapes. Party wants viewers to step out of the everyday and into the surreal, so bring your imagination to what will be a stunning work of art on display through Oct. 1.
10 a.m. – 5:30 p.m. | Free admission
Hirshhorn Museum and Sculpture Garden, 7th Street SW and Independence Avenue SW, Washington, DC 20024
• • •
'Marlene Dietrich: Dressed for the Image' – June 16 – April 15, 2018
The National Portrait Gallery examines one of Hollywood's earliest and most formidable stars in this must-see summer exhibit. Marlene Dietrich came to fame when talking pictures were just gaining prominence, becoming a fashion icon who challenged notions of femininity and patriarchy. View photos, film clips and letters from this gender-bending, earth-shaking actress who remains an influential figure to this day.
11:30 a.m. – 7 p.m. | Free admission
National Portrait Gallery, 8th and F Streets NW, Washington, DC 20001
• • •
'Antebellum Portraits by Mathew Brady' – June 16 – June 3, 2018
One of photography's first superstars is at the center of this comprehensive exhibit at the National Portrait Gallery. Mathew Brady opened a daguerreotype portrait studio in New York City in 1844, quickly becoming one of the most successful camera artists in the country. Observe some of Brady's most important work, including famous Civil War-era photographs, and learn of one of the medium's first true pioneers.
11:30 a.m. – 7 p.m. | Free admission
National Portrait Gallery, 8th and F Streets NW, Washington, DC 20001
• • •
'Summer of Yoko Ono' – June 17 – Sept.
In honor of the 10-year anniversary of Yoko Ono's Wish Tree for Washington, DC coming to the Hirshhorn, the museum presents an array of Ono's most revered installations. Visitors can attach handwritten wishes to Wish Tree per usual (nearly 80,000 wishes have been collected over the years), as well as attach a photograph or note to My Mommy Is Beautiful, an installation that will stretch the entirety of the Hirshhorn's lobby. Ono's Sky TV for Washington, DC will also be on view on the third level, a constant live-feed of the sky above. The exhibit concludes with a day-long concert in September that will celebrate Ono's unique performances. Details are forthcoming.
10 a.m. – 5:30 p.m. | Free admission
Hirshhorn Museum and Sculpture Garden, 7th Street SW and Independence Avenue SW, Washington, DC 20024
• • •
'One Life: Sylvia Plath' – June 20 – May 20, 2018
The life of one of the mid-20th century's most prominent writers is explored in an art and history museum for the first time. Sylvia Plath, author of such seminal works as The Bell Jar and Ariel, and her fascinating story are the focus of this National Portrait Gallery exhibit. Visitors will learn of the dual personalities that Plath created for herself through her poetry and story writing, with personal letters, images, objects serving as essential artifacts.
11:30 a.m. – 7 p.m. | Free admission
National Portrait Gallery, 8th and F Streets NW, Washington, DC 20001
• • •
'Ai Weiwei: Trace' – June 28 – Jan. 1, 2018
Chinese artist Ai Weiwei brings a new, groundbreaking piece to the Hirshhorn Museum. Trace is a stunning installation that showcases activists from around the world through 176 portraits, each comprised of thousands of plastic LEGO bricks. The installation is influenced by Ai Weiwei's own experiences with interrogation and incarceration (he was prohibited from traveling abroad by the Chinese government from 2011-15), as the individuals represented have also been detained, exiled or sought political refuge. The exhibit will also feature a 360-degree wallpaper installation, adding up to nearly 700 feet of Ai Weiwei's art residing in the Hirshhorn's third floor Outer Ring galleries.
10 a.m. – 5:30 p.m. | Free admission
Hirshhorn Museum and Sculpture Garden, 7th Street SW and Independence Avenue SW, Washington, DC 20024
• • •
'The Nation We Build Together' – Opens June 28
Check out the newly renovated west wing of the National Museum of American History's second floor, which will feature three brand new exhibits. All three deal with the country's founding and evolution, including the impacts of religion, immigration and citizen participation. The renovated wing will also feature new interactive experiences, theater programs and a spotlight on one of the country's most important artifacts, the Greensboro Lunch Counter.
10 a.m. – 5:30 p.m. | Free admission
National Museum of American History, Constitution Avenue NW between 12th and 14th Streets NW, Washington, DC 20001
Frank Caliendo – June 2-4
The king of impressions will be making the DC Improv his home during the first weekend of June. Frank Caliendo has taken his awe-inspiring and laugh-inducing act to every late-night show and now resides on Sunday NFL Countdown, doling out one hilarious impression after another. Caliendo's show will see him wheel through famous personalities with ease, from Donald Trump to Jon Gruden to Al Pacino.
Tickets
DC Improv, 1140 Connecticut Avenue NW, Washington, DC 20036
• • •
Gay Men's Chorus of Washington presents: 'And the Tony Goes to…." – June 3-4
The Gay Men's Chorus of Washington is set to take you on a musical history of gay Broadway at Lincoln Theatre this June. Journey from Applause to A Chorus Line to Hedwig and the Angry Inch, with vocal acrobatics and dance choreography lighting the way. There are only two performances, so act quickly and get your tickets to one of local theater's biggest spectacles of the summer.
Tickets
Lincoln Theatre, 1215 U Street NW, Washington, DC 20009
• • •
'The Father' – Through June 18
Ted van Griethuysen stars as the title character in this riveting play currently being staged at Studio Theatre on 14th Street NW. Playwright Florian Zeller's internationally acclaimed play tells the tale of André, an 80-year old man full of edgy jokes and used to being the alpha male. But reality starts to slip as André loses his watch, his furniture disappears and strangers start showing up at the dinner table. The play examines what we become when we lose what makes us us, an exploration that is both thrilling and terrifying.
Tickets
Studio Theatre, 1501 14th Street NW, Washington, DC 20005
• • •
'UrbanArias: Independence Eve' – June 3-11
Arlington's contemporary chamber opera company, UrbanArias, takes on race relations in the U.S. in this compelling new opera at Signature Theatre. Three white males (tenor) and three black males (baritone) struggle with identity across three unrelated scenes that all take place on July 3 in an unspecified American city. The complexities and differences of black and white America come into focus, showing how racism has remained throughout the country's history.
Tickets
Signature Theatre, 4200 Campbell Avenue, Arlington, VA 22206
• • •
'Hip Hop Culture: /peh-LO-tag/ - a futbol framed freedom suite' – June 9-11
Poet-performer Marc Bamuthi Joseph explores the boundary-crossing power of soccer in this multi-faceted production that blends spoken word, movement, music and hip-hop aesthetics. Joseph was a child of Haitian immigrants who found inspiration on the soccer field. He has teamed up with local youth who share his immigrant background to create an all-encompassing piece that encounters triumphs and struggles through the framework of the world's favorite game.
Tickets
The John F. Kennedy Center for the Performing Arts, 2700 F Street NW, Washington, DC 20566
• • •
Source Festival – June 9 – July 2
The annual Source Festival will showcase new theater works, many by local artists, at spaces all over the District. Other offerings include 10-minute play competitions that highlight super short (and often super funny) works, and artistic blind dates, which see very different artists - a cellist and an actor, for example - collaborating on genre-bending performances.
Citywide
• • •
'Hedwig and the Angry Inch' – June 13 – July 2
One of the most acclaimed plays of the last 25 years comes to the Kennedy Center this June. Hedwig and the Angry Inch won four Tony Awards, and this staging is helmed by a Tony Award-winning director (Michael Mayer) and stars Tony Award-nominee Euan Morton. A rock and roll score soundtracks this gender- and genre-bending story that weaves an inspiring tale about finding your identity, featuring an unforgettable main character.
Tickets
The John F. Kennedy Center for the Performing Arts, 2700 F Street NW, Washington, DC 20566
• • •
Rodgers & Hammerstein's 'The Sound of Music' – June 13 – July 16
The Sound of Music has been dazzling audiences from both the stage and the screen for more than 50 years, and you can catch a stirring production of the play this June at the legendary Kennedy Center. The story of Maria and the von Trapp family will be directed by three-time Tony Award winner Jack O'Brien. Hear (and sing along) to renditions of classics such as "Do-Re-Mi," "Climb Ev'ry Mountain" and the title song.
Tickets
The John F. Kennedy Center for the Performing Arts, 2700 F Street NW, Washington, DC 20566
• • •
Halcyon Stage @ Dock 5: Wolf Trap Opera in Philip Glass' 'The Fall of The House of Usher' – June 17
Halcyon Stage presents this innovative, one night-only production directed by Septime Webre, former artistic director of The Washington Ballet. Singers from the Wolf Trap Opera and dancers from DC's CityDance will perform Edgar Allan Poe's The Fall of The House of Usher as interpreted musically by the masterful composer, Philip Glass. Follow the tale of Roderick Usher, his ill twin sister and their mysterious old friend through beautiful dance and captivating music.
8 p.m. | Tickets
Dock 5 at Union Market, 1309 5th Street NE, Washington, DC 20002
• • •
'When We Were Young and Unafraid' – June 17 – July 8
The Keegan Theatre presents this unflinching tale based in the early 1970s. Agnes' bed and breakfast serves as a sanctuary for victims of domestic violence. However, her latest inhabitant, Mary Anne, begins to influence Agnes' daughter, Penny, as she is about to head off to college. With a feminist revolution gaining steam, Agnes is forced to face new realities regarding the women she's worked to support.
Tickets
The Keegan Theatre, 1742 Church Street NW, Washington, DC 20036
• • •
'The Second City's Almost Accurate Guide to America: Divided We Stand' – June 17 – Aug. 13
The country's current political climate is ripe for comedy, so The Second City comes to the District to rain laughs down on everyone. One of the finest comic troupes around will enlighten you to the many different versions of America that exist at the moment, detailing events of the last year in a hilarious light. Recommended for ages 16 and up.
Tickets
The John F. Kennedy Center for the Performing Arts, 2700 F Street NW, Washington, DC 20566
• • •
'Rent': 20th Anniversary Tour – June 20-25
Jonathan Larson's classic play celebrates 20 years since its first run on Broadway with a new touring production that will touch down at National Theatre this month. The rock musical tells the tale of seven artists working towards their dreams without compromise. The Pulitzer Prize and Tony Award-winning play deals with friendship, love, creativity and facing seemingly insurmountable obstacles. Don't miss your chance to catch one of the most important and influential plays of the last two decades.
Tickets
National Theatre, 1321 Pennsylvania Avenue NW, Washington, DC 20004
Pallbearer – June 1
Pallbearer are currently a standard bearer for hard rock music, and their visceral live show comes to H Street NE's Rock and Roll Hotel on June 1. After the hefty critical acclaim for their first album, Sorrow and Extinction, the band has built a loyal following and since released two more well-received records. Their songs touch on prog rock, metal and alternative music, blending powerful melodies and harmonies to great effect. Prepare to have your face metaphorically melted.
8 p.m. | Tickets
Rock and Roll Hotel, 1353 H Street NE, Washington, DC 20002
• • •
The Avalanches – June 5
The sample-heavy, kaleidoscopic sounds of The Avalanches take listeners on a wild journey, so this 9:30 Club show is a must-see for lovers of truly inventive music. The group's first album, Since I Left You, is a classic, released in 2000 to universal acclaim that it still receives to this day. It took the group 16 years to craft a follow-up, which has also been showered with praise. Let this Australian group take you to electronic music heaven on a Monday night.
7 p.m. | Tickets
9:30 Club, 815 V Street NW, Washington, DC 20001
• • •
!!! (Chk Chk Chk) – June 8
Emerging in the early 2000s, !!! (pronounced "Chk Chk Chk") made a name for themselves with pulsing dance/punk music that throttled dance floors while maintaining a strong sense of melody. U Street Music Hall will erupt for this performance on June 8, which comes just weeks after !!! release their seventh album, Shake the Shudder.
7 p.m. | Tickets
U Street Music Hall, 1115 U Street NW, Washington, DC 20009
• • •
Feist – June 8
After a six-year hiatus, Feist has returned with a new album and will now tour the country to showcase her incredible voice and songwriting. You may know her best from the 2007 hit "1234," but Feist has been making incredible records both on her own and with Broken Social Scene since the early 2000s. Her first show at Lincoln Theatre sold out, so this second set has been added. Prepare to hear a stunning oeuvre from this Canadian performer.
8 p.m. | Tickets
The Lincoln Theatre, 1215 U Street NW, Washington, DC 20009
• • •
Rodrigo y Gabriela – June 12
Are you a fan of guitar wizardry? If so, this Monday night show at 9:30 Club is can't-miss. Rodrigo y Gabriela form an acoustic guitar duo whose music draws on flamenco, rock and heavy metal, and their chemistry both on record and on stage is undeniable. Witness the two, who are celebrating 10 years of making music together, work their magic at one of DC's legendary music venues.
7 p.m. | Tickets
9:30 Club, 815 V Street NW, Washington, DC 20001
• • •
NSO Pops: The Music of John Williams – June 22-24
You may not know his name off the top of your head, but you definitely know his work, which has soundtracked millions of imaginations. John Williams has created unforgettable scores for some of the most popular movies in cinematic history, including the Star Wars films, the Harry Potter series, E.T., Saving Private Ryan and many, many more. The NSO Pops pay tribute to the 50-time Academy Award nominee (you read that right) with a night filled with his music, including an entire segment dedicated to Star Wars in honor of the series' 40-year anniversary.
Tickets
The John F. Kennedy Center for the Performing Arts, 2700 F Street NW, Washington, DC 20566
• • •
Daryl Hall & John Oates and Tears for Fears – June 26
Strap on your '80s nostalgia cap and take a trip to the Verizon Center for this late June concert featuring two of the MTV era's finest musical duos. Hall & Oates have been inducted into the Rock and Roll Hall of Fame, their list of hits stretching a mile long. Although Tears for Fears have not received the same accreditation, their catalogue is also filled with unforgettable, chart-topping gems, including "Everybody Wants to Rule the World". Both will be on the Verizon Center stage for a night of revelry in downtown DC.
7 p.m. | Tickets
Verizon Center, 601 F Street NW, Washington, DC 20004
• • •
#MyDCcool Photo of the Month
Make sure to share your DC photos with us using #MyDCcool, and we may feature yours next month!
For more events, festivals and things to do in Washington, DC, check out our events calendar.