You are here
11 Reasons to Attend the 2018 Washington Auto Show
11 Reasons to Attend the 2018 Washington Auto Show
The annual automobile showcase will rock downtown Washington, DC for 10 days.
Cars are cool. America has been fascinated with these vehicles since the days of the Model T, and boy, how far we've come since then. This statement's accuracy will be evident when you visit the 2018 Washington Auto Show, held Jan. 26 – Feb. 4 at the Walter E. Washington Convention Center. Even if you're not a car aficionado, there are still plenty of reasons to purchase tickets to this extravaganza, which is the city's largest annual indoor event. But first thing's first:
1
There will be more than 500 new cars from 35 manufacturers on display.
Automotive innovation is always a part of the Washington Auto Show, and the highlights only increase each year. Be there as the world's most creative carmakers show off their latest inventions. Classic American vehicles will also be on display.
2
You can take a VIP tour of the show with an auto expert.
Checking out the show floor and all its offerings is quite the experience, but it's a whole new ballgame when an automotive journalist is guiding the way. This year, the Auto Show will host special two-hour, in-depth tours with leading experts to showcase the products on-view and provide you with a healthy dose of car knowledge to take back to the office.
3
Local celebrities and famous stars will be in attendance.
In case you didn't know, athletes like cars, too. The Show's guest appearances include Washington Capitals star Tom Wilson on Jan. 29, Josh Norman of the Washington Redskins on Jan. 30, Otto Porter of the Washington Wizards on Jan. 31 and new Washington Nationals manager Davey Martinez on Feb. 1 (all appearances from 6 - 8 p.m.). DC United players will appear on Feb. 2.
4
Tribute will be paid to the U.S. military.
On Jan. 30, free admission will be offered to all active-duty military and veterans who present a valid military ID. But that's not all: Military Tribute Day, sponsored by Jeep, will also feature special exhibits and entertainment that will focus on the outreach and education of military special services by the American Red Cross in the Capital region.
5
You can experience cutting-edge car art at the ART-of-Motion exhibition.
Cars can also be canvasses, a fact proven with flying colors at the ART-of-Motion exhibition. Artists will paint and decorate vehicles on-site, showcasing an array of different styles, designs, shapes and colors. Altogether, the exhibition will consist of more than 8,000-square-feet of graphic backdrops, and will also feature motorcycles, fashion models and murals.
6
There's a family fun zone!
If the fam needs a break from checking out all of the cool cars or the kids are yearning for play time, the Auto Show offers a family fun zone featuring activities and ample space for relaxation. During the week, some of PBS' most popular cartoon characters will make appearances.
7
Attendees can get behind the wheel and test drive new cars!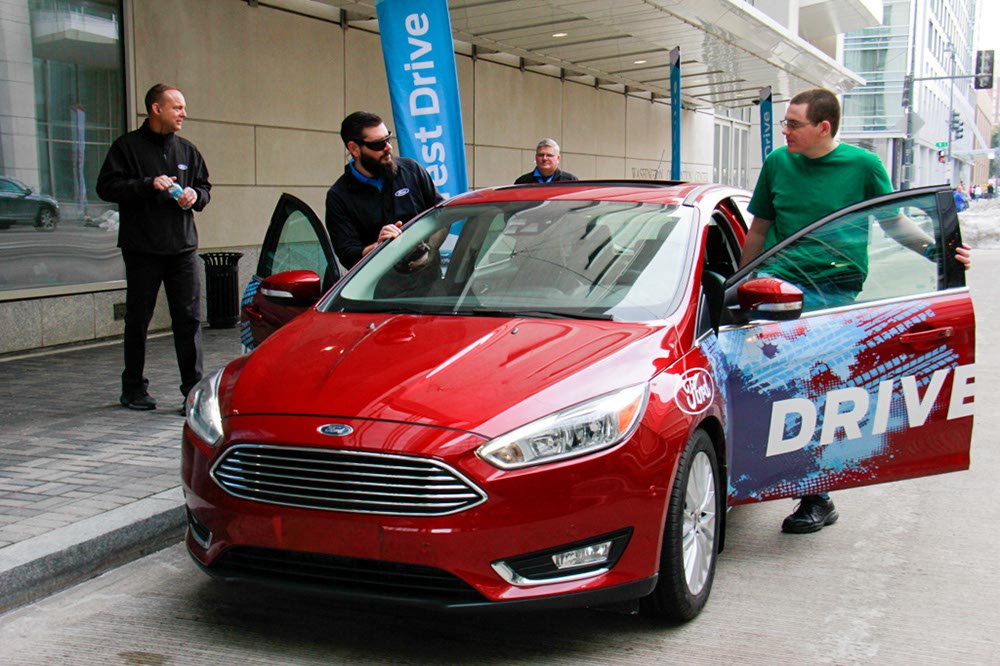 The Washington Auto Show's Ride 'N Drive program allows you to test drive cars from Ford, BMW, Kia, Mazda, Volkswagen and Toyota outdoors, under supervision. You could end up cruising around in the car of your dreams!
8
There's a Hyundai waiting to be won...
But you'll have to have some serious endurance to take it home. The Hyundai 'Hands-On' Contest has become a Washington Auto Show tradition, with lucky attendees given the chance to win a brand new Hyundai Tucson by staying in nearly constant physical contact with the vehicle. Register at this page starting Jan. 15.
9
Discover the latest from Jaguar Land Rover
In a new addition to this year's show, Jaguar Land Rover is hosting a 100,000-square-foot ride-and-drive experience inside the Convention Center. The set-up will also feature all-new interactive elements.
10
Students can enter at a discount for an entire day!
On Friday, Jan. 26, students enter for just $5 with a valid student ID. This essentially means students can enter at the same price as a child. Automobile-related bliss PLUS saving money for groceries? Sounds awesome to us.
11
The show takes place in one of DC's most vibrant neighborhoods.
The Walter E. Washington Convention Center is conveniently located in the Shaw neighborhood, which features some of the city's newest and most buzzed-about restaurants. Check what else you can see and do in the neighborhood.
Continue your Washington, DC winter adventure and check out all the best events and festivals taking place in the District.