You are here
10 Reasons to Attend the DC Jazz Festival This Summer
10 Reasons to Attend the DC Jazz Festival This Summer
From June 8-17, enjoy the smooth sounds of jazz all over the nation's capital.
The DC Jazz Festival presented by Events DC is a can't-miss event on the District's cultural calendar, inviting visitors of all ages to celebrate all things jazz. The 2018 edition is bigger and better than ever in celebrating the international impact of one of America's greatest art forms. One of the fastest-growing music festivals in the country, the event serves up a diverse selection of national and international masterclass jazz artists, performing in a wide array of venues reaching every quadrant and corner of the city.
Like much of DC, many concerts during the festival are free, so there's no need to worry about costs piling up to catch a great show! For even more reasons why you should attend this wonderful celebration, read on. Make sure to visit dcjazzfest.org for full lineups, a schedule and tickets for the signature shows.
1
You can experience dozens of performances
The 2018 DC JazzFest presented by Events DC offers an exceptional array of universally-renowned masters and emerging artists from across the jazz spectrum and beyond in all four quadrants of DC. There will be 100+ bands, 300 artists, 40+ venues and 22 neighborhoods featured.
2
The lineup is stacked with talent
The festival will feature a wide range of leading jazz artists and groups. A list of a few standouts: Leslie Odom Jr., R+R=Now (a Robert Glasper supergroup), Chucho Valdés & Gonzalo Rubalcaba, Ivan Lins & Friends, Maceo Parker, Regina Carter, Christian Scott Atunde Adjuah, Ben Williams, Oliver Lake Big Band, Patricia Barber, Frederic Yonnet and special guest Maimouna Youssef, Raul Midon, Edmar Castañeda and Grégoire Maret.

3
Savor performances at the sparkling new City Winery in Ivy City
City Winery, DC's newest entertainment hot spot, launches their mainstage partnership by hosting DC JazzFest's Opening Ceremony on June 7 in the blossoming Ivy City neighborhood. Opening night will be followed by six additional nights of stellar performances from an array of artists that includes singer-songwriter-pianist Patricia Barber and singer-guitarist Raul Midon. There will also be a very special pop-up tribute to Keter Betts by DC Jazz Festival Artist-in-Residence Ben Williams.
4
Jazz takes over the Kennedy Center
DC Jazz Festival and the Kennedy Center will present Trance, the two-piano project featuring jazz icons Chucho Valdés and Gonzalo Rubalcaba, in the Kennedy Center Concert Hall on Friday, June 15. The pairing of Cuban piano maestros promises an electric night of vibrant, virtuoso performance from two generations of great Afro-Cuban tradition. The Kennedy Center also hosts the DC JazzFest Millennium Stage series, It's a Family Affair, for five free performances!
5
Hear jazz throughout The Wharf, indoors and out
Enjoy the complete summer music fest experience as the DC Jazz Festival takes over The Wharf with two full days of performances on multiple free outdoor stages, in addition to dancing and food and drink galore. Headliners Leslie Odom Jr., R+R=Now and Maceo Parker will grace the stage at The Anthem, The Wharf's state-of-the-art concert venue for DC JazzFest at The Wharf presented by Events DC. (Use code ANTHEM and save up to $35 off tickets to DC JazzFest at The Wharf before they sell out.)
6
Check out awesome local spots with Jazz in the 'Hoods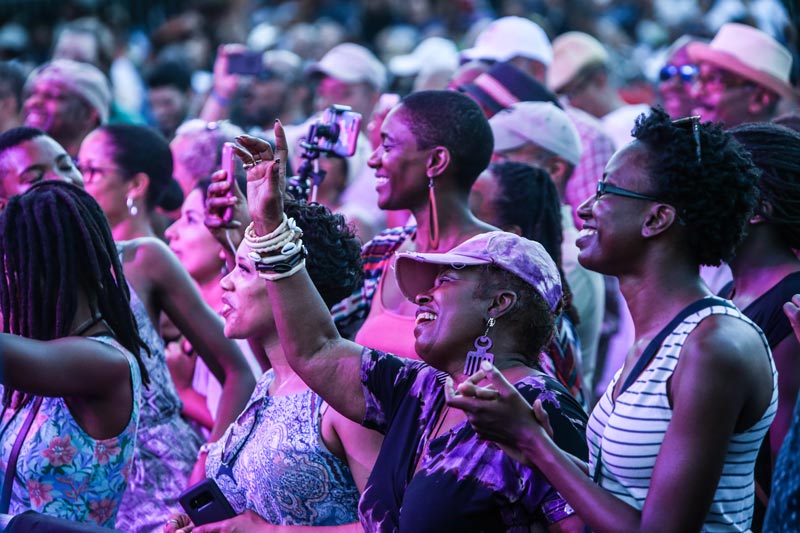 The festival spreads its sounds throughout DC's distinctive neighborhoods with Jazz in the 'Hoods presented by Events DC. The diverse offerings include performances at The Hamilton Live, Blues Alley, Twins Jazz, Ivy City Smokehouse, NYU-DC, Kreeger Museum, Anacostia Playhouse, Franklin Square and more.
7
Check out a Grammy Award-winning artist inside the majestic Sixth & I Synagogue
For a more close-knit jazz experience, head to Sixth & I on June 14, where master drummer Terri Lyne Carrington will celebrate the life and music of the beloved pianist-composer Geri Allen inside the hallowed walls of this historic synagogue, which has received acclaim for its great acoustics.
8
DC has a deep jazz heritage
The nation's capital hosts the DC Jazz Festival for good reason. Legendary jazz musician Duke Ellington was born here, and during his time, the U Street corridor was known as "Black Broadway" for its constant stream of jazz performances by African American artists. DC was the epicenter of the movement for decades, so it's only fitting that it hosts this summer gathering. You will be immersed in this established culture throughout the festival.
9
Have some pre-festival fun with Jazz 'n Families Fun Days
In partnership with The Phillips Collection, Jazz 'n Families Fun Day weekend celebrates jazz and the visual arts with performances by more than a dozen regional artists and rising star ensembles, June 2-3. This free, family-friendly event will also feature storytelling, unique meet-the-artist opportunities, art workshops and an instrument petting zoo.
10
Discover the unexpected
Through DC Jazz Festival, jazz enthusiasts and general audiences alike can make deeper connections and share in new traditions, discovering neighborhoods, venues, artists and friends. Maintaining the festival's ongoing exploration and celebration of the international language of jazz, programming also strives to increase access and exposure, often stripping down the barriers between artist and audience.