You are here
14 Ways to Celebrate New Year's Eve in Washington, DC
14 Ways to Celebrate New Year's Eve in Washington, DC
Have an unforgettable New Year's Eve in DC with these parties, concerts and more.
As 2018 approaches, it's time to start planning how you'll see 2017 out. The city's bars, restaurants, attractions and venues present you with plenty of options for celebrating New Year's Eve in the nation's capital. Here are a few of our favorites from all over the city.
•••
Throw down at a DC restaurant
The restaurant scene in the nation's capital only grows each year, and many of the city's awesome eateries know how to throw a party on New Year's. Espita Mezcaleria hosts "One Night in Juarez," which will pay homage to the birthplace of the margarita. There will be classic cocktails, tunes and a complimentary toast. Get your craft beer on at ChurchKey, where you can also enjoy chef-made snacks, a DJ and a live stream of the ball drop in Times Square with a champagne toast as accompaniment.
District Distilling Co., DC's first combo distillery/kitchen/bar, will liven up the night with delicious spirits, an inventive menu (think Wagyu beef cheeks, garlic herb fries) and ample bar space. RPM Italian is offering holiday specials (including lobster and truffles) and a champagne toast when the clock strikes 12.
•••
New Year's Eve with Cyrus Chestnut
Make it a jazzy New Year at Blues Alley, one of the District's most renowned venues for one of America's greatest art forms. Cyrus Chestnut, a world-class pianist who has frequently worked with Wynton Marsalis, brings his trio to the Alley for two performances. Take in Chestnut's expert playing while you enjoy a delicious meal from the venue's Southern-influenced menu. Late show-goers can enjoy champagne by the glass and festive hats and noisemakers.
6:30 p.m. & 10 p.m. | Tickets
Blues Alley, 1073 Wisconsin Avenue NW, Washington, DC 20007
•••
Black Cat New Year's Eve Ball
The Black Cat is always a great place to see a show, and it's a great spot to celebrate New Year's with this special two-party event. On the Mainstage, Peaches O'Dell and Her Orchestra will fittingly jump through time, playing swing music, romantic songs from the 1930s, cha-chas and memorable tracks from the '50s. At Backstage, DJ Dredd will throw down for a lively dance party. Both the Red Room Bar and Food For Thought Café will be open for business as well, serving up drinks and snacks. You can experience it all for just $30.
7 p.m. | Tickets
The Black Cat, 1811 14th Street NW, Washington, DC 20009
•••
NYE feat. Eric Prydz
Echostage, one of the city's most popular live music venues, hosts one of the world's most renowned DJs to celebrate the New Year. Eric Prydz has achieved both critical and commercial success, using his incredible technical skills to create one awesome house track after another. He'll liven up the crowd during this dance party that will go well past midnight. Cristoph, a British DJ, will open the show.
8 p.m. | Tickets
Echostage, 2135 Queens Chapel Road NE, Washington, DC 20018
•••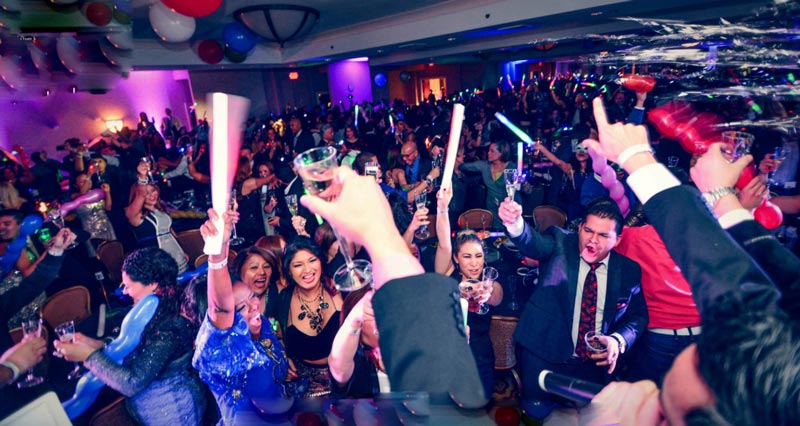 Ultimate Tropical New Year's Eve
Dance Latin-style until the wee hours of the morning (seriously, this party goes until 8 a.m.) during the sixth annual Ultimate Tropical New Year's Eve at the Renaissance Washington, DC Downtown Hotel. Ticket options are plentiful and so are the party's features. The tropical-themed extravaganza includes 10 DJs, eight dance rooms, musical performances, Latin dance shows, a champagne toast and so much more.
8 p.m. | Tickets
Renaissance Washington, DC Downtown Hotel, 999 9th Street NW, Washington, DC 20001
•••
New Year's Eve Fireworks Dinner
Entertainment Cruises wants to take you on the water this New Year's Eve. Hop aboard and enjoy live band entertainment, an open bar, festive decorations, a plated dinner menu and a champagne toast at midnight. The kicker: you can watch fireworks from Alexandria, Va. while on the boat. Treat yourself to a New Year's experience that few other cities can provide.
8 p.m. | Tickets
Depart from 600 Water Street SW, Washington, DC 20024
•••
Downtown Countdown at Washington Hilton
How does a five-hour premium open bar sound for New Year's Eve? The Downtown Countdown party has just that at the elegant Washington Hilton. DJ Vice will be on the ones and twos, and there will also be live music and comedy, balloon drops and a wealth of amenities. And of course, your ticket purchase grants you access to the open bar that we mentioned earlier. Ages 21 and over only.
9 p.m. | Tickets
Washington Hilton, 1919 Connecticut Avenue NW, Washington, DC 20009
•••
Spoon at 9:30 Club
Rock out during this celebration at the legendary 9:30 Club, which will feature a complimentary champagne toast at midnight. As for the entertainment: Spoon has been crafting infectious songs since the mid-1990s, led by lead singer/songwriter Britt Daniel. Each album is similar but not the same – Spoon has a signature sound, but they're not afraid to color outside of the lines, as evidenced by the electronic experimentation on this year's Hot Thoughts. One constant: the band simply knows how to bang out a catchy tune.
9 p.m. | Tickets
9:30 Club, 815 V Street NW, Washington, DC 20001
•••
Thievery Corporation at The Anthem
Thievery Corporation, a DJ collective consisting of Rob Garza and Eric Hilton, are one of the most significant acts to emerge from DC, with a career spanning over twenty years and a variety of styles. Expect the Corporation to go full-throttle for this New Year's Eve performance at DC's impressive new music venue, The Anthem, located at The Wharf. Spend the biggest night of the year at the city's hottest new development.
9 p.m. | Tickets
The Anthem, 901 Wharf Street SW, Washington, DC 20024
•••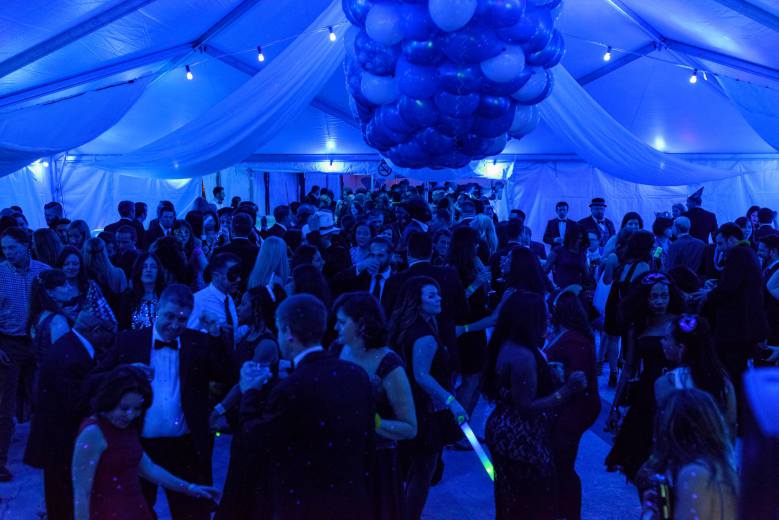 International Spy Gala
You're not James Bond, but you can certainly pretend to be at this spy-themed, black-tie optional gala held at the Washington Plaza Hotel. Dress up as a spy, villain or femme fatale and enjoy perks worthy of 007: an open bar, a live band, mock casino, ice sculptures, Golden Girls, exotic backdrops, international buffet and much more. Ticket options go all the way up to Presidential, which includes a four-course seated dinner. Ages 21 and over only.
9 p.m. | Tickets
Washington Plaza Hotel, 10 Thomas Circle NW, Washington, DC 20005
•••
New Year's Eve Party: Silent Disco Dance Party
Discover a new way to dance into the new year at The Embassy Row Hotel. This silent disco dance party features three live DJs with three different music channels to choose from. You will be equipped with a head set to tune into the channel of your choosing. Station Kitchen & Cocktails will broadcast the ball drop while serving up drinks. There's also a New Year's Eve hotel package, if you're in the mood to spend the night. Tickets will be available at this link soon. Ages 21 and over only.
9 p.m. | Tickets
The Embassy Row Hotel, 2015 Massachusetts Avenue NW, Washington, DC 20036
•••
White Ford Bronco
Turn back the clock to the 1990s as 2018 dawns with White Ford Bronco at Lincoln Theatre. Watch DC's favorite cover band strut their stuff as you're transported back to a time ruled by Jonathan Taylor Thomas, slap bracelets and Carlton's dance moves. The set list will be filled with pop radio gems of the decade, a perfect soundtrack to a fun-filled evening.
9 p.m. | Tickets
Lincoln Theatre, 1215 U Street NW, Washington, DC 20009
•••
#RiverBash2018
Tony & Joe's Seafood Place and Nick's Riverside Grill come together for this wild New Year's Eve celebration along the Potomac River. You will be able to enjoy a top-shelf open bar, eight different bar locations, appetizer buffets, heated party tents, live music and dancing, as two DJs will be spinning at each restaurant.
9 p.m. | Tickets
3000 K Street NW, Washington, DC 20007
•••
Celebrity Masquerade Ball
The Hyatt Regency on Capitol Hill welcomes an all-star lineup to their New Year's Eve celebration. The Masquerade Ball will feature Keeping Up with the Kardashians star Jonathan "Foodgōd" Cheban as host, while DJ EPX and DJ CYD handle spinning your favorite tracks. There are numerous ticket options, with one including a three-course dinner. Have a night filled with mystery and plenty of fun at one of the city's most elegant hotels.
Tickets
Hyatt Regency on Capitol Hill, 400 New Jersey Avenue NW, Washington, DC 20001
For more events, festivals and things to do in Washington, DC, check out our events calendar.