You are here
13 Holiday-Themed Theater Performances & Shows in Washington, DC
13 Holiday-Themed Theater Performances & Shows in Washington, DC
The seasonal vibes flow through these can't-miss holiday-themed theatrical performances in the nation's capital.
As the winter holidays near, Christmas music blares from stereos, holiday displays and lights illuminate the District and, most importantly, you need ways to let your seasonal spirit flourish. The nation's capital has plenty of options, so get that ugly sweater ready for a month's worth of revelry at DC's theater and performing arts venues.
•••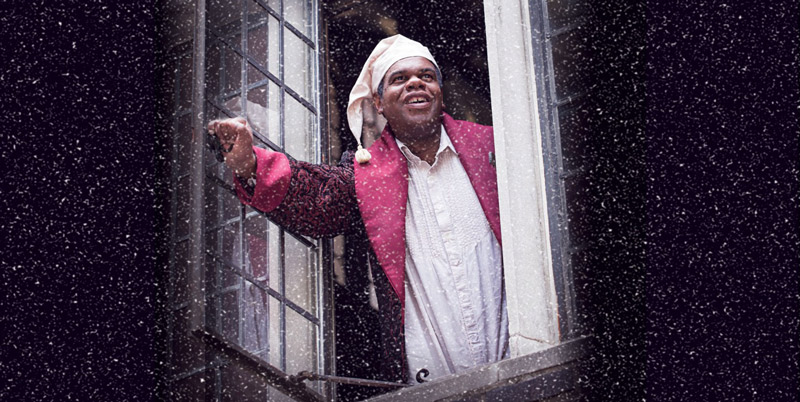 'A Christmas Carol' – Nov. 16 – Dec. 31
A Washington tradition for 35 years, acclaimed actor Craig Wallace assumes the role of Ebenezer Scrooge in a lavish Victorian-style musical production of Charles Dickens' timeless classic. Scrooge's riveting journey alongside the ghosts of Christmas Past, Present and Future is a joy even if you've experienced it a hundred times before – especially in one of the world's most historic theaters.
Tickets
Ford's Theatre, 511 10th Street NW, Washington, DC 20004
•••
'The Nutcracker' – Nov. 25 – Dec. 24
The Washington Ballet pulls out all the stops for this classic Christmas tale that features a special DC twist. The Russian ballet goes local thanks to a Nutcracker Prince in the likeness of George Washington and cherry blossom set designs. Set in historical Georgetown, you will be dazzled by an impressive roster of dancers and the beautiful Tchaikovsky score. The production is staged at THEARC Theater for its first two nights, then shifts to the Warner Theatre from Nov. 30 – Dec. 24.
THEARC Theater Tickets | Warner Theatre Tickets
THEARC Theater, 1901 Mississippi Avenue SE, Washington, DC 20020
Warner Theatre, 513 13th Street NW, Washington, DC 20004
•••
NSO Pops: 'A Holiday Pops!' featuring Megan Hilty – Dec. 8-9
NSO Pops and the Washington Chorus (and perhaps Ol' Saint Nick himself) present a program of holiday carols and seasonal sing-alongs at the Kennedy Center that the entire family can enjoy. Hear the musical stylings of Tony Award nominee Megan Hilty (Noises Off, 9 to 5 and Wicked). No carolers can come close to this one-of-a-kind performance.
Tickets
The John F. Kennedy Center for the Performing Arts, 2700 F Street NW, Washington, DC 20566
•••
The Second City's 'Twist Your Dickens' – Dec. 5-31
The Second City brings its legendary comedy group to the Kennedy Center for an off-the-wall adaptation of A Christmas Carol. Improv and sketchy comedy mastery will be on full display during this performance, which will feature characters from Charles Dickens' classic tale in an all-new (and hilarious) light. There will be plenty of audience participation, too! Recommended for ages 16 and up.
Tickets
The John F. Kennedy Center for the Performing Arts, 2700 F Street NW, Washington, DC 20566
•••
The Washington Chorus presents 'A Candlelight Christmas' – Dec. 10-22
The Washington Chorus consists of 200 voices, which work in tandem with brass, organ and percussion to create wonderful renditions of Christmas classics. The chorus will also be accompanied by high school ensembles and the audience will be asked to join in joyous sing-alongs. The traditional candlelight processional will also take place at this annual event.
Tickets
The John F. Kennedy Center for the Performing Arts, 2700 F Street NW, Washington, DC 20566
•••
'The Hip Hop Nutcracker' – Dec. 12-13
Yep, you read that right. This imaginative performance blends modern hip-hop choreography, an on-stage DJ and an electric violinist to re-create The Nutcracker in truly original fashion. Adults will be wowed by the contemporary take on Tchaikovsky's score while the kids revel in the hip hop musical performances. This year, special guest emcee Kurtis Blow, best known for "The Breaks," opens the show with a rapping introduction. Digital scenery will color the background of this entertaining cultural mash-up that will be performed for two nights only at Strathmore's Music Center.
Tickets
The Music Center at Strathmore, 5301 Tuckerman Lane, North Bethesda, MD 20852
•••
An Evening with ThePianoGuys – Dec. 13-16
DC's holiday season only improves with a performance from ThePianoGuys. The group has become a YouTube sensation, and now their brand of wit and outstanding arrangements will light up the stage at the National Theatre. Watch as they reinvent hit songs in their own signature way. You'll have four chances to catch this one-of-a-kind act.
Tickets
National Theatre, 1321 Pennsylvania Avenue NW, Washington, DC 20004
•••
National Symphony Orchestra: Handel's 'Messiah' – Dec. 14-17
This holiday epic, which explores the story of Jesus Christ as the Messiah, is performed at the Kennedy Center each year, but each rendition has its own special flair. 2017 is no different, as the National Symphony Orchestra takes the stage along with guest artists: Sophie Daneman, Ann McMahon Quintero, Karim Sulayman and Christian Immler, as well as the University of Maryland Concert Choir.
Tickets
The John F. Kennedy Center for the Performing Arts, 2700 F Street NW, Washington, DC 20566
•••
'An Irish Carol' – Dec. 14-31
The Irish have something to say about that "Carol" of yours, Mr. Dickens. The Keegan Theatre stages this acclaimed play that subs pub-owning David for Scrooge. He's distanced himself from his family through his profitable bar, but a visitor from the past, along with present figures and the prospect of a sad future could turn David around. With searing wit, fast-paced dialogue and a classic Irish sensibility, Matthew Keenan's play is perfect for holiday laughs – and intended for audiences 16 and older.
Tickets
Keegan Theatre, 1742 Church Street NW, Washington, DC 20036
•••
Step Afrika!'s Magical Musical Holiday Step Show – Dec. 15-30
DC's Step Afrika!, the first professional company dedicated to the tradition of stepping, puts on a holiday extravaganza at the Atlas Performing Arts Center in the H Street neighborhood this December. The family friendly show will combine clapping, stomping and stepping for a dazzling array of percussive dance. Furry friends from the animal kingdom and a dance party hosted by DJ Frosty the Snowman are also on the docket.
Tickets
Atlas Performing Arts Center, 1333 H Street NE, Washington, DC 20002
•••
Kwanzaa Celebration at Dance Place – Dec. 16-17
Dance Place in the Brookland neighborhood annually holds this celebratory event in honor of Kwanzaa. Each of the seven principles of the holiday are honored, as director Sylvia Soumah guides some of the area's finest dancers, including Coyaba Dance Theater and Coyaba Academy. Expect pounding rhythms, incredible moves and an undeniably communal atmosphere across both performances.
Tickets
Dance Place, 3225 8th Street NE, Washington, DC 20017
•••
'The Joy of Christmas' – Dec. 16-17
The Washington National Cathedral is a beautiful place to celebrate Christmas, as it becomes adorned with themed-lights and elaborate decorations each year. The Joy of Christmas is the Cathedral's marquee event, featuring renditions of Christmas classics and a carol sing-along. This year's event also boasts a new carol from popular British composer Paul Mealor.
Tickets
Washington National Cathedral, 3101 Wisconsin Avenue NW, Washington, DC 20016
•••
'Moscow Ballet's Great Russian Nutcracker' – Dec. 22-23
The Music Center at Strathmore hosts the Moscow Ballet for what will be two nights of unforgettable performances of the classic Russian tale. The show will feature larger-than-life props, a 60-foot Christmas tree and authentic Russian costumes and sets. And of course, the Moscow Ballet is one of the most acclaimed in the world, meaning you'll be able to witness masters of the craft just outside of DC city lines.
Tickets
The Music Center at Strathmore, 5301 Tuckerman Lane, North Bethesda, MD 20852
Looking for more holiday cheer in Washington, DC? Check out these dazzling light displays and events in the nation's capital.