You are here
Things to Do for Valentine's Day in Washington, DC
Things to Do for Valentine's Day in Washington, DC
Whether you're single and ready to mingle or looking to woo your boo, we've got you covered with these Valentine's Day happenings.
The nation's capital shines as a romantic destination thanks to award-winning restaurants, one-of-a-kind events, creative date ideas and even exclusive deals for couples. This Valentine's Day, take advantage of celebrations that are uniquely DC, including dinner at a Michelin-starred restaurant and a romantic evening at the National Zoo. Here's how to make the most of the most romantic day of the year. And if you're looking for more date night inspiration, check out our guide to the romantic side of DC.

Galentine's Day Flower Crown Workshop – Feb. 13
Grab your beautiful, glowing sun goddesses (a.k.a. your best friends) and head to the Lemon Collective for an evening of flower crown crafting. This all-materials-included workshop will teach you how to use floral wire, tape, beautiful buds and greenery to create a seriously Instagrammable crown.
7-8 p.m. | Tickets
Lemon Collective, 808 Upshur Street NW, Washington, DC 20011

Valentine's Day Handi-hour Pop-Up – Feb. 14
Enjoy the Smithsonian American Art Museum's aesthetically brilliant Kogod Courtyard and use your craft skills to make a sweet or snarky Valentine. You'll be provided with paper, scissors, glue and other supplies at this free pop-up. Drink specials and snacks will be available for purchase from the Courtyard Cafe.
5-7 p.m. | Free admission
Smithsonian American Art Museum, F and 8th Streets NW, Washington, DC 20004

Woo at the Zoo – Feb. 14
The National Zoo hosts this special Valentine's Day event that makes for a hilarious and fun-filled evening for you and your boo. Learn all about mating, dating and procreating in the animal kingdom during 7:30 p.m. or 9 p.m. presentations. In addition to the education portion, you can also sip on a cocktail, enjoy an '80s-themed dance party, participate in trivia and snack on complimentary desserts.
7-10 p.m. | Tickets
Smithsonian National Zoo, 3001 Connecticut Avenue NW, Washington, DC 20008

Pitch A Friend: Valentine's Day Edition – Feb. 14
"Pitch A Friend" returns to Franklin Hall just in time for Valentine's Day. Put those PowerPoint skills to good use when you pitch your highly marketable single friend Shark Tank-style to a live audience. Over the course of the evening, 18 friends will pitch their single friends to the crowd and lead a Q&A segment in hopes of securing them a date. Single contestants will receive pre-show makeovers from Ivy Wild Beauty, and expect an appearance from drag queen KC B. Yoncé.
7-10 p.m. | Tickets
Franklin Hall, 1348 Florida Avenue NW, Washington, DC 20009

W Washington DC Presents: Heartbreak Hotel – Feb. 14
Even if Valentine's Day is totally not your thing, we've got something for you! Head to POV Lounge, the rooftop terrace at the recently renovated W Hotel, to take in the views, enjoy an hour-long open bar and rock out to an epic heartbreak soundtrack. Don't miss this epic Anti-Valentine's Party that would make Cupid run for cover.
11 p.m. – 1 a.m. | Tickets
POV, 515 15th Street NW, Washington, DC 20004

A David Bowie Valentine – Feb. 15
Dig on some handmade pies while you groove to the tunes of the legendary David Bowie at the eclectic Pie Shop DC on H Street NE. Even though Ziggy Stardust left us in 2016, his music still resonates, especially on the dreamy holiday that is Valentine' Day. Groups such as The Jennifers, Capital Offender, Taildraggers and Life on Mars, among many others, will take on the Thin White Duke's songs.
8-11 p.m. | Tickets
Pie Shop DC, 1339 H Street NE, Washington, DC 20002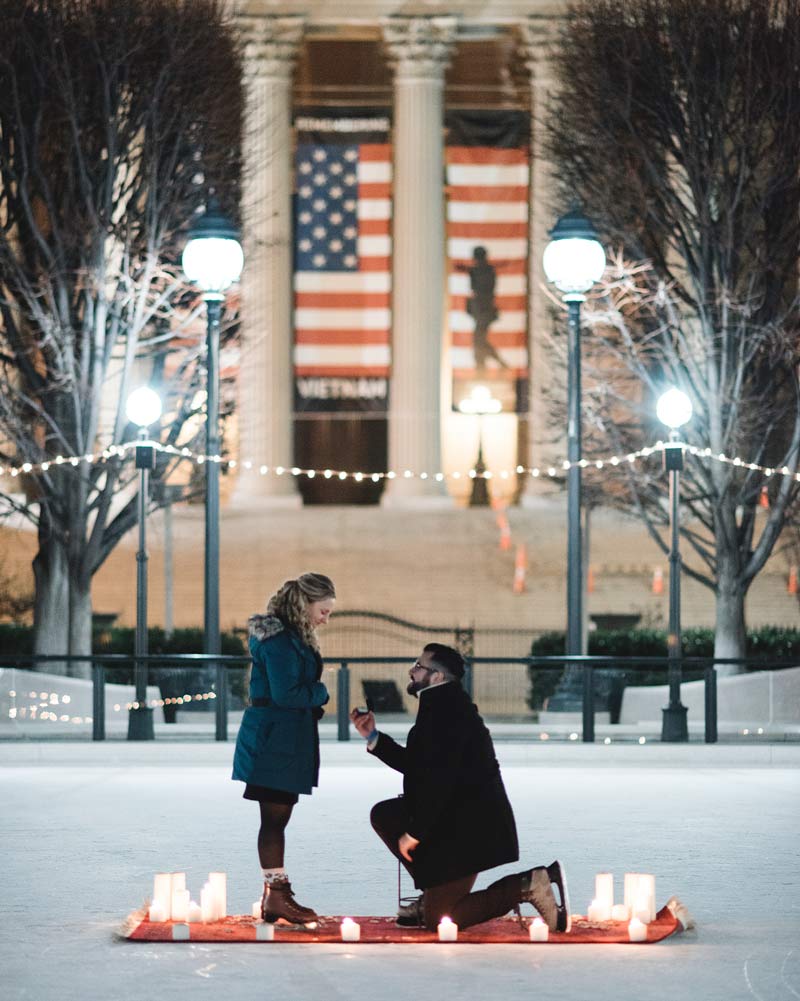 Ice skate in the National Gallery of Art's Sculpture Garden
The ice rink at the National Gallery of Art Sculpture Garden has a romantic vibe. Maybe it's the art. Maybe it's the smaller, cozier rink. Maybe it's the starry sky above. Maybe it's the single string of lights surrounding the rink, like glowing candles. Whatever it is, this spot rates an A+ as creative and affordable date idea. You can thank us later!
Hours & Admission
National Gallery of Art Sculpture Garden Ice Rink, 6th Street and Constitution Avenue NW, Washington, DC 20004

Wine and dine that special someone
If putting together a special evening with your significant other is priority number one, you'll have no problem finding a place to wine and dine them in the nation's capital. Plenty of DC restaurants are offering Valentine's Day menus, including Rasika West End, which will offer up a three-course menu featuring a dessert sampler guaranteed to make your heart sing. The newly opened Brasserie Liberté, located in the heart of historic Georgetown, showcases a variety of specials from its seasonal a la carte menu. Highlights include French onion soup with gratin beef mushroom broth and Emmental cheese and crispy duck confit served up with Brussels sprouts and scallion potatoes. Want even more options? Book a table at one of DC's hottest restaurants or cozy up at a hot spot with a fire or fireplace.
Rasika West End, 1190 New Hampshire Avenue NW, 20037
Brasserie Liberté, 3251 Prospect Street NW, 20007

Send your sweetie something sweet
Win a whole lot of brownie (or doughnut) points when you send your S.O. a box of mini-doughnuts from Astro Doughnuts & Fried Chicken. The downtown sweets shop is offering a special Valentine's Day box containing an assortment of Astro's February flavored doughnuts, in addition to the shop's popular crème brûlée doughnut. The boxes are available for online pre-order and can be picked up at the store from Feb. 12-16.
Astro Doughnuts & Fried Chicken, 1308 G Street NW, Washington, DC 20005
For more ideas on how to do Valentine's Day right, check out our ultimate guide to romance in Washington, DC.