Vibrant street art adds color to DC in any season. Just check out these colorful murals blanketing the city's walls!
DC's art galleries are certainly some of the best places to explore masterful works of art. But DC's color palette is not confined to museums or its bounty of natural beauty. The city's neighborhood walls are covered with vibrant and unique murals, celebrating everything from hometown heroes to Founding Fathers and even fruit – there are literally hundreds of outdoor artworks and street murals to behold! We picked out just a handful of the most color-popping, popular works for an instantly 'grammable street mural tour through the nation's capital.
Before you dive into must-see street art, tag along with mural artist Aniekan Udofia – famed for his alleyway opus adorning the wall of local institution Ben's Chili Bowl – as he unveils where he finds his inspiration in DC.

Adams Morgan
 
Madam's Organ
A neighborhood landmark, this mural lives on the side of the Madam's Organ Blues Bar and was completed in 1997. The piece was sponsored by the restaurant owner, Bill Duggan, and has been controversial for its bold depiction. Make sure to check out all the murals in Adams Morgan.
2461 18th Street NW
 
Mural at BUL
Head to BUL Korean Bar & Restaurant to see a mural that depicts one of Toulouse-Lautrec's most famous posters of the singer Aristide Bruant. Completed in 1980, the mural was painted from a photograph by the restaurant's original owner, André Neveux. The piece is now iconic, and signals your arrival in Adams Morgan, much like the Madam's Organ Mural.
2461 18th Street NW
 
Mural Un Pueblo Sin Murales
The title of this striking mural on Adams Mill Road translates to: A People Without Murals are a Demuralized People. The piece, which is located on the side wall of Kogibow Bakery, was created by artists Felipe Martinez, Carlos Salozar, Carlos Arrien and Juan Pineda in 1977. It is the only mural in the neighborhood created by Latino immigrant artists. The mural was revitalized in 2005 by Sol & Soul, a local arts organization, in collaboration with one of the original artists, Juan Pineda, and renovated again by Pineda in 2011 after an earthquake in DC.
1817 Adams Mill Road NW
 
Bloomingdale
 
Neptune in Bloomingdale
Head to DC's Bloomingdale neighborhood to grab a slice of pizza from Bacio Pizzeria and check out this vibrant mural in the neighboring alley. This bright, contemporary piece references mythology and was created during the 2019 ART ALL NIGHT DC event by artists Jeff Huntington and Juan Pineda.
81 Seaton Place NW
Columbia Heights
 
The Columbia Heights neighborhood is full of street art celebrating the area's culture and diversity. My Culture, Mi Gente, by artist Joel Bergner is just one such mural. The colorful artwork can be found across from the Columbia Heights Metro Station.
3064 15th Street NW
Downtown
 
Black Lives Matter Plaza
Located along a two-block pedestrian area of 16th Street NW in Downtown DC, this mural features the words "Black Lives Matter" in 50-foot-tall letters, in yellow and all caps, as well as the flag of the District. The portion of 16th Street on which the mural is showcased, located just outside of the White House, was officially renamed by Mayor Muriel Bowser as "Black Lives Matter Plaza NW." The area is open to visitors on-foot at any time of the day. The nearest Metro station is McPherson Square, on the Blue, Orange and Silver lines. Read our Guide to Black Lives Matter Plaza to learn more.
16th St. NW, between H St. and K Streets NW
Dupont Circle
Amanda Gorman Mural
Dupont Circle is home to a new radiant mural that depicts a memorable scene from the 2021 U.S. presidential Inauguration: 23-year-old Amanda Gorman reading her captivating poem, "The Hill We Climb." The mural was painted by local artist Kaliq Crosby, a frequent and acclaimed contributor to DC's street art scene. In addition to Gorman's larger-than-life portrait, the installation features symbols from the DC flag and a notable line from her famed poem: "There is always light, if only we're brave enough to see it. If only we're brave enough to be it."
1608 17th Street NW (near Dupont Circle) 
Georgetown
 
Wave Mural
Nestled a few blocks from M Street in historic Georgetown, this iconic mural was created to replicate the mid-1800s Japanese print, 'The Great Wave off Kanagawa' by Hokusai. In 1974, painter and architect John McConnell was asked to 'dress up' the wall of a rowhouse owned by his friends, which led to this breathtaking memorial to Hokusai's legendary piece. After admiring the street art and snapping a few pics for the 'gram, be sure to check out nearby Call Your Mother Deli for delicious bagels.
3510 O St. NW
 
Alma Indigena
Created by artist Victor Quinonez in 2021, Georgetown's newest mural is located at 1564 Wisconsin Avenue NW. Inspired by the photography of Diego Huerta and the people of the western Mexican state Jalisco, the detailed artwork features an indigenous Wixárika Elder as well as blue maize and guajillo peppers, ingredients used in many native cultures.
1564 Wisconsin Avenue NW, Washington, DC 20007
 
NoMa
 
For a more traditional portrait of the country's first president, head to National Portrait Gallery. But if you're looking to see George Washington funk-a-fied, look no further than artist MADSTEEZ's piece in NoMa. The mural is part of an international art movement, POW! WOW!, which celebrates culture, music and art all over the world.
331 N Street NE
 
Union Market is your one-stop shop for mural grams! The revitalized NoMa food hall has something for everyone; there's the heart wall topped with the inspiring message, "Never Give Up," a project by LA-based graffiti artist Mr. Brainwash in honor of International Women's Day in 2015. There's also the [R] Mural Project, which was designed to inspire the community through art and storytelling, specifically in response to the COVID-19 pandemic and those who have been most affected. There are three pieces to this Union Market project that complete the narrative: the installation, stories of resilience and community resources.
1309 5th Street NE
 
New Mural by Meaghan Toohey
As part of the 2021 D.C. Walls Festival, artist Meaghan Toohey's mural of a woman building a brick staircase is located on a 900-foot wall along the Metropolitan Branch Trail. Toohey's eye-catching work is accompanied by an array of murals created by local, national and international artists during the annual fall celebration of art.
Near Alethia Tanner Park, 227 Harry Thomas Way NE, Washington, DC 20002
 
Mount Vernon Triangle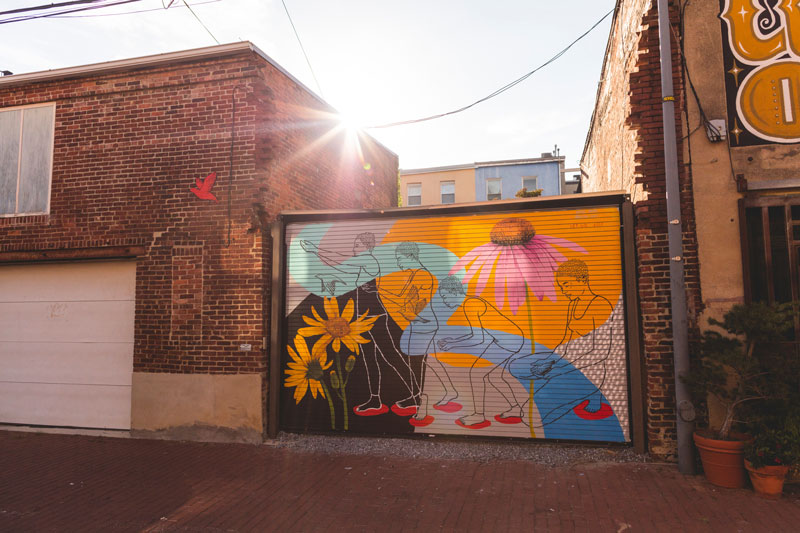 "Let Go" Street Art Mural in Blagden Alley - Shaw Neighborhood in Washington, DC
Tucked amongst rehabbed carriage-houses and Shaw's award-winning restaurants like The Dabney, Blagden Alley was once home to working class Black Americans following the Civil War and, later, creators in DC's underground art scene. Now you'll find a series of rotating murals including an oversized tribute to musicians Sun Ra and Erykah Badu and this piece, titled, Let.Go. by artist Rose Jaffe.
50 Blagden Alley NW
 
XXIV Carrot in Blagden Alley
Cleverly titled XXIV Carrot, this mural in Blagden Alley features 24 carrots and was created by artist Marcella Kriebel with the help of the local community. Kriebel designed and outlined the piece, but members of the public were invited to grab a paint brush and add their mark to the vibrant project.
Blagden Alley NW
 
Voice of Change in Mount Vernon Triangle
The full title of this mural is Voices of Change: Representation, Progress and Hope, as this piece encourages Americans to unite and work toward peaceful and positive change. Featuring Black leaders such as DC's Mayor Muriel Bowser, Vice President Kamala Harris and Dr. Martin Luther King, Jr., the five-mural installation was part of a 2021 MLK Day of Service Project and painted by local artists Shawn Perkins, Levi Robinson and Dez Zambrano.
The corner of 5th and K Streets NW
Shaw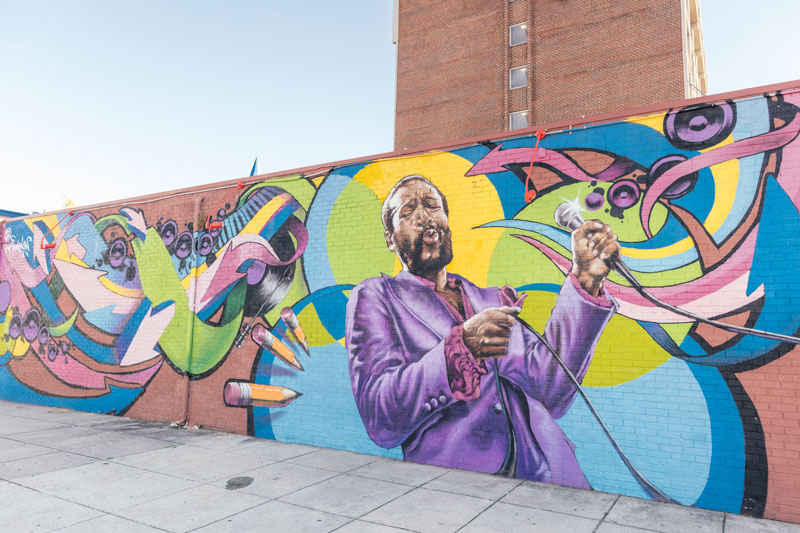 Marvin Gaye Street Mural in Shaw - Street Art in Washington, DC
Artist Aniekan Udofia, who is the creative mind behind the Ben's mural and Blagden Alley's whimsical portrait of Sun Ra and Erykah Badu, pays tribute to DC-born musician Marvin Gaye in this masterpiece in Shaw. The vibrant mural is Udofia's second of the soulful icon – the previous mural was created in 2013 but later covered by construction.
S Street NW, between 7th & 8th streets
 
Watermelon House
Plastered on the side of a residence in Logan Circle, the Watermelon House is a must-see on your mural tour of DC. The story behind the Watermelon House goes something like this: the owners of the home hired someone to paint the side red but when the result was more pink than anticipated, the owners turned lemons into watermelon. The home has become an attraction for visitors and locals alike, even sparking its own Instagram account, @watermelonjumps, which, as the name suggests, consists of people jumping in front of the juicy wall.
11th Street & Q Street NW
 
Washington by No Kings Collective in Shaw
This colorful piece is situated across from Howard Theatre in the eclectic Shaw neighborhood. The mural was created by No Kings Collective in collaboration with Stella Artois (notice the hops); note that there are also features of the Washington Monument and the District of Columbia flag.
631 T St. NW
 
Dacha Beer Garden
A hip, dog-friendly brewtopia and cafe, Shaw's Dacha Beer Garden also boasts some of the city's most recognizable street art – a giant mural of glamorous 20th-century movie star, Elizabeth Taylor, whose charity work around AIDS awareness has been recognized by nearby Whitman-Walker Health Center. Raise a glass (or one of the eatery's monster pretzels) to the icon for the perfect outdoor patio gram.
1600 7th Street NW
 
Southwest Waterfront
 
I'm Speaking
Appropriately unveiled on International Women's Day, this 20-foot-tall mural of Vice President Kamala Harris adds an extra layer of color to The Wharf. Organized by "yarn bomber" London Kaye, the piece is made up of 150 crocheted squares created by women across the country. It will be on display through Memorial Day 2021.
1120 Maine Avenue SW
 
Culture House DC
This former Baptist Church has been transformed into a brightly colored arts and culture community center and gallery space near the Southwest Waterfront. Built in 1886, the Victorian and Romanesque architectural gem was re-imagined in October 2012 by artist HENSE and later repurposed as Blind Whino in 2013 before changing its name to Culture House DC. Grab a 'gram out front and make sure to check out 'new. now.'; the exhibit is on display through March 21.
700 Delaware Avenue SW
U Street
 
Ben's Chili Bowl
A DC staple since it opened in 1958, Ben's Chili Bowl remains a must-visit for tourists, locals and celebrities. Known for its half-smoke – a DC delicacy that is half-pork, half-beef and served with heaping helpings of herbs, onion and chili sauce – Ben's is also famous for its iconic building. The restaurant's U Street location features a gigantic mural of iconic African American figures, updated in 2017 by Aniekan Udofia, to include DC-native Dave Chappelle, abolitionist Harriet Tubman and Barack and Michelle Obama. Step back for a wide-angled shot of the whole mural or get up close and personal for a selfie with one of the wall's icons.
1213 U Street NW
 
The Resurrection on U Street
You'll definitely want to pencil this one in to your DC mural hunt. This epic street art by Aniekan Udofia features musical legends Miles Davis, Duke Ellington, John Coltrane and Billie Holiday. The spark of creativity is illuminated through a stargazing backdrop and the inclusion of pencils, piano keys and a depiction of Miles bellowing through his legendary trumpet.
2001 11th Street NW
 
Lee's Legacy Mural on U Street
Lee's Flower and Card Shop first opened its doors in 1945 and specializes in quality flower arrangements, no matter your needs. Lee's and Ben's Chili Bowl— both Black-owned businesses — have been staples along the U Street Corridor since the 1960s. The Lee's Legacy Mural was painted by airbrush artist and native Washingtonian Kaliq Crosby in 2017.
1026 U Street NW
Foggy Bottom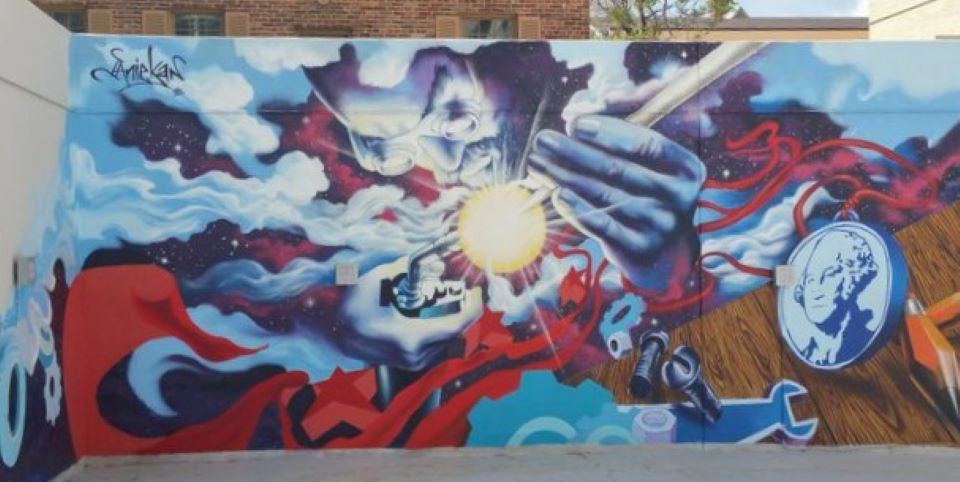 Aniekan Udofia
Foggy Bottom
Painted in 2017 by Aniekan Udofia, this mural captures Foggy Bottom's industrial past and the educational spirit of its present. The mural's central figure is a Mad-Max style glass-blower, a reference to the Glass House, an early Foggy Bottom industry. The vibrant mural also shows factory smoke, the three red stars and stripes of the DC flag and George Washington's face and pencils, two references to nearby George Washington University. 
950 24th Street NW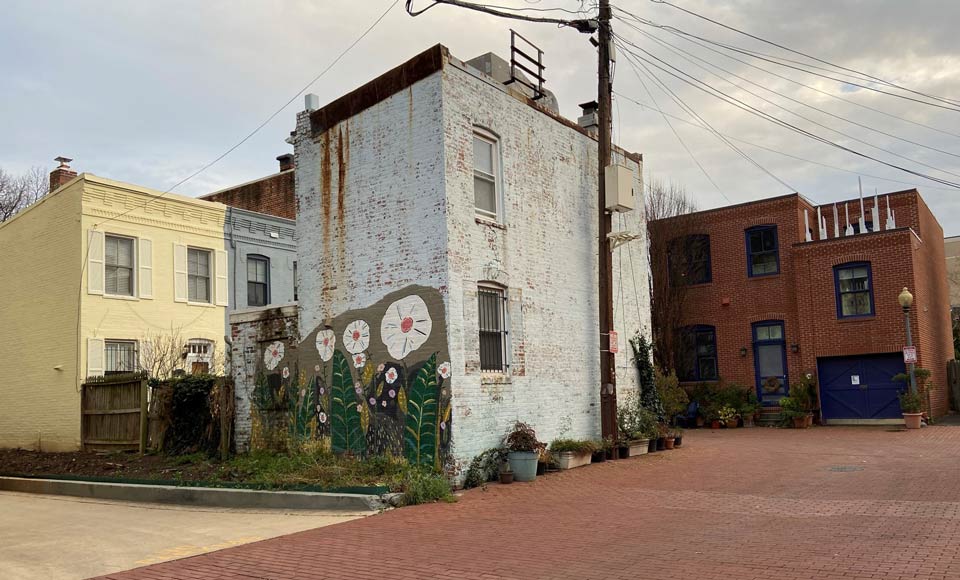 Elizabeth Graeber
Garden
Elizabeth Graeber's Garden mural can be found on the rear façade of an historic row house and was first featured in the 2014 Arts in Foggy Bottom Bi-Annual Art Exhibition. Graeber painted the image freehand using acrylic interior and exterior house paint. She returns to the neighborhood from time to time to tend to her garden.
923 Hughes Mews NW, Washington, DC 20037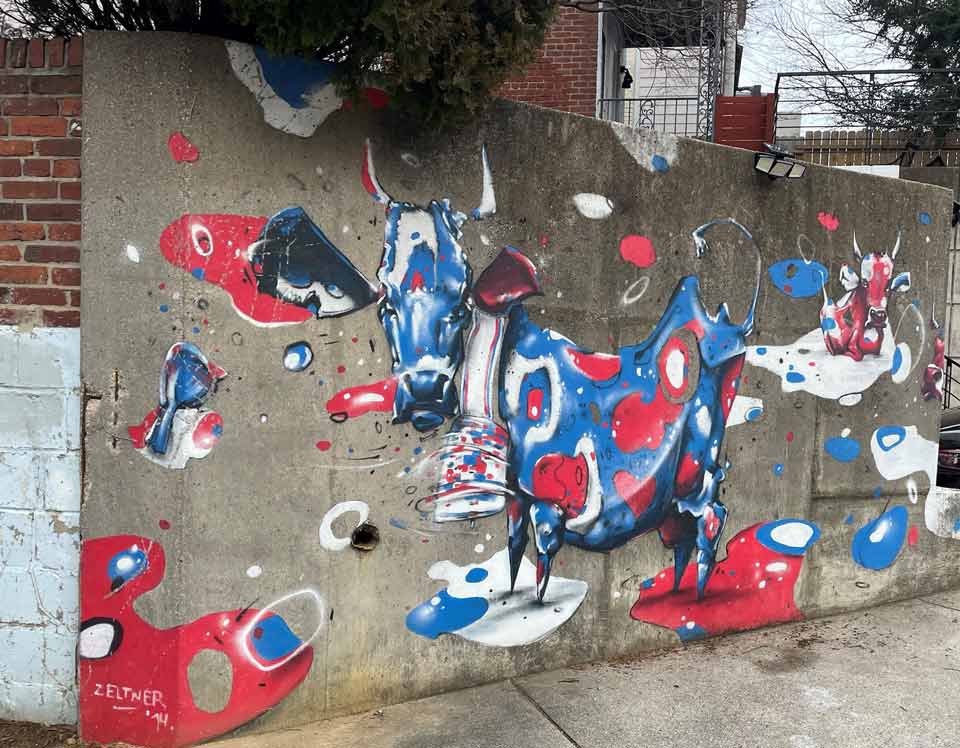 Daniel Zeltner
Patriotic Pasture
Daniel Zeltner's three-sided mural in the Foggy Bottom Historic District features images of red hearts, puddles of milk, cows and the Capitol. The cow's face that turns the curve with the corner of the wall adds a touch of dimensional whimsy. Are the images of spilt milk references suggesting the lost opportunities one finds in government and politics -- or just darn cute bovines common to Switzerland? We leave it up to you to figure it out.
2532 I Street NW