This gourmet food hall dishes up made-in-DC baked goods, fresh seafood, global flavors and kitchenware boutiques in the revitalized NoMa neighborhood.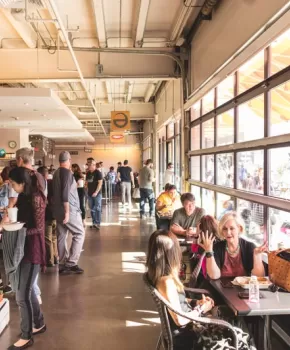 Union Market in NoMa - Food hall and shopping center in Washington, DC
It's a Sunday afternoon at NoMa's Union Market, and a couple is downing dumplings from Laoban Dumplings while, nearby, a tween struggles to eat a taco while walking. Nearby, there's a line forming for the variety of innovative, seasonal and classic confections from District Doughnut.
Welcome to Union Market, DC's hippest feasting ground, a revived mid-century produce- and meat-selling bazaar that holds food stalls, informal restaurants and kitchenware boutiques that'd impress even Top Chef competitors.
Chowing Down
Since it was restored and reopened in 2012, the industrial-cool space has grown to include 40-plus vendors, from pop-up dumpling stands to permanent fixtures like Buffalo & Bergen, a throwback, Brooklyn diner-inspired spot where you can munch bagels and slurp egg creams at a long bar. Other businesses offer takeout to eat at indoor or outdoor tables; try TaKorean for addictive bulgogi beef tacos, Puddin' for decadent shrimp 'n' grits and Fava Pot for authentic Egyptian flavors. Just know that, on weekends, the place is justifiably jammed.


Stocking Up
This is also a place to stock your kitchen pantry and browse unique goods. Salt & Sundry offers artisanal cocktail mixers, crafty tableware, eccentric greeting cards and more; District Cutlery, DC's only high-performance knife shop, sharpens the local culinary scene; while Jungle & Loom blooms with houseplants, related accessories and vintage glassware.
Mercado, Arte & Cultura
Across from the Union Market district is La Cosecha, a contemporary Latin American marketplace two blocks down the street. Open daily, the market is home to all sorts of merchants and culinary experiences, from made-to-order Salvadoran pupusas and Panamanian coffee roasters to Mexican fine dining and vegan Bolivian fare. Make sure to check the upcoming events calendar – you never know what pop-up shop or unique experiences you'll find.
Other Attractions Near Union Market
Also in the market's orbit; Dock5, a top-floor event space that hosts periodic events like American-made clothing festivals and Union Kitchen, a local gourmet entrepreneurship center that has launched businesses like Ice Cream Jubilee, named one of Food & Wine's "best ice cream spots in the U.S.," and the Capital Candy Jar, known for its decadent marshmallows and, in the spring, chocolate-cherry blossom bark.
Outside of the market is a heart-filled mural that LA-based graffiti artist Mr. Brainwash created for International Women's Day in 2015. The mural has quickly become one of the neighborhood's most Instagrammable images (even First Lady Michelle Obama had her photo taken there). There's also a text-based mural from Yoko Ono, designed specifically for the market in a partnership with the Smithsonian's Hirshhorn Museum.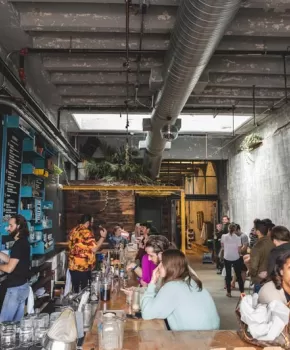 Cotton and Reed Rum Distillery in NoMa near Union Market - Distilleries in Washington, DC
Adjacent to the market, other similarly taste-obsessed businesses thrive. Slick, dinner-only Michelin-starred Italian restaurant Masseria plates fixed-price menus dreamed up by star chef Nicholas Stefanelli – think porcini mushroom and parmigiano risotto or a caviar-accented burrata appetizer. The Puglia-inspired digs include a buzzy outdoor patio area with firepits and colorful tiled floors and a glowing indoor dining room with a wall of wine. New to the area is O-Ku, where you'll be able to enjoy traditional sushi styles such as nigiri or inventive dishes like mumbo chicken katsu.
Nearby, former Top Chef finalist Marjorie Meek-Bradley has formed a dynamic team with restaurateur Stephen Starr to bring DC diners the finest grilled dishes at St. Anselm. There's also Cotton & Reed – one of many local distilleries you should know about) – where two former NASA employees are producing rum in a creatively outfitted former ice warehouse.
Once you're through making your Union Market discoveries, explore the rest of the NoMa neighborhood.