You are here
New Members & Member Updates
New Members & Member Updates
Find out what others in the tourism and hospitality industry are up to, get to know Destination DC members and more.
Read on for:
• • •
Member deals and who's in the spotlight this month
25% off tickets to National Tour of 'Falsettos'
Receive 25% off tickets in select sections and dates to the national tour of the Tony-Award winning Falsettos at the Kennedy Center from June 11-23.
"An exceptional production of a perfect musical" —The New York Times
William Finn and James Lapine's groundbreaking, Tony Award®–winning musical returned to Broadway in an all new production from Lincoln Center Theater, and was nominated for five 2017 Tony Awards®, including Best Revival of a Musical. Don't miss Broadway's Nick Adams (La Cage aux Folles and Priscilla Queen of the Desert) as Whizzer, Eden Espinosa (Wicked, Brooklyn The Musical and Rent) as Trina, and Max von Essen (An American in Paris, Tony Award® nominee; Evita and Les Misérables) as Marvin.
Falsettos revolves around the life of a charming, intelligent, neurotic gay man named Marvin along with his wife, lover, about-to-be-Bar-Mitzvahed son, their psychiatrist, and the lesbians next door. It's a hilarious and achingly poignant look at the infinite possibilities that make up a modern family ... and a beautiful reminder that love can tell a million stories. Recommended for ages 12 and up. Contains brief adult language and mature content.
Valid from April 25 – June 23
• • •
Try the limited edition Game of Thrones Dragonglass Shake at Shake Shack!
The Dragonglass Shake is made with minted white chocolate custard topped with shards of Dragonglass. In keeping with our commitment to premium ingredients and thoughtful sourcing, the Dragonglass Shake is a prime example of the Wall-to-Table movement. Custard is frozen with packed snow harvested beyond the Wall and hand-churned by members of the Night's Watch. Final prep occurs in Winterfell, where the shake is topped with shards of Dragonglass imported from the caves of Dragonstone. Please note supplies are limited as the Wall is currently undergoing major renovations. The Dragonglass Shake will be available at Shacks nationwide (excluding stadiums, ballparks, transit centers and airports) throughout the final season while supplies last!
Valid from April 26 – May 19
• • •
Secret Agents wanted at the Hilton Washington DC National Mall!
Unlock your mission when you stay just steps from the NEW International Spy Museum, one of the biggest attractions coming to DC in 2019! Delivering serious fun for kids and adults, it is the only public museum in the United States solely dedicated to espionage. The museum will reveal the techniques and behind-the-scenes intel about the most secretive espionage missions in world history. Offer includes:
Deluxe one or two king beds overnight accommodations
VIP admission tickets for two (2) to the International Spy Museum
Invisible ink/decoder pen to interpret top secret communications, should you accept your mission
Spy glasses for your tour, which allow you to see behind you!
Valid from May 11, 2019 – April 30, 2020
• • •
Your Place for Nationals Baseball
There's nothing like the national pastime in our nation's capital! Catch one of the Washington Nationals' 81 home games at Nationals Park. For discounted tickets, use code: VISITDC
• • •
Together DC
Your Washington Mystics are back and tip-off their season on Saturday, June 1. Use promo code MYDCCOOLMYSTICS and receive the best seats at the lowest price.
• • •
2019 DC JazzFest is around the corner
In less than a month, DC JazzFest presented by Events DC will take over the District with the sounds of jazz. Expect great music and unforgettable experiences from June 7-16 as the festival celebrates its 15th anniversary.
• • •
By The People returns to DC June 15-23
Halcyon's By The People festival brings massive art installations, pop-up performances, an all-local art fair and more to all four quadrants of Washington, DC. Free registration at bythepeople.org.
• • •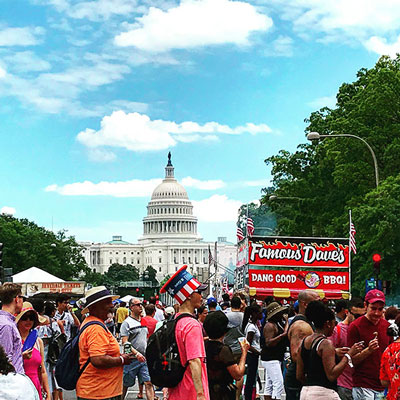 Celebrate Summer at the Giant BBQ Battle
From June 22-23, DC's tastiest event fills historic Pennsylvania Ave. with the sights, sounds and tastes of summer. Enjoy 30 bands on three stages, free food samples, kids' activities and America's best BBQ.
• • •
Welcome to the newest Destination DC members​
Augment VR Arcade and Bar: A high-end arcade and bar featuring the latest gaming technologies with a multitude of experiences to choose from and multiple floors for events.
DAR Museum: See how Americans lived during the early days of this country through displays of 18th- and 19th-century home furnishings. Free and open to the public.
Department of For-Hire Vehicles: The department regulates the vehicle-for-hire industry to allow DC citizens and visitors to have safe, affordable and accessible transportation options.
EF International Language School: Discover Washington, DC's revered monuments, world-class museums and patriotic spirit from our language center located in Takoma Park.
Prather's on the Alley: Features modern-American fare, innovative and classic cocktails and a curated wine selection served in a stylish atmosphere.
President Lincoln's Cottage: President Lincoln's Cottage, the Lincoln family's summer home, is a National Monument and historic site that offers daily guided tours. Reservations are recommended.
The Garden at Building Momentum: Maker space providing unique services and a venue for all your creative needs.
Wellspring Manor and Spa: Just 15 miles outside of Washington, DC, Wellspring Manor and Spa is nestled in the culturally rich Maryland suburb of Prince George's County. Wellspring is an oasis of peace, quiet and renewal created for guests seeking a relaxing, wellness-infused experience.
• • •
New Member Benefit: Post Travel, Tourism and Hospitality Jobs on washington.org/industry-careers
Email your company name, job title and link to jobboard [at] destinationdc.com. Positions will be posted for 30 days. If you have any questions, please contact Julia Tibor, Partnerships & Alliances Assistant, julia [at] washington.org, 202-789-7081.
Upload Your Offers to the Member Extranet
Now that summer is here, help drive more exposure to your business by uploading your summer deals and packages. Offers tend to perform best when they're timely, seasonal and provide great value.
Have Any Other Questions About the Extranet?
Check out our easy Member Extranet Tutorials on the front page of the Member Extranet or on our YouTube Channel.
Add Your Staff - For Free!
Add your staff to the Destination DC communications list. Please email Partnerships.updates [at] destinationdc.com with their contact info and we will help you stay updated. New contacts will receive newsletters, citywide resumes and event invitations.
Dining & Driving Power
Thank you to our Dining & Driving Power partners for your continued support and generosity! If you are interested in learning more about these programs please contact Partnerships.updates [at] destinationdc.com
Check out the full Destination DC Member eNews to learn more about what's going on this month.