Meet Jermaine Evans, who hopes to pay it forward 'like AEF has for me'
Jermaine Evans of Woodrow Wilson Senior High School is a 2020 American Experience Foundation (AEF) Scholarship Winner. He plans on attending Fayetteville State University this fall and wants to major in psychology and business. Jermaine was very surprised and overwhelmed when he found out that he won the scholarship, which has allowed him to attend the college of his dreams. "I hope that one day, I can help a student achieve their goals just like AEF has for me," Jermaine said.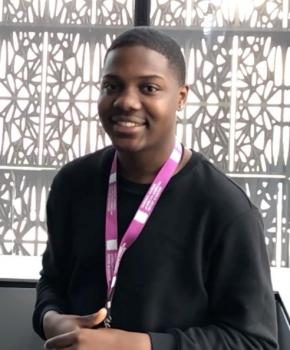 American Experience Foundation Scholarship Winner Jermaine Evans
Jermaine is dedicated to his family, friends and community. He participated in Wilson's fashion and sign language clubs and sat on the climate committee. Psychology and business are areas of focus for Jermaine because he wants to help those with mental illnesses, especially those in the Black community, and from his research on mental health, he learned there is a shortage of Black psychologists.
Jermaine is also intrigued by the hotel industry and wants to start his own hotel in the future. From his scholarship essay: "Hotels offer shelter for people from out of town, all with different reasons for being there. Hotels are a meeting point for people to connect with each other. They are a place for business deals to be signed, diplomacy to be conducted and big parties to be hosted."
Jermaine wants to thank his Hospitality Academy teachers Aleta Lea, Brandon Wims and Alex Wilson. He believes that the Academy helped him to discover his passion and career goals. Jermaine loved learning behind the scenes of the hospitality and tourism industry, and Ms. Lea, Mr. Wims Brandon and Mr. Wilson helped guide him throughout his experience.
Lastly, we asked Jermaine to give a piece of advice for underclassmen. Here were his words: "I want them to know that friends come and go. Stay focused in school and take advantage of opportunities that will take you places and guide you to your future. It will all be worth it in the end."