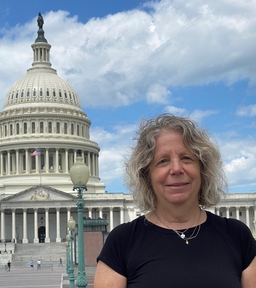 The American Experience Foundation (AEF) and Destination DC recently presented 10 member businesses with PandA Awards in celebration of industry partnerships.
Lori Chalk, managing director of District Experience, was honored with the AEF Forever Friend award.

During AEF's virtual Career Ready Internship program this past summer, Lori proactively stepped in to serve the 72 participating students by volunteering as a weekly Career Ready Intern presentation judge.

"Volunteering with AEF allowed me to share my love for the events and hospitality industry with the students. I was inspired by their enthusiasm for the future. My weekly sessions with students uplifted me during a very challenging summer. The sum of their experiences will serve them well in the future," said Chalk.

District Experience is a small woman-owned event and meeting planning business. Lori and her team have supported AEF for many years by dedicating their time, expertise and experience helping produce AEF's annual July 4th VIP celebration. The company was celebrating its best year to date when the pandemic struck. Restrictions greatly tested the business's agility, and like so many others, they pivoted to offering virtual event services. Click here to learn more about District Experience.

If you're interested in supporting AEF by sharing your time and expertise with our students, please contact Lisa Waldschmitt at [email protected].