Record Domestic Visitation in 2015 Spurs Visitor Spending to All-Time High $7.1 Billion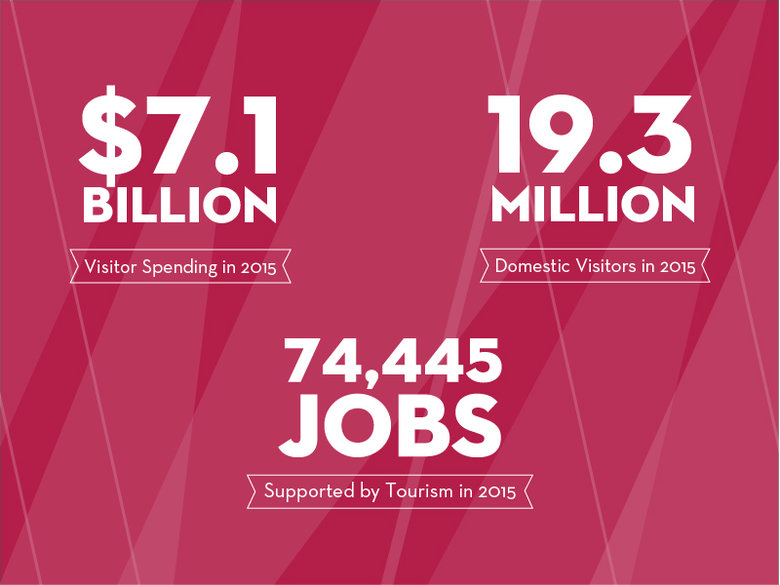 (Washington, DC) Leadership from Washington, DC's hospitality and tourism industry confirmed today that 2015 is the sixth consecutive record-breaking year for domestic visitation at Destination DC's annual Travel Rally themed "Travel's Winning Formula."
In 2015, domestic visitation to Washington, DC topped 19.3 million, according to a report prepared by D.K. Shifflet, an increase of 5.3% over 2014. Visitors to DC spent $7.1 billion, according to IHS Global, Inc., a year-over-year increase of 4.1%.
The eighth annual rally, held at the Carnegie Library at Mount Vernon Square, coincides with the U.S. Travel Association's National Travel and Tourism Week, May 1-7, 2016, a national campaign that celebrates the economic impact of the industry. 
"In 2015 DC welcomed one million more domestic visitors than it did in 2014," said Elliott L. Ferguson, president and CEO of Destination DC, the official tourism and marketing office for the District. "Visitor spending was up $300 million over the previous year. These coveted numbers represent the impact of tourism investment in the nation's capital. The return on investment study that we commissioned from Destination Analysts determined last year's spring and summer advertising shows that our city received $2.65 in taxes for every $1 we spent."
2015 marks the first year that visitor spending has surpassed $7 billion and the fifth consecutive year that it surpassed $6 billion. Spending on accommodations grew by 5.3%. The retail sector grew by 4.7%. Spending on food and beverage was up 5.1% while entertainment spending was up 2.6% over 2014 as well, indicating movement away from cautious recessionary spending. Tourism and hospitality supports more than 74,000 jobs in the District.

"I applaud Destination DC for helping us show the world what DC has to offer," said Mayor Muriel Bowser. "Year after year, more visitors are coming to the District, which is a huge boon to our city.   Tourism is one of our strongest sectors, yielding jobs for our residents and dollars for our local economy." 
"Destination DC keeps the District at the forefront of consumers' minds by creatively refreshing our DC Cool brand and dynamic resources including our website and Emoji DC app," said Ferguson. "Our city is changing and we're changing how we sell the visitor experience."
Destination DC debuted new DC Cool creative in color with its largest summer advertising campaign, in market May 1. For the second year, an in-house television commercial was produced and will be seen in key feeder markets in the northeast corridor. A supporting print campaign will run in popular regional magazines including Boston Magazine, The New Yorker and New York Magazine.
The redesigned washington.org also launches Tuesday, strongly emphasizing the charms of DC's neighborhoods and maximizing user-generated content. The user experience includes enhanced mapping, trip inspiration by day and night, vivid photography, meeting planner and group resources, and much more. 
"Destination DC does a fantastic job building awareness of everything the city has to offer, and their hard work is evident in their record-breaking number of visitors and tourism spending," remarked U.S. Travel Association President and CEO Roger Dow. "This is a city that benefits from civic leadership that clearly sees travel is a primary industry that creates jobs and economic opportunity. I congratulate Destination DC and thank Elliott Ferguson and his team for their tremendous support for National Travel and Tourism Week."
In 2016, Washington, DC will welcome a total of 15 city-wide conventions with an estimated total economic impact of $277.9 million. Highlights include American Alliance of Museums Annual Convention (May 27-29) and Society for Human Resource Management Annual Conference & Expo (June 19-22). Washington, DC will host a wide range of city-wide conferences in 2017 including annual meetings of the American College of Cardiology in March, IPW in June and Society for Neuroscience in November. Major contracts for future business include the International Astronautical Congress for 2019 and the World Congress of Pediatric Cardiology and Cardiac Surgery in 2021. These two conventions will bring an estimated $17 million to the city.

"Events DC remains committed to driving premier event experiences across the city while acting as an economic engine for Washington, DC through the growth and attraction of major events held at our venues and beyond," said Gregory A. O'Dell, president and chief executive officer of Events DC.  "The 450+ events that we hosted, produced and sponsored during Fiscal Year 2015 generated an estimated $415 million in visitor spending for DC.  This is economic impact that supports thousands of jobs in the District's largest private sector industry. We are proud to continue to promote the future of our travel and hospitality industry through the Walter E. Washington Convention Center's continued citywide meeting success."
Washington, DC will also play host to familiar traditions and special events in the latter half of 2016 including the DC Jazz Festival, spectacular July Fourth celebrations on the National Mall, top tennis seeds at the Citi Open; the dedication of the National Museum of African American History and Culture on Sept. 24 and the reopening of the East Building of the National Gallery of Art one week later.
Destination DC, the lead destination marketing organization for the nation's capital, is a private, non-profit membership organization of more than 850 businesses committed to marketing the District as a premier global convention, tourism and special events destination with a special emphasis on the arts, cultural and historic communities. Visit washington.org for more information. 
The U.S. Travel Association is the national, non-profit organization representing all components of the travel industry that generates $2.1 trillion in economic output and supports 15 million jobs. U.S. Travel's mission is to increase travel to and within the United States. Visit www.ustravel.org.

Events DC, the official convention and sports authority for the District of Columbia, delivers premier event services and flexible venues across the nation's capital.  Leveraging the power of a world-class destination, and creating amazing attendee experiences, Events DC generates economic and community benefits through the attraction and promotion of business, athletic, entertainment and cultural activities. Events DC oversees the Walter E. Washington Convention Center, an anchor of the District's hospitality and tourism economy that generates over $400 million annually in total economic impact, and the historic Carnegie Library at Mt. Vernon Square. Events DC manages the Stadium-Armory campus, which includes the historic Robert F. Kennedy Memorial Stadium and surrounding Festival Grounds, and the non-military functions of the DC Armory.  Events DC also built and now serves as landlord for Nationals Park, the first LEED-certified major professional sports stadium in the United States. For more information, please visit www.eventsdc.com.

MEDIA CONTACTS
Destination DC
Danielle Davis, Destination DC, Director of Communications
(202) 789-7046; [email protected]

Kate Gibbs, Destination DC, Media Relations Manager
(202) 789-7072; [email protected]

Vanessa Casas, Destination DC, International Media Relations Manager
(202) 789-7053; [email protected]

The U.S. Travel Association
Cathy Keefe, Manager, Media Relations
(202) 408-2183; [email protected]

Events DC
Chinyere Hubbard, VP Communications & Marketing
(202) 249-3217; [email protected]
###
---
Media Contacts
Vice President of Communications
Senior Marketing & Communications Manager, Trade
Global Media Relations Manager
Domestic Media Relations Manager