How to market a thriving, culturally rich city that people often see as a federal town.
Introducing Discover the Real DC
When you mention Washington, DC, the first thing people think is "politics." But DC is more than the federal government – it's cultural, creative, vibrant and fun. That's what we call DC Cool, and it shapes the way we talk about our city to travelers and locals, alike.
With our Discover the Real DC campaign, we encourage potential visitors to drop their preconceived notions of Washington, DC as a federal town and explore a side of the city they may not even know exists: Michelin-starred restaurants, exciting nightlife, major-league sports, a dynamic arts community and diverse neighborhoods. We want people to discover the real DC – the living, breathing DC.
Backed by Research
In spring 2018, we partnered with Destination Analysts to conduct extensive qualitative and quantitative consumer research to identify the types of travelers most likely to consider Washington, DC for leisure trips and better understand their travel motivations. Here's what we learned: while travelers still want to check-off the bucket list activities like visiting monuments and memorials, more and more visitors are interested in experiences that illuminate the real essence and culture of a city. With Discover the Real DC, we aim to address these shifting priorities.
Campaign Strategy
Discover the Real DC launched in January 2019, applying a data-based, digital-forward strategy crafted in partnership with MMGY Global. Targeting travelers in Philadelphia, New York City, Chicago, Baltimore, Richmond, Boston, Atlanta, and Los Angeles, the media mix includes fewer traditional print ads and more high-impact display units, native content, custom email blasts, paid search, paid social posts and social influencer programs. This digital-forward strategy allows us to target the specific traveler-types identified in our consumer research by choosing placements and designing creative specifically tailored to individual travel motivations and interests.
Photography
Imagery for Discover the Real DC was captured through the lens of award-winning local photographer and anthropologist, Joshua Cogan. Each image speaks directly to a traveler-type and corresponding travel motivation—whether we're engaging Foodies with a fiery shot of Michelin-starred Maydan, or exciting Family Travelers with a family-fun photo of the Blossom Kite Festival. Click on a photo below to learn more about the unique experience pictured.
Video— Commercials
Discover the Real DC is brought to life in video in several ways, including a minute-long campaign video and :15 and :30s commercials narrated by local mural artist, Aniekan Udofia. All video content drives potential visitors to relevant, interest-based landing pages on washington.org where they can begin trip-planning and book travel.
Lincoln Memorial (0:00), Washington Monument (0:01), Kennedy Center (0:05), Ben's Chili Bowl – U Street (0:07), U Street Metro Stop 13th Street Exit (0:10), East Potomac Park (0:13), District Distilling (0:17, 0:20 and 0:45), Hirshhorn Museum and Sculpture Garden (0:19), Busboys & Poets, 14th Street NW (0:21), Anacostia Playhouse (0:22), Smithsonian American Art Museum (0:23), The Washington Ballet (0:24), Chicken & Whiskey (0:26), Blues Alley (0:35), The Yards Park (0:38), Library of Congress (0:39), POV Rooftop (0:42), Som Records (0:44), Compass Rose (0:45), Columbia Room (0:46), China Chilcano (0:47) Buttercream Bakeshop (0:49) and The Diner (0:52)
'The Real DC' Video Series
The Real DC is a water town. The Real DC is a maker community. The Real DC is green, it's international, it's creative. Our new video series, created in partnership with local storytellers, Emic Films, encourages viewers to Discover the Real DC through the lens of five DC residents with five different perspectives on what makes this city unique.
Featured hosts: Trey Sherard, a biologist and guide with the Anacostia Riverkeeper organization; Christylez Bacon, a contemporary hip-hop artist, born and raised in DC; Melanie Choukas-Bradley, a naturalist who made her career exploring the depths of Rock Creek Park; Abai Schulze, a young woman bringing Ethiopian culture to life in DC through her store, ZAAF Collection; and Alex Laufer and Sandy Wood, co-founders of local craft distillery, One Eight Distilling.
Website
Discover the Real DC is supported on washington.org by a robust collection of content that is inspired by our consumer research. On the campaign landing page, potential visitors can choose the right topic for them based on their specific interests and travel motivations, including family-friendly adventures, what's popular, culinary experiences, arts and culture, African-American history and culture, LGBTQ DC, historical significance and sports and entertainment.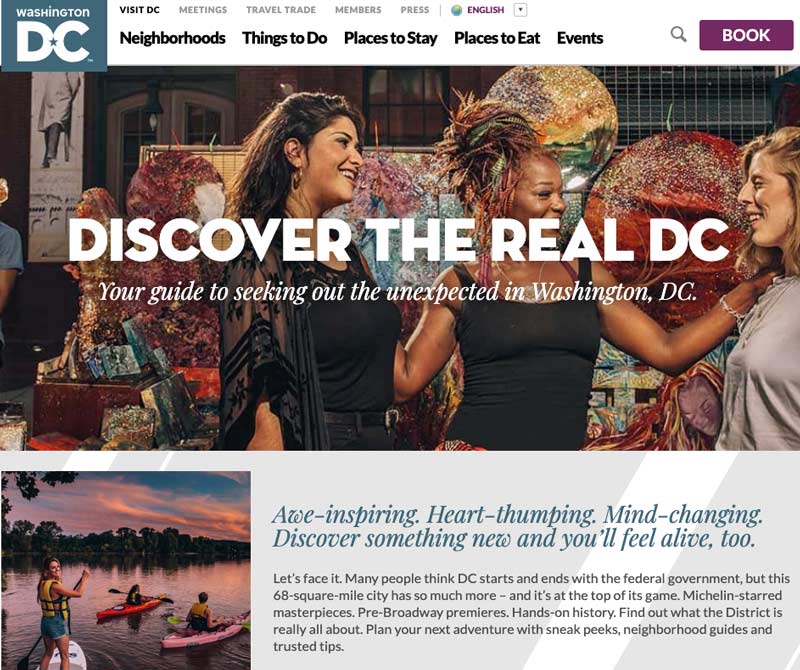 The Discover the Real DC campaign on washington.org