You are here
14 Capital Pride Events That You Don't Want to Miss This Summer
14 Capital Pride Events That You Don't Want to Miss This Summer
Celebrate Washington, DC's LGBTQ+ community from May 31 – June 9 with parades, concerts, parties and more.
The Capital Pride Alliance serves DC's LGBTQ+ community through entertainment, community outreach and diversity celebrations. Each year, the nonprofit organization curates Capital Pride, which features a popular collection of events including the Pride Parade, Festival and Concert. We've elaborated on those events and many others below.
This year's theme is "shhhOUT: Past, Present & Proud," which commemorates the 50th anniversary of the Stonewall Riots by giving "a 'shhhOUT' to our past and present, while committing ourselves to SHOUT OUT proudly as we move forward." You can also learn more about getting involved with Capital Pride, and make sure to follow them on Twitter and Facebook.
1
Pride Honors: May 31, 7-9:30 p.m.
This gala at the Smithsonian American Art Museum mixes an evening of honoring leaders and activists in the LGBTQ+ community and plenty of socializing with Capital Pride Alliance's donors and volunteers. Your ticket includes drinks and bites from local vendors, including City Winery. Get your tickets today.
2
Countdown! Pride Celebration Kick-Off Party: May 31, 8:30 p.m. – 1 a.m.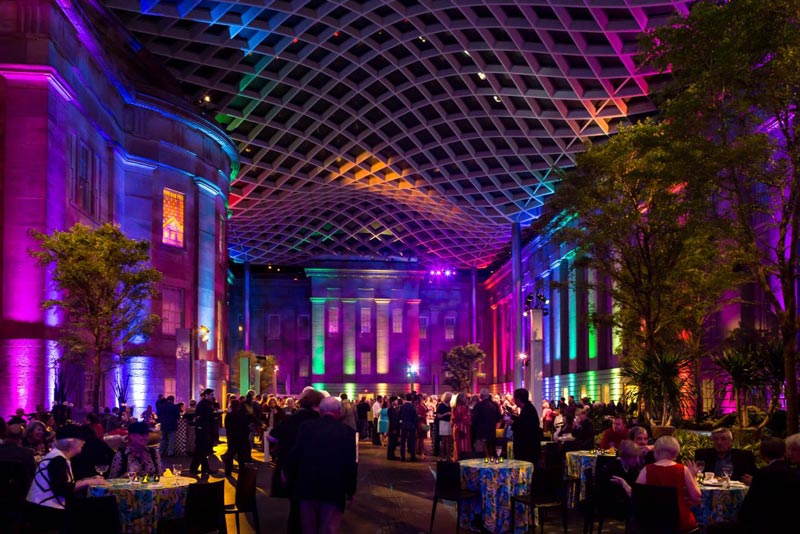 The Smithsonian American Art Museum, Brightest Young Things and the Capital Pride Alliance team up to kick off Capital Pride with a bang. In addition to celebrating Pride, Countdown! will also commemorate the 50th anniversary of the Stonewall Riots. Enjoy music, dancing, art activities and learn more about LGBTQ+ artists in the museum's collection. Also be sure to check out the museum's exterior, which will be bathed in rainbow light. Admission to Capital Pride Honors also grants you admission to Countdown!
Through a special deal, you can get $5 off admission to Pride Honors and the Pride Celebration Kick-Off Party by entering the code WashingtonPride.
3
Nationals Night Out: June 4, 7-9:30 p.m.
Each year the Washington Nationals host a Night Out to support the local LGBTQ+ community. Catch plenty of exciting baseball action, along with brews, Anthony Rendon bombs and all of the great eats at Nationals Park. Get tickets to this year's Night Out, which takes place on June 4 against the Chicago White Sox.

4
Capital Pride Rooftop Rally: June 6, 7-11 p.m.
The VIDA Penthouse Pool and Lounge on the Capitol Riverfront hosts this Thursday night pool party that will feature cocktails, appetizers and plenty of socializing with Capital Pride Alliance's donors and volunteers. You also better be ready to dance, as DJs will be spinning.
5
DC Front Runners Pride Run 5K: June 7, 7 p.m.
Make sure to register for this chip-timed 5K that will raise funds for local LGBTQ+ charities. After the race, which begins at the scenic Congressional Cemetery, kick back at the finish line party, which will include beer for racers, a DJ, live entertainment and awards for the top performers in the race.
6
RIOT! The Pride Opening Party: June 7, 9 p.m.
Capital Pride Alliance
We can promise you that the Capital Pride Opening Party will be a night to remember. This event commemorating the Stonewall Riots and the activism that followed is put on by the Capital Pride Alliance and will be quite the spectacle, including plenty of DJs and dancing, photo booths and so much more. Make sure to grab tickets to this event hosted at Echostage, one of DC's best concert venues.
7
Pride Brunch: June 8, 11:30 a.m. – 2:30 p.m.
Saturday, June 8 is a big day for the Capital Pride celebration, so start it off right with a delicious meal and great company during the Pride Brunch. Expect special guests along with a gourmet buffet and complimentary mimosas and vodka drinks at the Human Rights Campaign headquarters.
8
Pride on the Pier: June 8, 2-9 p.m.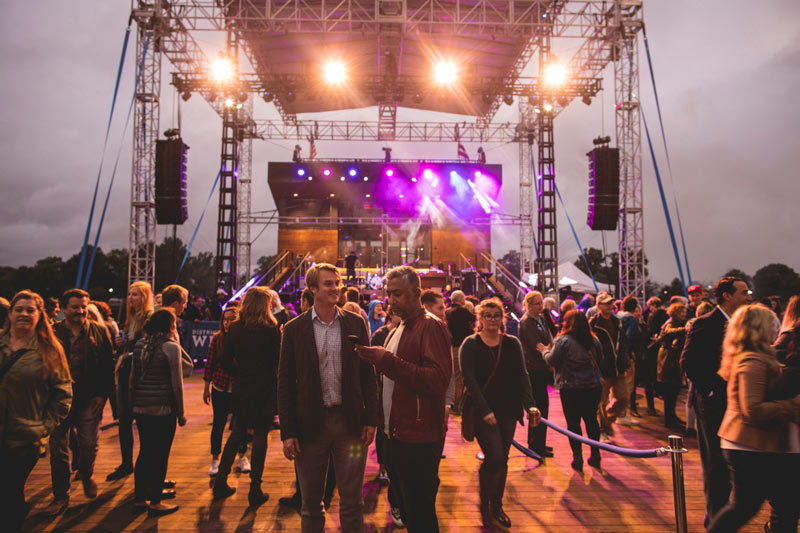 The District's hottest dining, shopping and entertainment destination is home to this event on District Pier. Activities include a waterfront beer garden featuring specialty cocktails (as well as beer and wine) and a DJ performance. It's free to attend, so don't miss your chance to drink and dance the afternoon and evening away on the waterfront.
9
Capital Pride Block Party: June 8, 4-10 p.m.
For the third year, Capital Pride will feature a free block party at 15th Street NW and P Street NW, adjacent to the famous Pride Parade. Get ready for some serious revelry with live entertainment, bites from local food trucks and an impressive beer garden.
10
Pride Parade: June 8, 4:30 - 7:30 p.m.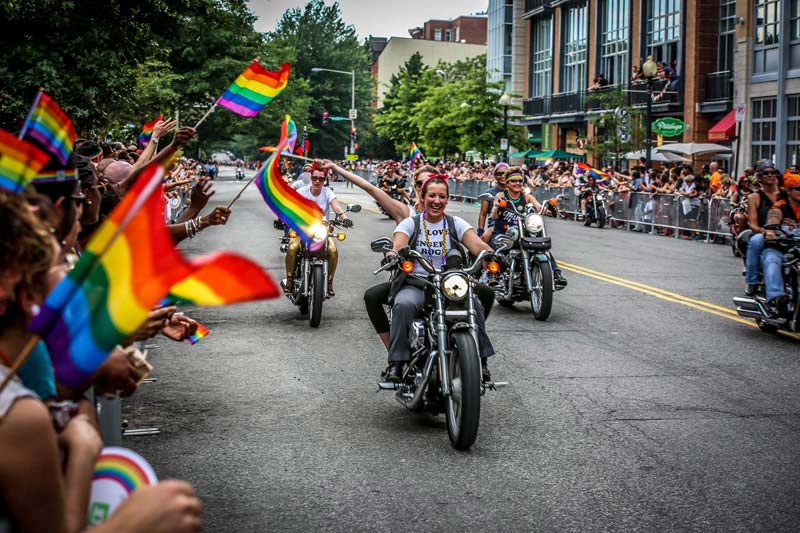 Capital Pride's signature event is the Pride Parade, which will feature thousands of people marching through Dupont Circle into Logan Circle in honor of LGBTQ+ resilience. More than 200 contingents, including floats, vehicles, local businesses, politicians, community groups and drag queens will also join the procession. Bleacher tickets are available, as well as a family viewing area, for this wonderful and passion-filled event.
11
FUSE: Pride Womxn's Main Event: June 8, 9 p.m. – 3 a.m.
Courtney Ramsey / Capital Pride Alliance
The popular Howard Theatre plays host to this special event for the ladies that starts Saturday night and will continue well into the morning. Expect live entertainment, can't-miss drink specials and a whole lot of dancing at this 21-and-over event.
12
Distrkt C Pride 2019: June 8, 10 p.m. – 6 a.m.
Distrkt C
DC club Distrkt C hosts this Saturday night party in honor of Capital Pride. The bash goes down with a performance by Maya Simantov and DJs Seth Breezy and CAJJMERE WRAY, so gear up for some sun-down to sun-up partying.
13
Pride @ SAAM: June 9, 11:30 a.m. – 7 p.m.
The Smithsonian American Art Museum caps off Pride week with a joyous Sunday celebration. There will be a Feminist Pride Media Art Gallery, gallery talks, live music and on-site painting during the free event.
14
The Capital Pride Festival & Concert: June 9, 12-10 p.m.
Four days of LGBTQ+ celebrations come to a grand conclusion with the Pride Festival and Concert. The festival is held on Pennsylvania Avenue between 3rd and 7th Streets NW. The family-friendly event is free and open to all, with donations graciously accepted. Expect more than 300 exhibitors, including local and community groups, local businesses, food vendors, restaurants and national sponsors. The concert, which begins at 1 p.m., is presented by Hot 99.5 and will feature performances by some of today's biggest pop stars and many other talented artists with the U.S. Capitol and Washington Monument as backdrops. VIP passes, which include complimentary drinks, and pit passes are available for this can't-miss summer concert.