'Yayoi Kusama: Infinity Mirrors' is the cultural sensation of DC's spring season
The last day to view Infinity Mirrors at the Hirshhorn Museum was May 14, 2017. Find out where this groundbreaking exhibit is heading to next.
Yayoi Kusama is one of the most important and celebrated visual artists of modern times. The Japanese artist's career now spans more than 65 years, and this spring, the Hirshhorn Museum and Sculpture Garden presents the breadth of her incredible work for the first time in Washington, DC.
The explosion of colors, shapes and ideas throughout Kusama's work make the Infinity Mirrors exhibit a can't-miss attraction. Fortunately, we secured a sneak preview of the jaw-dropping display. Read on for a taste of what you can expect once you step into Yayoi's world.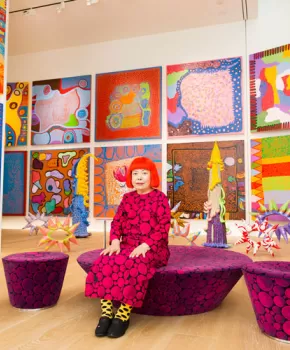 Japanese artist Yayoi Kusama with recent works in 2016
Here She Comes Now
Kusama's career took off in the 1960s, when she lived in New York City and rubbed shoulders with artists such as Andy Warhol and hosted "Happenings," which were performance-based events that showcased Kusama's fondness for combining art, performer and observer.
Before blowing minds with mirror rooms, Kusama worked on paper, using alternative and abstract techniques to create cell-like forms doused in color. She also created Infinity Net paintings, which consist of tiny arcs inscribed on a black background. Kusama used this repetition as a sort of meditation, creating paintings that resembled the process-driven works of Abstract Expressionism. Many of these early pieces can be viewed when you first enter the Infinity Mirrors exhibit.
As you make your way through the exhibit, you may notice some oddly shaped furniture. Don't be alarmed, or sit down – these are Kusama's Accumulations, also known as soft sculptures. Made from sofas, chairs, ladders, dressers and a large table, these pieces were important stepping stones to Kusama's first mirror room, 1965's Phalli's Field.
I'll Be Your Mirror
The Hirshhorn's exhibit features six of Kusama's mirror rooms, which took the repetitions of her early work and amplified them into infinity. Five of these rooms can be entered for 20 seconds at a time, while Love Forever features a peephole and Love Transformed into Dots houses "a peep-in mirror dome" through which you can peer.
When you enter the immersive rooms, the art and the image of you will multiply to create a piece that includes you as the subject. The effect can be both disorienting and soothing, depending on how you react to each room's array of colors, shapes, lights and reflections. In a way, Kusama created her own virtual reality with these rooms, without the assistance of advanced technology. This is an interesting notion in an age when virtual reality headsets become more and more common.
Phalli's Field incorporates the shapes from Kusama's soft sculptures, creating a crowded scene as the mirrors replicate the red and white shapes and the observer. The hexagonal Love Forever (1966) lets you peer across to another person through a prism of multicolored lights, with both of you repeating into infinity.
The Souls of Millions of Light Years Away (2013) uses LED lights and mirrors to essentially eliminate space and time, creating a soothing environment that can appear as if it has arranged you in the stars of the sky. If you're dazzled by polka dots, Dots Obsession – Love Transformed into Dots (2007) will make your heart sing. Dotted balloons of varying size are arranged around the exhibit room, and you can step into a life-sized version and peer into a micro-space.
Golden lanterns create a fascinating pattern, hearkening to the Japanese tradition of toro nagashi, in the poignant and calming Aftermath of Obliteration of Eternity (2009). Kusama's love of pumpkins (she was raised in a family that sold plant seeds for a living) is on display inside All the Eternal Love I Have for the Pumpkins (2016), which situates the viewer amongst polka-dotted, glowing yellow pumpkins of various sizes – you will feel as if you've been inserted into a fairy tale. You can also view Kusama's monumental Pumpkin sculpture at the Hirshhorn's outdoor Sculpture Garden.
That's the Story of My Life
Infinity Mirrors comes full-circle with its final two installations. My Eternal Soul is a project begun by Kusama in 2009 that currently features more than 500 works. The exhibit gathers select paintings and sculptures from this series, each pulsing with vibrant light and shapes, and showcasing themes and motifs that have been present throughout Kusama's career.
The exhibit's final room lets you become an artist. The Obliteration Room is arranged like any domestic living room, except every piece of furniture and every inch of the walls has been painted white. You will be equipped with a set of colorful stickers shaped like dots upon entering the exhibit, which will now come in handy. Arrange your set on any surface you like, adding to the thousands of stickers that have already turned the room into a public canvas.
Once you exit the exhibit, make sure to head downstairs to the Hirshhorn's gift shop. There, you will find an assortment of Kusama memorabilia including coffee mugs, T-shirts, books and even socks.
Now that you have read up on the Yayoi Kusama exhibit, explore other ways to embrace color in the District.