You are here
13 Ways to Enjoy an Outdoor Movie In & Around Washington, DC
13 Ways to Enjoy an Outdoor Movie In & Around Washington, DC
Find out where and when to catch a flick outdoors this summer
Summertime and movies go hand-in-hand. Yes, the biggest blockbusters are in theaters, but step your movie-going experience up a notch and relax outdoors while taking in a classic film or one you've never seen before. These events, many of which feature beautiful scenery and are free to attend, have outdoor movie screenings that can turn summer nights into summer memories. Check out DCOutdoorFilms.com for more.
1
Georgetown Sunset Cinema
Georgetown's Waterfront Park is one of the city's most resplendent settings, situated right on the Potomac River. The neighborhood invites you to enjoy this year's movie theme of "Women in Film," as each Tuesday sunset screening highlights a story with a strong female lead. The lineup begins with A League of Their Own on July 11 and concludes with The Devil Wears Prada on Aug. 8.
2
NoMa Summer Screen
Travel + Leisure named NoMa Summer Screen as one of America's Best Outdoor Movie Theaters, so this is a series that you do not want to miss. Numerous local food trucks are on-hand for the festivities in this happening neighborhood and you can expect fun giveaways as well. This year, the series' theme is Power, Politics & Popcorn, which we think is just….too perfect (Mr. Smith Goes to Washington, Lincoln and The Ides of March are among the screenings). Summer Screen is very popular, so get there at 7 p.m. when the doors open for the free screenings!
3
Union Market Drive-In
Union Market
The drive-in movie is not dead! Union Market, a DC hot spot that features artisanal wares and amazing food options, hosts this series of film screenings from the spring through the fall. Drive-in parking costs just $10 (reserve beforehand here), while ground seating is free for walk-ups. Upcoming films include Coming to America (July 7), Chef (Aug. 4) and Days of Thunder (Sept. 1).
4
Capitol Riverfront Outdoor Movie Series
Through Aug. 17, the gorgeous Canal Park in the Capitol Riverfront neighborhood invites families to take in a flick at sundown. You are invited to arrive as early as 7 p.m. so you can set up a picnic and prepare to be dazzled. Standout films on the schedule include recent hits such as Rogue One (July 20), La La Land (Aug. 3) and Fantastic Beasts and Where to Find Them (Aug. 10).
5
Dumbarton House Jane Austen Film Festival
Although you have to purchase tickets to this festival, your money will be very well-spent. Dumbarton House is a historic DC attraction in Georgetown, a great spot to bring the family to take in a movie under the stars (you can also become a member for free entry). Each film screened is based on a Jane Austen novel, so if you're into Victorian romance, this is a summer must-do for you.
6
Golden Cinema Series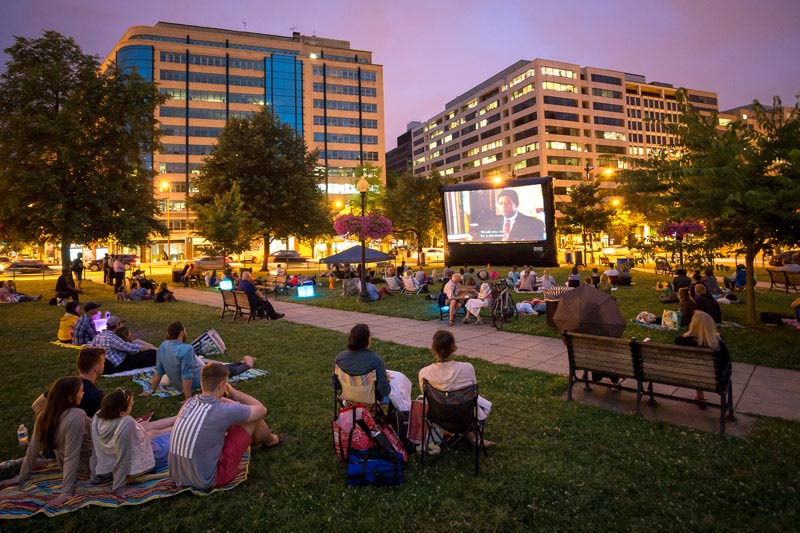 Every Friday evening through Aug. 4, post up in Downtown DC's Farragut Park for a movie screening in the middle of one of DC's most vibrant locales. In July, watch the sun set as you embrace classics (Big on 7/21, Ferris Bueller's Day Off on 7/28) and soon-to-be classics (2016 version of Ghostbusters on 7/7, Finding Dory on 7/14).
7
Movie Nights in Chinatown Park
Asian and Pacific Island culture are showcased in this series that takes place in Chinatown Park, a short walk from Verizon Center in Chinatown. Popcorn and popsicles are provided at the free screenings, and guests are invited to bring chairs and blankets. On Aug. 16, catch the Oscar-nominated Lion, and make sure you bring the kids to Mulan on Sept. 29.
8
Films at the Stone
The Martin Luther King, Jr. Memorial is one of DC's most recognizable landmarks, and The Memorial Foundation is proud to present family-friendly, free-to-attend movie screenings this summer. On July 27, catch Moana, a recent Disney hit that kids adore. Aug. 24 features Hidden Figures, one of 2016's most highly acclaimed films. Screenings begin at 8:15 p.m.
9
Events DC Summer Movie Series presented by RCN
David Clow
Head to Gateway DC for this free event that will feature family-friendly films, kid-centric activities (moon bounces!), cotton candy, popcorn and plenty of summer vibes. The Summer Movie Series starts Wednesday, July 12 with The Lego Batman Movie, and continues every Wednesday until Aug. 2. Those who RSVP online enter a raffle for a $50 gift card to Dick's Sporting Goods, given away each week!
10
Library of Congress Summer Movies on the Lawn
The Library of Congress hosts this free outdoor film festival that features films in the Library's prestigious National Film Registry, so you are in for a treat, no matter what screening you attend outside of the historic building. You will need to register for screenings in order to guarantee a spot, but there is no charge. The festival kicks off with The Princess Bride on July 13 and ends with the original Ghostbusters on Aug. 17.
11
Movies on the Potomac
National Harbor
The expansive National Harbor is perfect for a family outing or a date night, especially when a film is being screened under a summer sky at its plaza. In fact, the Harbor hosts two nights of screenings each week of the season – one for couples (Thursdays, 7 p.m.), one for families (Sundays, 6 p.m.). Check out the packed schedule and pick out the free screening that works for you and yours. Some family nights even offer double features (first screening at 4 p.m.)!
12
Comcast Xfinity Outdoor Film Festival
This three-day celebration of movies takes place in Maryland from Aug. 24-26. The scenic Strathmore Campus is a fantastic place to enjoy an evening outdoors, so bring along the crew to catch either Moana, Rogue One or The Lego Batman Movie (or all three, since attending is free). Ridgewell's will be on-site with food, too! Screenings begin at dusk. The festival benefits the National Institutes of Health Children's Charities.
13
Rosslyn Cinema
Rosslyn BID
Considered one of Arlington's best summer events, Rosslyn Cinema even features a Pub in the Park during these free Friday night screenings in Virginia, as well as two food trucks. The lineup for the rest of the summer is a healthy mix of family-friendly (The Father of the Bride, The Wizard of Oz), romance (When Harry Met Sally) and action (The Avengers). Just a short drive or Metro ride from DC, this series has all the makings for a perfect summer night.
Looking for more ways to cherish summer in Washington, DC? Find out how you can make monumental memories.