Check out the 2019 WNBA champions at Entertainment and Sports Arena.
Led by a superstar who is supported by an outstanding cast, the Washington Mystics are one of the premier franchises in the WNBA. Entertainment and Sports Arena serves as the team's home court, the newest addition to Washington, DC's sports venue landscape. So grab your tickets and get ready to cheer on a WNBA powerhouse.
01
The Mystics play in a state-of-the-art arena.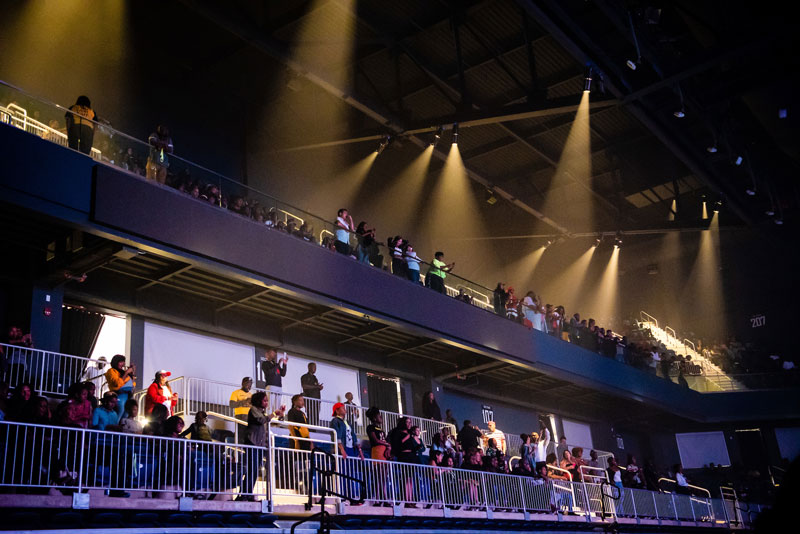 Prior to the 2019 season, the Mystics played their home games at Capital One Arena, sharing it with the NHL's Washington Capitals and the NBA's Washington Wizards. Now, the talented squad has the Entertainment and Sports Arena in Congress Heights to call home. The 4,200-seat arena provides an intimate atmosphere for Mystics fans to cheer on their favorite team, and in turn, a true homecourt advantage for one of the best teams in the WNBA.
02
The team is led by Elena Delle Donne, one of the best players in WNBA history.
Elena Delle Donne is a superstar. The incredibly talented forward has been named an WNBA All-Star six times and has brought home two MVP awards. Her arrival in DC in 2017 completely rejuvenated the franchise, leading to a run of success that culminated in a WNBA championship in 2019. Prior to her arrival, the team had won just one playoff series in its history, which began in 1998. In short: Delle Donne is the greatest player the team has ever had and having a chance to watch her play is a blessing for DC sports fans.
03
You will be watching a perennial contender.
Led by Delle Donne, as well as other stars such as Ariel Atkins, Natasha Cloud and Shatori Walker-Kimbrough, the Mystics are always in the mix in the WNBA's Eastern Conference. Prior to missing the postseason in 2021, the team had reached the playoffs in four straight seasons, the longest run in franchise history. That stretch included the aforementioned 2019 championship as well as a trip to the WNBA Finals the year before. This year, the team again looks to be one of the best in the league.
04
The schedule always features outstanding matchups.
Some of the WNBA's best teams and players will visit the Entertainment and Sports Arena this summer to take on the Mystics in what promises to be a rowdy environment. Visit the team's website for a full 2023 schedule.
05
You can explore Congress Heights
One of DC's emerging neighborhoods, Congress Heights is ripe for exploration either before or after a Mystics game. In addition to the Entertainment and Sports Arena, which also hosts concerts, the neighborhood offers Gateway DC, THE ARC, the Congress Heights Arts & Culture Center and food options. Make it a whole day and plan your excursion.