You are here
The Best Things to Do at Washington Nationals Winterfest
The Best Things to Do at Washington Nationals Winterfest
The World Series celebration continues with this baseball extravaganza at Nationals Park
Fans of all ages can catch World Series champion players, coaches and mascots at the 2020 Nationals Winterfest on Jan. 11 and 12 at Nationals Park. From meet-and-greets to baseball-themed activities and games, fans won't want to miss this fun-filled two-day event. In anticipation of this year's Winterfest, we've compiled a list of all the best activities and things to do. For more information and to purchase tickets, check out the Nationals' Winterfest website.
1
Player Photo Stations

At Winterfest, fans will have the opportunity to meet their favorite players while posing for a picture at the player photo stations. Take the perfect photos for your social media feed.
2
Winterfest Main Stage

The Winterfest Main Stage will feature a variety of entertainment, from interviews with players, coaches and front office staff to interactive games. Lucky fans will get to play games on stage with their favorite players!
3
The Kids Zone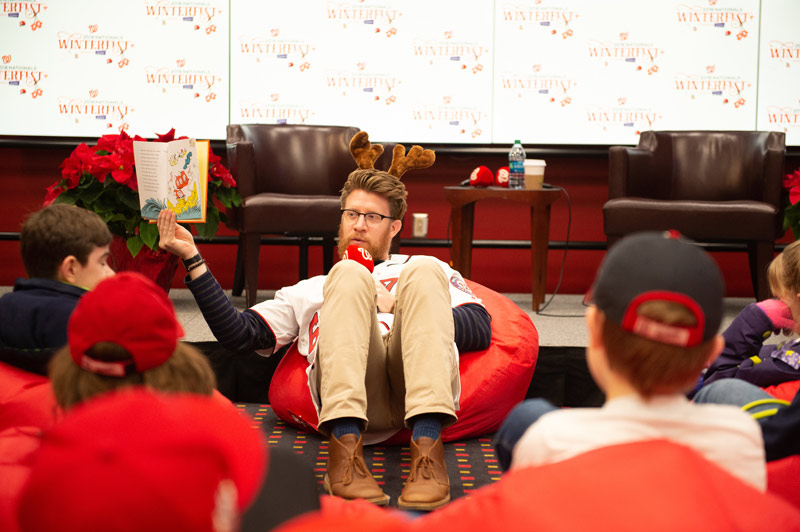 Winterfest features a designated area for younger fans with an array of activities, including the popular Rookie Steal Home Challenge. Young Nats fans can also listen to a story read by their favorite player during Kids Story Time and ask their favorite players and coaches questions at the Kids Press Conference.
4
Clinics for kids at the Nationals Youth Baseball Academy Station

Coaches and players will be at the Youth Baseball Academy Field, where they will lead clinics and play baseball games with younger fans (ages 6-12).
5
Hit in the Nationals' batting cages

Channel your inner slugger and swing for the fences at the Nationals team batting cages. You'll have your friends and family thinking you're the next Howie Kendrick or Juan Soto.
6
World Series swag shopping

Looking for World Series champion jerseys, sweatshirts, hats, t-shirts and a variety of other official MLB apparel to celebrate the Nats' first title? You're in luck. The Nationals Team Store will be open at Winterfest for you to stock up on everything you need for the 2020 season.
Ticket information for 2020 Spring Training at FITTEAM Ballpark of the Palm Beaches and the 2020 regular season can be found at nationals.com/tickets.
7
Curling, anyone?

Try your hand at a new sport with the Winterfest Curling Rink. Yep, you'll be able to play a winter sport at a baseball-themed event. You may even end up competing against a Nationals player!
8
Snap a photo with Nationals mascots

Players and coaches aren't the only ones allowed to get in on photo-taking fun with fans. The Racing Presidents and Screech will also be around to pose with you and your whole crew.
Buy your tickets early; the price will increase at the door! Visit nationals.com/winterfest for more information. And for more cold-weather fun, discover the best things to do in Washington, DC this winter.