The iconic memorial built to honor the 16th U.S. president is a must-see for every visitor to the nation's capital.
Don't miss the March on Washington on Aug. 26, which will honor the 60th anniversary of Martin Luther King, Jr.'s famous "I Have A Dream" speech given at the Lincoln Memorial.
Experiencing the Lincoln Memorial
The grand Lincoln Memorial towers over the Reflecting Pool, anchoring the western end of the National Mall. The best way to approach the memorial is from the east, by the Washington Monument and the National World War II Memorial. This will put you at the edge of the Reflecting Pool, a shimmering expanse which best illuminates the grand structures honoring our most storied leaders.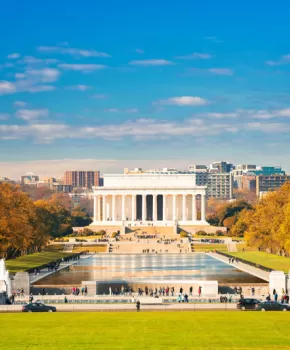 Fall Foliage at the Lincoln Memorial on the National Mall - Monuments in Washington, DC
Take a stroll toward the memorial and watch as it gradually gets larger. When you stand directly in front, gaze at the handsome marble columns surrounded by greenery, part of a design inspired by ancient Greek temples. There are 36 columns, each one representing one state in the U.S. at the date of President Lincoln's death. The memorial itself is 190 feet long and 119 feet wide, and reaches a height of almost 100 feet.
Climb the stairs leading to the interior, and look up. There, etched into the wall, is a memorable quote: "In this temple, as in the hearts of the people for whom he saved the Union, the memory of Abraham Lincoln is enshrined forever."
Below the quote sits a 19-foot tall, 175-ton statue of President Lincoln, himself looking out over the Mall of the country that he fought so hard to preserve and unite. The statue was designed by Daniel Chester French, who worked to depict Lincoln during the Civil War, stately and dignified. Interestingly, though the memorial was approved decades earlier, construction did not begin until 1914, and the memorial opened to the public in 1922.
To the left of the statue is Lincoln's great speech, the Gettysburg Address, one of the most famous in U.S. history. Every single word of the address is etched into the wall to inspire Americans just as it did in 1863. To the right is the entire Second Inaugural Address, given in March of 1865 — mere months before Lincoln's death.
Lincoln Memorial hours and directions
The Lincoln Memorial is open 24 hours a day, every day of the year. Rangers are on duty from 9:30 a.m. to 10 p.m. daily. The easiest way to reach the Memorial is by Metrorail or Metrobus. The nearest Metro stations are Foggy Bottom and Smithsonian, both on the Orange, Blue and Silver lines. If traveling by Metrobus, take the 32, 34 or 36 routes. Capital Bikeshare also has a dock nearby, on Daniel French Drive SW.