Read books about DC or notable titles from authors with ties to the District.
If you love a good story and you love the nation's capital, check out our list of DC-related books and scribes. You'll notice a wide range of genres and topics, from political thrillers to poetry sensations, and they'll keep your brain on its proverbial toes. Where to pick up all this literary content: There are many charming independent bookstores in DC, including Kramerbooks, Capitol Hill Books, Mahogony Books, Politics and Prose, Second Story Books and East City Books (many offering online shopping with shipping). If you're more of a digital book reader, tap into the DC Public Library's collection, or use the Libby app. Happy reading!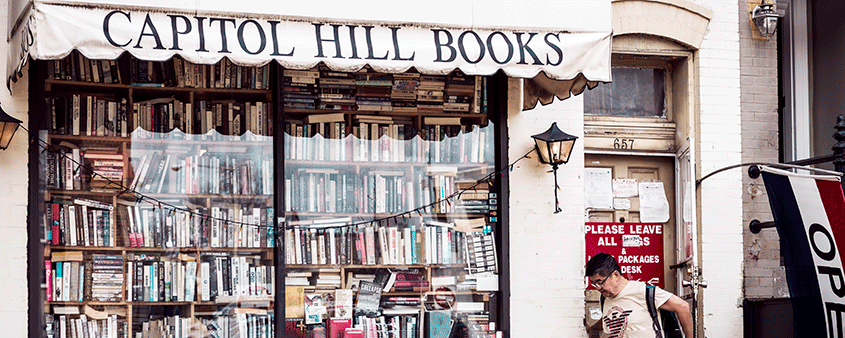 ---
The Lost Symbol by Dan Brown
This complex story weaves secrets and truths together amid the hidden tunnels, chambers and temples throughout Washington, DC. A thrilling page-turner crafted with history, intelligence and symbolism at its center, this novel will keep you on your toes.
 
Monday's Not Coming by Tiffany D. Jackson
Howard University alum Tiffany D. Jackson based her fictional thriller Monday's Not Coming in Washington, DC. The page turner takes you through the day-to-day life of young Claudia Coleman as she struggles with the disappearance of her best friend.
 
The Short Drop by Matthew FitzSimmons
This political mystery novel penned by a Washington, DC resident will keep you guessing throughout. Matthew FitzSimmons details the adventures of Gibson Vaughn, a well-known hacker, as he solves a high-profile missing persons case in The Short Drop.
 
The Collected Poems of Langston Hughes
Langston Hughes, one the most influential and important poets of the 20th century, worked as a busboy at DC's Wardman Park Hotel before his rise to fame. DC's bookstore and restaurant chain, Busboys & Poets, is a reference to Hughes and his incredible accomplishments. This collection serves as an outstanding introduction to the icon and his work.
 
When Washington Was in Vogue by Edward Christopher Williams
Edward Christopher Williams was the first African-American librarian in the United States and spent 13 years as the head librarian of Howard University. His 1920s epistolary novel When Washington Was in Vogue follows a young scholar living amongst black socialites and navigating the Roaring Twenties.
 
Less by Andrew Sean Greer
This Pulitzer Prize-winning novel was written by DC-area native Andrew Sean Greer. Less combines a love story and a comedy as you follow fictional author Arthur Less and his world travels during a midlife crisis.
 
Seabiscuit: An American Legend by Lauren Hillenbrand
DC-native Lauren Hillenbrand wrote the quintessential biography on Seabiscuit, one of the most accomplished racehorses to ever live. The book was adapted into an acclaimed film in 2003.
 
The Beautiful Things That Heaven Bears by Dinaw Mengetsu
This novel details the struggles and friendships of an Ethiopian immigrant in Washington, DC. The author, Dinaw Mengetsu, was born in Addis Ababa, Ethiopia and received his Bachelor of Arts in English from Georgetown University. Learn more about Ethiopian culture in Washington, DC by checking out our Discover the Real DC series with Abai Schulze.
 
George Pelecanos books
George Pelecanos is a DC local who has written 18 crime fiction novels set in his hometown, each featuring his unmistakable eye for detail. We recommend starting with his DC Quartet series.
 
The Beat: Go-Go Music from Washington, DC by Charles C. Stephenson Jr. and Thomas Sayers Ellis
If you didn't know, now you know: Go-go is the official music of Washington, DC. The Beat: Go-Go Music from Washington, DC explores how this genre came to be and the resulting impact on the city. Learn more about go-go by watching this video featuring DJ Stylus and Christylez Bacon.
 
The Bowl is Already Broken by Mary Zuravleff
DC resident Mary Zuravleff focuses on the light-hearted drama that comes with Promise Whittaker's position as director of a Smithsonian museum. Zuravleff is the founder of NoveltyDC, which offers coaching and consulting services to aspiring writers.
 
Frank Marr Book Series by David Swinson
This action-packed three-part series was written by a former DC police detective. The character in question is Frank Marr, who, over the course of the series, works as both a detective and private investigator. Expect noir-style thrills.
 
The Great Society Subway: A History of the Washington Metro by Zachary M. Schrag
Calling all transit connoisseurs! Learn about the creation of DC's Metro system. This book is sure to help you return to your daily commute with a fresh perspective.
 
City of Trees by Melanie Choukas-Bradley
Did you know that DC is nicknamed the "city of trees"? Order a copy of this Melanie Choukas-Bradley book and you will learn all about how the nation's capital received this distinction. You can hear even more from the author and naturalist about DC's green spaces in our Discover the Real DC video series.
 
The Hidden Hand by Mrs. E.D.E.N. Southworth
E.D.E.N. Southworth was raised in Washington, DC in the 19th century and has more than 60 novels to her name, including The Hidden Hand, her most popular work. The story details the trials and tribulations of living in post-Civil War America.
 
Murder in the White House by Margaret Truman
The daughter of President Harry S. Truman and an alumna of George Washington University, Margaret Truman performed concerts, worked as a journalist and served as a radio host before she settled in as an author. Murder in the White House is the beginning of an exciting series of mystery novels.
 
The Exorcist by William Peter Blatty
A popular novel based on a true story, The Exorcist tells the tale of the demonic possession of an 11-year-old girl in DC and the overwhelming, terrifying rescue of her soul. The famous 1973 film adaptation features familiar DC scenes, including parts of Georgetown University's campus and the famous "Exorcist stairs".
 
The Butter Did It + Murder on the Gravy Train + Who's Afraid of Virginia Ham? by Phyllis Richman
Bon appetit! These culinary crime novels are based in DC and serve up some serious literary genius. Former Washington Post food critic Phyllis Richman will keep you on your toes and ready for more as you devour the trilogy.
 
The Diplomat's Daughter by Karin Tanabe
This book transports readers back to the 1940s and includes touching moments of perseverance, resilience and love. A resident of our nation's capital, author Karin Tanabe's work has also appeared in The Washington Post.
 
With the Fire On High by Elizabeth Acevedo
DC resident and George Washington University alumna Elizabeth Acevedo is a celebrated, award-winning author. Her novel With the Fire on High takes readers on a journey of passion and possibility, and the challenges that come when balancing responsibilities, priorities and lifelong dreams. The book is a DC Library virtual book club choice.
 
The Secret Architecture of Our Nation's Capital by David Ovason
Author David Ovason dives into the complexities of DC architecture and the many symbols that are hidden throughout its buildings. Astrology lovers and zodiac enthusiasts will find this compendium fascinating.

Dream City by Harry S. Jaffe and Tom Sherwood
Written by two highly reputable DC journalists, this authoritative look at local politics paints a decades-long picture of the city with striking detail.