Explore facts about how DC is leading the way in sustainable initiatives and reducing greenhouse gas emissions.
Washington, DC has unparalleled accessibility to the outdoors with 250,000 acres of parkland across the greater Washington metropolitan area, 70 percent of which is controlled by the National Park Service. It also happens to be the #1 city for public transport, according to SmartAsset and WalletHub in 2018. With the city's vast number of national parks and walkability, it's no surprise it leads in sustainability. Read on to learn 25 lesser known green facts about the nation's capital.
1. Washington, DC is the 1st LEED Platinum City in the World, according to the U.S. Green Building Council (USGBC).
2. The Clean Energy DC Act, passed in December 2018, is the nation's first 100 percent renewable energy bill and the most aggressive, fastest-acting climate change legislation in the country.
3. DC's Department of Energy and Environment (DOEE) is the leading authority on energy and environmental issues and employees approximately 300 engineers, biologists, toxicologists, geologists and environmental specialists.
4. With 7,800 acres of parkland, the District has the most park space among the most populous cities in the U.S. (DOEE).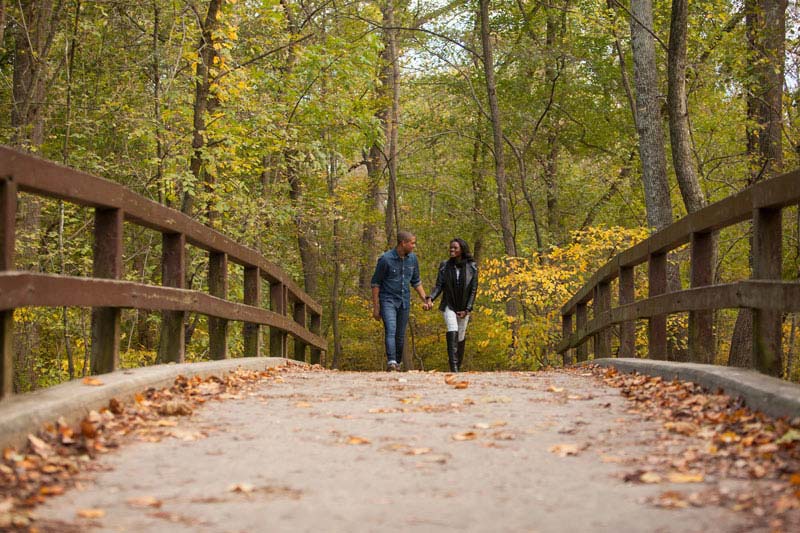 5. The city has more LEED-certified buildings than any other city in the U.S. (USGBC).
6. Washington, DC is the first city in the nation to pass a law, the Green Building Act of 2006, requiring green building certification for both the public and private sectors (DOEE).
7. In 2022, Washington, DC was ranked #5 Greenest City in America by WalletHub.
8. The Washington Nationals ballpark is the country's first LEED Silver certified ballpark (USGBC).
9. Thirty-five associations, policy groups and advocacy organizations in the metro area focus on sustainability.
10. The Walter E. Washington Convention Center is a green facility, with earth-friendly features like low emission glass that controls heat and maximizes natural lighting; energy-conserving heating, ventilation and air conditioning systems that operate in zones; high-efficiency lighting; automatic controls on restroom fixtures; plus recycling programs and easy public transportation access.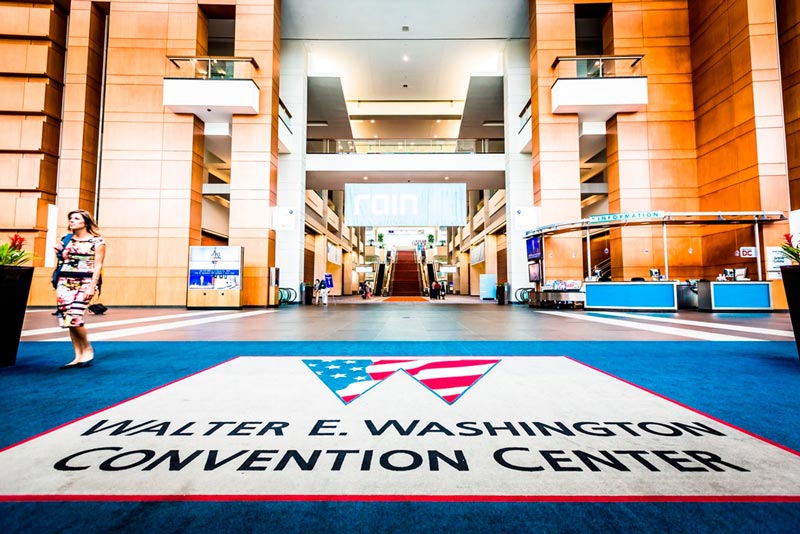 Walter E. Washington Convention Center
11. Washington, DC is part of the C40 initiative, a grouping of 90+ cities around the world dedicated to finding evidence-based and bold climate action solutions.
12. Mayor Muriel E. Bowser is a member of the Global Covenant of Mayors for Climate & Energy, a global coalition of city leaders addressing climate change by pledging to cut greenhouse gas emissions and prepare for the future impacts of climate change.
13. American Geophysical Union's 62,000-square-foot headquarters is the first-ever net zero energy renovation of an existing building in DC and a prime example of DC's walkability as it hosted 28,000 attendees for its 2018 fall meeting without using a shuttle.
14. The Sustainable Purchasing Program assists local agencies in procuring products and services that are high-performing, affordable and minimize their negative environmental impact.
15. Through the Sustainable DC Plan, the District has committed to sending zero waste to landfill and reducing waste generated by 15% by 2032.
16. In 2021, 22 businesses and three universities in DC were awarded for being bicycle-friendly communities (The League of American Bicyclists).
17. Washington, DC is the first jurisdiction in North America to launch a bike-share system, which now has more than 4,000 bikes and 500 stations.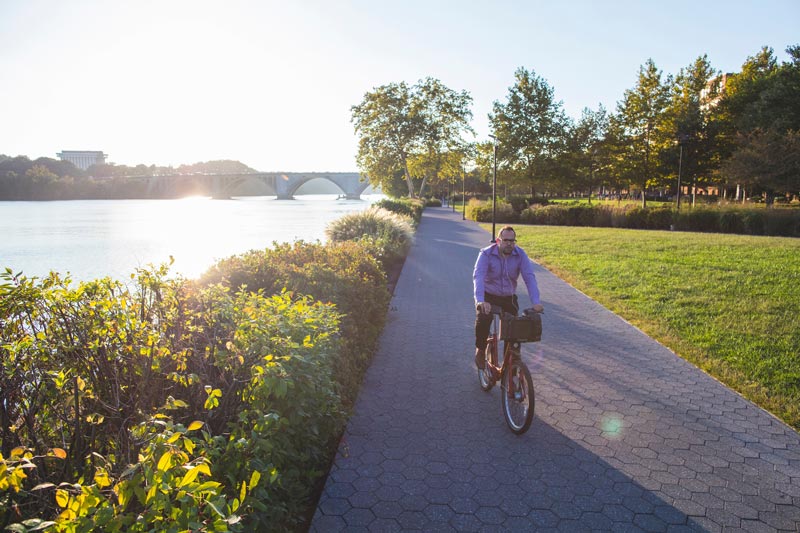 Man commuting on Capital Bikeshare bike from work - Transportation options in Washington, DC
18. Fifty-eight percent of commuter trips in DC are by bike, walking or public transit and the DC government is 100 percent powered by renewable energy (USGBC).
19. In Washington, DC, more than 1,400 buses operated by the Washington Metropolitan Area Transit Authority (WMATA) run on alternative fuel that is less harmful to the environment.
20. Seven local universities have significant credentials in sustainability from courses offered to connections to industry and key policy institutes.
21. USGBC, creator of LEED, is one of dozens of environmental agencies headquartered in DC.
22. Thirty-five associations, policy groups and advocacy organizations in the metro area focus on sustainability.
23. There are over twenty domestic and international sustainable startups in the metro area such as Clean Choice Energy and Arcadia Power.
24. In January 2010, the District encouraged residents to use more reusable bags by implementing a five-cent charge for each disposable paper or plastic carryout bag purchased at a business selling food or alcohol. The majority of the proceeds from the fee benefit the new Anacostia River Clean Up and Protection Fund.
25. In January 2019, the District implemented fines for single-use plastic straws and stirrers and Mayor Bowser continues to support "Our Last Straw," a coalition of businesses, environmental organizations and residents seeking to eliminate the use of single-use plastic straws.
26. More than 140 miles of bike lanes and paths, are the forefront of Washington, DC's dedication to building an environmentally conscious city (Obviously DC). 
27. Washington, DC has the best park system in the nation (Trust for Public Land ParkScore® Index, 2019). 
28. In 2020, DC earned the number 1 spot on the American Fitness Index's rankings of the nation's top 100 cities with access to farmer's markets.
From reducing greenhouse gas emissions to supporting clean energy innovation, check out why DC is a top destination for green meetings. To read the full report on Best Cities for Public Transportation by SmartAsset, visit their page.