Explore facts about how DC is leading the way in sustainable initiatives and reducing greenhouse gas emissions.
Washington, DC has unparalleled accessibility to the outdoors with 250,000 acres of parkland across the greater Washington metropolitan area, 70 percent of which is controlled by the National Park Service. It also happens to be the #1 city in the U.S. for LEED-certified buildings. With the city's vast number of national parks and walkability, it's no surprise it leads in sustainability. Read on to learn 41 green facts about the nation's capital.
LEED Leader and Sustainable Steward
1. Washington, DC is the 1st LEED Platinum City in the World, according to the U.S. Green Building Council (USGBC).
2. The city has more LEED-certified buildings than any other city in the U.S. (USGBC).
3. Washington, DC ranks highest for sustainable buildings in the U.S. for 2022. The city has outpaced the rest of the country in LEED-certified square footage per capita every year since 2010, the earliest available ranking from USGBC. 
4. The Washington Nationals ballpark is the country's first LEED Silver certified ballpark (USGBC). 
5. Washington, DC is part of the C40 initiative, a group of 90+ cities around the world dedicated to finding evidence-based and bold climate action solutions.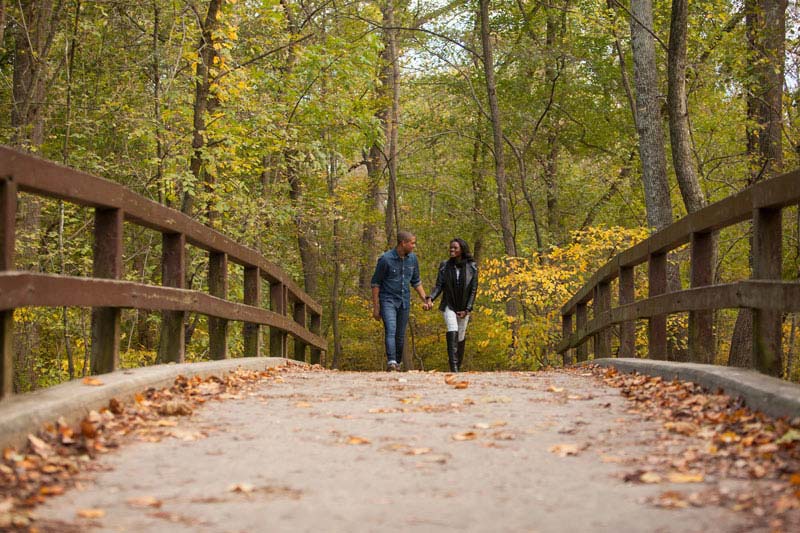 6. Mayor Muriel E. Bowser is a member of the Global Covenant of Mayors for Climate & Energy, a global coalition of city leaders addressing climate change by pledging to cut greenhouse gas emissions and prepare for the future impacts of climate change.  
7. USGBC, creator of LEED, is one of dozens of environmental agencies headquartered in DC.
8. In 2022, Washington, DC was ranked the 5th Greenest State in the United States (WalletHub).
9. In 2022, DC ranked the third most "future-focused" city in the nation based on eight sustainability metrics (FinanceBuzz).   
10. The American University is the first urban campus in the United States to achieve carbon neutrality (2018). Seven local universities have significant credentials in sustainability from courses offered to connections to industry and key policy institutes. 
11. Washington, DC is the #2 U.S. city with the most ENERGY STAR certified buildings as of 2022. ENERGY STAR is the government-backed symbol for energy efficiency.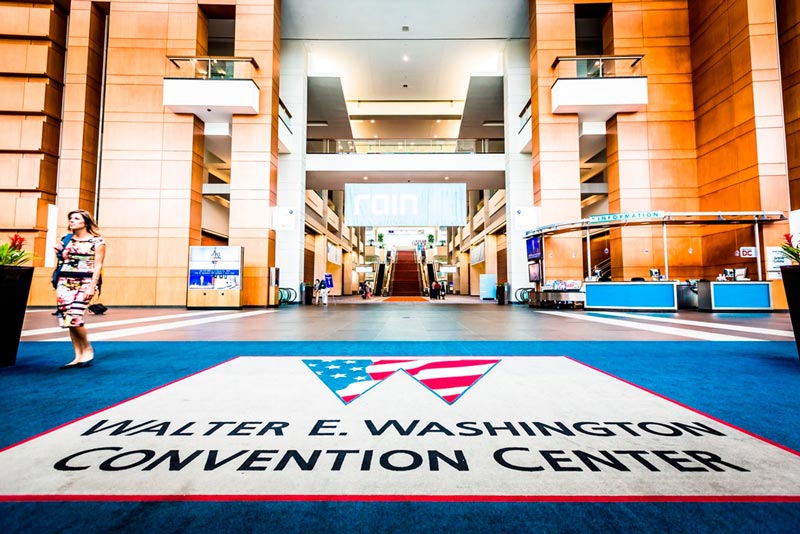 Walter E. Washington Convention Center
12. Thirty-five associations, policy groups and advocacy organizations in the metro area focus on sustainability. 995+ organizations throughout Greater Washington advocate for environmental issues. 
13. In 2020, DC earned the number 1 spot on the American Fitness Index's rankings of the nation's top 100 cities with access to farmers' markets. 

Green Places and Spaces
14. In 2022, Washington, DC ranked the #1 parks system in the country by the Trust for Public Land. 
15. With over 5.7 million square feet of green roofs installed, the District is one of the top cities for green roofs, which provide stormwater management, cooling and more. 
16. With 7,800 acres of parkland, DC has the most park space among the most populous cities in the U.S. (DOEE) 
17. The Wharf development is designed to achieve Gold certification for LEED Neighborhood Development; all individual buildings are targeting LEED Gold or Silver certification in 2023.

Sustainable Programs and Projects
18. The District is the first city in the country to establish a Green Bank, which funds projects that expand renewable energy, reduce emissions and create green jobs.
19. Home to the American Hotel & Lodging Association (AHLA), Washington, DC hosted the inaugural Responsible Stay Summit in the District in April 2023. AHLA ensures that hotels across the industry are incorporating sustainability as part of their story. (responsiblestay.org)
20. In 2022, the city broke ground on an electric bus-only facility that will support zero-emission buses when it opens in 2027. The city's first electric buses begin operating in 2023.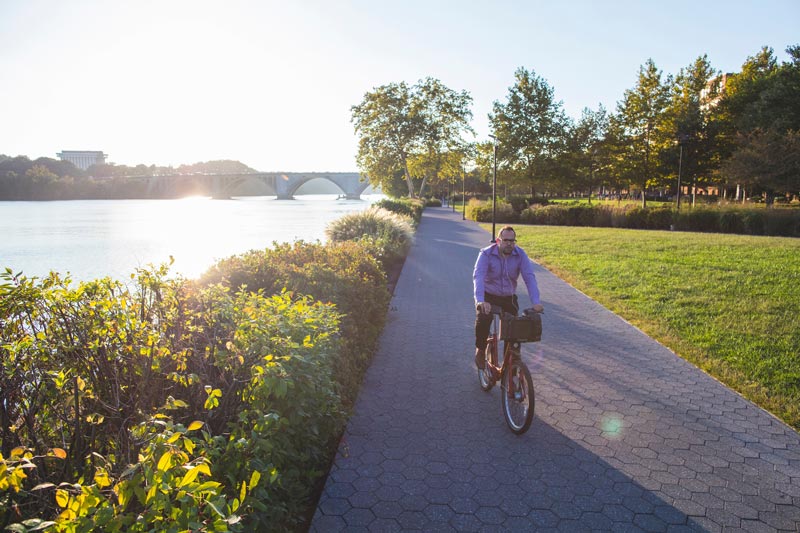 Man commuting on Capital Bikeshare bike from work - Transportation options in Washington, DC
21. Through the Sustainable DC Plan, the District has committed to sending zero waste to landfill and reducing waste generated by 15% by 2032. 
22. More than 13,470 trees were planted in the city as of October 2021.
23. When viewed from above, 37 percent of Washington, DC is covered by trees creating a canopy that brings cooler temperatures on summer days in Rock Creek Park.  
24. In 2022, DC certified 115 green building projects, comprising 31,759,516 square feet. That's more projects and more square feet than all but three states: New York, California and Texas.  
25. USGBC DC Water's Blue Plains Advanced Wastewater Treatment Plant is the largest plant of its kind in the world. On an average day, the facility treats close to 300 million gallons of wastewater and can treat over 1 billion gallons a day at peak flow. 
26. The Walter E. Washington Convention Center is a green facility, with earth-friendly features like low-emission glass that controls heat and maximizes natural lighting; energy-conserving heating, ventilation and air conditioning systems that operate in zones; high-efficiency lighting; automatic controls on restroom fixtures; plus recycling programs and easy public transportation access. In 2022, the Center earned the WELL Healthy-Safety Rating and GBAC Star recertification. 
27. The DC Water headquarters building, known as HQO, became the first new office building in North America to use wastewater thermal exchange systems to heat and cool the building when it opened in 2019.  
28. American Geophysical Union's 62,000 square-foot headquarters is the first-ever net zero energy renovation of an existing building in DC and a prime example of DC's walkability as it hosted 28,000 attendants for its 2018 fall meeting without using a shuttle. 
29. The largest green roof in DC is the Smithsonian Gardens' Enid A. Haupt Garden. The National Museum of Asian Art, the National Museum of African Art and several other buildings are underneath.
 
Transportation Forward
30. Washington, DC is the first jurisdiction in North America to launch a bike-share system which now has more than 7,000 bikes, 1,000 electric bikes and more than 700 Capital Bikeshare stations. The city currently offers 30 miles of protected bike lanes.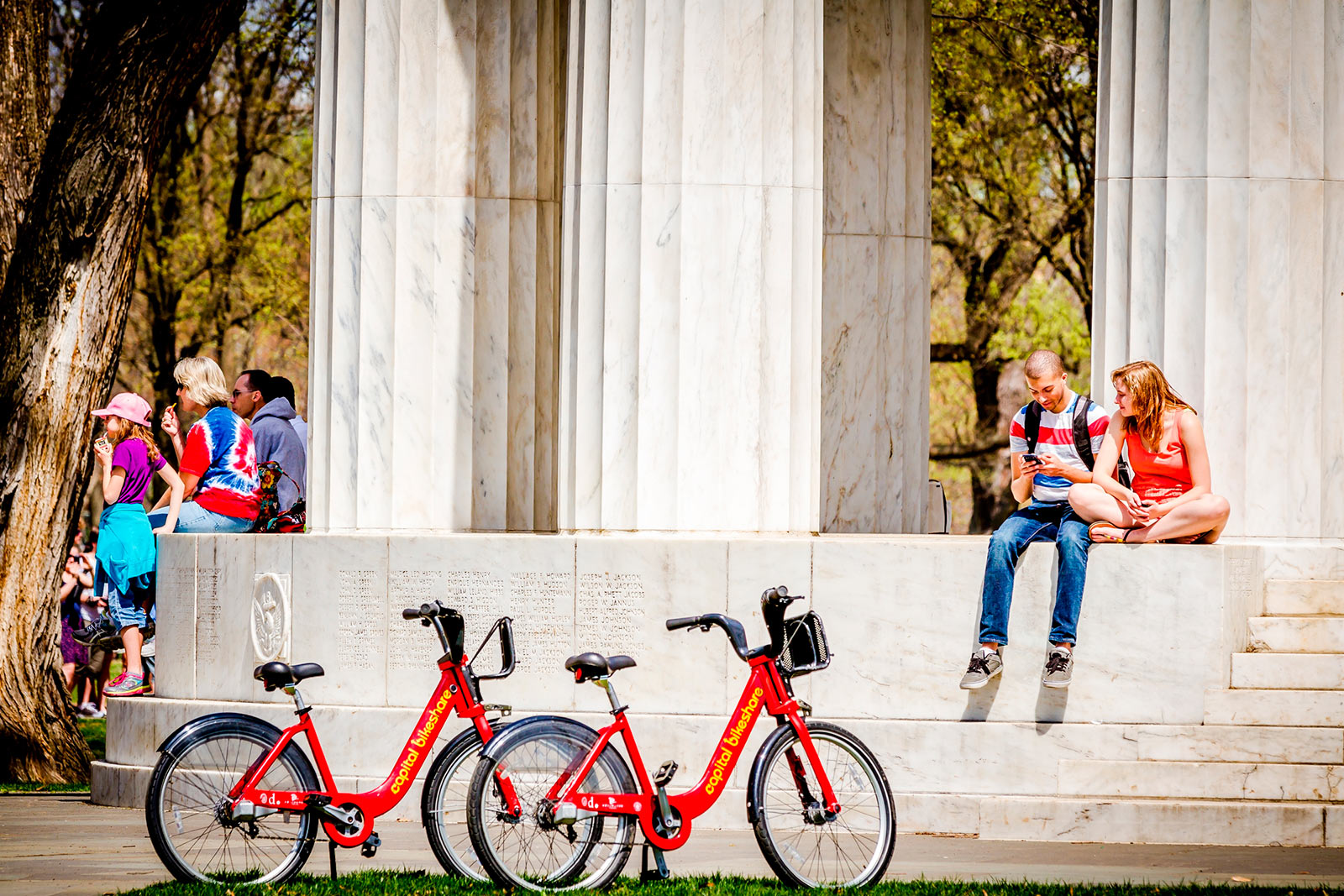 Couple with Capital Bikeshare Bikes at DC War Memorial - Washington, DC
31. In 2021, 22 businesses and three universities in DC were awarded for being bicycle-friendly communities (The League of American Bicyclists).
32. Forty-eight percent of commuter trips in DC are by bike, walking or public transportation and the DC government is 100 percent powered by renewable energy (USBGC).
33. In Washington, DC, 90 percent of the Metrobus fleet consists of hybrid electric vehicles or vehicles that use alternative fuels, such as compressed natural gas that is less harmful to the environment. 
34. DC is the 5th most transit-friendly, 6th most walkable and 8th most bike-friendly city in the U.S. as of 2022 (Walk Score).
35. The city's 700 Capitol Bikeshare stations across the metro region as of 2023, put over two-thirds of the District's population within a quarter mile of a station. 
36. Washington, DC offers the 3rd best public transportation in the U.S. in cities with a population of more than 250,000 (All Transit).

Energy Saver
37. The Clean Energy DC Building Code Amendment Act of 2022 requires all new construction or substantial improvements of covered buildings, including commercial buildings, to be constructed to a net-zero-energy standard, beginning on January 1, 2027. 
38. DC's Department of Energy and Environment (DOEE) is the leading authority on energy and environmental issues and employs approximately 300 engineers, biologists, toxicologists, geologists and environmental specialists. 
39. As of 2020, DC has cut its citywide carbon footprint 31 percent since 2006, (DOEE).

Equity=Sustainability
40. After passing of the Racial Equity Achieves Results ACT (REACH Act) in 2020, DC became one of a select few jurisdictions in the country with broad-reaching legislation to address racial equity. 
41. The DC Solar Expansion Act of 2022 ensures the continued growth of solar across all eight wards of the city. It will increase the region's commitment to using solar power to achieve the city's goals of 100% renewable energy by 2032 and carbon neutrality by 2050. 
 
From reducing greenhouse gas emissions to supporting clean energy innovation, check out why DC is a top destination for green meetings. To read the full report on Best Cities for Public Transportation by SmartAsset, visit their page.