You are here
Breweries to Check Out In & Around Washington, DC
Breweries to Check Out In & Around Washington, DC
The local craft beer scene is bubbling up, so don't miss out on Washington, DC's best breweries and brewpubs.
When you're looking for a cold one, look beyond the big beer producers and taste something distinctly DC. Frosty, frothy, heady, hoppy, sour – whatever your preference, you can find it at any of these local breweries. Read on to explore the best breweries in and around DC, discover brewery tours and much more.
1
3 Stars Brewing Company
It all began with a homebrew kit from his girlfriend. Now, Mike McGarvey and his business partner Dave Coleman have taken their passion for brewing to the big leagues with 3 Stars Brewing Company. Officially launched in 2012 with the release of its Pandemic Porter, 3 Stars has dozens of beers on tap throughout the DC region (including Nationals Park). You can visit the brewery for a tour on Saturdays at 2 p.m., 3 p.m. and 4 p.m., or go for a growler Tuesday through Sunday.
2
DC Brau Brewing Company
Founders Jeff Hancock and Brandon Skall took the DC craft beer game to the top shelf by opening DC's first packaging brewery since 1956. Brewing and canning in Northeast since 2011 with brews such as The Public (American Pale Ale), The Corruption (a take on Pacific Northwest IPAs) and The Citizen (Belgian Ale), DC Brau is one of the fastest-growing breweries in the U.S. And even though the brewery may be busy, it takes a breather every Saturday afternoon from 1-4 p.m. to offer beer lovers free tours (closed-toe shoes required). The brewery is open Thursday through Sunday and offers pints and growlers for sale.

3
Right Proper Brewing Company – Shaw Brewpub & Brookland Production House
Located a stone's throw from the Howard Theatre in the historic Shaw neighborhood, Right Proper's Shaw Brewpub is all about creating a cozy brewpub for locals. Three friends conjured up the brewery/restaurant and they claim to be a brewery first, but you'd be fooled by its food menu, flush with coveted (and affordable) eats. That's right, the brewery wanted to make sure dining out and drinking in wouldn't break the bank, and they've succeeded. You can wash down a Southern-style fried chicken sandwich on brioche with suds from any of the eight rotating in-house taps. And don't miss out on the group's Brookland Production House & Tasting Room, which is open every day of the week and allows you to bring in your own food. Free tours of the brewery are offered on weekends at 2 p.m., 4 p.m. and 6 p.m.
4
District ChopHouse & Brewery
A favorite pre-game and post-game spot for Washington Capitals and Wizards games, District ChopHouse is more steakhouse than brewery. Order up its signature stack of huge onion rings, and keep a heady brew at hand, from the crisp light lager to the dry-hopped IPA or the caramel-y nut brown ale. Weekday happy hour runs from 4-7 p.m., when it costs $4 for a handcrafted brew.
5
Red Bear Brewing Co.
The District's only 100 percent gay-owned brewery is one of the newest addition to the city's local craft beer scene. Red Bear's three founders all met in Seattle before moving to DC, and the Pacific Northwest vibes are on full display from the homebrewed suds to the massive 7,000 square-foot space in NoMa. The industrial chic spot adorned with Edison bulbs and reclaimed wood pours hoppy West Coast IPAs, creative ales and a number of other brews catering to all preferences on a menu with plenty of personality and jokes. The family-friendly brewery (yes, kids are allowed) also features board games and a stage for live music.
6
Bluejacket
As the brewing brainchild of Neighborhood Restaurant Group, famed beer director Greg Engert conceptualized Bluejacket to provide beer lovers with an expansive range of lagers and ales. Bluejacket's impressive list of 20-plus beers and five cask brews (think: sours, saisons, blondes and more) are on full display in the 5,600 square-foot building that once operated as a boilermaker. The offerings there buck the macrobrew trend and are innovative, full-flavored and sometimes the result of collaboration with brewers from around the country.
7
Hellbender Brewing Company
The story of Hellbender is a story about two home brewers who could. Co-founder Patrick Mullane, a former Hill politico, and head brewer Ben Evans, a neuroscience geek, teamed up to take their side alley brewing project mainstream. Hellbender focuses on environmentally friendly pours. Its flagship beers include the German-style Bare Bones Kolsch, the citrus-y Ignite IPA and the floral Red Line Ale. Free brewery tours run at 3 p.m. and 5 p.m. on Saturdays, when Hellbender also hosts local food trucks (outside food is also permitted).
8
Gordon Biersch Brewery – Navy Yard
This popular brewery makes for a great place to grab brews and bites before a Nationals baseball game or as a refreshing stop during a day spent exploring the happening Capitol Riverfront. All craft beers are brewed in-house and categorized based on flavor profiles – from light and refreshing to dark and roasted. An extensive menu includes popular bar fare, healthy options and a guide for which beers pair best with which dishes.
9
Atlas Brew Works
Justin Cox and Will Durgin met at Vanderbilt University as two thirsty engineering scholars with a discerning taste for beer. Years later, the duo formed Atlas Brew Works to bring beer back to the neighborhood. They've succeeded with their popular growlers to-go set-up and an ever-changing stable of boutique brews you'll find nowhere else. The brewery offers up flights and pints every day of the week and tours are available on Saturdays at 12 p.m., 2 p.m. and 6 p.m.
10
Capitol City Brewing Company
Capitol City Brewing Company
For a taste of history, step inside Capitol City Brewing Company, the first brew pub in the nation's capital. Classically honed since 1992, the core signature brews include the Prohibition Porter, Pale Rider Ale, Capitol Kolsch and the Amber Waves Ale – but be on the lookout for seasonal offerings, too. Post up at the massive round bar at the Penn Quarter outpost, hallowed brewing ground as it serves as the site where the brewery first opened.
11
The Public Option
This neighborhood brewpub near Brookland likes to keep things intimate and homey. The Public Option is small, and usually only open on Fridays and Saturdays – and owner Bill Perry wouldn't have it any other way. All drafts are brewed on site and typically feature three darker pours, two hoppy beers and two experimental brews. While the kitchen has a limited bar menu, the pub regularly teams up with local food trucks and chefs for pop-up events.
12
Port City Brewing Company
Operating just outside of DC, Port City Brewery is the first production brewery to open in Alexandria, Va. since Prohibition. The brewery tapped its first keg in 2011 and has been busy reviving the DC area's craft brew scene and peppering its trophy case with top medals (including the Great American Beer Festival's 2015 Small Brewing Company of the Year). The brewery offers tastings every day of the week and tours (tastings included) from Thursday through Sunday for $12. Growlers are at the ready – buy one there or bring your own to fill up with your favorite Port City brew.
13
Take a DC Brew Tour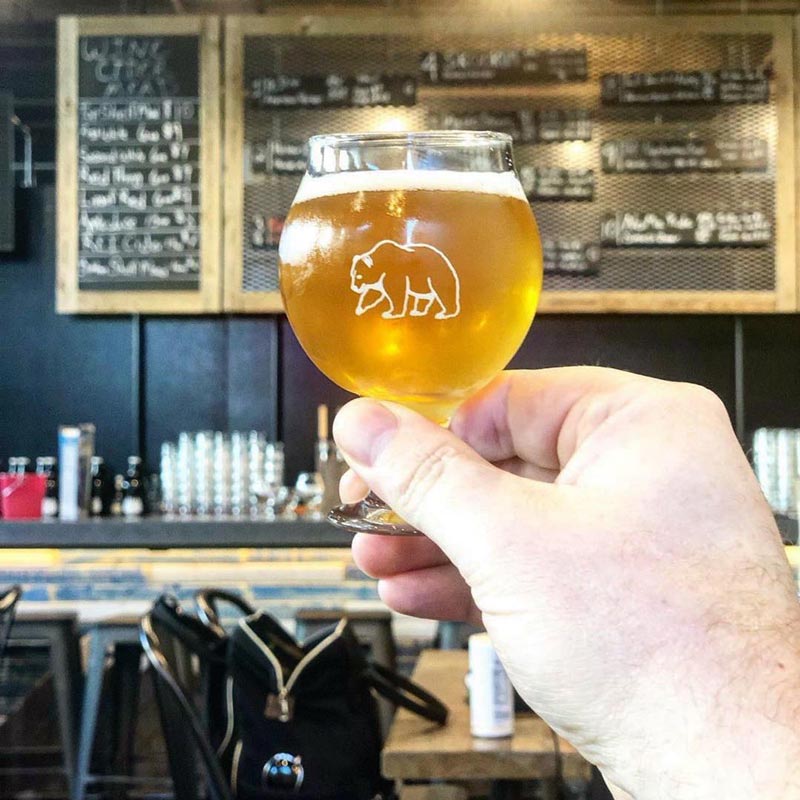 We've given you the lay of the land, but one of the best ways to get around to many of the breweries in one day is if you book a DC Brew Tour. Either go by day or after-hours, and taste as many as 12 (or more) beers at three breweries in five hours, all while being shuttled around the city. The experience comes complete with a food pairing and easy pick-up and drop-off. Note: wear closed-toe shoes, not sandals.

DC Brewery Map
Here's where to find Washington, DC's best breweries and brewpubs