You are here
40+ Concerts to Check Out This Fall in Washington, DC
40+ Concerts to Check Out This Fall in Washington, DC
Score tickets for these awesome acts performing at concert venues across the District this fall.
Alright, so, summer is over (or almost, anyway). We're disappointed. You're disappointed. But have no fear! Many of Washington, DC's amazing music venues will welcome dozens of great artists from numerous genres to their stages this fall.
Among these venues includes three new jam-worthy spots at The Wharf: the 6,000 person high-energy The Anthem, the cozy Americana-centric Pearl Street Warehouse and the indie-focused Union Stage. There are plenty of great concerts to see at these venues, and all over DC, during the upcoming season.
• • •
Capital One Arena
601 F Street NW, Washington, DC 20004
Drake with Migos – Sept. 12-13
Two of hip-hop's most popular acts will share a bill at Capital One Arena this September. The Drake and Migos pairing, promoted as "Aubrey & The Three Migos", is one of the most highly anticipated tours of the year, putting together one of pop music's most adored solo artists and a Georgia trio that has exploded into cultural relevance over the last few years. Get your tickets ASAP, as the fanfare will be high for this two-night visit.
7 p.m. | Tickets
• • •
Paul Simon – Sept. 14
One of the greatest American songwriters brings his Homeward Bound – The Farewell tour to the nation's capital for one night only this September. Since breaking onto the pop charts as one half of Simon & Garfunkel in the early 1960s, Paul Simon has written and released one timeless classic after another, from "The Sound of Silence" to "Kodachrome" to "You Can Call Me Al" and "Obvious Child". Prepare for an unforgettable evening with a musical legend.
8 p.m. | Tickets
• • •
Childish Gambino – Sept. 19
Childish Gambino, the stage name of Donald Glover, is one of the most creative artists currently working in music. Responsible for "This is America," which stands as one of 2018's most definitive statements through its timely subject matter and mind-bending music video, Gambino creates transcendent music that truly challenges the listener. Initially a rap project for Glover (who is also the creator of the groundbreaking FX series, Atlanta), Childish Gambino now uses funk, R&B and soul as the backbone to Glover's illuminating songs. Rae Sremmurd will serve as the special guest for this show at Capital One Arena.
7:30 p.m. | Tickets
• • •
Elton John – Sept. 21-22
Elton John's status as a legend has been cemented for more than 40 years. The singer/songwriter's stunning oeuvre includes songs that are woven into the fabric of modern popular culture. Now, the icon is embarking on his final world tour, which includes a two-night stay at DC's Capital One Arena. Hear decades upon decades of hits from one of pop music's all-time greats.
8 p.m. | Tickets
• • •
Maroon 5 – Oct. 2
With more than 75 million records sold, Maroon 5 stand as one of the most successful groups working in music today. The three-time Grammy Award-winning band, led by lead singer Adam Levine, will bring its Red Pill Blues Tour to Capital One Arena for an early October show that is sure to rock the house. The group's vibrant set will be filled with more than a decade of hits.
7:30 p.m. | Tickets
• • •
Phil Collins – Oct. 7
His career began as drummer and singer for Genesis, one of rock music's most captivating bands of the 1970s. Soon after, Phil Collins embarked on a solo career that saw him become a household name in the 1980s, accumulating more U.S. Top 40 singles than any other artist of the decade. Expect to hear some of those smash hits, a list that includes "In the Air Tonight" and "Sussudio", during Collins' concert at Capital One Arena on Oct. 7.
8 p.m. | Tickets
• • •
J. Cole – Oct. 8
J. Cole now has five albums that have reached the top of the Billboard charts to his name, an incredible accomplishment that few other artists can claim. The rapper, singer, songwriter and producer will bring an all-star cast with him to his performance at Capital One Arena, a crew that includes Young Thug, Jaden Smith, EarthGang and Kill Edward.
7:30 p.m. | Tickets
• • •
Josh Groban – Nov. 15
Adored by millions for his incredible vocals and uplifting songs, Josh Groban is one of America's most popular artists. Groban's talent has even taken him to television and Broadway. He'll touch down at the Capital One Arena in mid-November joined by special guest Idina Menzel, meaning two of the world's finest vocalists will be in the nation's capital on the same night.
8 p.m. | Tickets
• • •
9:30 Club
815 V Street NW, Washington, DC 20001
Car Seat Headrest – Sept. 20
This bedroom pop specialist emerged from Leesburg, Va. to become one of rock music's most intriguing acts, now suited for major venues such as the 9:30 Club. Car Seat Headrest, the pseudonym of Will Toledo, laces his music with raw emotion and guitars, weaving tales full of angst and humor, anthemic and relatable to all. After numerous self-released recordings, Matador put out Car Seat Headrest's Teens of Style in 2016, leading to overwhelming acclaim and launching Toledo's career into the stratosphere. Don't miss this fascinating artist's return to the DMV area.
7 p.m. | Tickets
• • •
Big Thief – Oct. 21
Big Thief's songs range from soft-spoken love letters to diaries of emotional turmoil, carried by the beautiful songwriting and vocal style of lead singer Adrianne Lenker. Each of their albums, Masterpiece and Capacity, have received glowing reviews. Even though 9:30 Club is no small venue, each Big Thief show feels intimate, so expect to feel up-close-and-personal to the Brooklyn group on Oct. 21.
7 p.m. | Tickets
• • •
Ty Segall – Nov. 13
One of the most prolific rockers will slow it down with this solo acoustic show at 9:30 Club. Ty Segall releases albums at a blistering pace, putting together jams that recall '70s hard rock, hardcore punk, metal and funk. However, the talented songwriter can also write one hell of a song on an acoustic guitar, as evidenced by 2014's fantastic Sleeper. This seated show will see Segall perform in a stripped-down style, but we imagine it will be no less captivating than one of his rock and roll sets.
7 p.m. | Tickets
• • •
Mitski – Nov. 17
At the age of 27, Mitski has already emerged as songwriting savant, penning odes to love, heartbreak, emotional and professional struggle and everything in between. Her latest release, Be the Cowboy, is already being praised as one of the best albums of 2018. With a voice pristine enough for opera and songs that can cut like a knife via barreling rock noise or just a simple piano line, an evening with Mitski will be a memorable one. Her Friday night (Nov. 16) show at 9:30 Club has sold out, so a Saturday night performance was added.
8 p.m. | Tickets
• • •
Wild Nothing – Nov. 18
Led by singer/songwriter Jack Tatum, who began the project while attending Virginia Tech, Wild Nothing has created lush indie pop that invokes the best of 1980s acts like Cocteau Twins, Kate Bush, Depeche Mode and New Order. Since emerging from his bedroom with the gem that is Gemini in 2010, Tatum has released a string of albums to wide acclaim and notoriety, with the new Indigo already earning hearty praise. The group will support the record with a set at 9:30 Club on Nov. 18.
7 p.m. | Tickets
• • •
Kurt Vile & The Violators – Nov. 30
Kurt Vile can write the softest of ballads, rife with emotion and personality. He can also make a kick-ass, road trip-appropriate tune that will blare from your speakers for years – and these can be back-to-back songs on the same album. He's one of indie rock's most interesting figures, and he'll take to the stage at 9:30 Club for a late-November show to what will most likely be a packed house.
8 p.m. | Tickets
• • •
Discover DC's music roots and how to experience it all when you're here with Rhome Anderson (aka DJ Stylus).

• • •
Mary J. Blige – Oct. 6
Commonly referred to as "The Queen of Hip-Hop Soul," Mary J. Blige has nearly three decades worth of hits under her belt, making her the perfect artist to open the new Entertainment and Sports Arena in Anacostia. A packed house will witness Blige, a Grammy Award winner and Oscar nominee, show off her powerful voice and chart-topping catalog. Jacob Banks will serve as the opening act.
Tickets
• • •
Cage the Elephant and Judah & The Lion – Oct. 13
Cage the Elephant are current torch-carriers for alternative rock, having built a career that now stretches across a decade. They're equally adept at loud jams, psychedelic journeys and acoustic ballads. They'll be joined by Judah & The Lion, who effectively blend folk and hip-hop into their own unique stew. This show will continue the celebration of Entertainment and Sports Arena's grand opening.
Tickets
• • •
Warner Theatre
513 13th Street NW, Washington, DC 20004
'American Idol: Live!' – Sept. 16
American Idol, one of the most successful TV shows of all-time, brings its stunning stage show to the illustrious Warner Theatre. You will have the chance to see some of the show's finest competitors perform, including Season 8 winner Kris Allen. Pop group sensation Forever In Your Mind will also take the stage.
7 p.m. | Tickets
• • •
Diana Krall – Oct. 9
Diana Krall has seven multi-platinum albums to her name, as well as three Grammy Awards. The world-class jazz singer has sold out venues all over the world, showcasing a voice suited to any era. The Warner Theatre will host Krall for one night only in October, the perfect, historic venue for an artist that will have an impact for generations.
8 p.m. | Tickets
• • •
Lindsey Buckingham – Oct. 19
Responsible for some of the most endearing and popular songs of all-time, including "The Chain" and "Go Your Own Way", Lindsey Buckingham has left an indelible impact on rock history as both a member of the legendary Fleetwood Mac and as a solo artist. He also happens to be one hell of a guitar player. You can enjoy his incredible catalogue and musical chops during this Warner Theatre performance.
8 p.m. | Tickets
• • •
Lincoln Theatre
1215 U Street NW, Washington, DC 20009
Blood Orange – Sept. 28
Dev Hynes performs as Blood Orange, creating adventurous pop songs that blend modern production styles with the classic '80s sounds heard on your parents' (or your own) Prince and Michael Jackson records, all coated in Hynes' soft and expressive vocals. Freetown Sound was one of the most critically acclaimed albums of 2016, while his newest, Negro Swan, is one of the most highly anticipated releases of 2018. Watch one of modern music's greatest talents do his thing on the Lincoln Theatre stage.
8 p.m. | Tickets
• • •
Lykke Li – Oct. 5
Swedish pop singer Lykke Li has experimented with all forms of the genre, making albums that incorporate elements of dance, electronic and dream pop music, all conveyed through her beautiful voice. She has dazzled American audiences ever since her debut LP, Youth Novels, received widespread acclaim in 2008. Lykke will perform at the prestigious Lincoln Theatre in support of her newest offering, so sad so sexy, released in June of this year.
8 p.m. | Tickets
• • •
Kamasi Washington – Nov. 10
Kamasi Washington is in the vanguard of modern jazz music, a saxophonist and band leader that challenges and engages his listeners through grand compositions and albums. The Los Angeles-based savant has released two critically acclaimed LPs: 2015's The Epic and this year's Heaven and Earth, each one packed with enough ideas to fill your head for days. Washington and his band will be able to stretch their musical muscles on stage at The Lincoln Theatre.
8 p.m. | Tickets
• • •
The Anthem
901 Wharf Street SW, Washington, DC 20024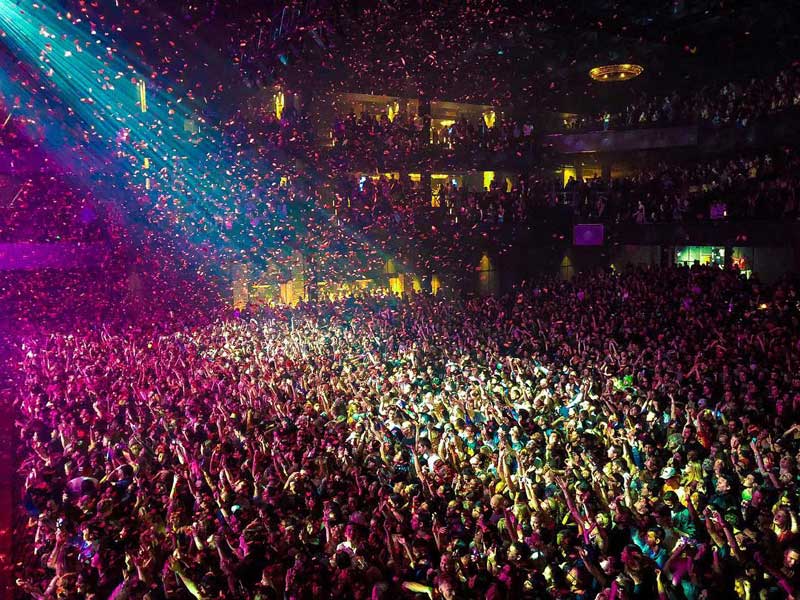 Mac Demarco – Sept. 5
Mac Demarco is 28 years old yet somehow an elder statesman in the realm of indie rock. His groovy, carefree tunes meld jazz, hip-hop, synth pop and funky guitars into a soothing mix of musical gold. Mac can also slow it down and rip off a sultry ballad as well. His onstage persona can be most simply described as "goofy". You'll chuckle and dance your way through this evening performance at The Anthem.
8 p.m. | Tickets
• • •
Future Islands – Sept. 28
Blending theatricality and synth-pop like few bands ever have, Future Islands are known for their breathtaking performances and epic songs that also manage to be danceable. Singer Samuel Herring is a show unto himself, contorting his vocals and body to create quite the spectacle on stage. Future Islands' soaring and powerful catalogue will be well-suited to The Anthem, where the Baltimore-based band will perform on Sept. 28.
8 p.m. | Tickets
• • •
Leon Bridges – Oct. 3
Rising from relative obscurity to the top of the Billboard charts, Leon Bridges is now a household name in R&B and pop music. Using the template of soul music and classic 1960s Motown tracks, Bridges emerged from Fort Worth, Tx. with the acclaimed Coming Home in 2015. Now, Bridges is touring in support of Good Thing, another enthralling collection of ballads and exercises in soul. The Anthem will host the beloved singer on the first Wednesday in October.
8 p.m. | Tickets
• • •
Florence + The Machine – Oct. 6
Led by vocalist Florence Welch and keyboardist Isabella Summers, Florence + The Machine reign as one of the foremost artists in England, and have also received widespread acclaim and fanfare in America. Bursting onto the scene with "Dog Days Are Over" in 2009, the group has only risen in prominence in the ensuing decade, creating an indelible mix of baroque pop, neo soul and art rock. The Anthem will be a perfect fit for one of their rousing performances.
8 p.m. | Tickets
• • •
Nine Inch Nails – Oct. 9-10
Trent Reznor, the founder and leader Nine Inch Nails, is one of the most visionary musicians of the past 30 years. Nine Inch Nails has combined pop songcraft with industrial, electronic and heavy metal sounds to create an immensely successful and fascinating discography, influencing an entire generation of artists in the process. They'll be joined by another hallmark group, The Jesus and Mary Chain, for a two-night stay at The Anthem in October.
7:30 p.m. | Oct. 9 Tickets | Oct. 10 Tickets
• • •
CHVRCHES – Oct. 18
CHVRCHES began as indie darlings but are now world conquerors, having spread their sound far and wide across the States and Europe. With synthpop songs that sound like candy but lyrics that cut to the core, the Scottish trio has etched out its own special space in pop music. Singer Lauren Mayberry has a voice that perfectly suits the electronic sounds and drum beats created by her bandmates, Iain Cook and Martin Doherty. Known for incredible live shows, The Anthem is a great venue for this group's singalong anthems. The show has sold out, so check the secondary market for tickets.
8 p.m.
• • •
Wu-Tang Clan – Nov. 1
Wu-Tang Clan has become synonymous with hip-hop itself, an institution of the genre and the culture. Many of the group's members have gone onto solo success in music and film, including Method Man, RZA and Raekwon. The collective came into renown with 1993's legendary Enter the 36 Chambers LP and have been an essential part of any discussion of rap music ever since. The Anthem will host the group on the first night of November.
8 p.m. | Tickets
• • •
Tenacious D – Nov. 7
The masters of epic rock music that doubles as gut-busting comedy, Tenacious D are set to turn Nov. 7 into one hell of an evening for any and all attendees of their show at The Anthem. The raucous duo is responsible for three albums, an HBO special and even a full-length feature film, each one displaying their uncanny knack for making you laugh your butt off while rocking so hard your head hurts. Their live show is not to be missed.
8 p.m. | Tickets
• • •
Echostage
2135 Queens Chapel Road NE, Washington, DC 20018
Armin van Buuren – Oct. 5
Echostage welcomes this Grammy-nominated Dutch DJ and record producer for an evening filled with grooves. Van Buuren has helped take trance music worldwide, broadcasting A State of Trance since 2001, a radio show with more than 37 million weekly listeners on more than 100 FM radio stations. He'll drop some of his hottest cuts during this show at one of DC's most popular venues.
9 p.m. | Tickets
• • •
San Holo – Nov. 9
San Holo rose to international prominence with a remarkable remix of Dr. Dre's "The Next Episode," a track that has more than 175 million views on YouTube. The Dutch DJ and producer, who was nominated for New Artist of the Year at the 2017 Electronic Music Awards, will spin his eclectic takes on techno and trap music during this concert at the vibrant Echostage.
9 p.m. | Tickets
• • •
Union Stage
740 Water Street SW, Washington, DC 20024
Saint Etienne – Sept. 7
Saint Etienne has been releasing its infectious brand of dance pop since the early 1990s. This Union Stage show will celebrate one of the trio's greatest accomplishments, Good Humor, as 2018 marks 20 years since the seminal album's release. The London -based group will perform the album in its entirety, in addition to other classics and new songs.
8 p.m. | Tickets
• • •
Perpetual Groove & Kung Fu – Oct. 12-13
Perpetual Groove, who hail from Athens, Ga., have become a fixture on the jam band circuit, regularly playing to large crowds and loyal fans. Union Stage will package them with Kung Fu on back-to-back nights in mid-October. Kung Fu meshes funk, rock and EDM into danceable grooves that can't be resisted. Two-night passes are available for this All Good production.
9 p.m. | Tickets
• • •
Ballyhoo! – Oct. 26
Influenced by the ska punk sounds of groups such as Sublime, Slightly Stoopid, Reel Big Fish and Pepper, Ballyhoo! have built a loyal following of Hooligans. Hailing from Baltimore, the quartet has been active for more than 20 years, touring relentlessly and releasing records independently. Union Stage will host their fun-loving brand of rock in late October.
8 p.m. | Tickets
• • •
Eleanor Friedberger – Sept. 13
Eleanor Friedberger has been making compelling music in the indie rock sphere for well over a decade, receiving her first acclaim as one part of The Fiery Furnaces, a project she shared with her brother, Matthew. Friedberger released her first solo album in 2011 and has continuously taken her sound in new and challenging directions. Her distinct voice and compositional prowess are both evident on this year's Rebound, a meditative, stripped-down record that finds Friedberger at her best. Pearl Street Warehouse will host the songstress for a Thursday night show.
8:15 p.m. | Tickets
• • •
Black Masala – Oct. 6
Black Masala is a local outfit that combines brass music, punk rock and funk grooves to create live shows that captivate the entire audience. The multicultural group rips through each song with loads of energy, a practice they've showcased at numerous DC venues, including the 9:30 Club and Jazz in the Garden at the National Gallery of Art's Sculpture Garden. Pearl Street Warehouse will host the group in early October.
8:15 p.m. | Tickets
• • •
Lily Allen – Oct. 21
Lily Allen is a pop superstar on both sides of the Atlantic. She's undergone multiple transformations during her career, telling her story through her music throughout. This year's No Shame was a welcome return to the spotlight for the eccentric songwriter, an autobiographical portrait soundtracked by dancehall, reggae and hip-hop grooves. You'll want to see what Allen has in store on Oct. 21.
8 p.m. | Tickets
• • •
The Black Cat
1811 14th Street NW, Washington, DC 20009
Swearin' & Sheer Mag – Oct. 9
Swearin' plays heart-on-your-sleeve pop-punk, mashing out little indie rock gems that get stuck in your cranium for weeks. Lead singer Allison Crutchfield (twin sister of Waxahatchee's Katie Crutchfield) writes lyrics better than you ever could. They're sharing a bill with Sheer Mag, who've managed to riff on and reimagine 1970s hard rock (think Thin Lizzy) as only a band hailing from Philadelphia in the 2010s possibly could. Their lead singer, Tina Halladay, sings better than you ever could. Admire the glory of both bands in one night at The Black Cat. You're welcome.
9:45 p.m. | Tickets
• • •
Guided By Voices – Oct. 19
Guided By Voices and its frontman/mastermind Robert Pollard have left a colossal mark on indie rock, emerging from Dayton, Ohio with DIY, lo-fi gems that manage to sound beautiful and accessible without succumbing to rock music's norms. 1994's Bee Thousand influenced countless bedroom musicians, and Pollard has been steadily releasing his unique songs ever since (seriously, we challenge you to track all of his music down). Also known for blistering live shows, catch the group at The Black Cat this October.
8 p.m. | Tickets
• • •
Beach Fossils & Wavves – Oct. 24-25
The Black Cat offers up another twin bill well worth the price for admission with this pairing of Beach Fossils and Wavves. The former plays an irresistible blend of post-punk and '60s rock, on full display on last year's Somersault. The latter plays upbeat, radio-ready pop punk that still has plenty of edge. Break out the dancing shoes on back-to-back nights in late October.
7:30 p.m. | Oct. 24 Tickets | Oct. 25 Tickets
• • •
(Sandy) Alex G – Nov. 15
Alex G has been recording and self-releasing music since 2010, but the singer/songwriter's breakout came in 2017 with Rocket, put out by Domino to universal praise. The 25-year-old musician effortlessly blends the intimacy of bedroom recordings with Americana, folk and even stadium-ready pop for a collection of music that is truly idiosyncratic. You'll find him at The Black Cat on Nov. 15.
7:30 p.m. | Tickets
• • •