You are here
14 Fall Events & Festivals You Don't Want to Miss in Washington, DC
14 Fall Events & Festivals You Don't Want to Miss in Washington, DC
Our picks for the best events this fall in DC include free, family-friendly street festivals, late-night art shows and everything in between.
Washington, DC's outdoor fun and festivals do not conclude when summer turns to fall. The city's calendar stays packed with day and weekend-long events that showcase food, music and culture, many of which are free. Explore some of the season's highlights.
1
Adams Morgan Day Festival – Sept. 9
The longest-running neighborhood festival in the District celebrates its 40th anniversary this September. 18th Street will be buzzing with live music, food vendors, for-sale artwork and family-friendly activities. Celebrate one of DC's liveliest, most diverse neighborhoods with this day-long extravaganza that is led by volunteers and showcases the businesses, artists and organizations that make up Adams Morgan.
12-6 p.m. | Free admission
18th Street NW, between Columbia Road NW and Florida Avenue NW
2
Taste of Georgetown – Sept. 23
Eat and drink your way through a Sunday afternoon in one of DC's most historic neighborhoods during Taste of Georgetown. Now in its 25th year, the event welcomes you and yours to try more than 60 dishes from over 30 of Georgetown's most popular eateries. Beer and wine will be available as you stroll from appetizing booth to appetizing booth.
11 a.m. – 4 p.m. | Tickets
K Street NW, between Wisconsin Ave. and Thomas Jefferson St. (near Georgetown Waterfront)
3
DC State Fair – Sept. 23
Waterfront Station in near the Southwest Waterfront will host the ninth annual DC State Fair, a free showcase featuring local food, music, art and entertainment. Peruse arts and crafts, scoop eats from DC-based vendors, enjoy live music and workshops and participate in any number of contests, including photography, artwork, numerous types of food, plant-growing, ice cream eating, hula hooping, and oh boy, we could go on and on. There will also be a pet parade!
Free admission
Waterfront Station, 399 M Street SW, Washington, DC 20024
4
ZooFiesta – Sept. 23
The Smithsonian National Zoo hosts this free event in honor of Hispanic Heritage Month. Bring along the entire family to enjoy live music, authentic cuisine and educational activities regarding conservation in South and Central America. Animal keepers will also be on-site for talks, feedings and demonstrations that highlight a range of animals from the region, including sloths, giant anteaters and Panamanian golden frogs!
11 a.m. – 4 p.m. | Free admission
Smithsonian National Zoo, 3001 Connecticut Avenue NW, Washington, DC 20008
5
Art All Night – Sept. 29
An all-night arts festival? Sign us up. Yes, DC has that with Art All Night: Made in DC, which is spread over six neighborhoods. Art experiences don't get much more lavish or expansive than this: Everything from painting to performing arts to music to sculpture will be showcased in both public and private spaces, indoors and outdoors.
7 p.m. – 3 a.m.
Various locations in DC
Looking for more public art throughout the District? Tag along with mural artist Aniekan Udofia – famed for his alleyway opus adorning the wall of local institution Ben's Chili Bowl – as he unveils where he finds his inspiration in DC.

6
Fiesta DC – Sept. 29-30
This annual celebration of Latino culture includes a parade and a festival on back-to-back days, both held in the heart of the District. Saturday's Parade of Nations features Native Latino dance troupes and other local groups. Sunday's festival will gather thousands with a beauty pageant, live musical and dance performances, plenty of food and much, much more. Both are free to attend!
Free admission
9/15 Parade: 1- 5:30 p.m. | Constitution Avenue NW, Washington DC, between 7th and 14th Streets
9/16 Festival: 11 a.m. – 7 p.m. | Pennsylvania Avenue NW, Washington, DC, between 3rd and 7th Streets
7
Fall Wine Festival & Sunset Tour – Oct. 5-7
George Washington's Mount Vernon is at its scenic best when fall rolls around, so it's fitting that the historic estate hosts this special celebration of wine followed by a sunset tour of the property. Learn of the Founding Fathers' attempts at wine-making, hear live blues music and meet George and Martha at the Mansion's piazza. The tour will also take you to George's basement, where he stored his wine.
6 - 9 p.m. | Tickets
George Washington's Mount Vernon, 3200 Mount Vernon Memorial Highway, Mount Vernon, VA 22121
8
All Things Go Fall Classic – Oct. 6-7
Union Market is one of the District's coolest spots, so in predictable fashion, the Market will host one of the year's coolest festivals. The All Things Go Fall Classic stretches across two days and will feature performances from Carly Rae Jepsen, Maggie Rogers, Billie Eilish and many more. The festival will also showcase delicious local eats.
12 p.m. | Tickets
Union Market, 1309 5th Street NE, Washington, DC 20002
9
H Street Festival – Oct. 13
Another one of DC's most popular neighborhoods pulls out all the stops for this annual festival that draws thousands of attendees every year. The H Street Festival will feature live music, dance performances, family-friendly activities, contests and plenty of food vendors across its 14 staging areas, with dozens of businesses participating.
12-7 p.m. | Free admission
H Street NE, Washington, DC 20002
10
Snallygaster – Oct. 13
Snallygaster is here to let you beast out with over 300 craft brews and ciders on Pennsylvania Avenue. Named after a mythical creature, the festival roars into its seventh year with a hefty lineup that also includes food trucks and plenty of live music. Greg Engert, one of the city's leading beer connoisseurs, has selected a motley crew of brews from far and wide for your tasting pleasure. Pick from one of two advance ticketing options and you will be contributing to Arcadia, a nonprofit working towards a more sustainable food system in the area.
1:30 p.m. (VIP at 12 p.m.) | Tickets
Yards Park, 1st Street SE and N Street SE, Washington, DC 20003
11
Smithsonian African American Film Festival – Oct. 24-27
The Smithsonian National Museum of African American History and Culture (which will not require timed passes to enter during weekdays for the first time this September) will host its inaugural film festival in late-October. The four-day celebration will offer more than 80 contemporary and historical films that illuminate the black experience in the United States, as well as a juried competition featuring 15 of the films. Screenings will take place at the National Museum of African American History and Culture, the Freer|Sackler Galleries and the National Gallery of Art. In addition, the festival will feature discussions with filmmakers and scholars and presentations on filmmaking and editing.
More Info | Tickets | Schedule
12
Maryland Renaissance Festival – Weekends through Oct. 21
This unique festival takes place every year near Annapolis, Md. (roughly 50 minutes from downtown DC). Discover Renaissance-themed artisans, performances (including dances and musicians) and food. You can also dress up in your own costume, if ye so wish.
10 a.m. – 7 p.m. | Tickets
1821 Crownsville Road, Annapolis, MD 21401
13
The Bentzen Ball Comedy Festival – Oct. 25-28
The Bentzen Ball Comedy Festival is a collaboration between comedian Tig Notaro and Brightest Young Things that gives laughing fits to audiences all over the District, year after year. Friday night at Lincoln Theatre features a show on #Adulting hosted by Michelle Buteau and Jordan Carlos, as well as a late performance by Amanda Seales of HBO's Insecure. The closing show on Sunday night will offer up Notaro with many of her funny friends. Thursday and Saturday show announcements are coming soon.
Tickets
Lincoln Theatre, 1215 U Street NW, Washington, DC 20009
14
Colonial Market & Fair – Nov. 10-12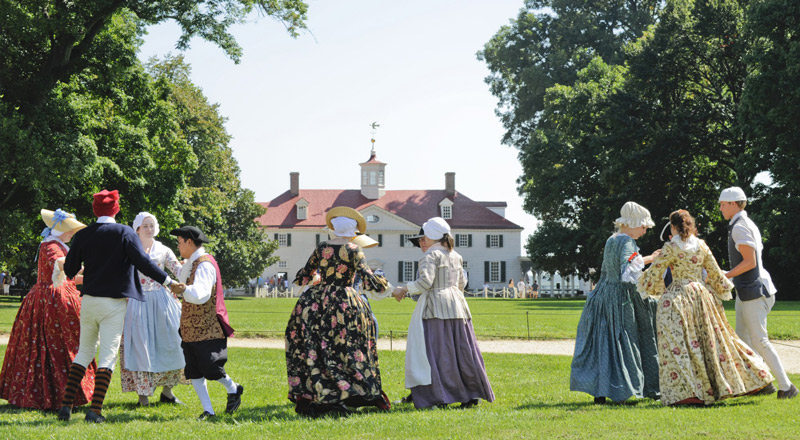 You don't need Doc Brown's DeLorean to go back in time in the DC area. George Washington's Mount Vernon hosts this annual colonial-style market and fair featuring everything you could possibly dream of at such an event. This includes 18th century music, a balloon launch, fire-eating, puppet and magic shows and chocolate-making. Artisans decked out in era-appropriate attire will also be on-hand demonstrating craftwork of the time and selling wares such as weavings, furniture and leather-workings.
Tickets
George Washington's Mount Vernon, 3200 Mount Vernon Memorial Highway, Mount Vernon, VA 22121