The hub for transportation in the nation's capital is also filled with history, shopping and dining.
DC's Union Station receives roughly 40 million visitors per year. Its beautiful architecture, wide variety of shopping and dining options and status as one of the largest transportation hubs in the country, as well as a healthy dose of history, make the station a popular destination. We break down the DC landmark below.
Transportation Options at Union Station
Union Station is one of the busiest spots for transit and travel in the country. Numerous transportation modes are available, including rail options in the form of Metro, Amtrak, MARC trains and the Virginia Railway Express. There is a taxi dispatch at the Main Hall entrance that is open from 8 a.m. – 1 a.m. daily. You can also easily catch a bus or rent a car at Union Station. Parking is available at the Union Station Parking Garage at 30 Massachusetts Avenue NE.
You can also book a sightseeing tour from Union Station through Old Town Trolley Tours.
Shopping & Dining at Union Station
The shopping options at Union Station are plentiful and address an array of needs and interests. The roster includes Walgreens, Warby Parker, Lee's Flower Shop, Andrew's Ties and many, many more.
There's a restaurant for roughly every taste inside Union Station. Quick options like Cava, Chipotle, Potbelly, Shake Shack and Taco Bell are on-site. You can enjoy a delicious cup of coffee from Blue Bottle Coffee or a flavorful smoothie from Jamba Juice. For bakery specialties, head to Au Bon Pain or grab a Chicago-style pizza at UNO Pizzeria & Grill.
History
The construction of Union Station was fully completed in April 1908, launching one of DC's largest transportation hubs in the process. Architect Daniel Burnham designed the Beaux Arts building, which featured a jaw-dropping Main Hall (also known as the "General Waiting Room") that dazzled patrons. By the early 1940s, roughly 200,000 passengers would pass through the station on any given day, as the railways were the most popular avenue for long-distance travel at the time.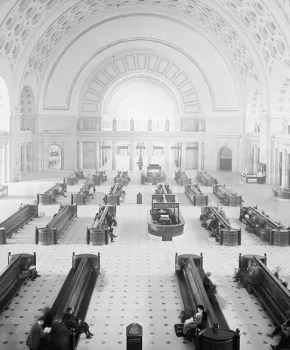 The station faced difficulties after the Second World War as plane travel became more popular. The facility was turned into a new National Visitor Center in 1976, but for only a short time due to poor funding and organization. By 1981, the building was in total disarray, leading to the structure being closed to the public and prompting Congress to pass the Union Station Redevelopment Act.
Union Station reopened in 1988 with restored elements and three new levels of retail space. Its next difficulty arose from an earthquake that shook DC in August of 2011. By the fall of 2016, the entire Main Hall of the station had been restored, matching the Beaux Arts splendor showcased by Burnham in the early 1900s.
These days, Union Station is again a crown jewel for DC, serving as one of the country's busiest rail facilities as well as a prime destination for shopping and dining.
If you're looking for more information on DC's transportation hubs, find out what you need to know about getting around Washington, DC.