The veteran vintage furnishings retailer reveals her favorite finds for drinking, dining and diversion in Logan Circle.
Pixie Windsor (just Miss Pixie to her many friends) has been selling mid-century lounge chairs, 1940s art deco tables and groovy artwork at Miss Pixie's Furnishings & Whatnot on Logan Circle's 14th Street since 2008, and dealing in stylish vintage wares in DC since the 1990s. So where does she like to hang in her work neighborhood?
What draws people to your store?
It's about useful home furnishings — lamps, chairs, outdoor furniture. But it's also about having fun. We love wacky colors — hot pink nightstands, lemon yellow lawn furniture.
What do you like about being in Logan Circle?
It's very densely populated, so there's tons and tons of foot traffic. People come to go out to dinner, to shop and it's bustling all the time. I like that it's constantly changing, and that new things are always popping up.
Do you shop anywhere else in the 'hood besides your own store?
Even though I own a furniture store, I buy all my sofas at Mitchell Gold + Bob Williams. Their stuff has good lines, and the showroom is in a historic building.
The neighborhood is loaded with restaurants. Which ones are your favorites?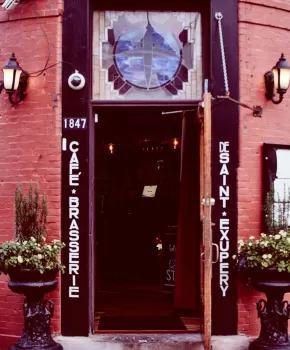 Café Saint-Ex
I love Café Saint-Ex and Bar Pilar. They've been here forever, and they really are the heart of the city. I like to sit outside on the patio at Saint-Ex and watch the people go by. And when I'm at the store, I love to run next door to Sette Osteria. They have great flatbreads. I always get the chicken with artichoke. And Rice [a sleek Thai food spot] is always dependable and delicious.
Anywhere else you love to chow down?
I love Pearl Dive —  it's great Southern food, and the staff is always nice. Their biscuits are great and I like their oysters. Plus it's got great atmosphere.
Where do you head when you want a drink?
I love The Left Door, which is a secret little speakeasy. You literally just go through one door, and there's a bar upstairs. It's cute, out of the way and cozy. I also like Sotto. They have both good soul food and there's often a tiny jazz quartet. It's literally so dark you'll have to bring a flashlight, though!
Still hungry after reading about all the places to chow down in Logan Circle? Explore even more dining options in the District.