Meet the woman with the cutest job in town at the National Zoo.
Nicole MacCorkle, giant panda keeper at the Smithsonian National Zoo shares the inside scoop on working closely with Tian Tian, Mei Xiang and their cub Bei Bei. Nicole spills the bamboo on how to get her job, how to baby-proof a panda enclosure and much more about her fluffy friends.
In a town full of titles, your business card must stop people in their tracks. How did you become a giant panda keeper?
NM: I have been working in zoos since I graduated from college. I worked at two other zoos prior to coming to the National Zoo: the Virginia Zoo in Norfolk, Va. and the Chattanooga Zoo in Tennessee.
You took care of Tai Shan, Tian Tian and Mei Xiang's first cub. For those of us new to studying baby pandas but addicted to the Zoo's giant panda cam, what should we look for when we come to the zoo?
NM: We're always looking for behaviors that let us know proximity to breeding time or in Mei Xiang's case, if she's pregnant. So right now we all get to sit back, relax and enjoy. Tian Tian will go through some rut behaviors but on somewhat of a diminished cycle as there won't be a female cycling nearby.
What are the best viewing times for the pandas?
NM: Typically the best viewing is – although visitors always hate to hear this – first thing in the morning. The pandas usually go out by 7:30 a.m. That's a time we can almost guarantee that they're going to be active. They've been inside overnight, and we always put a big bamboo breakfast out in the yard.
How do you baby panda-proof an enclosure?
NM: There are two types of trees in the yard. The ones [the cubs] will be allowed to climb and the ones [that are] off limits. Our staff will be installing tree-guards, essentially sheet metal around a portion of the tree… The panda enclosure is surrounded by a wooden fence dating back to our previous pair of pandas, Ling Ling and Tsing Tsing, so some renovation will need to be made. It's perfectly okay for the two adults to be able to access each other under any little gaps in the fence but it's not safe for [the cubs] to interact [with Tian Tian] in that way. In their natural habitat, a male giant panda would not engage with his cub.
We think of Tian and Mei as a couple but they spend much of their lives apart, much as they would in the wild. How do Tian Tian and Mei Xiang communicate?
NM: They are neighbors. Mei and Tian are not in the same physical space at the same time but they interact the way they would in the wild. They vocalize to each other and they communicate through scent-markings.  So if we put one individual in the yard one day, and the other individual in the yard the next, they sniff out where the other one's been and mark with scent the places they have been too. They are certainly aware of each other's physical presence.
So maybe it's not a question of what to look for, but what should we smell for?
NM: The scent markings are something that is only detectable to pandas but I'm not sure I'd want to! What we see is an oily residue they secrete with scent glands located at the base of their tail. If you look really closely along the back walls of the panda house from the public viewing areas, you will see some oily, dark brown spots. Those are scent markings.
While the "panda diplomacy" of the Nixon-era seems like a long time ago, it's still more than symbolic. How are US-China relations so important to the preservation of the species?
NM: Pandas outside of China are helping with the overall numbers. There are so few in the wild that we're trying to boost the overall numbers in captivity. By exhibiting them, we're supporting programs in China, both at the breeding centers and at the reserves. Many of our staff members have been to China and we often have Chinese colleagues come here, so there's a lot of communication and learning on both sides.
The giant panda cam is our favorite bookmark and there's an app too. How does the web impact the future of pandas?
NM: It brings us all together. For people who can't get to the zoo, the cameras allow them to make a connection. A lot of times in conservation, that's what needed. If you asked all of the zookeepers here, we all had early experiences when we made a connection with nature and animals that drove our career goals. That's what it takes for conservation to work: people have to feel like it's important to them because the pandas are so adored, and everyone follows them so closely on our panda cam. Maybe that's what it takes to get the message out – people watching online and asking what they can do to help pandas in the wild.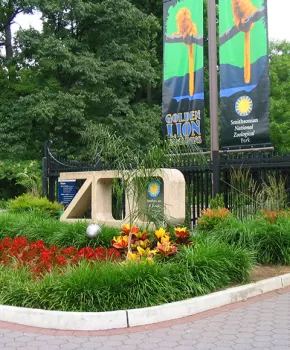 When you have friends come to town and visit the zoo, what tips do you share?
NM: I always try to encourage people to visit on a weekday. Keepers can take the time to interact with families and small groups on weekdays. On weekends, we have to talk to the masses. You get a more personal experience if you come during the week, and also on the off-season, November-March. Definitely take Metro. Parking is at a premium, particularly on the weekends and in peak season (the spring and summer months). Take a look at the daily offerings. There are a multitude of keeper talks and demos offered throughout the day. Some of them are subject to change so make sure you know what's available. There's a lot to see here. I've noticed coming here with my own toddler that if you try to cram it all in, it's not a fun day. Come back, do half of the zoo on one visit, half on another. Pace yourself.
We also have more dining options. We've always offered a lot of snack bar foods, like chicken fingers, hamburgers and hotdogs. We still have those, but even our hot dogs have gone gourmet with all kinds of different toppings. Within walking distance we have lots of different food choices, all prices and from around the world at both Cleveland Park and Woodley Park stations.
And finally, what about a souvenir to take home? Do you have a must-get?
NM: Absolutely. You can't go wrong with a stuffed baby panda.
The National Zoo is just one of the many amazing free attractions in Washington, DC. For more ideas, check out our guide to 100 free and almost free things to do in the nation's capital.