Discover where to grab a bite, a beer and a sweet treat in this northwest Washington, DC neighborhood.
North of Dupont Circle – and across Rock Creek Park from the lively Adams Morgan – Woodley Park was one of several uptown neighborhoods where 19th- and early 20th-century Washington, DC residents escaped the summer heat. The neighborhood still boasts historic architecture and grand hotels. Modern times have brought no shortage of buzzworthy eateries.
The aforementioned Rock Creek Park and the Smithsonian National Zoo are Woodley Park's two greatest attractions. Before or after exploring either, you'll likely work up quite the appetite. Getting to the neighborhood is easy, as you simply take the Metro's Red Line to the Woodley Park stop. That's where we'll begin our culinary exploration.
Near the Metro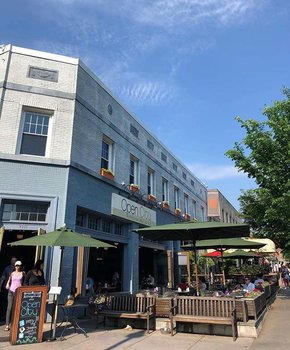 Open City on Calvert Street NW is a focal point for area diners. The neighborhood eatery attracts a large brunch crowd, but also serves as an ideal dinner destination. Even if you're just looking for coffee or a beer, the gathering place is a welcoming abode. Breakfast is served all day, so feel free to indulge in the fried chicken and waffle dish, stuffed French toast or the Open City Royale (two eggs, choice of bacon or sausage, hash browns, pancakes or French toast) whether you walk in at 9 a.m. or 9 p.m. The lunch and dinner options are also plentiful, ranging from spicy tenders to sandwiches, burgers, pizzas and calzones to main dishes like coconut curry tofu and spinach and cheese ravioli.
Lovers of Mexican cuisine will want to visit Mayahuel Cocina Mexicana, located on 24th Street NW and open for dinner only. Expect modernized flourishes on your favorites – we're talking beef tongue tacos, a Mexi-burguesa (8 oz. Angus beef patty with a three quesos blend, salsa, chipotle aioli and more) and mussels served with chorizo. Mayahuel's ownership team is also responsible for District Kitchen on Connecticut Avenue NW, which offers Mid-Atlantic fare in the form of seafood paella and pan-seared shrimp – don't worry, you can get a burger or a steak there, too.
Lebanese Taverna brings the Mediterranean flavor like few other spots in the District. The hommus (also stylized as "hummus") bar is not to be missed, as seven distinct choices await your taste buds. You'll also find a falafel sandwich, lamb and artichoke stew, a selection of kebabs and chicken curry on the menu. Wash it all down with any of the dozens of wine options available as you relax at the Taverna for a date night inside or on its signature patio.
Encounter a seafood feast at Hot 'N' Juicy Crawfish, where you can order the namesake by the pound, as well as king crab legs, blue crabs, mussels, clams and shrimp. Choose your seasoning and spicy level, then dig in.
Mama Ayesha's is a Woodley Park staple that has served classic Middle Eastern cuisine since opening in 1960. The iconic locale also presents its own iconic mural, featuring past presidents with Mama Ayesha on the wall. Head there for a delicious meal and a dash of DC history.
Near (and inside) the Zoo
Seeing lions, tigers and panda bears deserves to be accompanied by a great meal. Fortunately, the Smithsonian National Zoo offers six restaurants and an array of food carts, stands and kiosks. Highlights include burgers and barbeque at Mane Grill, all-natural hot dogs and soft pretzels at Seal Rock Café and Asian-inspired rice bowls and noodle salads at Panda Overlook.
Outside and nearby the Zoo, Woodley Park has more wonders to unveil. Travel to foggy London town without leaving the District when you visit Duke's Counter, a popular supper spot serving the finest in British cuisine. Liven up or wind down with a pint of English ale while you savor truffle mac and cheese or avocado toast. The Counter also offers late night dinner on Fridays and Saturdays from 10 p.m. until midnight.
Don't forget about dessert. Baked by Yael serves up cakepops that have become a favorite across DC. The nut-free and kosher specialties are packed with sweetness and make for a fun treat before or after a long day exploring the nation's capital. Baked by Yael also offers homemade, hand-rolled bagels that are as tasty as they sound.
Lillie's Restaurant and Bar is as family friendly as it gets. The Italian eatery is owned by longtime Woodley Park residents and offers comfy environs for brunch, lunch and dinner. All the favorites are available, from tortellini and chicken parmesan to bruschetta and eggplant toscani. Parents can kick back with a specialty cocktail or a glass of wine.
Another stop to add to your dining excursion is Robert's Restaurant at the Omni Shoreham, which was named a 2022 Open Table Diner's Choice restaurant. The spot is open for breakfast, lunch and dinner. A recently revamped menu include new food and drink offerings and the terrace with park views cannot be beat.