Experience the hottest and coolest places to spend a night along DC's U Street Corridor.
With an unparalleled music and nightlife scene, U Street draws locals and visitors looking to stay up late and have a good time. From underground dance clubs (there's more than one in this 'hood) to industrial-chic spaces where you can sip artfully crafted cocktails and everything in between, this popular area in the District has every option to suit your vibe.
01
9:30 Club
This legendary venue just off U Street is where both famous and rising stars come to perform to sold-out, raucous crowds. Even with a big audience, it's still spacious; armed with a balcony, there's good views no matter where you're standing. You can fill up on great veggie fare there, too.
02
Nellie's Sports Bar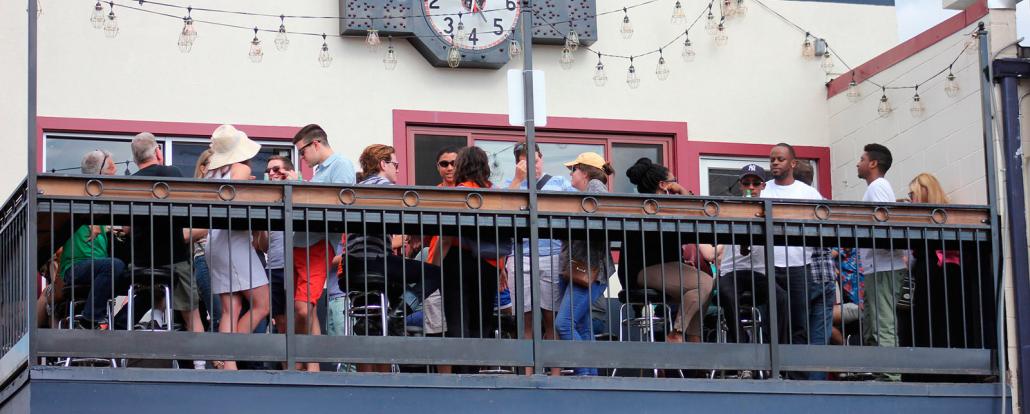 This pioneering gay sports bar, one of the first to open outside of Dupont Circle, hosts all sorts of events, like trivia and drag bingo. Named for the owners' great-grandmother, the bar boasts dozens of TVs in the relaxed downstairs, and an upstairs patio dance floor that goes strong until close.
03
U Street Music Hall
A subterranean hideaway music venue for underground and big-name acts. Prices are low, crowds are friendly and acoustics are great in a space with no attitude. It's simply a fantastic place to catch a show and dance.
04
Service Bar
If you're looking for delicious bar snacks snacks and creative cocktails at any hour, then head to Service Bar. A rotating list of seasonal cocktails and affordable drinks will keep everyone in your group happy untill the early hours of the morning.
05
Colada Shop
The brightly colored Colada Shop – located just off of U Street – is a photographer's dream. This Cuban cafe-bar hybrid is packed with pastel hues and good vibes, which extend to the dog-friendly patio and rooftop garden. Reasonably-priced bites bring to life diverse flavors and are best paired with a bold Cuban coffee by day and a cocktail by night. Head to the rooftop on Thursdays for a Caribbean-themed all-night happy hour starring $6 cocktails and $2 empanadas.
06
El Techo
Billed as an "adult treehouse," the turf-adorned El Techo brings the heat with spicy margaritas and the creative Mexican street food you've come to expect from the downstairs Rito Loco shop. El Techo also offers Spanish-inspired tapas and a number of cervezas for the perfect warm-weather happy hour.
07
The Gibson
The corner of U and 14th Streets may be one of the most well-known and crowded intersections in the city, but The Gibson remains inconspicuous, and for good reason. This intimate speakeasy, accessible only through an unmarked door, attracts couples and cocktail lovers alike. Dimly lit tables require reservations, while bar seats and the patio remain walk-in-ready when bespoke drinks are calling your name.
08
The Brixton
This British pub has become a popular happy hour and late-night locale, situated along the nightlife hub that is U Street. Head upstairs to the roof deck for some memorable views, especially during sunset. And oh yeah, there's some beverages and bites you'll want to accompany your relaxation: happy hour means all draughts are $2 off and plenty of food options for under $10.
09
Howard Theatre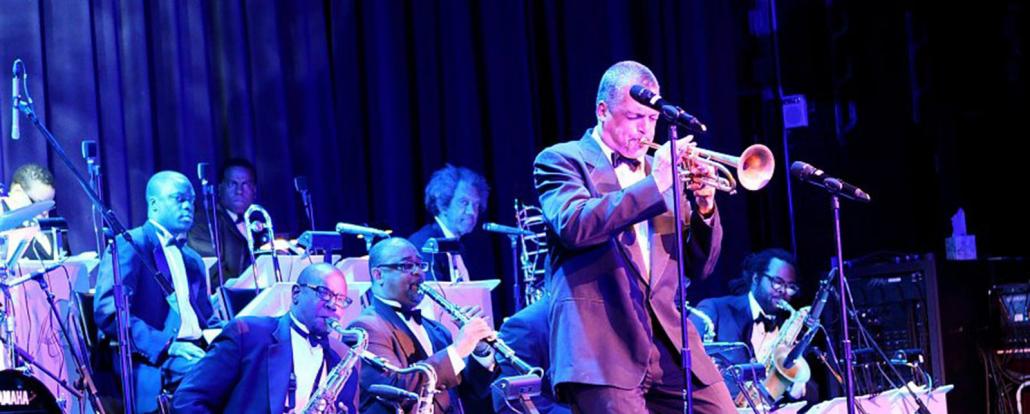 Be sure to dress up, whether grooving to jazz or getting down to slick beats at a dance party. Howard Theatre has been refurbished to honor its original glory, anchoring the easternmost end of the U Street and Shaw neighborhoods and hosting big-name acts across R&B, pop and other genres.
10
DC9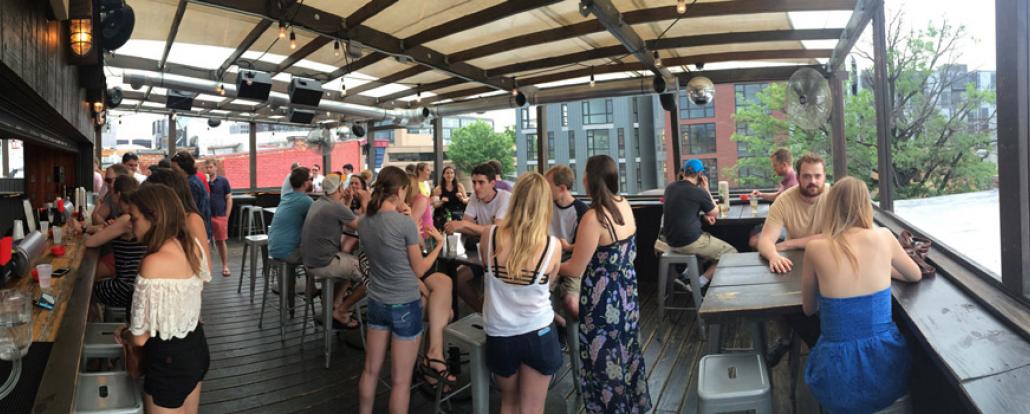 This bar and music venue is as unapologetically divey as it gets in an ever-evolving neighborhood. Happy hour goes late, but drinks are still quite affordable on any of the three floors. Hang out downstairs in a cozy booth; visit the middle floor for stand-up comedy, live music or '90s dance parties; and take a breather on the top-floor patio (which is open year-round and covered in the winter).
11
Tropicalia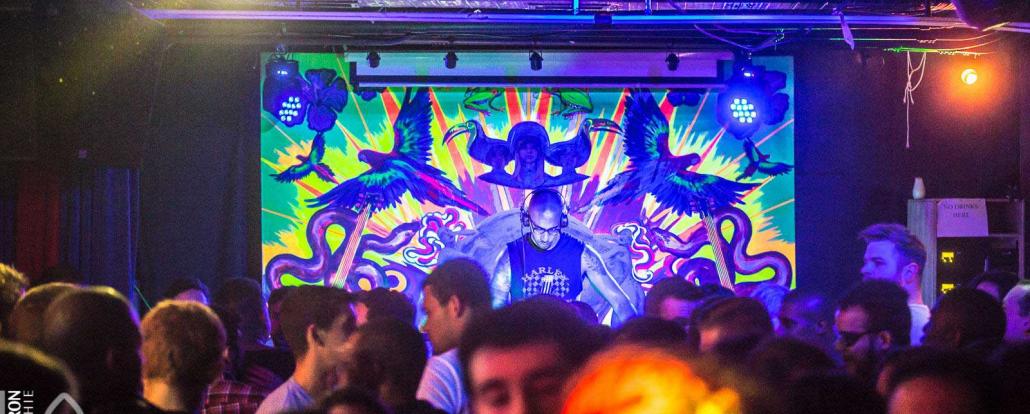 In this downstairs space, parties go late – very late, in fact. Themed party nights attract those who aren't done dancing when it's closing time at other bars. Be warned, it gets warm. The name really does say it all.
12
Restaurant Marvin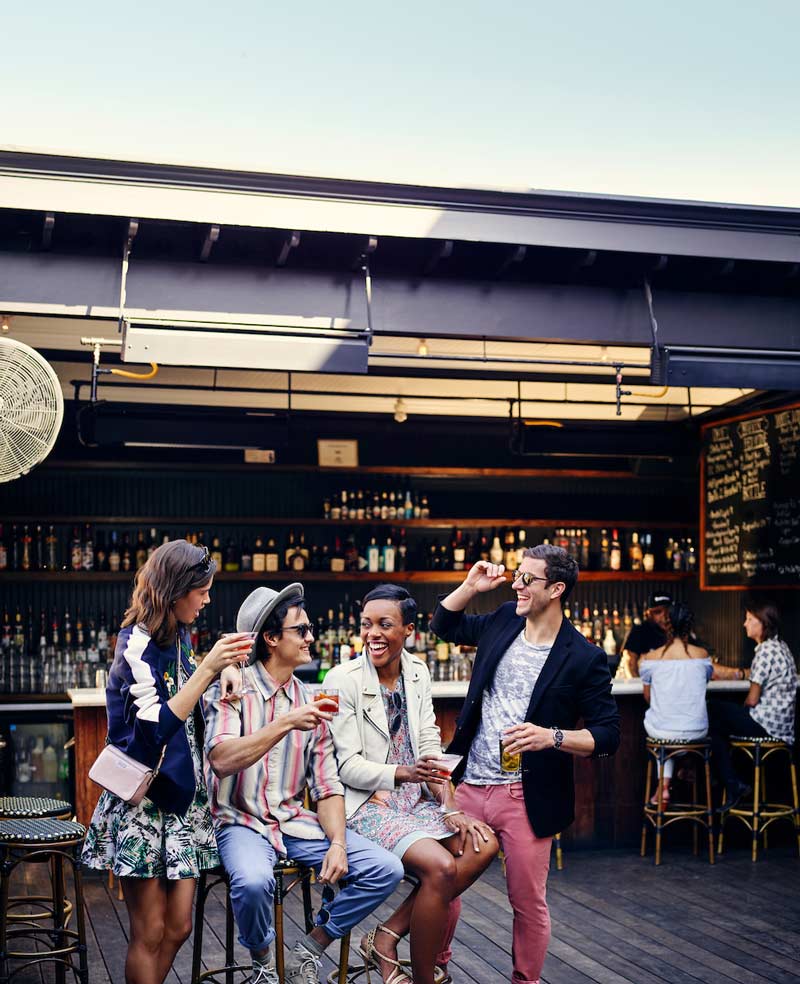 Group of friends at Marvin rooftop on 14th Street - Summer in Washington, DC
More than just a historic venue, its two stories, alfresco patio and maze of rooms get crowded late with patrons who flock to this see-and-be-seen space. Named for DC-born soul singer Marvin Gaye, this hot spot serves authentic soul food with a Belgian twist amid fantastically ornate decor. Crowds get down upstairs on the dance floor, too.
13
Velvet Lounge & Dodge City
This hipster hangout, and its next-door neighbor Dodge City, are narrow, popular and friendly bars, both with back patios. Velvet is a bit more divey, and hosts live music and DJ sets of artists you probably haven't heard of, but that you won't be able to stop dancing to.
14
The Dirty Goose
Just across the street from Nellie's in the heart of the U Street corridor lies The Dirty Goose, which prides itself on great drinks and even better vibes. Choose from an array of martinis with – you guessed it – Grey Goose vodka, kick back and relax. We recommend checking out this popular bar during weekday happy hour, when drinks are half price from 5 - 9 p.m.
15
801 Restaurant & Bar
"Good vibes only" isn't just the motto at 801 Restaurant & Bar, it's also the first thing patrons see (illuminated in white lights) when reaching the top of the stairs at this rooftop bar straddling the U Street and Shaw neighborhoods. If you're with a thirsty group, try the signature 801 Mega Mule – a multi-person Moscow Mule served in a massive copper mug.
No single adjective can describe the U Street scene. This strip of activity changes by the day, making it one of the most dynamic, vibrant, and energetic corridors in the District. For more adventures, you should also check out more things to do on U Street or always-exciting 14th Street.