Celebrate the cherry blossoms with a wide variety of spring-themed events produced by the National Cherry Blossom Festival
The National Cherry Blossom Festival (March 20–April 16) is a citywide celebration that commemorates the 1912 gift of 3,000 cherry blossom trees to Washington, DC by the mayor of Tokyo. This year's Festival features a range of spectacular events and activities, and hopefully a chance to see the starring attraction during peak bloom. Signature events returning in 2023 include the Opening Ceremony, the Blossom Kite Festival, the Parade, Petalpalooza and the Tidal Basin Welcome Area & ANA Stage. You can check out Petal Porch and City In Bloom decorations as well as art installations all over the city, while you can view a livestream of the Opening Ceremony and catch a local broadcast of the Parade. Local restaurants even get into the spirit with the Cherry Picks program, while DC-area hotels offer blossom-themed packages, deals and discounts.

Check the National Park Service's website for the latest information regarding health and safety protocols and updates about peak bloom. You can also visit the Festival's Bloom Watch page.
 
Read below for marquee events and make sure to check out our other cherry blossom content.
01
Opening Ceremony – March 25

The National Cherry Blossom Festival and the Japan Foundation will join together to bring you an exciting in-person opening ceremony featuring performers from DC and Japan. The spectacle returns to the Warner Theatre for the first time since 2019. Early access to tickets to this epic spring celebration can be obtained by signing up for the festival's email list. The event will also be livestreamed on the festival's YouTube channel.
5-6:30 p.m. |  More Info
02
Petal Porches – March 20 – April 16

Petal Porches presented by Amazon asks participants to decorate their porches in cherry blossom style from March 20 through April 16. Residents can register now to add their homes to the Petal Porches map and participate in friendly decorating competitions for blossom-themed prizes. Festival-goers will be encouraged to #RediscoverSpring in DC by admiring Petal Porches across the area based on registered locations. For more information, including registration details, visit the festival's website.
03
Art in Bloom – March 20 – April 17
Custom cherry blossom public art sculptures will be placed at distinct locations all over the DC metro area as part of Art In Bloom presented by Amazon. The one-of-a-kind sculptures were designed by local artists and 2021 Festival Official Artist Patrick Guyton. Challenge your friends and family to discover all of them across the four-week celebration and make sure to post your poses with the pieces on social media using the hashtag #ArtInBloom. Check the Festival's website for updates on the promotion.
04
Blossom Kite Festival – March 25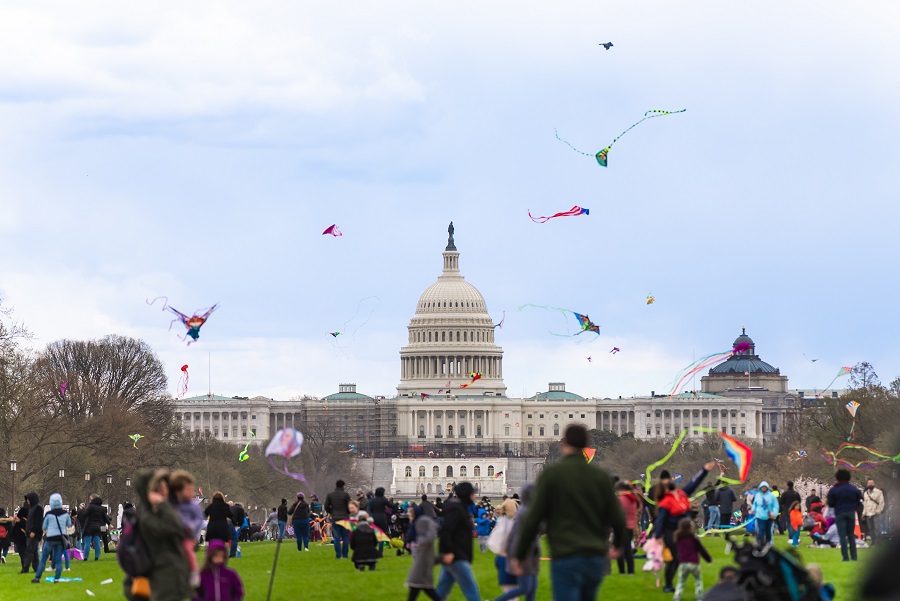 Head to the Washington Monument grounds for this free kite-flying extravaganza, one of the most highly anticipated events of the National Cherry Blossom Festival. The entire family can watch expert kite fliers from all over the world, whether enjoying the event near the Monument, at a featured park or virtually from home. More information is available on the Festival's website.
05
National Cherry Blossom Festival Parade presented by Events DC – April 15

Rediscover the incredible spectacle of DC's grandest petal procession with the National Cherry Blossom Festival Parade. Catch everything from giant helium balloons to elaborate floats to live musical performances. Enjoy prime performance viewing in the grandstand (tickets are $25-$30), or stand along the parade route – which runs for 10 blocks along Constitution Avenue NW – for free.
More Info
06
Sakura Matsuri – Japanese Street Festival – April 15-16

The largest one-day Japanese cultural festival in the United States will be a TWO-DAY celebration this year in honor of its 60th anniversary. Sakura Matsuri produced by the Japan-America Society of Washington DC offers more than 80 cultural groups, art vendors, food booths and dozens of hours of programming. The event is held on Pennsylvania Avenue from 3rd to 7th Streets NW and also features a Ginza Marketplace, the popular Japan Now! Pavilion, a cosplay contest, sake tasting and much more.
More Info
07
National Cherry Blossom Festival Petalpalooza – April 8
Get ready for eight straight hours of free tunes, all-ages activities, a beer garden, interactive art installations and games, all capped off by fireworks along the banks of the Anacostia River. Petalpalooza will take place at The Yards Park in Capitol Riverfront and is free for all ages to attend.
1-9 p.m. |  More Info
08
Pink Tie Party – March 16

The Pink Tie Dinner Party raises funds for the National Cherry Blossom Festival, and the elaborate cocktail party brings on the fun with lots of features: spring-inspired cuisine, a silent auction, live music, dancing and other distinctive entertainment. Tickets to this event are limited and guests must be 21 and over to attend.