You are here
14 National Cherry Blossom Festival Events You Should Attend
14 National Cherry Blossom Festival Events You Should Attend
Not just dazzling the Tidal Basin, the cherry blossoms are celebrated throughout the entire city.
The National Cherry Blossom Festival (March 18 - April 16, 2017) is a citywide festival that celebrates the 1912 gift of 3,000 cherry trees to Washington, DC by the mayor of Tokyo. The festival features a range of spectacular events, from its eponymous kite extravaganza on the National Mall to fun cultural experiences like sake tastings. Local restaurants even get into the spirit with the Cherry Picks program, featuring cherry blossom-themed food and drink items. And it all leads up to the capper: the storied National Cherry Blossom Festival Parade.
Below is a list of notable events to check out. For a full list of the events, visit the National Cherry Blossom Festival website.
1
Newseum Nights: In Bloom – April 7
The Newseum shows off its cherry blossom spirit with this event that serves as the first Newseum Night of 2017. Enjoy an open beer and wine bar (featuring Cherry Blossom socktails), sample sake, savor signature Asian dishes from Wolfgang Puck, see a traditional Japanese drum performance, make your own paper fan or origami, receive a personalized haiku and so much more.
2
National Cherry Blossom Festival Parade presented by Events DC - April 8
The culmination of the three-week festival yields arguably its most popular event: the National Cherry Blossom Festival Parade. Catch everything from giant helium balloons to elaborate floats to live musical performances. Hunker down in the grandstand, or walk along the parade route – which runs for 10 blocks along Constitution Avenue NW – for free.
3
Sakura Matsuri – Japanese Street Festival - April 8
The largest one-day Japanese cultural festival in the United States, the Sakura Matsuri – Japanese Street Festival is an event for all ages. Enjoy live performances on four stages, food, merchandise and even martial arts demonstrations. The event is held on M Street & New Jersey Avenue SE in the Capitol Riverfront neighborhood.
4
Anacostia River Festival - April 9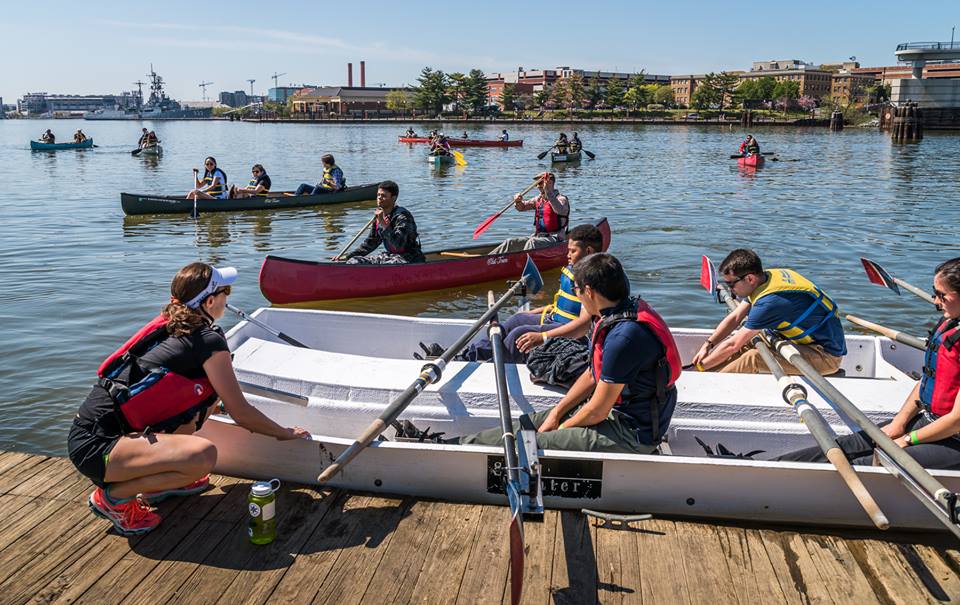 The Anacostia River Festival celebrates connecting people to parks. Activities include hands-on art projects, kayaking and canoeing, live music and performances, and much more. Held in Anacostia Park, this free event encourages residents and tourists alike to explore the communities and parks east of the river.
5
EventsDC presents Cherry Blast! - April 14
Held at Union Market's Dock 5 for the first time in 2017, this vibrant spectacle is a cultural mash-up that promises to be one of the highlights of the season. The event will feature a night market full of food and artisan vendors, all curated by Chef Erik Bruner-Yang of Maketto. You'll be immersed in Japanese culture through an interactive art showcase, fashion displays and live music. Find out more info and get tickets to this hip and dynamic celebration here.
6
Southwest Waterfront Fireworks Festival - April 15
Music lovers, get ready for nearly eight straight hours of free tunes, all-ages activities and a beer garden capped off by fireworks at the Southwest Waterfront. Folks can stroll along the riverside for fresh seafood finds, and stick around for one of the best vistas for firework watching. Entertainment begins at 2 p.m. and is capped off with fireworks at 8:30 p.m, weather permitting.
7
Credit Union Cherry Blossom Ten Mile Run & 5K Run-Walk - April 2
Set up shop in East Potomac Park to catch views of runners participating in this year's contest. The slots fill up quickly, so enter the lottery early or watch the race and cheer on the approximately 15,000 participants.
8
Annual Cherry Blossom Freedom Walk - April 1
Tim Evanson
Lace up your sneakers for this stroll, which commemorates Japanese Americans and their experience during the Second World War. The walk begins and ends at the intersection of Louisiana & New Jersey Avenues NW, the site of the National Japanese American Memorial.
9
Blossom Kite Festival - April 1
Head to the Washington Monument grounds for this kite-flying festival. Watch expert kite fliers from all over the world participate in the Hot Tricks Showdown, a stunt kite-flying event. Make sure you bring your camera.
10
Cinematsuri at E Street Cinema – March 19-30
This Japanese film festival is another fascinating way to engage with one of the world's most intriguing cultures during the National Cherry Blossom Festival. A total of five films, each of a different genre and reflective of the current richness of Japanese cinema, will be shown over a weeklong period. Last but not least, on March 30, Cinematsuri will host a screening of eight short films.
For more cherry blossom anime fun, check out this blooming love story:
11
Japanese Culture Day at Library of Congress - March 25
Watch Japanese culture come to life at the Library of Congress' Thomas Jefferson Building. Children and adults will be introduced to Japanese life and culture through hands-on activities like origami, kimono-wearing and karate demonstrations by Tsuyoshi Takemori of DC Yamato-juku Karate Club. This free event will also feature special programming from the Japan-America Society of Washington, DC, covering Japanese life in the states, as well as Japanese cuisine. Past National Cherry Blossom Festival princesses also attend, teaching children the art of tiara-making.
12
National Cherry Blossom Opening Ceremony - March 25
S Pakhrin via Flickr
Diehard blossom-goers make a point to be official about their visit by reserving tickets to this free event. Experience the festival on stage, through traditional and contemporary performances at the Warner Theatre. *Note: Note: There will be a $5 registration fee when tickets are claimed.
13
Smithsonian American Art Museum Cherry Blossom Celebration – March 25
Join one of DC's most popular museums in celebrating the National Cherry Blossom Festival. The free event will take place from 11:30 a.m. – 3 p.m. at the Smithsonian American Art Museum. Expect Japanese-themed activities that the entire family will enjoy. More details coming soon.
14
Pink Tie Party - March 16
National Cherry Blossom Festival
Show off your duds and support the blossoms at this exclusive pink tie fundraiser, where a $200 ticket will give you access to one sophisticated celebration. Mixologists go toe to toe with their own heady cherry blossom concoctions, while chefs also get into the spirit by rustling up spring-themed eats.
Read our complete guide to the National Cherry Blossom Festival and visit the National Cherry Blossom Festival's website for more information on the festival.