Celebrate the cherry blossoms with spring-themed virtual and in-person events hosted by the National Cherry Blossom Festival
The National Cherry Blossom Festival (March 20 – April 11) is a citywide event that celebrates the 1912 gift of 3,000 cherry blossom trees to Washington, DC by the mayor of Tokyo. This year's festival features a range of spectacular virtual and in-person celebrations, from porch decorations across the city to an art scavenger hunt to virtual editions of the Opening Ceremony and Pink Tie Party. Local restaurants even get into the spirit with the Cherry Picks program, while DC-area hotels offer blossom-themed packages, deals and discounts.
To ensure the health/safety of our communities, it is recommended for all to enjoy the festival virtually this year and experience the cherry blossoms via the live BloomCam. Also, in accordance with guidance from the Centers for Disease Control and DC Health and in consultation with the National Park Service Office of Public Health, the National Park Service will limit all vehicular and pedestrian access to the Tidal Basin, East Potomac Park and West Potomac Park during the peak bloom period of the cherry blossoms as a public health precaution to mitigate the spread of COVID-19.  The start and end dates of any restrictions are dependent on the bloom cycle of the trees, but are currently projected to fall between approximately March 26 and April 12. Updates will be posted the National Park Service's website and on its Facebook, Twitter and Instagram accounts dedicated to the National Mall.
Read below for marquee events and make sure to check out our other cherry blossom content.
Please check our travel status update and What's Open page for the latest information on DC as you plan your trip or virtual celebration.
01
Virtual Opening Ceremony for the National Cherry Blossom Festival – March 20

The National Cherry Blossom Festival and the Japan Foundation will join together to bring you an exciting virtual opening ceremony featuring performers from DC and Japan. Liven up your living room with this epic spring celebration filled with riveting artistry and spectacle. The free event requires registration, which will be open at the end of February.
6-7:45 p.m.
02
SAAM Virtual Cherry Blossom Celebration – March 20

The Smithsonian American Art Museum (SAAM) will host this virtual program as the National Cherry Blossom Festival kicks off. Enjoy a Japanese Taiko drumming performance by Nen Daiko, then learn how the group plans their performances and make their own instruments. SAAM docents will lead virtual tours and activities and the Family Zone features seasonal crafts, videos, coloring pages and other resources.
03
Petal Porch Parade Touring – March 20 – April 11

Presented in tandem with Amazon, the National Cherry Blossom Festival's new Petal Porch Parade asks DMV residents to decorate their porches, yards and windows to conjure springtime spirit throughout the area. Registration to participate is open through March 15, and decorations will be in place throughout the festival (March 20 – April 11). Petal Processions will be held on April 10 and 11 as a grand culmination, with the procession set to visit select Porch Parade neighborhoods, including 10 donated Toyota vehicles painted by DC artists. Visit the festival's website for more information on how to participate and safely enjoy this exciting new spring initiative.
04
Art in Bloom – March 20 – April 11

Custom cherry blossom public art sculptures will be placed at 25 distinct DMV locations throughout all 8 DC wards, as well as Northern Virginia and Maryland. Challenge your friends and family to discover all 25 and note that successfully completed hunts will be entered into a drawing for prizes. Post your poses with the pieces on social media using the hashtag #ArtInBloom. Check the festival's website for updates on the promotion.
05
Downtown DC's Chalk Walk – March 20 – April 30

Located at the Gallery Place alley off 7th Street NW, this activation from DowntownDC will be a city highlight throughout the spring. You'll be able to step into an immersive art experience that should make for some great Instagram posts, as you'll be situated in the midst of a massive cherry blossom-inspired 3D installation. Share your photos with #ChalkWalkDC for a chance to win prizes from the DowntownDC BID.
06
Pink Tie Party – March 26

Dress up at home like you're at the year's biggest ball during the 2021 Pink Tie Party. Typically a black tie fundraising affair in-person, this year's edition will allow you to join revelers from all over the world virtually. Expect engaging entertainment (including sake experts!), friendly competitions and plenty of springtime pageantry. Virtual access-only tickets are now available for just $20.
7 p.m. |  Tickets
07
Blossom Kite Fly – March 27-28

Although this annual tradition can't take place on the National Mall this year, you can still enjoy a festive springtime kite celebration from home in 2021. Register for the Blossom Kite Fly before March 15 and you will receive an official National Cherry Blossom Festival kite and a limited edition t-shirt. Additionally, also on March 15, virtual workshops and demos will be available online to prepare you for the official fly on March 27 and 28. Make sure to share your kite-flying experience on social media with the hashtags #BlossomKiteFly and #StepIntoSpring.
08
Sakura Matsuri – Virtual Community Gathering – April 3

The Japan-America Society of Washington, DC has reimagined this annual celebration for 2021. This year, Sakura Matsuri will be a virtual community event, with stage performances from local and Japanese groups and the chance to interact with vendors, participants and exhibitors. Virtual expo booths will let attendees check out Japanese crafts, view demos, purchase items, learn more about Japan and meet business owners.
09
National Cherry Blossom Festival Virtual Celebration Show presented by Events DC – Premieres April 9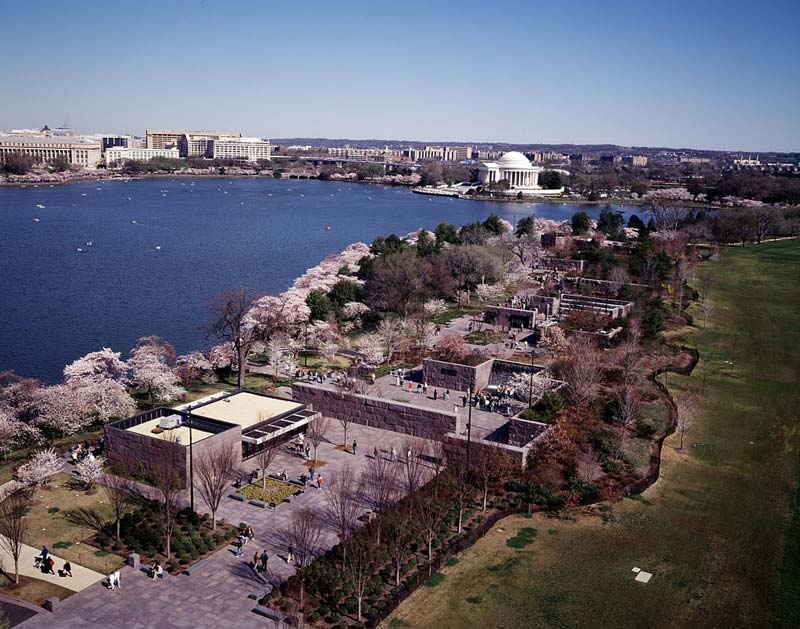 Cherry blossoms lining the Franklin Delano Roosevelt Memorial - National Mall - Washington, DC

As the festival winds down, hang out at home and wrap it all up with one more epic celebration show presented by Events DC. Expect cherry blossom-inspired performances and activations during the broadcast, which will premiere on Gather by Events DC on April 9, with a showing on WJLA the next day. The show will also air through nationally syndicated outlets through June.
10
Enjoy additional virtual components

For a live bloom cam of the Tidal Basin, cherry blossom-inspired artwork, a student art showcase, the Blossom Kids youth program and important updates, you'll want to make sure you regularly visit the National Cherry Blossom Festival's website and social media throughout the coming weeks. Stay in-the-know and participate in the Cherry Picks program, which features special dishes and discounts from DMV restaurants. There's also City In Bloom, which will offer impressive blossom-flavored light displays at locations throughout the District, perfect for capturing during your safe travels through the city.