DC's oldest neighborhood offers a wide range of on- or near-the-water fun.
While Georgetown's cobblestone streets, cupcake stores, historic bars and stylish boutiques account for many of its charms, Washington, DC's oldest neighborhood also sports a bevy of waterfront recreation that any visitor can thoroughly enjoy. From on-the-water revelry to dining accompanied by spectacular scenery to highly anticipated annual events, the Georgetown waterfront presents an array of activities for you to explore. And while you're there, discover the rest of the best things to see and do in Georgetown.
01
Paddle the Potomac
You'll be hard-pressed to find a better afternoon on the water. Key Bridge Boathouse is the place to go to rent kayaks, canoes or to take a paddling lesson. You'll enjoy incredible panoramas of the Potomac River and the DC and Virginia skylines while also getting a great workout. For the adventurous fitness fanatics, try the stand-up paddleboard yoga or fitness classes.
02
Hang out at The Washington Harbour
03
Bike, hike or run next to the river
Georgetown also presents miles of trails for walking, biking or running alongside the Potomac River and the C&O Canal. The gorgeous C&O Canal Towpath and Capital Crescent Trail are two of the most popular trails in the region, with each presenting eye-popping vistas of water. Cyclists will also especially appreciate the nearly 50 public bike racks located throughout the neighborhood, as well as eight Capital Bikeshare stations and a bike fixit repair station on K/Water Street.
04
Wander along Georgetown's waterways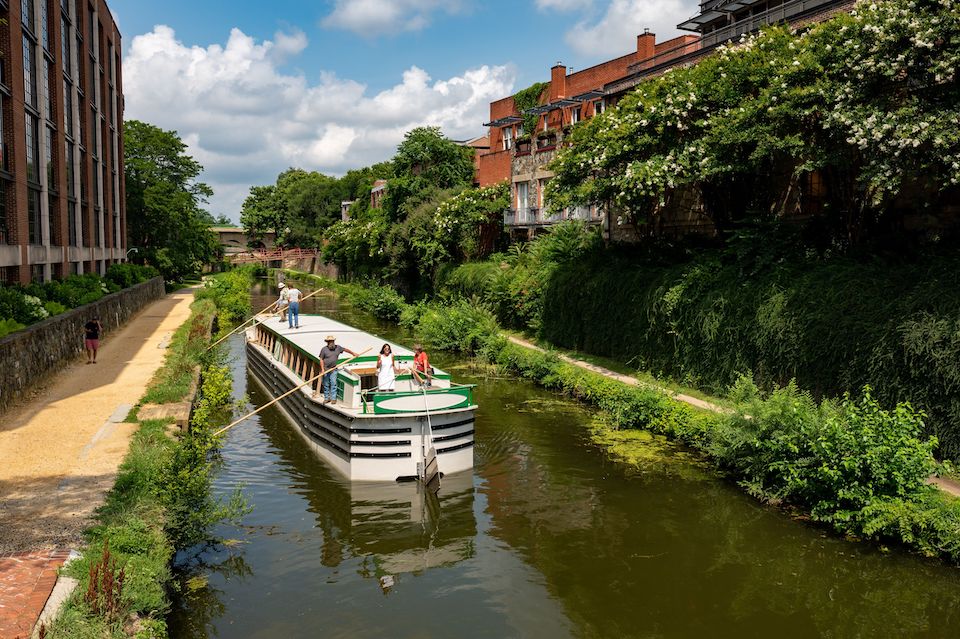 The C&O Canal and the Potomac River are located just south of M Street, and in between the two bodies of water are plenty of nooks and crannies to explore. You'll find an array of bakeries, coffee shops, and boutiques in this waterfront district, as well as architecture marvels and remnants of Georgetown's industrial past.
05
Check out the streateries
Enjoy a meal outdoors at one of the Streateries across from Georgetown Waterfront Park. Mr. Smith's of Georgetown and Susheria are popular for Streatery-style seating.
06
Skate on the largest ice rink in the District
From mid-November through March, Washington Harbour's dancing fountain turns into prime ice skating real estate. Nighttime means magic, as dozens of twinkling snowflakes light up the rink right next to the Potomac River.
07
Get your GLOW on
Experience a new season of light during Georgetown GLOW, the region's only curated outdoor public light art experience. Established in 2014, the innovative (and free!) exhibition has quickly become one of the city's most anticipated annual events, with walking tours and Meet the Artist programming available for visitors. 
08
Turn your boat ride into a booze cruise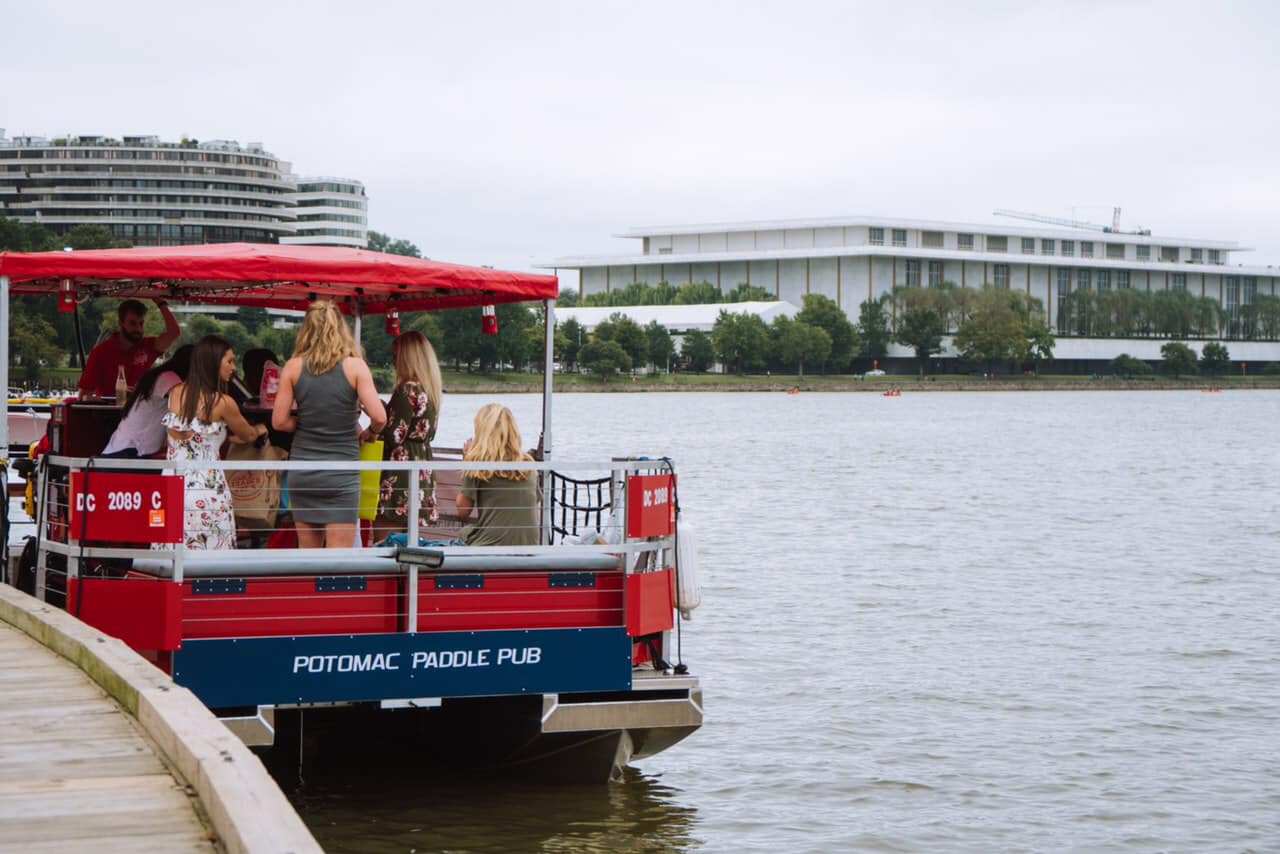 Potomac Paddle Club
Potomac Paddle Club is rain-or-shine pedal boat that accommodates up to 16 people and has 10 pedal stations for its hour-and-a-half voyages. Good to know: You can turn your aquatic spin class into a booze cruise with the BYOB policy. There is also a motor on board in case your legs grow too tired as you cruise down the Potomac. Individual seats can only be purchased Monday through Thursday, and group trips can be purchased on Fridays through Sundays.