You are here
16 Things to See & Do in Georgetown
16 Things to See & Do in Georgetown
A favorite of tourists and locals alike, discover all there is to see and do in Georgetown.
Shopping isn't the only thing to do in Georgetown. This historic 'hood is full of charm, good eats and plenty of scenic views. Pick your adventure and get exploring in this centuries-old part of the District.
1
Stroll along the C&O Canal
Back when Georgetown was a bustling tobacco port, the historic Chesapeake and Ohio Canal began its 184-mile route right here in Washington. These days, what remains is a serene, unhurried towpath that's perfect for walking, running and cycling – or just taking in a quiet moment of peace.
2
Explore the gardens at Dumbarton Oaks
Dumbarton Oaks
Secluded and lush, the grounds of this beautiful park have been described as being like the Secret Garden and it's no surprise why: Manicured greenery, winding pathways and classical fountains comprise a 27-acre historic park that sits atop the highest hill in Georgetown. An adjacent museum specializes in Byzantine and Pre-Columbian art.
3
Climb – carefully! – the "Exorcist Stairs."
A draw for fitness buffs and movie nerds alike, the 75 super-steep stone stairs at the corner of 36th and Prospect Streets gained their big moment of fame as the spot where Father Karras tumbled to his demise in the 1973 horror film The Exorcist. The staircase even snagged a historical designation in 2015.
4
Get active on the Potomac River
In warmer months, head to the Key Bridge Boathouse on the Georgetown waterfront to rent kayaks and canoes or take a stand-up paddleboarding lesson.
6
Ogle famous homes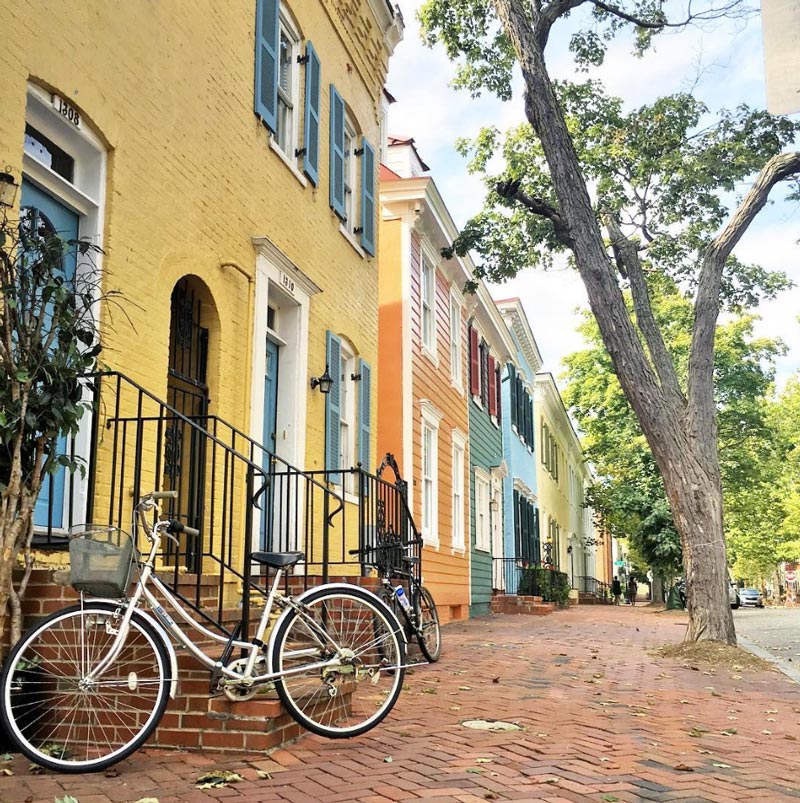 Georgetown has been home to lots of celebrities: Julia Child taught cooking lessons and tested recipes for her legendary first cookbook while living in the yellow wood-frame house at 2706 Olive Street for in the 1950s – the home sold for nearly a million in 2015. Or learn about the rich history of the Kennedy family in Georgetown – including the house John F. Kennedy lived in at 3307 N Street while running for president.
7
Marvel modern architecture at the House of Sweden
House of Sweden
A spectacular example of modern Scandinavian architecture, this waterfront building – which houses the embassies of Sweden and Iceland – regularly hosts events like yoga and jazz on its rooftop terrace, and exhibits on varied topics, such as an exhibit celebrating Swedish actress Ingrid Bergman.
8
Catch some live jazz at Blues Alley
Founded in 1965 and modeled after the jazz clubs of the 1920s, this supper club-style music venue is hidden away in an alley carriage house and hosts live jazz musicians almost every night of the year. Throughout its history, such legendary performers as Ella Fitzgerald, Dizzy Gillespie and Tony Bennett have taken the stage at the Washington institution.
9
Tour the gorgeous Tudor Place
DC Gardens
This historic landmark has been a fixture in DC since 1816, serving as a home to descendants of Martha Washington for six generations. Inside the elegant house, discover furnishings, household items and fascinating Washington-related artifacts. The five-plus acres worth of gardens on the estate make for a wondrous and scenic outdoor experience.
10
Sit in the booth where JFK popped the question
Legend held that then Senator John F. Kennedy proposed to Jacqueline Bouvier in booth 3 at Martin's Tavern in June 1953. The tavern marked the spot with a brass plaque, and so many couples followed suit that the booth became famous for engagements of mere mortals, too. Turns out it wasn't just wishful folklore—in 2015, a 98-year-old eyewitness confirmed the tale.
12
Make a memorable lunch date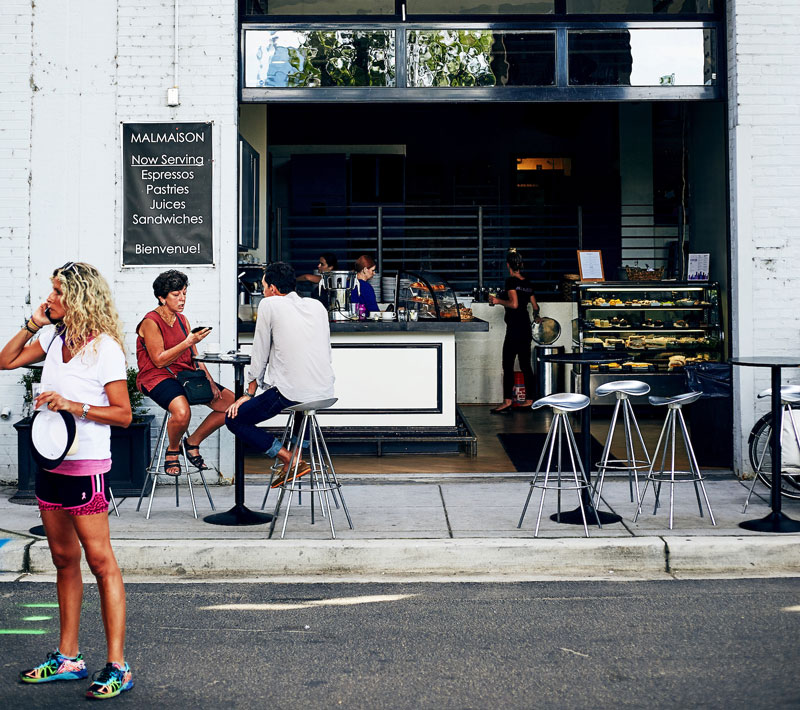 Georgetown is loaded with beloved lunch spots. If you're looking for a quick, casual bite, hit up the homegrown chain Sweetgreen for healthy-yet-delicious salads, Good Stuff Eatery (owned by Top Chef star Spike Mendelsohn) for decadent burgers and milkshakes, Stachowski's for out-of-the-box butcher sandwiches, or or check out the full café menu at Malmaison. Don't forget to swing by Olivia Macaron afterwards for a sweet treat that's totally Instagram-worthy.
13
Splash or skate at the Washington Harbour
Georgetown's river waterfront is home to tons of great restaurants – many, including Sequoia, Tony and Joe's Seafood Place and Farmers Fishers Bakers, offer patio seating in warm weather – and plenty of outdoor activities. In summer, children (and adults, too) can splash in the sprinkler-style water fountain, watch the boats and feed the ducks. In winter months, one of our favorite places to ice skate opens for the season.
14
Shop to your heart's content
No trip to Georgetown is complete without a shopping session. Fashionistas know to browse designer duds at Alice & Olivia, Billy Reid and Rag & Bone alongside department store offshoots Cusp and Barneys Co-Op and local boutiques like Hu's Wear (you can check out these shops and more in our Georgetown shopping guide). More interested in snagging a bargain? There's a TJ Maxx/Home Goods on M Street, and upscale secondhand stores Ella-Rue, 2nd Time Around and Buffalo Exchange are all in the neighborhood.
15
Get your bocce on at Pinstripes
This family-friendly game space – which fuses an Italian-American restaurant with a sprawling bowling alley – offers 14 bowling lanes and six bocce courts in an enormous 32,000 square foot space that borders the canal.
16
Solve a mystery at Escape Room Live
Looking for a unique experience? Try this live game, in which a small group of participants must decipher clues to find their way out of a locked room. The Georgetown location has three different themed rooms, and reservations are required.
There really is a lot going on in Georgetown. If you're looking to explore another historic DC neighborhood, check out all the sights and activities in Capitol Hill.