Bring your camera and get ready to 'gram while exploring this historic DC neighborhood.
If there's one thing Georgetown has on lock, it's gorgeous scenery. Between the rows of historic townhouses that line the shaded streets, the peaceful C&O Canal and the reflecting vista of the Potomac River, this neighborhood practically begs for an Instagram. Here are some charm-filled spots that make for the ultimate in share-worthy shots.
ROW HOUSES
The narrow, tree-lined streets feature historic townhouses that date to the 18th and 19th centuries.
C&O CANAL
If you want to escape the crowds of M Street, the towpath that runs along the historic C&O Canal is serene and perfect for a walk or jog.
WASHINGTON HARBOUR
By summer, Washington Harbour is perfect for patio dinners and cocktails at restaurants like Sequoia and Nick's Riverside Grill. Come winter, the Harbour transforms into one of the region's largest skating rinks.
BAKED & WIRED
Though Georgetown has no shortage of sweet treats—Georgetown Cupcake, Sprinkles, Olivia Macaron and Patisserie Poupon are all solid choices—a trip to the neighborhood isn't complete without a coffee and a cupcake from local fave Baked & Wired.
BOOK HILL
Head north on Wisconsin Avenue and you'll wind up in Book Hill, a charming Georgetown sub-neighborhood known for its art galleries, antique stores and charming independent boutiques.
CADY'S ALLEY
Tucked into an alley just south of M Street, Cady's Alley is a darling brick walkway that's conveniently lined with an array of design-focused shops (try Relish for high-end designer fashion) and the European-inspired Kafe Leopold.
TUDOR PLACE
In between row homes in Georgetown, you'll also find stunning estates like Tudor Place Historic House & Garden. The Federal-style home of Martha Parke Custis Peter, granddaughter to Martha Washington, Tudor Place exhibits include more than 200 artifacts from George and Martha Washington, including hand-written letters by the first U.S. president.
WATERSIDE SCENERY
Georgetown's proximity to the Potomac River makes outdoor adventures a major draw. Boating in DC's Key Bridge Boathouse offers everything from kayak rentals to stand-up paddleboarding lessons, and in summer months, you'll find yoga classes by the water.
M STREET & WISCONSIN AVENUE INTERSECTION
Georgetown's main intersection, where M Street meets Wisconsin Avenue, is anchored by the gold leaf-domed Farmers and Mechanics bank building (now owned by PNC Bank), which was built in the 1920s.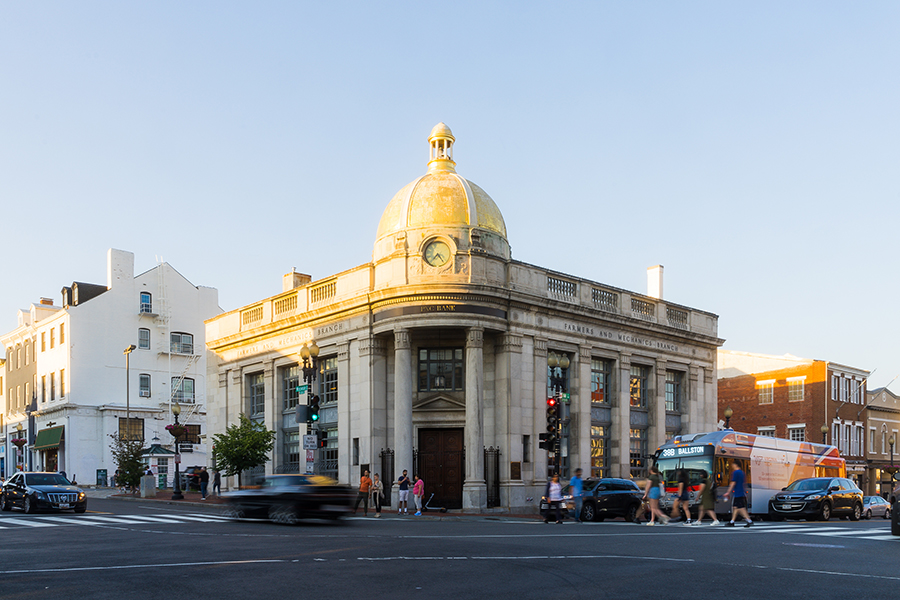 THE WAVE WALL
This mural, based on Hokusai's famous painting, spans the side of a row house at 3510 O Street.
Interested in learning more about Georgetown? Explore this popular DC neighborhood.