Georgetown's darling entrepreneurs sit for a DC chat
Sisters Katherine Kallinis Berman and Sophie Kallinis LaMontagne are the co-founders of Georgetown Cupcake, stars of the TLC's hit series DC Cupcakes and best-selling authors of "The Cupcake Diaries" and "Sweet Celebrations." Inspired by their grandmother, in 2008, Katherine and Sophie traded careers in fashion and venture capital to follow their passion for baking and opened Georgetown Cupcake in – you guessed it – Georgetown. 
The driven sisterly duo describe for us their world-famous cupcakery, favorite restaurants and District living:
What are your favorite things to do or places to go in DC?
KKB: I have a daughter. I'm recently a new mom. So I love to do anything that's kid friendly in the city. We actually live near Roosevelt Island and we love to walk around the island. It's very beautiful. And I love going shopping, obviously, for baby clothes and baby toys. Dawn Price Baby is a local DC business. They have the cutest things for children in there. The Georgetown Waterfront is gorgeous, too, especially with the fountains and the park. I love to bring my daughter there.
SKL: And just the design, I love Cady's Alley here. There is so much character to it. There are very few other neighborhoods in the country, really, that have this kind of character. There's just something about the alley and the cobblestone. It makes the neighborhood very walkable and it's very family friendly. It's a great place to spend a leisurely Sunday or Saturday afternoon.
What are your top three restaurants for a pre-cupcake meal?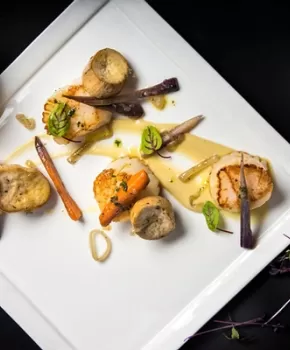 Ristorante Tosca - Washington, DC
KKB: We have a favorite restaurant near Logan Circle.
SKL: Le Diplomate. It's very good.
KKB: I think if you want to go a little fancier, I would say Ristorante Tosca. It's very good Italian food.
SKL: We like Good Stuff Eatery.
KKB: Oh yeah. I'm so glad they opened in Georgetown because when I was pregnant with my daughter, I made my father drive me in rush hour traffic, from Georgetown all the way to their Capitol Hill location to get a toasted marshmallow milkshake. It's the best. It's worth the splurge. And if you don't want something too fancy but something a little bit nice, I like Peacock Cafe in Georgetown.
SKL: Yes. We love brunch. That's our favorite. We love their mint lemonade.
KKB: Oh yeah the mint lemonade at Peacock is really good. They blend the mint leaves into the lemonade. It's delicious. Oh one more: the one thing that we are obsessed about is the kale salad at Kafe Leopold. It's one of our favorites. Sometimes we'll just get it as an entrée.
What is the coolest experience you've had since opening Georgetown Cupcake?
KKB: I think for us, definitely hands-down, is being able to ship 10,000 cupcakes to troops in Iraq and Afghanistan with the Chairman of the Joint Chiefs of Staff. And it's been one of the greatest things we've ever done and we've been able to give back in a way that I don't think we really understood that we could.
SKL: So every year we donate happily to our troops. It's a special relationship we have with the Chairman of the Joint Chiefs office and the USO. We love supporting our troops. Another highlight was having Sasha Obama's birthday at our bakery.
KKB: Yes, she had her 10th birthday here and we baked cupcakes with her, her sister and her friends.
SKL: They made them from scratch and frosted them themselves. So that was super fun. It's just those kinds of experiences; being in Washington, DC you don't know who's going to walk into your door.
KKB: It is so true. I mean when we're walking across Key Bridge to come to work every day, we'll see Marine One (the presidential helicopter), just fly overhead. You can't get that in any other city. You really can't.
SKL: And since being here, we've had everyone from U.S. Senators come in to Stevie Wonder to Kim Kardashian. It's just amazing the kind of people that come through the door here. Martha Stewart visited—
KKB: We did her show twice, and she came in asking for us, but we weren't here. We were in New York. But she ordered a mocha and coconut and took pictures with our staff.
What is the all-time coolest cupcake that you've ever created?
KKB: I would say, for me personally... was when Sophie made the lavender earl grey teacake for my bridal shower. I drink lavender earl grey tea every morning. And so she developed a recipe. She got lavender sugar from France. And it turns the cake into this beautiful pistachio green color, and the lavender frosting. It's to die for. And now it's on our menu every April/May.
What do you think is cool about Washington, DC?
KKB: I think what's cool about Washington, DC is that you are in the most powerful and historic city in the world and – it is home.
SKL: When you drive by the White House and you see the monuments—
KKB: Or a motorcade going by, you pinch yourself and you're like, "Wow, I live here!"
SKL: It really is a cool city. It's like history in the making-  in your backyard.
KKB: It is pretty crazy, because when we first started Georgetown Cupcake, we would never think that we would have Sasha Obama in the bakery baking with us. We would never think that we would meet the vice president. It's an amazing place to live because you just never know who you're going to meet here.
KKB: I'm a huge fan of DC.
SKL: We're very proud of being from DC.
After you get your sugar fix at Georgetown Cupcake, discover what else there is to see and do in the neighborhood.