The nation's capital features a variety of activities to honor the holiday
Juneteenth, also known as Freedom Day, Jubilee Day, Emancipation Day or Liberation Day, marks the emancipation of Black people who had been enslaved in the United States. Not until recently did this historically significant and culturally relevant holiday begin to gain the notice that it deserves. In the nation's capital, where Juneteenth has been recognized as an official holiday since 2004, you will find plenty of ways to celebrate Black history, freedom and expression from now through Juneteenth weekend (June 17-19). As you plan your celebrations, make sure to check out Ben's Chili Bowl's perfectly timed new music video that honors the DC institution and the city's official music, go-go.
Afro-Atlantic Histories – Through July 17
The National Gallery of Art invites you on a voyage through time in this new exhibit that aims to shed light on the complex histories of the African Diaspora. Take an in-depth look at the cultural formations and historical experiences of Black and African people since the 17th century. The exhibit will offer more than 130 pieces of art, including photos, sculptures, paintings and other media by artists from the Caribbean, Europe, Africa and the Americas.
Open 10 a.m. – 5 p.m. daily |  Free admission |  Safety guidelines
National Gallery of Art, 6th Street & Constitution Avenue NW, Washington, DC
Make Good The Promises: Reclaiming Reconstruction and its Legacies – Through Aug. 31
Step into the National Museum of African American History and Culture's new 4,300-square-foot exhibition that explores the Reconstruction era through an African American lens. Make Good The Promises features 175 objects, 200 photographs, 15 audio, video and interactive programs, as well as a companion book. The exhibition explores the deep divisions and clashing visions about how to rebuild the United States after slavery and the end of the Civil War. It connects that era to efforts in 2021 to make good on the promises of the Constitution.
10 a.m. – 5:30 p.m. |  Free timed passes |  Safety guidelines
Smithsonian National Museum of African American History and Culture, 1400 Constitution Avenue NW, Washington, DC 20560
Drumfolk – Through June 26
Step Afrika! and Arena Stage join forces for this electrifying production inspired by the Stono Rebellion of 1739 and the Negro Act of 1740 in South Carolina. Through its signature percussive dance, Step Afrika! tells the story of brave, enslaved Africans who refused to let the beat stop and in turn, inspired African American culture all the way up to the present day. Drumfolk marks the first of a three-part, multi-year collaboration between Step Afrika! and Arena Stage and prominently features local musical star Christylez Bacon, making it one of the can't-miss shows of the summer in DC.
2 p.m. & 8 p.m. |  Tickets
Arena Stage, 1101 6th Street SW, Washington, DC 20024
Aṣẹ: Afro Frequencies – Through July 30
ARTECHOUSE's newest experience will allow you to walk alongside African kings and queens as you explore timeless questions of identity, power and belonging. Inspired by aṣẹ, a Yoruba concept that relates to our power to produce change, Aṣẹ: Afro Frequencies celebrates the Black experience through the perspectives of artist Vince Fraser and poet Ursula Rucker. The exhibit makes for an ideal activity during Juneteenth weekend. Use the 'Tickets' link below for a special 10% discount!
Monday – Thursday: 1-9 p.m. | Friday – Sunday: 10 a.m. – 10 p.m. |  Tickets
ARTECHOUSE, 1238 Maryland Avenue SW, Washington, DC 20024
 
Reframing the Narrative – June 14-19
The Kennedy Center hosts a fascinating program timed perfectly with Juneteenth. The week-long celebration will offer dynamic performances by the Dance Theatre of Harlem, the Ballethnic Dance Company and Collage Dance Collective, along with other Black-identifying ballet dancers from across the United States. Don't miss your chance to witness the incredible work of these pillar companies. Note that Program A will feature a new work by legendary jazz musician Donald Byrd commissioned by the Kennedy Center.
Tickets
John F. Kennedy Center for the Performing Arts, 2700 F Street NW, Washington, DC 20566
 
Ancestors Know Who We Are – Begins June 15
The National Museum of the American Indian presents this virtual exhibit that marks the museum's first to feature Black-Indigenous women artists. Through photography, digital art, basketry, painting, artist interviews and supplemental essays, the exhibition will explore issues of race, gender, multiracial identity and multigenerational connection.
More Info
Red Velvet – June 16 – July 17
Shakespeare Theatre Company stages the tale of a Black actor who finds himself playing Othello on London's grandest stage. Set in 1833, Ira Aldridge takes to London's Theatre Royal as one of the Bard's most famous characters as a bill promoting the abolition of slavery sends shockwaves through Parliament. Experience Aldridge's triumph in the face of social injustice and racism.
Tickets
Michael R. Klein Theatre, 450 7th Street NW, Washington, DC 20004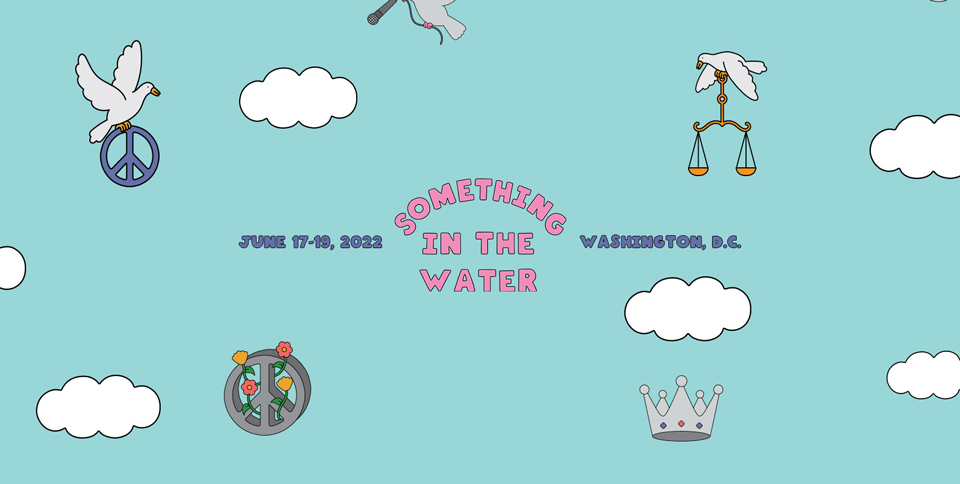 Something in the Water – June 17-19
Renaissance man Pharrell Williams brings his Something in the Water Festival to the nation's capital over Juneteenth weekend. The festival will celebrate art, culture and music across the weekend. The list of can't-miss artists is a long one, but we'll throw some standouts at you: Jon Batiste, Lil' Baby, Lil' Uzi Vert, Ashanti & Ja Rule, Denzel Curry, Dj Domo, Moneybagg Yo, Pusha T, Rae Sremmurd, Run The Jewels, Teyana Taylor, Thundercat, T.I., Tyler, The Creator, Usher and of course, Pharrell & Phriends. Local go-go musicians Backyard Band, Rare Essence and Sound of the City will also perform.
Passes
Independence Avenue NW, Washington, DC
 
Free Screening of New NASA Documentary: The Color of Space – June 18
In honor of Juneteenth, you are invited to an evening of inspiration with NASA's Black astronauts who've gone from space to the big screen. Club for the Future and Howard University are hosting this event in coordination with NASA to inspire future generations to pursue their dreams in science, technology, engineering and exploration. The free event begins with a family-friendly reception and hands-on activities at 5:30 p.m. followed by the documentary screening at 7 p.m. Throughout the evening, you'll have chances to snag a selfie with astronauts from the film, explore the International Space Station through virtual reality, create a postcard to fly to space and back and climb into a space capsule. The event is free but registration is required.
5:30-8 p.m. |  Registration required
Cramton Auditorium, 2455 6th Street NW, Washington, DC 20059
See the Emancipation Proclamation at the National Archives – June 18-20
From June 18-20, the National Archives will display the original Emancipation Proclamation and its companion document, General Order No. 3, which granted freedom to the last enslaved people in Galveston, Tx. three years after the Proclamation was issued. Note that Because of its fragility, the Emancipation Proclamation can only see 36 hours of sunlight per year, so this display is rare. The Archives will have extended hours for viewing, and will be open from 10 a.m. to 7 p.m. across the three-day stretch.
10 a.m. - 7 p.m. |  Free Admission
National Archives, 700 Constitution Avenue NW, Washington, DC 20408
 
A Juneteenth Celebration with Thee Phantom and the Illharmonic Orchestra – June 19-20
Commemorate the Juneteenth holiday with a performance by an all-star, all-Black orchestra at Wolf Trap. Part B-Boy, part Beethoven, Thee Phantom and the Illharmonic Orchestra will mix together the energy and passion of hip-hop with the sweeping sounds of a live orchestra across two nights of performances just outside of the District proper.
6 p.m. |  Tickets
Wolf Trap, 1551 Trap Road, Vienna, VA 22182
Experience Black Lives Matter Plaza
Located along a two-block area of 16th Street NW in Downtown DC, this famous mural features the words "Black Lives Matter" in 50-foot-tall letters, in yellow and all caps, as well as the flag of the District. The area is open to visitors at any time of the day, allowing for reflection on the words emblazoned on the street. Many visitors take photographs of the large yellow letters that stretch down one of the nation's most iconic streets.
Visit the National Museum of African American History and Culture
The Smithsonian National Museum of African American History and Culture, which recently reopened to the public, is a state-of-the-art building that addresses nearly every aspect of the African American experience, covering the arts, slavery, the Civil Rights Movement, athletics and much more. For more information regarding hours, timed entry and safety protocols, visit the museum's website. The museum also features an outstanding virtual resource on the Juneteenth holiday complete with exclusive programming, videos, a social media toolkit, testimonials and much, much more.
10 a.m. - 5:30 p.m. daily |  Free Admission |  Timed Passes
Smithsonian National Museum of African American History and Culture, 1400 Constitution Avenue NW, Washington, DC 20560
Continue your experience by checking out these Black-owned restaurants in DC.