The Pentagon Memorial is open to all visitors, and public tours inside the Pentagon are available to US citizens with advance reservation.
Yes, but public tours inside the Pentagon are available to US citizens only with advance reservations. The Pentagon Memorial is open to all visitors.
How to tour the Pentagon
The Pentagon, located just outside Washington, DC in Arlington, Va., is the headquarters for the United States Department of Defense. It is open for official tours through the Pentagon Tours program.
Pentagon tours must be reserved at least 14 days in advance and no more than 90 days in advance. Tours are conducted Tuesdays and Thursdays (excluding federal holidays) at 10 a.m. and 1 p.m. Tours fill up quickly and it is highly recommended that you book well in advance of your visit. You can make a tour request online. International visitors must request a tour through their home country's embassy.
Individuals who have a Pentagon badge and escort privileges are permitted to give a self-guided tours to friends or family. If you are assigned to the Pentagon or if you are visiting a Pentagon staff member, contact the Pentagon Force Protection Agency at (703) 697-1001 to determine escort status.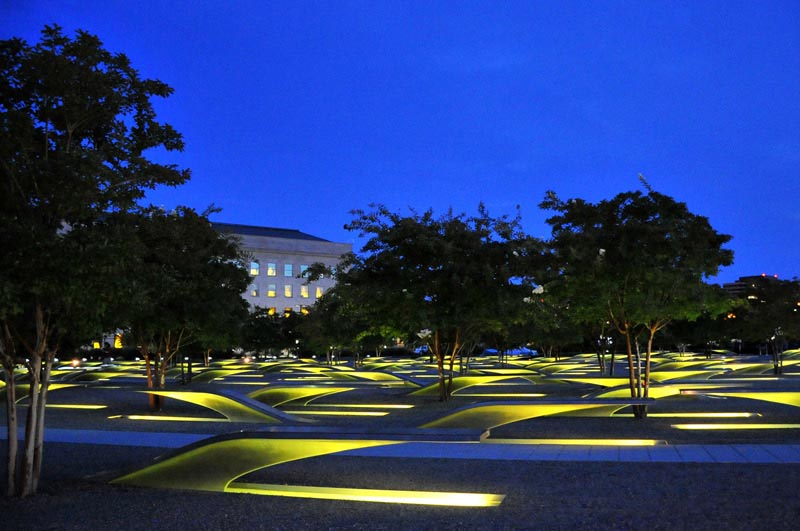 Nighttime at the National 9/11 Pentagon Memorial in Virginia
Touring the Pentagon
Tours are 60 minutes and cover about 1.5 miles inside the Pentagon, which is one of the largest office buildings in the world. Tours include the history of the four branches of the military and the opportunity to see the indoor memorial near the Sept. 11 crash site and the Sept. 11 Memorial chapel, as well as the Hall of Heroes (featuring the names of all the Medal of Honor recipients) and a number of other military displays.
Parking, security and accessibility
There is no public parking at The Pentagon. The Pentagon can be reached via its own dedicated Metro stop on the Blue and Yellow lines or you may choose to park at Pentagon City Mall and make the five-minute walk to the Pentagon via pedestrian tunnel. Once you've arrived, check in at the Pentagon Tours window near the Metro entrance.
Visitors must check-in at least 60 minutes prior to their scheduled tour to allow time for security. You will be asked to present your tour confirmation email and photo ID. All visitors will go through security scanners. All purses are subject to search. Large bags, including backpacks, shopping bags and camera bags are NOT permitted on the tour. Cell phone, cameras, recording devices and other electronic devices cannot be used on the tour and no photography is permitted inside the building.
Ramps are available for visitors with disabilities. Tour visitors in wheelchairs must bring someone who can assist them on the tour. A signer will be added to tours to assist hearing impaired visitors provided that two weeks' notice is given. Special tours for visually impaired visitors can also be arranged with two weeks' notice.
There are so many great tours and sightseeing opportunities in Washington, DC. Discover your next tour adventure.