No trip to Washington, DC is complete without touring our celebrated monuments and memorials.
Touring DC's iconic attractions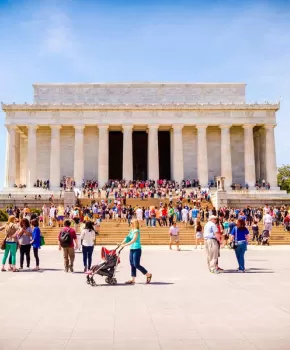 When you come to DC, especially if you're a first-time visitor, it's likely that our world-famous monuments and memorials will be at the top of your must-see list. Most of these major attractions are located on the National Mall, which extends from the U.S. Capitol to the Lincoln Memorial, with many of them running along Constitution Avenue.
Many of the monuments and memorials are open 24-hours a day, 365-days-a-year and you do not need to make advance reservations. These include the Lincoln Memorial, Jefferson Memorial, National World War II Memorial, the Martin Luther King, Jr. Memorial, the FDR Memorial and the Vietnam Veterans Memorial.
These National Park Service (NPS)-run memorials are usually staffed by NPS Rangers who can answer your questions from 9:30 a.m. - 10 p.m. Rangers also conduct various tours and special programming throughout the year. Visit the National Mall calendar page for more information.
Tours that require tickets
There are several major attractions that do require advance tickets. These tickets are usually free or have a minimal charge.
Tickets are required to go to the top of the recently reopened Washington Monument. Tickets may be ordered online for tour dates up to 90 days in advance, while additional tickets listed as "Not Yet Released" are made available the day prior to the desired tour date at 10 a.m. EST. Same-day tickets are also available on a first-come, first-served basis daily starting at 8:30 a.m. at the Washington Monument Lodge, located on 15th Street between Madison Drive NW and Jefferson Drive SW.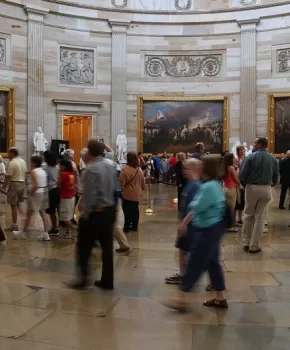 Tour groups in United States Capitol Building Rotunda - Attractions and landmarks in Washington, DC
Tours of the U.S. Capitol also need to be arranged in advance. Free reservations can be made via the visitthecapitol.gov website. Guided tours begin at the Capitol Visitor Center and include a 13-minute intro film, along with visits to the Crypt, the Rotunda and National Statuary Hall. Visitors can also request a staff-led tour through their Senator or Congress person.
When court is not in session, visitors can take free, self-guided tours of the Supreme Court. Trained docents are on-hand to give courtroom lectures every 30-minutes from 9:30 a.m. - 3:30 p.m. on weekdays. Visitors are also invited to attend oral arguments when court is in session. These seats are extremely limited. Visitors must wait in line the morning of a courtroom session. See the Visitor's Guide to Oral Arguments page for more information.
Admission to both the Bureau of Engraving and Printing (see where U.S. dollars are made!) and the National Archives (home of the original U.S. Constitution, Declaration of Independence and Bill of Rights) are free and open to the public. In busier months, you'll need to queue in an outdoor line to get inside.
Please visit our touring the White House guide for more information on booking a tour (Note: these tours must be booked well in advance).
Great options for guided tours
The highly acclaimed Unlimited Biking offers daily, three-hour guided bicycle tours of the monuments with stops at all of the major attractions along the National Mall. Unlimited Biking also offers tours after dark so that visitors can experience magnificent views of the attractions illuminated at night.

Big Bus Tours offers open-top sightseeing tours of the National Mall. Enjoy 24 or 48-hour hop-on, hop-off tours of the city's iconic landmarks. Along the way, you can learn about the city's history while listening to the entertaining and informative commentary. Your hop-on, hop-off ticket also allows you to exit the bus to explore and visit attractions up-close.
Get an exclusive discount and save big on your next Big Bus Tour. Just enter the promotional code VISITDC for the best available deal and start exploring the nation's capital.
Adventure DC Tricycle Tours offers live and entertaining historical narration as they transport you via pedicab to each monument and memorial. You can enjoy a customized tour that is pet-, child-, and mobility-impaired-friendly. Additionally, private golf cart and electric scooter tours are available. Public scooter tours are open to the general public on Saturdays, with limited availability. The code "DCFUN" will secure a discount on the public scooter tour.
Cruise around the nation's capital in style on Washington, DC Urban Adventures' unique electric vehicles, where you can see the monuments and memorials on the National Mall by day or night.
For a truly unique way to see the city, Capital Segway Tours offers guided experiences of the National Mall and surrounding sites. Visitors glide across town on a Segway, all while taking in the sites of Washington, DC.
DC by Foot offers free, tip-based walking tours of Washington, DC. These informative tours are conducted by expert guides who make it fun and educational. In addition to the National Mall, DC by Foot takes visitors to the Tidal Basin, Pennsylvania Avenue and Capitol Hill. Visitors can also learn all about President Lincoln's assassination or about Washington's secrets and scandals.
Contact Fiat Luxe Tours for an exciting private tour experience along the National Mall. Whether you want to learn the history of DC's most iconic landmarks or find the most perfect photo-ops, Fiat Luxe Tours has a tour for you. The company also conducts custom-made tours, too. 
Or, if you'd rather have a self-guided tour, American City Walking Guide offers printable guides to many DC landmarks on the National Mall as well as neighborhoods like Dupont Circle and Georgetown.