Art, faith and impressive architecture merge at the largest Catholic church in North America.
Mother Teresa, Pope Francis, Pope John Paul II and other religious figures have visited the National Shrine of the Immaculate Conception, paying tribute at the largest Roman Catholic Church in North America, and the 10th largest in the world. With its dozens of chapels devoted to the Virgin Mary, an upper church that can accommodate 10,000 worshippers and soaring central dome, it's a site inspiring both faith and awe.
The Basilica's Architecture
Construction began on the shrine in 1920, and continued through 1959. Built to resemble great European churches, but in a distinctive neo-Byzantine style, the structure is supported by columns and masonry but no steel beams. The impressive, jumbo-sized structure holds 70 chapels saluting the Virgin Mary, making it one of the country's most prominent Maronite houses of worship.
Chapels surrounding the upper church and the crypt pay tribute to incarnations of Mary from a variety of cultures, many of them representing the immigrants that made America. Look for a serene sculpture of India's Our Lady of Fatima and a bright mosaic representing South America's Our Lady of Guadalupe. Other Byzantine-style mosaics decorate many of the chapels, domes and walls. The largest and most striking is Christ in Majesty, a 3,610 square foot image image of Jesus in red and gold located in the North Apse.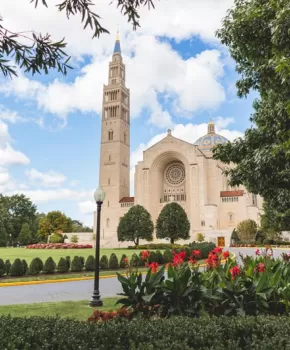 Basilica of the National Shrine of the Immaculate Conception in Brookland - Landmarks in Washington, DC
On the crypt level, you'll find more chapels and a small museum holding papal artifacts including Pope Paul VI's Coronation Tiara and a golden rose that Pope Benedict XVI bestowed on the Shrine when he visited in 2008.
Throughout the Basilica, you'll glimpse the world's largest collection of contemporary ecclesiastical art including statues, paintings and other mosaics.
Visiting the Basilica
The Basilica is open 365 days a year, hosting nearly one million visitors every year. It offers masses and confessions daily as well as guided tours. Sundays at 6 p.m. in July and August there are free concerts on the twin M.P. Möller organs in the Upper Church. On the crypt level, a gift shop, a bookstore and a cafeteria also cater to visitors.
Discover the best things to do in the Brookland neighborhood or check out the city's other famous church, the Washington National Cathedral.