With its neo-Gothic architecture, medieval-style garden and eerie gargoyles, the city's cathedral is worth a stop whether you're worshipping or just looking on in wonder.
Stained-glass windows, Gothic spires and flying buttresses make the Washington National Cathedral look ages old, but the grand church was actually constructed during the 20th century. Though overseen by the Episcopal Church, the house of worship welcomes people of all faiths to its impressive site on the highest point in DC.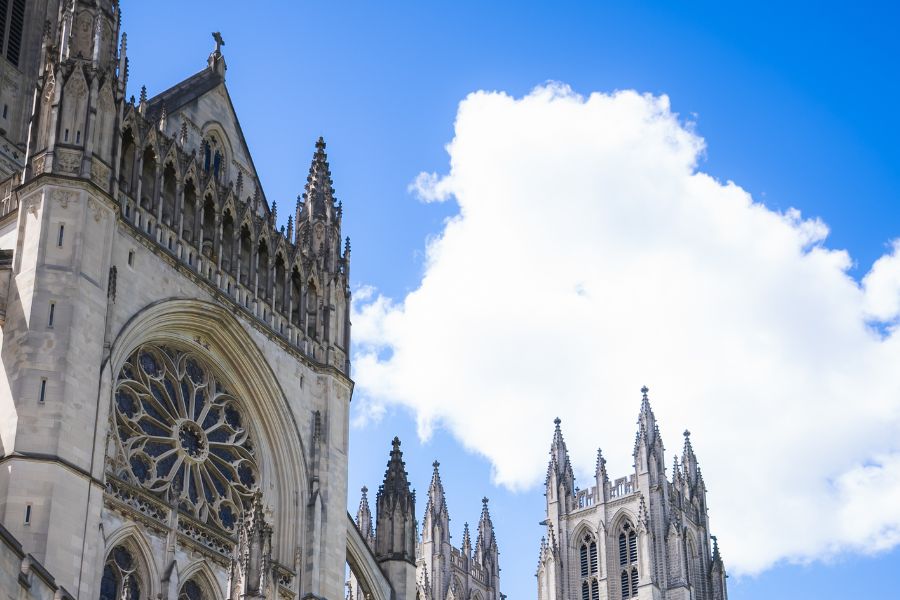 History and architecture
Stonemasons and builders erected the cathedral beginning in 1907, completing it 83 years later in 1990. Carved from Indiana limestone, the structure boasts a 30-story-tall central tower, an interior nine-bay nave and 215 stained glass windows, including one embedded with a moon rock. Inside, you'll find a crypt level where Helen Keller and President Woodrow Wilson are buried. On the nave level, you'll discover an intricately carved wooden choir area and numerous serene chapels.
On the exterior, you can search out the 112 gargoyles (decorative rain spouts) and grotesques (carved stone creatures) with the help of a map (available at the entrance) or via guided tours conducted during summer months. Be on the lookout for the grotesque of Darth Vader and the hippie gargoyle.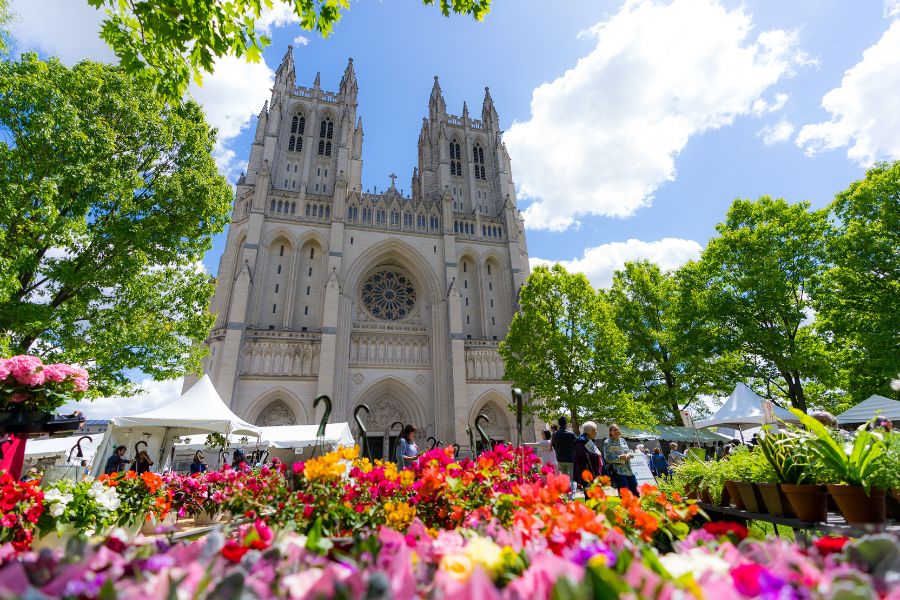 The grounds
You'll find 59 acres of grounds designed by Frederick Law Olmsted Jr. around the National Cathedral. Enclosed by stone walls, the medieval-style Bishop's Garden includes herb plantings, roses and a 13th-century Norman arch. Stone paths wind through Olmstead Woods, one of the only old-growth forests in DC. There's also a cafe  serving coffee, desserts, brunch and lunch located on the grounds in the 1904 Old Baptistry building. Guided tours and a self-guided tour brochure can help you explore the green spaces.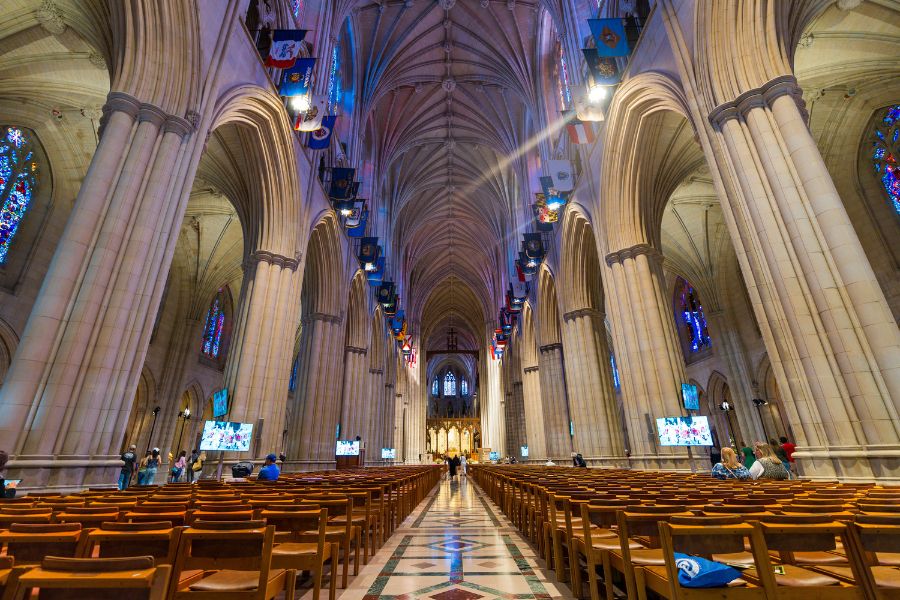 Seeing the Cathedral
Church services and musical performances are the only way to experience the cathedral for free. Sunday services are open to all, and Monday through Thursday at 5:30 p.m., evening concerts fill the nave with singing. 
Outside of spiritual visits, admission to the cathedral is required: $12 for adults,  $8 for children ages 5 to 17 and free for kids 4 and under. The cathedral offers daily guided walking highlights tours with admission at 10:15 a.m. Monday through Saturday, and 1 p.m. on Sunday, although check the tour schedule for the latest updates.
Numerous ticketed specialty tours, including seasonal gargoyle hunts, artisanship-themed walks and tower climbs, are available to be booked in advance. You can also sightsee with Big Bus Tours, and its hop-on, hop-off tickets let you exit the bus to explore inside the cathedral once you're there.
After the National Cathedral, make a day of it exploring the Upper Northwest neighborhood.