Explore sustainable hotels and venues in Washington, DC for your next meeting or event.
In August 2017, Washington, DC was named the first LEED Platinum city in the world because of its extensive environmentally-friendly practices. Bike-sharing programs abound and an increasing number of LEED-certified hotels and venues make DC known as a top destination for green meetings. Meeting planners are increasingly interested in a property's sustainable initiatives and the nation's capital continues to invest in green practices and more eco-friendly means of transportation. Explore our guide to LEED-certified hotels and venues for your next event in Washington, DC.
• • •
The Wharf
The Hoffman-Madison Waterfront mixed-use development at The Wharf in Southwest DC is the perfect example of a new environmentally-friendly development that is LEED-Neighborhood Development Gold status. The sustainability pillars contributing to the neighborhood include InterContinental Washington, DC- The Wharf, a LEED Gold-certified hotel and the dual-branded property featuring the Hyatt House and Canopy by Hilton, which achieved its LEED Gold-certification. Highlights of the development's sustainability initiatives include more than 87 percent of material being diverted from landfill and disposal, flooring made from low volatile organic compounds and the hotel's respective structures made from 23 percent recycled content.
• • •
Farmers Restaurant Group
All of the delicious farm-to-table restaurants in Farmers Restaurant Group – Founding Farmers, Farmers Fishers Bakers, and Farmers & Distillers – are LEED-certified. Founding Farmers was the first full service, upscale casual restaurant to pursue LEED certification and many more continue to follow suit. The mezzanine level of Founding Farmers has a capacity of up to 75 guests while the General's Parlor on the lower level of Farmers & Distillers is a 16-seat private dining room.
• • •
The Concordia
Located between Dupont Circle and Washington Circle, The Concordia boasts a LEED Gold-certification, providing guests with an environmentally conscious experience. Among the hotel's many features are guestroom kitchen appliances that are Energy Star-rated and a green roof and green screen that reduce rain water runoff from entering local waterways and help insulate the building from the elements.
• • •
Motto by Hilton Washington DC City Center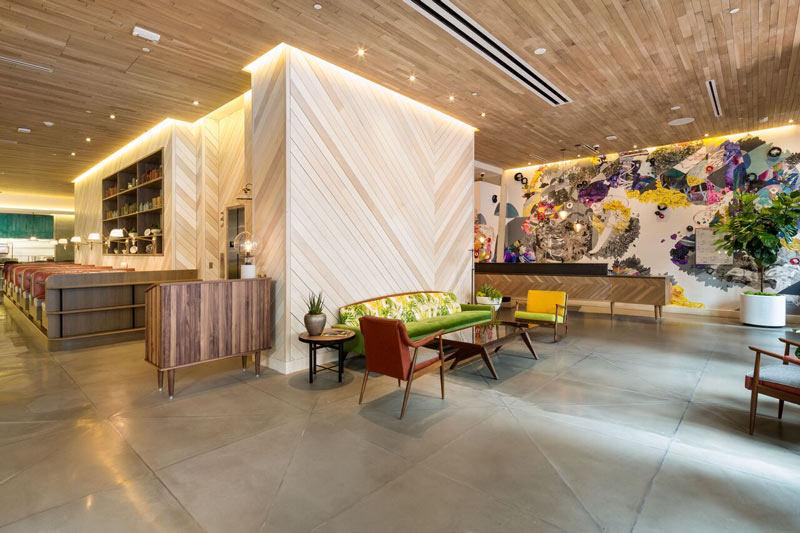 PIXELLAB / Pod Hotel DC
The Motto by Hilton Washington DC City Center is LEED Silver-certified with a design full of extensive green features. You will find refillable water stations throughout the hotel, a vegetated roof area for hosting events and smart LED lighting and air conditioning with infrared sensors that auto shut when you are not in the room.
• • •
Hilton Washington DC National Mall
Hilton Washington DC National Mall is a LEED Silver-certified hotel with 23,000 sq. ft. of meeting space, a unique Solarium offering a year-round indoor/outdoor ambience and poolside event space with fire pits, cabanas and a bar that can accommodate up to 300 people.
• • •
Marriott Marquis Washington DC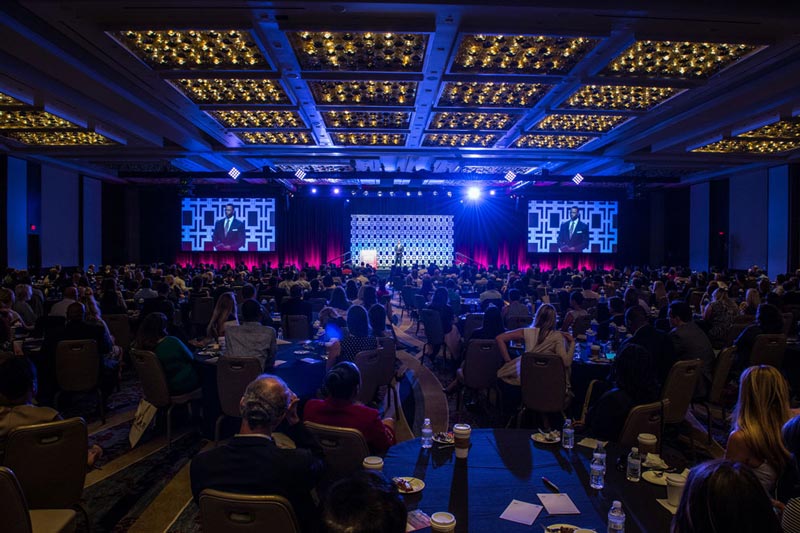 Marriott Marquis Meeting Space - Washington, DC
As the only hotel adjacent to the Walter E. Washington Convention Center, the Marriott Marquis Washington DC is a LEED Silver-certified 15-story property with 105,000 sq. feet of meeting space, making it one of the largest LEED Silver-certified hotels in the U.S.
• • •
Nationals Park
Nationals Park is the nation's first major professional stadium to become LEED Silver-certified by the U.S. Green Building Council. The project incorporates a variety of sustainable design elements including a brownfield redevelopment located near the Anacostia River, energy conserving light fixtures and an intricate water filtration system.
• • •
Audi Field
The 20,000-seat home field of the D.C. United team of Major League Soccer is a LEED Gold-certified venue. Audi Field also partners with Recycle Track Systems and New Columbia Solar on multiple sustainable initiatives throughout the stadium.
• • •
Viceroy Washington DC
The 178-room Viceroy Washington DC is LEED Silver-certified, featuring green key switches in each guest room, low-emitting materials such as paint, finishes and floorings and refillable bottles of showering essentials as opposed to disposable bottles.
• • •
Eaton Washington DC
Eaton Washington DC is LEED Gold-certified, featuring many sustainable initiatives throughout the hotel and house. Guestrooms feature the most natural and organic mattresses and bathroom amenities are 100 percent natural, while the rooftop features an herb garden and wind turbine.
Once you're done reading about LEED-certified hotels and venues, check out why DC is one of the healthiest, greenest and most livable cities in the nation.