You are here
Stay Local DC: Your Weekend Staycation Guides to Washington, DC
Stay Local DC: Your Weekend Staycation Guides to Washington, DC
Plan a weekend getaway to the nation's capital, where can't-miss events, plays, concerts, museum exhibits and so much more await.
Locals: we've got you covered all the way through February, as Washington, DC is your staycation and weekend getaway capital during the winter months. Turn any weekend into a DC adventure filled with holiday revelry, acclaimed performances, jaw-dropping art and historic experiences.
• • •
NOVEMBER 22-24
Take a jaunt through Enchant at Nationals Park (Nov. 22 – Dec. 29), the world's largest Christmas light maze that also features a marketplace with local, national and international vendors (get 10% off tickets with code VISITDC). Pay homage to veterans of the Revolutionary War at Anderson House's free exhibit, America's First Veterans (open through April 5). Take in the Tony Award-winning Newsies at Arena Stage (playing through Dec. 22).
• • •
NOVEMBER 29 – DECEMBER 1
Bask in locally roasted coffee, mini-doughnuts and dozens of pop-up tents selling holiday items at the beloved Downtown Holiday Market (Nov. 22 – Dec. 23). Marvel at 500,000 LED Christmas lights at the National Zoo's ZooLights, which is free to attend from Nov. 29 – Jan. 1, 2020.
• • •
DECEMBER 6-8
Enjoy seasonally themed laughs at the Kennedy Center with The Second City's Love, Factually (Dec. 3-29). Pay a visit to holiday markets at the House of Sweden (Dec. 6) and the Heurich House Museum (Dec. 7-8) or browse Native American crafts at the Native Art Market at the National Museum of the American Indian (Dec. 7). Take in stunning on-the-water scenery via The District's Holiday Boat Parade at The Wharf (Dec. 7).
• • •
DECEMBER 13-15
Pack your weekend with holiday theater offerings. See Dickens' timeless classic, A Christmas Carol, at the historic Ford's Theatre (Nov. 21 – Jan. 1, 2020) and check out Keegan Theatre's Irish take on the story in the form of An Irish Carol (Dec. 12-31). Enjoy another legendary tale, The Nutcracker, with a DC spin courtesy of The Washington Ballet (at Warner Theatre, Nov. 23 – Dec. 29). Leslie Odom, Jr. will lead the Kennedy Center's NSO Pops in a holiday-themed performance (Dec. 13-14).
• • •
DECEMBER 20-22
Witness Georgetown in artful, holiday glory during Georgetown GLOW, a jaw-dropping exhibition of light art (Dec. 6 – Jan. 5, 2020 from 5-10 p.m.). Venture to the White House Ellipse to attend the lighting ceremony of the National Menorah (Dec. 22 at 4 p.m.). Gaze at and snap photos in front of the gorgeous National Christmas Tree. Visit the Newseum a final time before its closure on Dec. 31 (Use promo code DC25 to get 25% off tickets).
• • •
DECEMBER 27-29
Extend your Christmas revelry with a daytime visit to Mount Vernon, where decorations and festivities linger through Dec. 31, or wander through the incredible Season's Greenings at the U.S. Botanic Garden (Nov. 28 – Jan. 5, 2020). Although not holiday-themed, Jersey Boys makes for a raucous good time at the National Theatre (Dec. 17 – Jan. 5, 2020).
• • •
JANUARY 3-5
Catch Come From Away at the Kennedy Center (Dec. 10 – Jan. 5, 2020), a New York Times Critics' Pick featuring a Tony-nominated cast and a Tony-winning director. Glide on ice skating rinks at the National Gallery of Art's Sculpture Garden, Canal Park and Washington Harbour. Speaking of ice: bring a crew to the Capital One Arena to watch the 2018 Stanley Cup champion Washington Capitals take on the San Jose Sharks (Jan. 5, 12:30 p.m.).
• • •
JANUARY 10-12
Gearheads will not want to miss the Washington D.C. Motorcycle Show at the Walter E. Washington Convention Center (Jan. 10-12). You can fill two nights with NBA excitement, as the Washington Wizards take on the Atlanta Hawks (Jan. 10) and the Utah Jazz (Jan. 12). After the holiday push, take advantage of more than 100 free things to do in the District and check out can't-miss deals and discounts.
• • •
JANUARY 17-20
Dine on delicious food at discounted prices at dozens of DC restaurants during Winter Restaurant Week (Jan. 13-19). Don't miss an epic production of My Fair Lady at the Kennedy Center before it leaves town (playing Dec. 17 – Jan. 19). Learn tips and tricks for exercise and a healthy diet during the NBC4 Health & Fitness Expo at the Walter E. Washington Convention Center (Jan. 18-19). Visit the Martin Luther King, Jr. Memorial on Martin Luther King, Jr. Day (Jan. 20).
• • •
JANUARY 24-26
Head to the Walter E. Washington Convention Center for the Washington Auto Show (Jan. 24 – Feb. 2), a DC tradition that previews more than 600 new models from over 35 manufacturers. Experience the incredible talent of singer Grace Potter at The Anthem (Jan. 25). Revel in Chinese New Year celebrations all over the District, capped off by a parade on Jan. 26.
• • •
JANUARY 31 – FEBRUARY 2
Kids will adore the interactive, espionage-themed SpyFest at the International Spy Museum (Jan. 31). Grab a ticket to A Thousand Splendid Suns at Arena Stage (Jan. 17 – March 1), a stirring stage adaptation of Khlad Hosseini's bestselling novel. The Kennedy Center hosts Next to Normal, winner of three Tony Awards and starring Rachel Bay Jones of Dear Evan Hansen fame (Jan. 29 – Feb. 2). The Washington Capitals take on the rival Pittsburgh Penguins on Feb. 2 at Capital One Arena.
• • •
FEBRUARY 7-9
Watch the Washington Wizards take on Luca Doncic and the Dallas Mavericks at Capital One Arena (Feb. 7). Laugh your way through the Shakespearean comedy The Merry Wives of Windsor at Folger Theatre (Jan. 14 – March 1). Treat your eyes to Painting from Nature: European Landscape Sketches, 1770-1870 at the National Gallery of Art (Feb. 2 – May 3). Indulge your taste buds by attending the DC Chocolate, Wine and Whiskey Festival at Dock5 at Union Market (Feb. 8).
• • •
FEBRUARY 14-17
Spend Valentine's Day in DC in style by utilizing our awesome date ideas. Head to Ford's Theatre for Silent Sky (Jan. 24 – Feb. 23), which details the astronomical accomplishments of Henrietta Leavitt, or catch The King's Speech at The National Theatre (Feb. 11-16). Observe premier volleyball teams from around the country during the Capitol Hill Volleyball Classic at the Walter E. Washington Convention Center (Feb. 15-17). Celebrate President's Day with George Washington's Birthday Celebration at Mount Vernon (Feb. 17).
• • •
FEBRUARY 21-23
Honor the incredible creative work of Native American women with the Renwick Gallery's Hearts of Our People: Native Women Artists (Feb. 21 – May 17). Celebrate Black History Month by visiting the National Museum of African American History and Culture and other DC landmarks. Immerse yourself in American mythology with Shipwreck: A History Play About 2017 at Woolly Mammoth Theatre (Feb. 10 – March 8).
• • •
FEBRUARY 28 – MARCH 1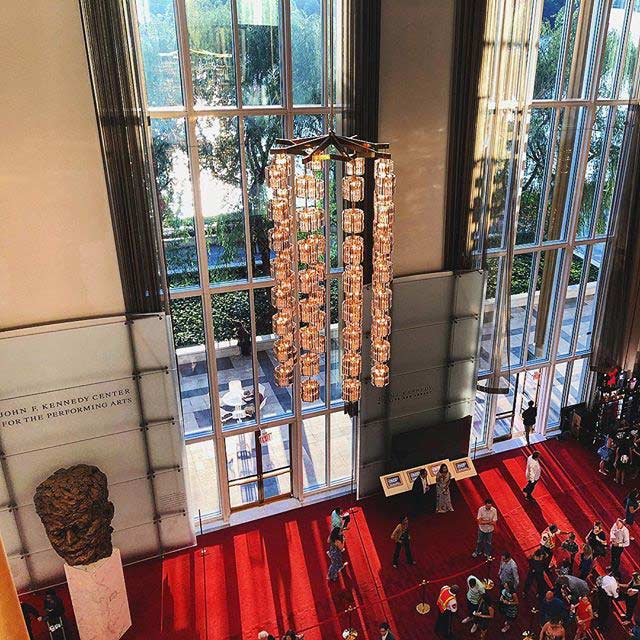 Rock out with The Lumineers at Capital One Arena (Feb. 28). Savor spirits and stimulate the senses at the DC Cocktail Festival at the National Union Building (Feb. 29). Have an epic night at the opera by purchasing tickets to the Don Giovanni at the Kennedy Center (Feb. 29 – March 22). Go on an illuminating road trip inspired by John Steinbeck's The Grapes of Wrath with Arena Stage's Mother Road (Feb. 8 – March 8).