Hop into the water vessel of your choice and prepare to discover a new side of the nation's capital.
As exciting waterfront destinations pull more visitors and locals closer and closer to the river, you might be surprised to know what's waiting just beyond DC's shoreline. The area's top boating and tour companies provide plenty of unique experiences on the water and there's never been a better time to seek an off-land escape on the Potomac and Anacostia rivers.
01
Skip the traffic — reach your destination on a water taxi!
The expansion of Potomac Riverboat Company's water taxi service brings more connectivity to the waterfront than ever. From March through December, you can hop on or hop off at any docking in Alexandria, Georgetown, The Wharf, National Harbor or National Mall. Passes start at $10 and an annual pass grants guests unlimited departures all season for just $175.
02
Discover Washington's monuments from a whole new perspective
03
Cap off the weekend with a Sunday brunch cruise (and bottomless mimosas)
With a variety of year-round dining cruises to choose from, Odyssey's bottomless mimosa brunch is not to be missed. Two hours aboard the stunning fully glass-enclosed vessel will leave you speechless.
04
Pin a stunning waterfront backdrop on a big day
05
Embark on a privately captained, six-seater speed boat
One of the more unique ways to get out on the water, Embark DC boat cruises start at $375 per hour. Cruise captains are able to provide a narrated tour and they'll happily accommodate any fishing, sightseeing, picnicking or custom-created adventure – that includes taking you wherever you want to go, from Mount Vernon to Old Town Alexandria to The Yards and more.
06
Visit a treasured national landmark and stay for a historical tour
07
Take your pup on a joy ride around the Alexandria Seaport
Seaport cruises are a highlight of the warmer months, usually beginning in May and running through the start of fall. The route promises views of Old Town Alexandria, Founders Park, Jones Point Lighthouse and more, and select dates welcome dogs aboard for free!
08
Sound the boat horn for the greatest Fourth of July fireworks show
09
Get active in a kayak, paddleboat or paddleboard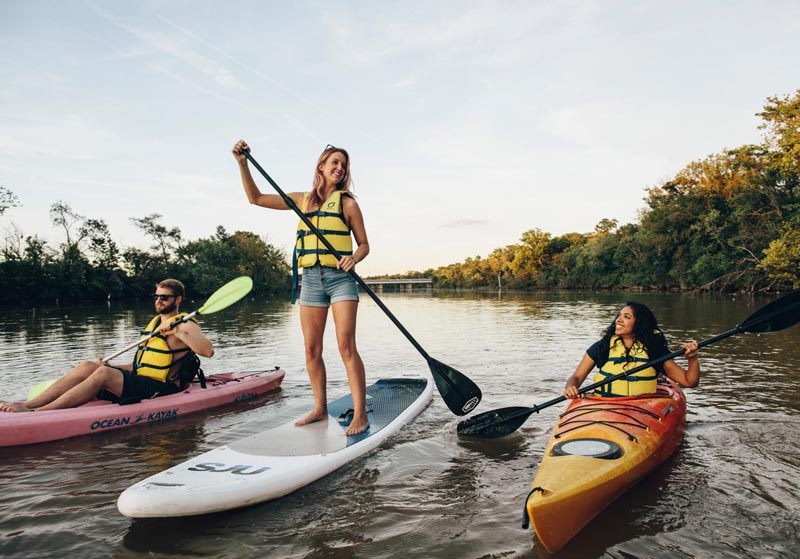 Friends boating and paddleboarding on the Anacostia River - Discover the real Washington, DC
The Washington, DC area is full of fun water activities. Rent a kayak at any of the Boating in DC locations: Ballpark Boathouse in Capitol Riverfront, National Harbor, The Wharf Boathouse and Key Bridge Boathouse in Georgetown. The latter two options also conduct yoga classes on stand-up paddleboards. Learn how to row or scull at the Thompson Boat Center, located on the Potomac River near Georgetown or climb aboard a pedal boat in the Tidal Basin for a one-of-a-kind view of the monuments and memorials.
10
Hop aboard an amphibious vehicle and see the sights by land and river
The only 90-minute land-and-sea tour, DC Ducks offer exciting family-friendly, narrated excursions. Tours kick off at Union Station for an on-the-Mall tour, which culminates with a ride across the Arlington National Bridge. Then, get ready for the on-the-water portion of your adventure, including a big splash into the Potomac River. The journey ends near Reagan National Airport, where (duck!) planes fly overhead. Tickets start at $33.
11
Rock out on the river on a Saturday night DC Cruises' party boat
Known for its affordable, 100-person weekend boat tours, DC Cruises offers up one of the most unique ways to get down. Hit the dance floor on a DJ Party Cruise and request your favorite songs (Come Sail Away, anyone?). The cruise runs from 9 p.m. to midnight, but don't fret – if you can't find your sea legs, you can always chill in the Below Lounge. Tickets start at $26.
12
Paddle the Potomac on a booze cruise
Potomac Paddle Pub is rain-or-shine pedal boat that accommodates up to 16 people and has 10 pedal stations for its hour-and-a-half voyages. Good to know: You can turn your aquatic spin class into a booze cruise with the BYOB policy – the vessel provides ice, coolers and cup holders. There is also a motor on board in case your legs grow too tired as you cruise down the Potomac. Individual seats can only be purchased Monday through Thursday, and group trips can be purchased on Fridays through Sundays. Once you book your trip, you can embark on your journey from the Georgetown Docks near The Washington Harbour.