You are here
Where to Find Pumpkin & Other Fall Flavors in Washington, DC
Where to Find Pumpkin & Other Fall Flavors in Washington, DC
These spots roll out the red (and orange) carpet to satisfy your pumpkin spice and fall flavor cravings in the District.
We know by now that fall is pumpkin-spiced-everything season. Even before the leaves change colors in the nation's capital, there are plenty of DC spots that can satiate your sweet tooth while bringing full-on pumpkin power. But pumpkin's not the only fall flavor on the block. We've got a roundup of the best places to find tastes of autumn awesomeness in DC; from the sweet and cinnamon-y to the savory and spicy. And don't worry, we've thrown some pumpkin in there, too.
District Doughnut
This doughnut shop is DC through-and-through, founded by locals and home to some of the tastiest flavors in the District. Traditionalists can get their pumpkin on with the pumpkin-glazed creations. Indulge in other fall flavors like the caramel apple streusel doughnut, crafted with granny smith apples, apple caramel and homemade streusel. And round out your next dozen with the maple butter pecan – a staff favorite featuring a cake doughnut dipped in dark amber maple syrup and butter glaze, then garnished with candied pecans.
749 8th Street SE, Washington, DC 20003
3327 Cady's Alley NW, Washington, DC 20007
5 Market Square SW, Washington, DC 20024
Ice Cream Jubilee
Even after summer ends, this popular ice cream spot in Capitol Riverfront and U Street continues churning out inventive flavors. #sweetpotatoisthenewpumpkin at Ice Cream Jubilee this fall, thanks to its sweet potato molasses candy – inspired by fluffy sweet potato pie and made with molasses candy brittle pieces mixed in. And if sweet potato is the new pumpkin, then cookies are the new sprinkles. Case in point: The apple butter oatmeal cookie combines a creamy base, fresh apple butter made in-house and a crumble of oatmeal cookie on top.
301 Water Street SE, Washington, DC 20003
1407 T Street NW, Washington, DC 20009
Espresso & Gelato Bar at the National Gallery of Art
As the seasons change, so do the tasty treats offered at the National Gallery of Art's Espresso & Gelato Bar. Take a break from exploring some of the gallery's 141,000 works on display and satisfy your appetite with a variety of harvest-inspired baked goods, including a pumpkin pie with cinnamon meringue, a pear cranberry upside-down cake, a pecan tart or the always classic pumpkin doughnut. Just add a hot apple cider or apple cider-spiced chai latte from the Espresso Bar, and then you're ready to explore even more.
6th & Constitution Ave NW, Washington, DC 20565
Le Pain Quotidien
If you happen to walk by one of Le Pain Quotidien's many DC locations, you'll find it hard not be lured in by the smell of fresh bread. The name, after all, means "the daily bread." Warm up this autumn with the restaurant's turmeric latte. Tumeric contains hints of nutmeg, cinnamon, and cardamom creating a perfect fall flavor. Bonus: Tumeric is both great tasting and good for you – acting as an anti-inflammatory and with high levels of antioxidants these lattes will get your body ready for the cold season ahead.
800 17th Street NW, Washington, DC 20006
2000 P Street NW, Washington, DC 20036
975 F Street NW, Washington, DC 20004
1401 K Street NW, Washington, DC 20005
2815 M Street NW, Washington, DC 20007
Dirty Habit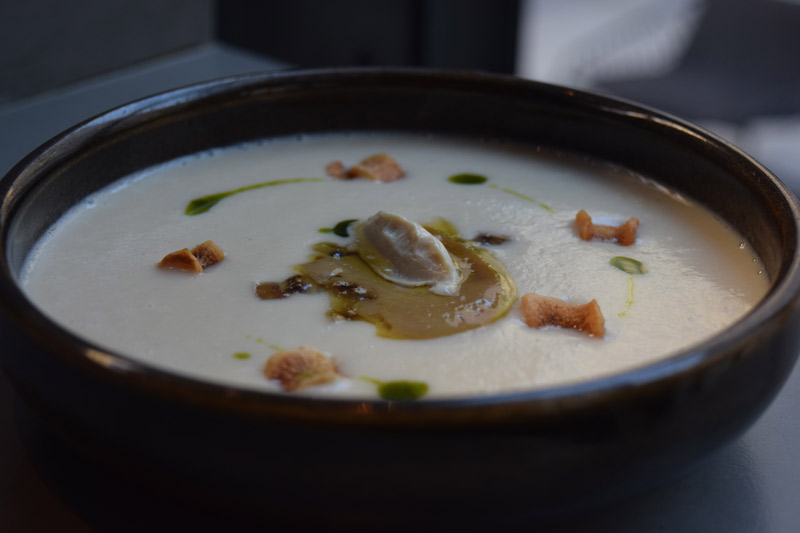 Stop in and cozy up at the chic Penn Quarter bar and restaurant. This season, Chef Kyoo Eom​ has a velvety salsify and chestnut soup to warm up diners on chilly fall days. The base of the soup is chestnuts, salsify root and heavy cream, and it's topped with foie gras butter and salsify chips for additional flavor and texture.
555 8th Street NW, Washington, DC 20004
Osteria Morini
Best known for its signature pasta offerings that are served up with a variety of traditional ragus, Osteria Morini's fall menu does not disappoint. Try the meatless pansotti, featuring rounded corn-filled ravioli, chanterelle mushrooms and garlic scapes for a mouthwatering collision of fall flavors. Make sure to save room for dessert! Chef Tova Hilman has checked all the fall flavor boxes with her Torta di Formaggio: apple rum cake, three cheese cheesecake, brown butter rum glazed apples.
301 Water Street SE #109, Washington, DC 20003
Urbana
Located inside Hotel Palomar, Urbana is home to Italian favorites and craft cocktails. As the seasons change, so do the fresh ingredients in chef Ethan McKee's inventive dishes. Autumn brings fall agnolotti – handmade pasta filled with roasted fall squash, ricotta, mascarpone, and amaretti. He tosses the stuffed pasta with sage-butter sauce and finishes it with speck – a type of smoked ham – and toasted pumpkin seeds with parmesan.
2121 P Street NW, Washington, DC 20037
City Winery
A self-proclaimed "Urban Wine Country," the recently opened City Winery in Ivy City is a fully functioning winery featuring intimate concerts and classes on food and wine. The winery's menu always offers a variety of flat breads, but the autumn selection, including wild mushroom and classic margherita, are made with wine lees, or residual yeast leftover from the fermentation process, which possess the perfect rustic flavor for fall.
1350 Okie Street NE, Washington, DC 20002
City Tap House
The American gastropub City Tap House wins hearts with its fall comfort combo. Yes, delicious crispy pork shank is a must, but it tastes even better paired with the poblano pepper-sweet potato hash embodying just the right balance of smoky and sweet flavors. Firecracker applesauce rounds out the plate for a meal packed with fall flavors. And add a liquid sampling of the seasons from the pub's long list of seasonal pours on draft.
901 9th St NW, Washington, DC 20001
1250 Connecticut Ave NW suite 105, Washington, DC 20036
Jardenea at the Melrose Georgetown Hotel
The mixologists at Jardenea – the Melrose Georgetown Hotel's signature restaurant – put a twist on the classic pumpkin spiced latte, the pumpkin spiced martini. The cocktail hones into key flavors of autumn like pumpkin and cinnamon.
2430 Pennsylvania Avenue NW, Washington, DC 20037
Looking for more of the best culinary experiences DC has to offer? Plan a visit to Union Market or see what's cooking at DC's hottest restaurants.

Where to Find Fall Flavors in Washington, DC
Here's where to satisfy your festive fall cravings