You are here
Free Things to Do: Events, Festivals & More in Washington, DC
Free Things to Do: Events, Festivals & More in Washington, DC
Whenever you're in Washington, DC, you can plan on enjoying plenty of museum exhibits, events and festivals for free, guaranteed.
With access to free museums, the monuments and memorials, the Library of Congress and more, Washington, DC is unrivaled for its many free attractions. But at any given time, you can also take advantage of free one-of-a-kind events, groundbreaking exhibits and unique festivals, making DC the capital of free events.
Check out the list below for some of the latest free happenings creating buzz around the city.
•••
'In Her Words: Women's Duty and Service in World War I' – Through May 8
The National Postal Museum explores the role of women during World War I in this new exhibit. The letters and artifacts of four women inform In Her Words, illuminating how important the war was for women's rights and labor in the U.S., as thousands served in and alongside the military during the struggle.
10 a.m. – 5:30 p.m.
National Postal Museum, 2 Massachusetts Avenue NE, Washington, DC 20002
•••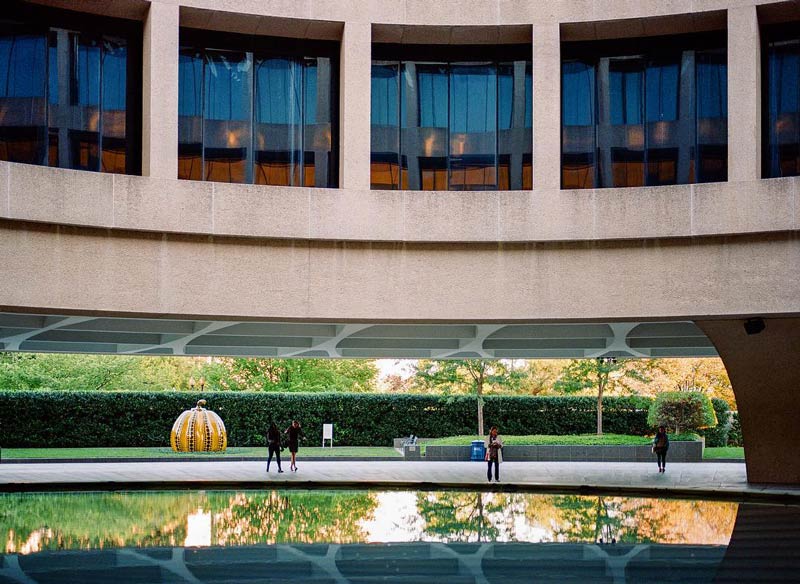 'Brand New: Art and Commodity in the 1980s' – Through May 13
The Hirshhorn Museum presents the first exhibition to examine the appropriation of late-20th century commercial products. You will see groundbreaking work from essential artists who worked in New York City's East Village, including Cindy Sherman, Jeff Koons and Richard Prince. Brand New will show how commerce and art became thoroughly intertwined in the 1980s, and how artists used consumer culture, advertising and television to define their own brand, and redefine creative expression.
10 a.m. – 5:30 p.m.
Hirshhorn Museum & Sculpture Garden, Independence Avenue & 7th Street SW, Washington, DC 20560
•••
'Michel Sittow: Estonian Painter at the Courts of Renaissance Europe' – Through May 13
In honor of the centennial of the Estonian Republic, the Art Museum of Estonia and the National Gallery of Art have collaborated on this exhibit dedicated to Estonia's greatest Renaissance art, Michel Sittow. Roughly 20 of Sittow's works will be on display, with an examination of his art in a broader context, including his relationship to his Netherlandish contemporaries, part of this fascinating exhibit.
Hours | Free admission
National Gallery of Art, 6th & Constitution Avenue NW, Washington, DC 20565
• • •
'Outliers and American Vanguard Art' – Through May 13
Challenging popular assumptions about creativity and artistic process, this National Gallery of Art exhibit comprises 300 works by self-taught American artists such as Horace Pippen and Janet Sobel. Observing three separate time periods when popular and underground art merged, the exhibit will also examine recently made, radical work that has shifted the concept of mainstream art altogether.
Hours
National Gallery of Art, 6th & Constitution Avenue NW, Washington, DC 20565
• • •
'Wall Flowers: Botanical Murals' – Through Oct. 15
The U.S. Botanic Garden presents this colorful new exhibit that may reframe how you view plant life. Large-scale murals from local artists will showcase plants through powerful colors and vibrant detail, highlighting the vital role that plants play in urban environments, not just suburban or rural ones. You'll have a chance to admire botanical art in one of the country's most amazing botanical gardens.
10 a.m. – 5 p.m.
U.S. Botanic Garden, 100 Maryland Avenue SW, Washington, DC 20001
• • •
'The Prince and the Shah: Royal Portraits from Qajar Iran' – Feb. 24 – Aug. 5
In 19th century Iran, there were no selfies. Portraits and studio photographs were the only way to convey the appearance of rulers, so royal figures of Qajar such as Fath-Ali Shah (a contemporary of Napoleon) and Nasir al-Din Shah (a contemporary of Queen Victoria) used this form to showcase their grandeur and power. More than 30 pieces from the Freer|Sackler collections make up this exhibit that highlights how Persian artists made nobility shine.
10 a.m. – 5:30 p.m.
Freer|Sackler Galleries, 1050 Independence Avenue SW, Washington, DC 20560
• • •
'Heavenly Earth: Images of Saint Francis at La Verna' – Feb. 25 – July 8
St. Francis famously received the stigmata at La Verna, and this new exhibit at the National Gallery of Art fully explores the artistic interpretations of this mystical moment. There will also be numerous other examples of Franciscan imagery from the 1400s to the 1700s, all drawn from the Gallery's extensive holdings, that reveal significant artistic developments and important historical context.
Hours
National Gallery of Art, 6th & Constitution Avenue NW, Washington, DC 20565
• • •
'Sally Mann: A Thousand Crossings' – March 4 – May 28
This exhibit at the National Gallery of Art is one of the most anticipated of the spring season. In Sally Mann: A Thousand Crossings, some 115 photographs, portraits, landscapes and figurative studies will offer both a sweeping overview of Mann's artistic achievement and a focused exploration on the continuing influence of the American South.
Hours | Free admission
National Gallery of Art, 6th and Constitution Avenue NW, Washington, DC 20565
• • •
Ireland on The Wharf – March 10
In honor of St. Patrick's Day, The Wharf is bringing Ireland to the waterfront. Celebrate the holiday with bagpipes, a beer garden, Irish dancers, family-friendly activities and live music from the Aine O'Doherty Band, The Danny Burns Band and The ShamRogues. Pints of Guinness will also be available from Kirwan's Irish Pub. The final kicker: there's no admission charge.
2 - 6 p.m. | Free admission
District Pier at The Wharf, 1100 Maine Avenue SW, Washington, DC 20024
• • •
'We Can Do It! Women in Aviation and Space' – March 10
The National Air and Space Museum's Steven F. Udvar-Hazy Center celebrates Women's History Month with this free event. We Can Do It! will include hands-on activities for families, special guests and photo opportunities with Rosie the Riveter. Throughout the day, groundbreaking women of the past will be honored and the incredible possibilities for women in the fields of aviation and space will be highlighted.
10 a.m. – 3 p.m. | Free admission
Steven F. Udvar-Hazy Center, 14390 Air and Space Museum Parkway, Chantilly, VA 20151
• • •
NBC4 Health & Fitness Expo – March 10-11
Interested in leading a healthy 2018? Then NBC4's annual Health & Fitness Expo is a must-attend. Join some of the station's most notable personalities, as well as leading fitness and health experts, at the Walter E. Washington Convention Center. Prepare for entertaining, exercise-related fun and education, including health tests and checks, presentations, Zumba, yoga and dance classes and much more. All you need to bring is some energy and a smile!
9 a.m. – 5 p.m. | Free Admission
Walter E. Washington Convention Center, 801 Mount Vernon Place, Washington, DC 20001
• • •
St. Patrick's Day Parade – March 11
Honor the Emerald Isle with a bundle of pageantry at the annual St. Patrick's Parade, which marches for a mile down Constitution Avenue. The two-hour celebration of Irish culture will feature marching bands, traditional Irish dance and the inevitable swath of green attire. The parade has grown from a small gathering on Massachusetts Avenue to a full-blown party in the heart of Downtown.
12 p.m. | Tickets
Parade route: Constitution Avenue NW from 7th to 17th Streets
• • •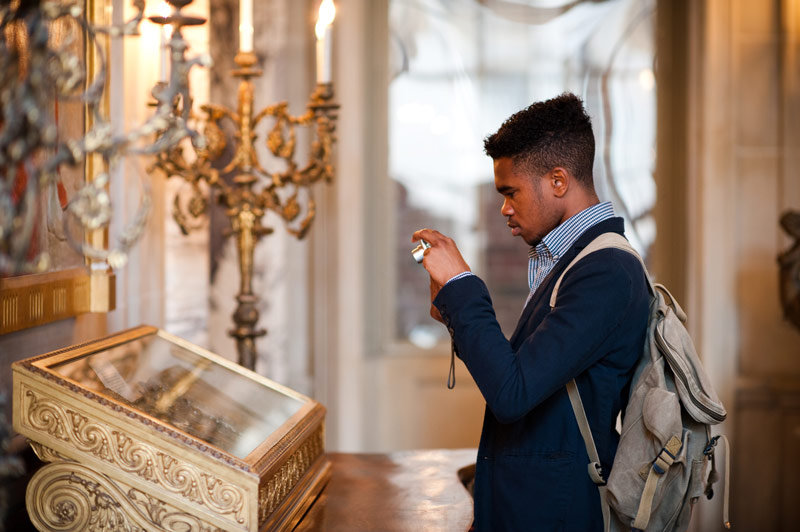 'Alexander Hamilton's American Revolution' – March 15 – Sept. 16
With a particular play about the life of Alexander Hamilton coming to the District this summer, it's an ideal time to learn more about the Founding Father. The Anderson House, operated by The Society of the Cincinnati (Hamilton was an original member and its second president general), will feature this fascinating, detailed exhibit that explores Hamilton's vital role in the Revolutionary War and how this duty influenced his vision of the U.S. and its institutions. Admission is free!
Hours | Free admission
Anderson House, 2119 Massachusetts Avenue NW, Washington, DC 20008
• • •
'Do Ho Suh: Almost Home' – March 16 – Aug. 5
Famous for his use of "fabric architecture," Korean artist Do Ho Suh receives the major exhibition treatment on the East Coast for the first time with this display at the Smithsonian American Art Museum. Almost Home will feature Suh's large-scale installations based on homes where Suh has lived all over the world, eye-catching with their bright colors and intricate detail. The exhibition will also debut a new work that shows Suh's childhood home in Seoul.
11:30 a.m. – 7 p.m. | Free admission
Smithsonian American Art Museum, 8th and F Streets NW, Washington, DC 20004
• • •
Shabazz Palaces – March 17
One of hip-hop's most creative acts comes to the Kennedy Center's Millennium Stage for a free performance. Yep, you read that right. Shabazz Palaces hail from Seattle and have recorded some of the most daring and experimental hip-hop of the past decade. Don't miss it when former Digable Planets member Ishmael Butler and Tenda "Baba" Maraire bring their unique style to DC's favorite free stage.
6 p.m. | Free admission
Millennium Stage at The John F. Kennedy Center for the Performing Arts, 2700 F Street NW, Washington, DC 20566
• • •
National Cherry Blossom Festival – March 20 – April 15
DC's world famous springtime celebration in honor of Japan's gift of cherry trees returns for 2017. Besides the blooming of beautiful pedals, the festival is packed with signature events, including the Pink Tie Party (March 15), the Opening Ceremony (March 24), the Blossom Kite Festival (March 31), Petalpalooza, formerly known as the Southwest Waterfront Fireworks Festival (April 7) and the National Cherry Blossom Festival Parade presented by Events DC (April 14). Check out these can't-miss events and start planning your cherry blossom-themed fun in the District.
• • •
'UnSeen: Our Past in a New Light, Ken Gonzales-Day and Titus Kaphar' – March 23 – Jan. 6, 2019
Two contemporary artists highlight misrepresentations of minorities in American portraiture in this new National Portrait Gallery exhibit. Ken Gonzales-Day uses photography of sculptures, busts and ethnographic casts to create installations that show how the notion of "Otherness" has become intertwined with race, while Titus Kaphar defaces his paintings to reveal how portraits of American icons have coded racial differences and left out African Americans from their representations.
11:30 a.m. – 7 p.m. | Free admission
National Portrait Gallery, 8th and F Streets NW, Washington, DC 20001
• • •
'To Dye For: Ikats from Central Asia' – March 24 – July 29
Ikat is a popular type of fabric made in Central Asia. The word means "to tie" in Malaysian, which is appropriate for the technique used to make ikats: threads are tediously patterned by binding and dyeing before being woven together. Over time, ikats have been increasingly used by designers, from couture gowns to T-shirts to sofa coverings. This exhibit at the Freer|Sackler galleries will display roughly 30 ikat hangings and coats, showcasing the technical wizardry and historical prominence of the fabric.
10 a.m. – 5:30 p.m. | Free admission
Freer|Sackler Galleries, 1050 Independence Avenue SW, Washington, DC 20560
• • •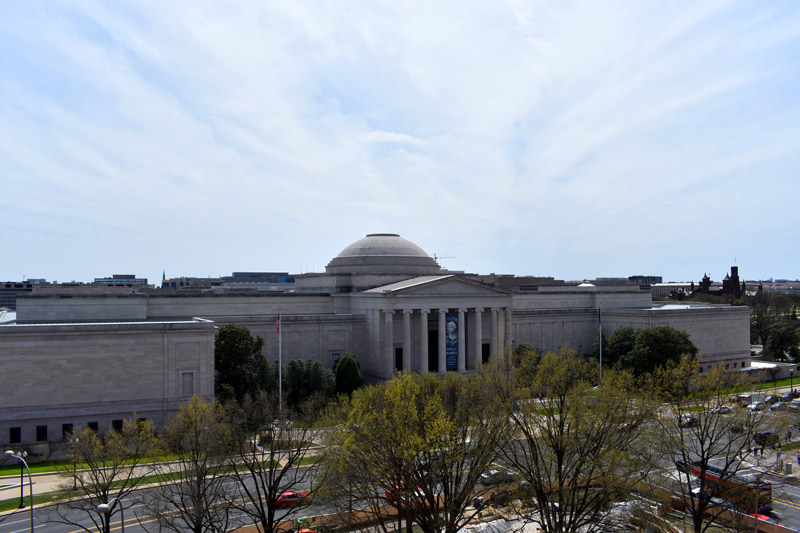 'Cézanne Portraits' – March 25 – July 1
The National Gallery of Art presents the first exhibit devoted to Paul Cézanne's influential and highly regarded portraits. Visitors will be able to immerse themselves in the artist's portrait practice, as the exhibition also features the first full visual account of Cézanne's process for these post-impressionist works. Several of the paintings are exclusive to the Gallery, while some have never been shown in the U.S. before. Expect plenty of attention to be drawn to this exploration of one of history's greatest painters.
Hours | Free admission
National Gallery of Art, 6th and Constitution Avenue NW, Washington, DC 20565
• • •
Steven F. Udvar-Hazy Open House – March 28
The entire family can enjoy an in-depth look at the efforts behind running one of America's most beloved museums. The Steven F. Udvar-Hazy Center houses the National Air and Space Museum's collections, and during this special (and free) open house, you will be able to tour a restoration hangar, a conservation laboratory and the archives. You'll also have a chance to see artifacts, documents and artworks not on public display and to chat with curators and conservators.
12 - 7 p.m. | Free admission
Steven F. Udvar-Hazy Center, 14390 Air and Space Museum Parkway, Chantilly, VA 20151
• • •
'No Spectators: The Art of Burning Man' – March 30 – Jan. 21, 2019
The Renwick Gallery hosts the first major national exhibition to focus on the large-scale participatory work from the annual gathering of bohemians who construct a city of 70,000 in Nevada's Black Rock Desert for one week every year. No Spectators will take over the entire building, even extending outdoors, with sculptures positioned throughout the surrounding neighborhood in parks and on streets in a collaboration between the museum and the Golden Triangle BID. Overall, this extensive exhibit will showcase room-sized installations, costumes, jewelry and more. Note: the Renwick Gallery is closed for installation of the exhibit and will re-open on March 30 to launch The Art of Burning Man.
10 a.m. – 5:30 p.m. | Free admission
Renwick Gallery, Pennsylvania Avenue at 17th Street NW, Washington, DC 20006
• • •
Blossom Kite Festival – March 31
Head to the Washington Monument grounds for this free kite-flying extravaganza, one of the most highly anticipated events of the National Cherry Blossom Festival . The entire family can watch expert kite fliers from all over the world participate in the Hot Tricks Showdown, a stunt kite-flying event. Make sure you bring your camera and a kite of your own!
10 a.m. – 4:30 p.m. | Free admission
Washington Monument Grounds, 17th Street NW and Constitution Avenue NW
No city provides as many world-class activities for free as Washington, DC. Discover 100+ free things to do in the 'Capital of Free!'